The Success Story Of 2014 – Talking With Little Nemo: Dream Another Dream's Andrew Carl And Josh O'Neill At SPX
By Devon Saunders
Full disclosure: I've known writer and Locust Moon Comics co-publisher Andrew Carl for close to two decades. I was the manager of the comic shop he regularly frequented. I sold him his first and last Spawn comic. This may have been my greatest achievement. Today, he, along with co-publishers, Josh O'Neill and Chris Stevens have put together one of comics' most talked about and most successful Kickstarter campaigns with their phenomenal publishing effort, Little Nemo: Dream Another Dream. [Josh and Andrew, courtesy of Neil Bramlette]
As one person put it at Baltimore Comic-Con, with Little Nemo: Dream Another Dream, Locust Moon Comics has to be put into the conversation of comics' best, most important independent publishers. This past Small Press Expo, I sat down with Andrew and co-publisher, Josh O'Neill to talk about comics, publishing and their upcoming 2014 Locust Moon Festival and found them to be sincerely humbled by Little Nemo's success.
Devon Sanders: Tell me about what brought you two to Locust Moon Comics?
Josh O'Neill: Andrew (Carl) and Chris (Stevens) and I met at this video store and Andrew was a customer there. We were all interested in making comics and out of that came "Once Upon A Time Machine" and opening our own store.
DS: What was your mission statement going into creating Locust Moon?
JO: We just really wanted to contribute to the comics medium in whatever way we could. We just wanted to add to this thing we all psychotically loved. I don't really know if that's really a mission statement; I think that we really just wanted to contribute to this medium that makes so many people happy. Be it through retail or publishing or a festival, it's just us wanting to contribute.
Andrew Carl: The mission since Once Upon A Time Machine's conception was to give opportunities to people who wanted to contribute to the comics medium. We figured through publishing, we could create the things we wanted to see; make something bigger than the sum of its parts and make something worth paying attention to. We wanted to make Locust Moon a place where creators could have a spotlight shown on them; whether they're newcomers with a unique voice or legends like Little Nemo creator, Winsor McCay. DS: How important is self-publishing overall to Locust Moon?
AC: It's incredibly important! Our first book was published through Dark Horse and we had a great experience and we look forward to working more with them but they can't publish everything we feel needs publishing. A lot of the things we self-publish is from wanting to see new things out in the wild. It's just being able to simply put something we love into someone's hands and not having to wait.
JO: Exactly. We all believe in the power of just making things. There's nothing greater than making the things you want to see, exist. We do that hoping people will want to read and buy our product, allowing us to keep getting better at it.
DS: A lot of Kickstarters fail and yours has been THE success story of 2014. From my understanding, you had a lot of Little Nemo: Dream Another Dream in hand before launch, how nervous or how confident were you that it would be successful?
JO: We were very much a lot of both, if that makes any sense. We were very nervous because it was a lot of money that we needed to produce a book this huge and this gorgeous. We didn't know if it would make it but knowing it had great artists such as Bill Sienkiewicz, J.H. Williams III, Cliff Chiang and more, creators with incredible fan bases made it a bit easier to simply have hope. The success was definitely vindicating.
AC: It was definitely an all-or-nothing thing. Either enough people would get it, going, "Yes, I want to put down a lot of money for your giant book" or the people outside of our circle would go, "No, this absurd and no, you don't get my money." It was certainly going to be one or the other and I'm glad it struck a nerve with people who love comics. It's also really important that it was finished by the time we committed it to Kickstarter. It was waiting at the printer when we clicked, "Launch" on Kickstarter. We needed to deliver this book without an inflated schedule or missing certain artists. We wanted Nemo to not be any different from when people had given us their hard earned money to when it got into their hands. We knew how absurd something of this scope could sound so we wanted to minimize all of the consumer risks we could. DS: You brought copies to sale at Small Press Expo and sold out both days. One person I talked to called Little Nemo: Dream Another Dream, "The statement book of SPX." How's it feel to finally have it out in the wild?
AC: We had 12 on Saturday and 5 on Sunday…sold out early both days and then at the end someone even bought our display copy! I made maps for everyone who bought one to find the 26 Little Nemo contributors who had tables at SPX, so they were wandering around as slow moving billboards all day.
For the first time also, it was so different knowing that everyone who bought a thing I made was definitely gonna love it. Usually, I feel at least a little guilty when someone buys something because I "sold" it to them. This time around, people found us; they flipped through the whole book first, usually or at least most of it and then said, "Yeah, I want to own this forever and lose $150 forever." Honestly, this show was awesome!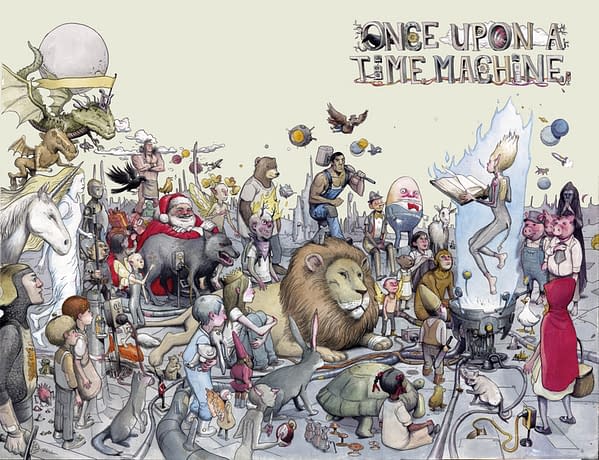 DS: Now, that it's out there, what's next?
JO: Right now, we have 5,000 copies of this book out there and we just want to get int as many hands as possible. We're just incredibly proud of it. It's the most gorgeous thing we've ever been a part of. We have a sequel to "Once Upon A Time Machine" coming up, a new Quarter Moon anthology and some other projects that we can't announce just yet but are incredibly excited about. Also, the third Locust Moon Festival is coming up and tons of creators from the Little Nemo book and more will be there. It's simply a celebration of comics by and for the people who love them. We want this to be a special time for comics.
The 2014 Locust Moon Festival featuring creators J.G. Jones, Paul Pope, Bill Sienkiewicz and more will be held Saturday, October 25th in Philadelphia, Pa.
Devon Sanders is the rarest of birds; a native of Washington D.C. He can be found on Twitter at @devonsanders