Wednesday, January 8th CAROUSEL: A Cartoon Slide Shows and Other Projected Pictures will be hosted by R. Sikoryak, featuring gag cartoons, graphic memoirs, live drawing, and more from:
Jon Keith Brunelle, Sam Gross, John Kovaleski, Liza Donnelly, Roxanne Palmer,
and Ariel Schrag with Valerie Schrag.
It will be held at 7:30 pm at Dixon Place, 161A Chrystie Street (between Rivington & Delancey), New York City. Tickets are $12 (advance) $15 (at the door) $10 (students/seniors) or TDF. For advance tickets & info contact www.dixonplace.org (212) 219-0736. (The Dixon Place Lounge is open before, during, and after the show. All proceeds directly support DP's mission and artists.)
Wednesday, January 8th
At Forbidden Planet NYC, a triple-play of signings:
After 15 years, Bob Fingerman brings his classic be-loved series Minimum Wage back! Bob will be at Forbidden Planet NYC to sign the brand new issue number one on the day of it's release at 7PM. Forbidden Planet NYC is located at 832 Broadway, New York.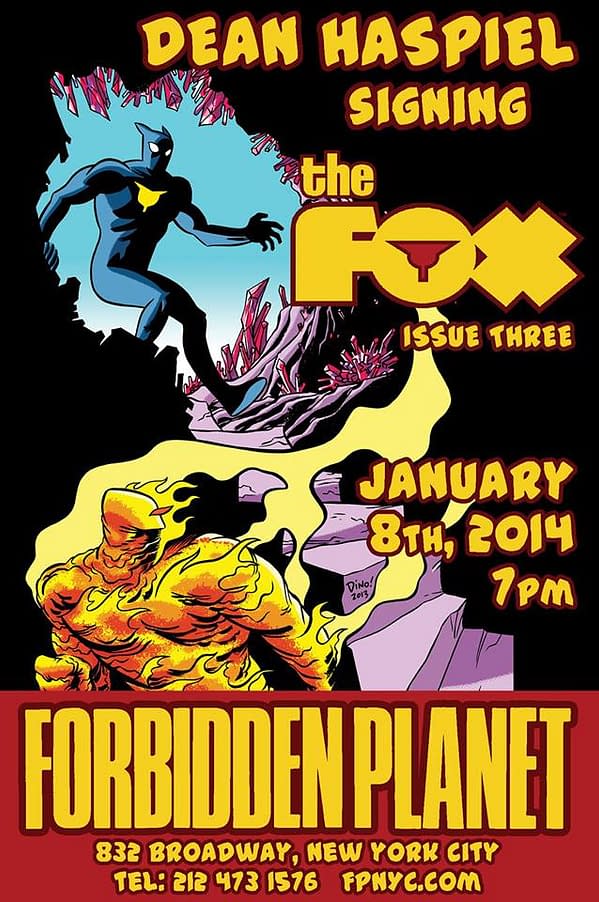 Emmy-Award winning artist Dean Haspiel will be signing copies of The Fox #3 at Forbidden Planet NYC on January 8, 2014, also at 7PM.
Gregory Benton's new book B+F is out from AdHouse Books and he, too, will be signing copies at Forbidden Planet NYC at 7PM. He promises that given a couple of minutes, he will even draw in it for you.
Wednesday, January 8th
Timmy's Drawing Club will be meeting for a Sketch Night at Timmy Tattoo in Huntingdon, Long Island from 8:00-10:00 PM. The event will have models for two hours for life-drawing starting promptly at 8PM. Event cost is $10.00.
Bring your own art supplies–Timmy's Drawing Club will only be providing models, chairs and lighting. PLEASE RSVP via email: timmy@timmytattoo.com so that numbers can be planned for accurately. Timmy Tattoo is located at: 394 New York Ave, Huntington, NY
Thursday, January 9th Neal Adams will appear at Midtown Comics Downtown for a special signing of the all-new Detective Comics #27. The signing will be held from 6-7PM. Purchase of Detective Comics #27 is required to attend the event. Midtown Comics Downtown is located at 64 Fulton Street ( on the corner of Gold Street) in New York.
Enjoyed this article? Share it!