This week's titles include:
Storm #1
Steed and Mrs. Peel: We're Needed #1
Groo Vs. Conan #1
Doctor Who: The Eleventh Doctor #1
Supreme: Blue Rose #1
Hacktivist TPB
The Midas Flesh #8
Transformers Vs. G.I. Joe #1
Life With Archie #37
Afterlife With Archie #6
Ragnarok #1
Storm #1 (Marvel Comics, $3.99)
By Devon Sanders
My mind and heart is filled with, quite possibly, tens of thousands of comics characters.
Spider-Man was the first character to make me giddy. As a four year old, I was gifted with a Spider-Man towel set and I was beyond happy. It was like someone truly knew my four year old heart. In that towel set, I knew that someone truly was listening. I felt heard, like someone truly knew that my newfound love for comics was valid. I'm many years removed from four and in that time many other characters have come to hold very special places and different reasons in my heart: Hawkman, She-Hulk, Lady Cop, Wonder Woman, Nightcrawler, Storm and many more.
Of all the characters mentioned, one will forever hold my heart.
Storm.
X-Man, mutant, goddess, queen…
My mother's favorite comics character.
Choosing Storm as her favorite character wasn't a hard choice for her. Outside of Superman, Batman and maybe Spider-Man or Robin, Storm was one of the few characters my mother could name and for one very simple reason, in Storm, she saw herself. She saw another woman of color and strength.
In my mother's honor, I keep a statue of Storm watching over a picture of my then 23 year old mother and my 4 year old self. Barely a day goes by where I don't look at my mother's picture and know that Storm is keeping good company. So, when Marvel announced they would be releasing a new Storm ongoing, I was invested and expected and wanted good things for my mother's favorite character.
Storm #1 by writer Greg Pak and artist Victor Ibanez is the Storm comic I know my mother would read and absolutely love.
In the African city of Santo Marco, the threats to life are equally man-made and acts of God. The people of Santo Marco are threatened with tsunamis while the ruling party batters them with policies that favor businesses over people. Into all of this comes Storm, an African and a mutant faced with the continued concern of the people she left behind in order to join The X-Men. Guns are raised, lightning is called down and Storm leaves Africa wondering where her heart truly lies.
Meanwhile, at the Jean Grey School For Higher Learning, a young mutant is having her own identity crisis, leading Storm back home in more ways than one.
In Storm #1, Pak crafts a phenomenal tale of belonging and heritage. Pak's Storm is a woman of multiple worlds; superhero, X-Man, professor, queen and African; all presented of equal and total importance to what makes this character all that she is.
Artist Victor Ibanez is truly one to watch out for. His Storm is regal in action or repose. Ibanez excels in using facial expression and subtle gesticulation in order to compliment dialogue. If you're looking for a new favorite artist to follow, look no further as he's already here.
Storm #1 is simply the best single issue of any book I've read in a while and a comic I'd proudly hand to my mother, telling her, "They heard you, Ma."
Devon Sanders is a menace. Plain and simple; a menace. Has the common sense of a brick. Writes good, though.
Steed and Mrs. Peel: We're Needed #1 (IDW, $3.99)
By Bart Bishop Before there was The Avengers there was…The Avengers. It's common knowledge that the British television series preceded the Marvel superhero team by a good two years, but there are still repercussions to this day, with the 2012 film being retitled Avengers Assemble in the UK to avoid confusion. That being said, the television series has ironically made the transition to comic books a few times, with Boom! Studios' take being the most recent. Although they stirred confusion in 2011 after reprinting Grant Morrison and Ian Gibson's Steed and Mrs. Peel originally published by Eclipse Comics from 1990-1992, this was immediately followed up by an ongoing series by Mark Waid and Caleb Monroe that lasted twelve issues. Now they're following that up with a new six-issue mini-series titled Steed and Mrs. Peel: We're Needed, written by Ian Edginton with art by Marco Cosentino. Although the title is still trying to avoid confusion, it indicates a focus on a particular dynamic from the show, as to my surprise Diana Rigg as Mrs. Peel was only in two seasons of the six-season (eight if you count The New Avengers) show. From cat suits to bowler hats, this new run is a sangfroid take on old favorites accessible for newcomers and old fans.
The series will actually be divided in two, with three-issue story arcs each. A period piece that recreates the mod aesthetic and whimsical tone of the mid-1960s, it's fascinating considering these characters and this show, along with James Bond of course, were famous for putting spies on the map. Incidentally, Ian Edginton (Hinterkind, Leviathan) is the first English writer on Boom!'s take, as Grant Morrison is Scottish and Mark Waid is American. Marco Cosentino, by contrast, has mostly worked on "bad girl" comics like Grimm Fairy Tales. When this first issue starts, an old associate of John Steed's, Jack Ledger, is killed while attempting to assassinate the director of the Department of Uncivil Affairs, "the spies who spy on the spies who spy on the spies." It's all very mysterious, and leads Steed and Peel to a strange village where one of them is taken prisoner.
Edginton certainly has the voices and tone down. The Avengers was always very simple and economical in its setup: Steed is a spy and Mrs. Peel is his amateur partner. She's married but her husband has been missing for years, allowing for laissez-faire flirtation between her and Steed bordering on scandalous. They get into adventures. Edginton has that down pat, balancing the reserved and old-fashioned Steed against the younger, brasher Peel while throwing them into a back-of-the-napkin mystery that could lead to a grandiose conspiracy, justifying the series' existence to modern audiences that crave a grander scale while maintaining the feel and texture of the original show with its standalone tales and clean denouements. It's also wise to have the connection between Steed and Ledger, establishing Steed's past while introducing personal stakes, a clever two-birds-with-one-stone maneuver that makes new reader accessibility. There's not quite the feel of the swinging '60s or the psychedelic trip that the solicitations promise just yet, although an on-the-nose encounter with a devil-costume-clad Mrs. Hanratty certainly hints at the thematic weirdness that could seep into this show on occasion.
Cosentino certainly understands framing and pacing, and has a clever bit of misdirection on the first page involving a doll house, but can be a bit stiff at times. It's a failing of most adaptations of pre-established brands as the artist attempts to recreate the likeness of the actors and even iconic moments from the source material, with the results being stiff and strangely two dimensional. Cosentino comes to life, however, during the introduction of the titular characters that presents the series' title diagetically in a fourth-wall-breaking moment, highlighting the unique qualities of the sequential art form, and with two separate action scenes, one involving Peel fighting a maid and another featuring Steed evading an entire town. The latter beat emphasizes, as well, the strengths of not being limited by the BBC's budget. Cosentino utilizes tension-heightening Dutch angles and ominous panels positioned at a distance from Steed to portray his isolation with a belletristic effect. Both covers are also striking, with Stacey Lee's beautiful pin-up of Mrs. Peel and Babs Tarr's quirky variant showing why she's gotten so much acclaim for her upcoming work on Batgirl.
The only fault with the issue comes in the character of Lord Guy Dolmann, an anachronism and possible gay panic stereotype. His name, first of all, would be appropriate as high camp but is instead presented as straight faced. His entire look, with slicked back shoulder-length hair and modern suit, is also very out of place in this 1960s setting. The real problem, however, is his representation of an untrustworthy government, something that's much more contemporary in sensibility and certainly not in line with how Steed engaged with his shadowy superiors in the past. As for gay panic, it's subtle but Dolmann being introduced in a purple robe, with sharp androgynous features and effeminate particulates in his sinister dialogue, point to shorthand for indicating this character is a villain, even though he's prefaced as a sketchy ally. I doubt this is intentional, and instead is a byproduct of cultural clichés, or more than likely the fine line between popular culture's portrayal of the British fop and the British sophisticate.
All in all, a rousing start that stays true to its roots while upping the ante in a manner appropriate for this medium. The nebulous and flexible nature of the premise allows for an infinite amount of stories in terms of tone and content, so let's hope Edginton and Cosentino stick around for longer than six issues.
Editor and teacher by day, comic book enthusiast by night, Bart has a background in journalism and is not afraid to use it. His first loves were movies and comic books, and although he grew up a Marvel Zombie he's been known to read another company or two. Married and with a kid on the way, he sure hopes this whole writing thing makes him independently wealthy someday. Bart can be reached at bishop@mcwoodpub.com.
Groo Vs. Conan #1 (Dark Horse, $3.50)
By Joe Colewood On page 9 of Dark Horse's Groo vs. Conan #1, Sergio Aragones asks a kid who he thinks would win in a fight, Groo or Conan.
The kid replies with a lengthy word bubble pointing out that it's a meaningless question, since there's no objective rules to such a confrontation aside from the whims and loyalties of the author.
This follows an exchange between Sergio and Mark Evanier in which they talk about how easy crossovers are to do, and whether a meeting between Groo and Conan would violate the "rules" of each other's world.
On page 10, Sergio gets hit on the head. On page 11 he's injected with an array of conflicting medications. Then he runs off into the woods and falls into a hallucinatory state and dreams a story where Groo meets Conan.
What I'm trying to say here is that whatever issues you might have had after hearing "Groo meets Conan" are already right there in the book. So repeat to yourself, it's just a comic, you should really just relax.
That said, this is pretty weird. I mean, we're getting pretty close to an "Archie meets the Punisher" level of incongruity here, even if Conan and Groo occupy technically the same genre and, well, Groo is basically a parody of Conan. Even in the Mad Magazine-influenced world of Groo, this risks being a bridge too far.
But Aragones and Evanier handle it pretty masterfully and even make it look simple, even though practically every panel here is working towards the convoluted premise. Making it partly a metanarrative about the authors and an overtly-acknowledged "imaginary story" covers most of the bases, but the real trick here is in the artwork. The Groo (and Aragones/Evanier) sequences are drawn by Aragones and the Conan portions are drawn by Thomas Yeates, which is simple enough. It's in the last two pages where things get interesting, when characters from Groo's world (though not Groo himself, yet), who are seeking a great champion, cross over into Conan's with no further explanation. The two styles share the same panel, with Aragones' crazy cartoons interacting with Yeates' more traditionally heroically drawn ones. A remarkably straightforward trick, and weirdly unsettling even as it makes you laugh, but it works—and it's yet another example of the kind of thing you could only do in the medium of comics. Well, short of something like Who Framed Roger Rabbit, I guess.
Admittedly this is just the first issue and the real conflict is just getting started when it ends, but for once that doesn't feel like the reader's being shortchanged. As Aragones's avatar points out, a "real" confrontation between these two characters would be pretty straightforward and would end with Groo killing Conan in about two panels. At least, that's what he says. But I have a 79-page argument for why Conan would actually win in a fight. Point one: …
Joe Colewood is a gigantic comic guy with arms, legs, chest and a head made out of comics. Amazing Adult Fantasy #15 is the head, the Bone omnibus is the central core, I think an old issue of Warlord is the spleen, and so on. He lives in Toronto and clearly has too much time on his hands.
Doctor Who: The Eleventh Doctor #1 Titan, ($3.99)
By D.S. Randlett (@dsrandlett) I suppose that I didn't properly get into Doctor Who until just about everyone else did, when David Tennant took over the role. Of course, my Doctor was, unfortunately for me, the wonderful Paul McGann, who starred in the ill-fated (and admittedly, ill-conceived) television movie from 1996. Much about that production didn't work, but McGann's performance remains a highlight. Like many who have the Nerd gene, once I get into something, I go all in. Or rather, feel like I do. For about two years after getting into Tennant's run, I had absolute Doctor Who fever. I acquainted myself with little snitches and snatches of past Doctors, and then, in my desire to see more of McGann in the role, was pointed toward the audio dramas produced by Big Finish. To this day, some of those remain among the best Doctor Who media I've experienced, and not just because they provided a place where Paul McGann could further develop and rehabilitate his take on the character. These productions were freed from the constraints of the television series in terms of budget and length. Stories and concepts (in other words, writing) were allowed to breathe in a way that television didn't typically allow for, all while remaining pretty kid friendly. It didn't hurt that the Doctor is known for disappearing for who knows how long, giving writers of ancillary media plenty of room to play around in.
With the departure of Matt Smith from the role, and the entrance of Peter Capaldi, there are going to be fans who miss their Doctor. Thankfully, that's where ancillary media comes in. While it might be a while before Ninth, Tenth, and Eleventh Doctor audio dramas start coming out (if ever), comics are here to pick up that slack. The results are slight at first glance, but upon further digesting there's a lot to really like. Of course, this being a comic book, we're going to be missing Matt Smith's presence, but the stand-in, written by Al Ewing and Rob Williams and drawn by Simon Fraser does a pleasant enough job. The team has done a surprisingly good job of capturing Matt Smith's voice, and the voice of the show during his tenure.
Fraser's art can wildly inconsistent, unfortunately, with panels alternating between truly beautiful and truly awful, often on the same page. Judging from the art, it's hard to tell exactly what age The Doctor's new companion might be. Is she slightly frumpy and middle-aged, or is she youthful and dynamic? The art can't really decide. It's not all bad news, though, as the designs for the aliens that appear are a lot of fun, and the first scene in the TARDIS interior boasts a really very good grasp of storytelling technique. This issue has the feeling of Fraser finding these characters, and when he's good, he's very good. If his voice keeps developing, this will be quite a good looking book.
The writing is pretty bog standard Who as far as plotting goes. Doctor meets new companion. Check. There's an alien. Check. The streets of London, the houses of Parliament, or some other English landmark are terrorized by said alien. Check, check, and check. But what Ewing and Williams get really right are the little things that made Matt Smith's run on the character so memorable. They've got the Tumblr-friendly catchphrases down pat, that's for certain, but they've also managed to capture the tenderness that that run of the show had at its best. I have no idea what the long game is going to be for this title, or even if there is one, but if Ewing and Williams manage to hold on to that feeling of tender-hearted humanity, this will be a title I'm tempted to revisit.
In the end, The Eleventh Doctor will be best consumed by fans looking for more of their favorite Doctor, but on its own it's a nice enough all ages read. If you pick this up from the quarter bin in three years, you will love it.
D.S. Randlett lives in the hills of Virginia and takes credit for the reviews that his emaciated twin brother writes while chained to the old radiator. He plays his guitar while biding his time for unsuspecting tourists and thinking about going to grad school.

Supreme: Blue Rose #1 (Image, $2.99)
By Cat Taylor Anything associated with Rob Liefeld and Image Comics in the 1990s is typically considered the dregs of comic book lore and for good reason, but I enjoyed his Supreme comics, warts and all. I acknowledge that in many ways Supreme embodied every stereotype of the 1990s violent anti-hero, but what made the character work for me was the fact that he was basically a self-centered version of Superman who was still a hero. It was an interesting imagining of Superman that hadn't really been explored. Any arrogant alternate-reality Supermen that I had seen up to that point were villains. To see this character as an integral part of a mainstream comic book universe was something I found exciting at the time. I also enjoyed the completely about-face Silver-Age Superman tribute version that Alan Moore established. Not only was that character a refreshing change from the standard comics of the time, but it was also a change from Moore's well-known deconstructionist style. Granted, it often suffered from being a little too "twee" and proud of itself, but it was a fun read overall. The only version I never read was the poorly received Erik Larsen run, and I'm sure I'll pick up those books one of these days as well.
Now there's a new take on Supreme in Supreme: Blue Rose by Warren Ellis and Tula Lotay. With an acclaimed writer like Ellis taking over a character that has fascinated me in radically different incarnations, it was a given that I was going to check this out. Fortunately, the first issue doesn't disappoint. Like Liefeld and Moore, Ellis has his own vision of the Supreme character and his universe that differs significantly from previously established versions. Even though the first issue makes it clear that this is a reboot of old characters, Ellis does so by acknowledging the Supremacy multi-verse that Moore established in his run, but Ellis doesn't call it that. Regardless, that plot device will allow Ellis to go in his own direction without having to completely throw away everything that the previous writers put in place. In Supreme Blue Rose, Ellis is taking a far more serious approach to the character and his universe than Moore did but he's not relying on the anti-hero, violent clichés of the Liefeld version either. Instead, Ellis is giving us a universe that has a weird, dreamy feeling akin to a David Lynch movie or some of the stranger issues of Doom Patrol. Lotay's art is a great fit for this type of story. Her style starts with linear figure drawings that look like the work of an accomplished student in a life drawing class. Then she surrounds the figures with a loose environment and bright washes of color giving an end result that defies verbal explanation.
There are a lot of strange things to ponder in this issue and they all leave plenty of reasons to keep coming back to this series as long as Ellis in on board. Here are just a few of the things that have me intrigued so far. An old character from previous Supreme comics called Enigma is in this issue, but now he truly lives up to his name. He's just kind of hanging out watching things, similar to the Hanged Man from Astro City. We don't yet know his purpose. Also, Supreme's arch-enemy, Darius Dax, is a "future investigator" who gets paid to explore possible future events. This is a new concept for a villain that holds a lot of promise for upcoming storylines. In addition, Supreme isn't even in this issue, with the exception of one panel that is a scene from a video. How many first issues of a comic don't even feature the title character? Finally, there's an accomplice of Darius Dax's named Reuben who has been sent to shadow the protagonist of this issue, Diana Dane. Reuben's face is a literal blur. Diana can clearly see that he doesn't really have a face, but Reuben explains that most other people think he looks "normal." I've got to find out more about this guy.
It's unusual to find a challenging comic book that can pull off the surreal without making it seem like weirdness for weirdness' sake, but it seems that Supreme: Blue Rose is that rare find. On one hand, you can't really go wrong with anything in the hands of an accomplished writer like Ellis. However, I also find it fascinating that two writers as good and creative as Moore and Ellis both found a character, that appears to be a Superman rip-off from a maligned creator, to be interesting enough that they wanted a shot at writing his stories. Both have taken radically different approaches but both have achieved amazing results. Without taking anything away from Moore or Ellis, Liefeld created a character with nearly unlimited potential, even if he didn't realize it at the time.
Cat Taylor has been reading comics since the 1970s. Some of his favorite writers are Alan Moore, Neil Gaimen, Peter Bagge, and Kurt Busiek. Prior to writing about comics, Taylor performed in punk rock bands and on the outlaw professional wrestling circuit. During that time he also wrote for music and pro wrestling fanzines. In addition to writing about comics, Taylor tries to be funny by writing fast food fish sandwich reviews for Brophisticate.com. He has the dubious distinction of not having a Twitter account but you can e-mail him at cizattaylor@hotmail.com.
Boom! Head Shot – A Hacktivist/Midas Touch Double Bill
By Adam X. Smith
Back in January I wrote a piece at our previous stomping ground in which I reviewed two books being published on that young upstart of the comics industry, Boom! Studios. As I stated then, one of the few privileges of the comic journalism game is that sometimes you get to read stuff for free rather than buying things in all the time, and Boom! Studios so far rules the roost in this regard due to the fact that they have quite a few cool books under their imprints and seem to be intent on attracting name talent – for better or worse. Even Grant Morrison, well known for his habit of trying to copy everything Alan Moore and Warren Ellis do five years too late and pretending that it's somehow special when he does it*, is getting into the Boom! Studios business with some mystery project we'll probably already be sick of talking about by the time this goes to press.
So anyway…
Considering when I wrote that previous column that only one issue of Hacktivist and two issues of The Midas Flesh, and that Hacktivist just got released in hardback while Midas has only just finished its first run, I thought a post-mortem analysis of both titles might be in order. First up, Hacktivist from Archaia Black Label.
I admit I may have been a little harsh on this book based on first impressions alone. Having said that, when I finally got round to reading the rest of the series – "created" by Alyssa Milano in much the same way Christopher McQuarrie got a story credit on Archaia's graphic novel Rubicon – I found it competent if not groundbreaking. It follows a pair of dot-com billionaires who create an algorithm that allows dissidents access to the internet and bypass state firewalls. Because in the universe of Hacktivist, wifi access is a critical aspect of all civil disobedience.
Whilst I initially dismissed the story before as being hokey and broad, the script by Jackson Lanzing and Collin Kelly and art by Marcus To are serviceable throughout. The story is still pretty hackneyed and there's quite a bit of fuzzy logic and archetypes, but the artwork by To and the snappy dialogue carries it along at a decent clip. Where it falls down is in not giving the subject matter – online privacy, advocacy through social media, and the complicity of organisations like Facebook and Google in enabling the intelligence community to misuse information – the oxygen to really make something approaching a real point. That being said, its length also means I have to spend less time around the more annoying characters and the less convincing elements don't hang around long enough to really niggle at my suspension of disbelief. If it were longer than four issues, I may have been harsher on it, but as it stands, it's fine. Not great, but fine.
On the other hand…
The Midas Flesh takes a far out concept – what if King Midas had actually existed and accidentally turned the entire planet to gold and sterilising it of life in the process – and runs with it, with all that that entails. It never explains how humanoids capable of space travel (or indeed intelligent talking raptors for that matter) exist in this version of the universe, but let's face it – the hows and whys aren't what make this series interesting. Reviewing it initially I described it as Firefly on crack, but it's really a lot more focused and funny than that description would suggest. It's got the bubblegum aesthetic and bouncy humour of Bryan Lee O'Malley, while actually at least pretending to give two shits about the mechanics of how a substance that spontaneous converts anything it touches into gold would actually work; in many ways it has a lot in common with Kurt Vonnegut's Cat's Cradle.
This all largely to the credit of writer Ryan North and artists Shelli Paroline and Braden Lamb, who make the universe feel complete and lived in, provide beautifully executed artwork and a script that makes just enough sense for us to go along with the ride.
But the best compliment I can pay Midas is that – unlike Hacktivist which I read one issue of, disregarded and only bothered to finish reading after it finished its run – I have been hooked on it since I first read and have been waiting impatiently for each issue to be released ever since.
So yeah, that's one strong recommendation and one middling-to-meh. Do with that what you will.
Until next time, I'm Adam X. Smith. Boom shanka!
*Sorry, I'm still dealing with the psychic trauma of trying to read Supergods without ripping it to shreds and attempting to eat it.
Adam X. Smith is a paranoid android from the Planet X. For the last 27 years he has been living amongst the people of Birmingham, England (and more recently the University of Lincoln) ostensibly as a student of the school of hard knocks (also BA Hons Drama), but secretly on a mission to scout out the planet for invasion by alien forces; his weekly communiques on his various blogs are actually highly coded messages to his extra-terrestrial masters. He enjoys the musical stylings of local chiptune-metal band Elmo Sexwhistle, the fiction of Kim Newman, Kurt Vonnegut and Chuck Palahniuk, and his hobbies and interests include film-making, drama, occasional Youtubing, journalism and plotting the subjugation of humanity. He can be found on Youtube, Tumblr, Twitter or by jamming an ice-pick through the optic chiasm.
Transformers Vs. G.I. Joe #1 (IDW, $3.99)
By Graig Kent I cannot express how much I enjoy this book. It's not like I'm even a huge G.I. Joe or Transformers fan, and yet, this is hitting me right in the sweet spot as a child of the 1980's.
Although I had only a handful of figures from either line as a child, and rarely watched the cartoons, and only had a random comic book or two, this is a gigantic nostalgia trigger. From the Marvel comics-inspired "Cover A" (the generally available cover, there's another ten variants) that mashes up iconic imagery, to the on-model figure-packed pages, to the little in-panel "character file cards" that tell you who the players are, this comic seems targeted directly at people like me: fully-grown, responsible adults with an inability to let go completely of his or her childhood.
Writer, illustrator, colorist and letterer Tom Scioli gets it. The story construction here (by Scioli along with John Barber) is about getting as many different characters, vehicles, and settings from both properties' long history into play as possible (to Scioli, "less is more" seems an offensive principle). There's no way you're going to get a satisfying character drama when your pages are plugged with dozens upon dozens of different characters, and yet, Scioli and Barber manage to run a through-line of very 1980's Larry Hama-style melodrama surrounding Snake Eyes and Scarlett in the midst of the intrigue with the Joes making first contact with the Decepticons.
There's no real point in rehashing the plot, save to say that it works for what it is, a framework to hang many illustrated toy battles upon. You're either into this idea or you're not. Beyond that, Scioli and Barber are both knowledgeable enough in both universes' histories to mine them for inspiration while contributing something new (Serpentress) and a very different story than has come before. Also, it should be noted there was a Free Comic Book Day "zero" issue back in May that led into this story that's well worth tracking down, but inessential to enjoying this first issue.
There's a total sandbox vibe to Transformers Vs. G.I. Joe. In thoroughly enjoyable "Story Commentary" in the book's back matter, Scioli and Barber offer a page-by-page breakdown of influences, inspiration and intentions, and it sounds like two kids explaining to their parents the intricacies of their play. Even without reading the commentary (but completely backed up by it) one comes to understand that Scioli is doing very little at random here artisticall. There's a genius in his own right at play.
At first glance Scioli's work seems messy, rough-edged, unrefined, juvenile even. But if you're only taking a first glance you're missing Scioli's brilliance. Yes, his style is not clean, but with all that Kirby Krackle, jagged shadowing and unruly lines that betray their borders, one can overlook how solid his framing lines are, how distinct even the minutest details are on the page and how intentional it all is. That messiness is in the eye of the quick reader, and Scioli's work is not for the quick read. In reality that seeming messiness is detail — often important detail — meaning you have to spend time with the page, take in its depths and admire the investment Scioli has put into it. Just take a look at that second panel of page 2. It looks like Scioli has set up his toys in his back yard (there's even a swingset), and there's action happening everywhere.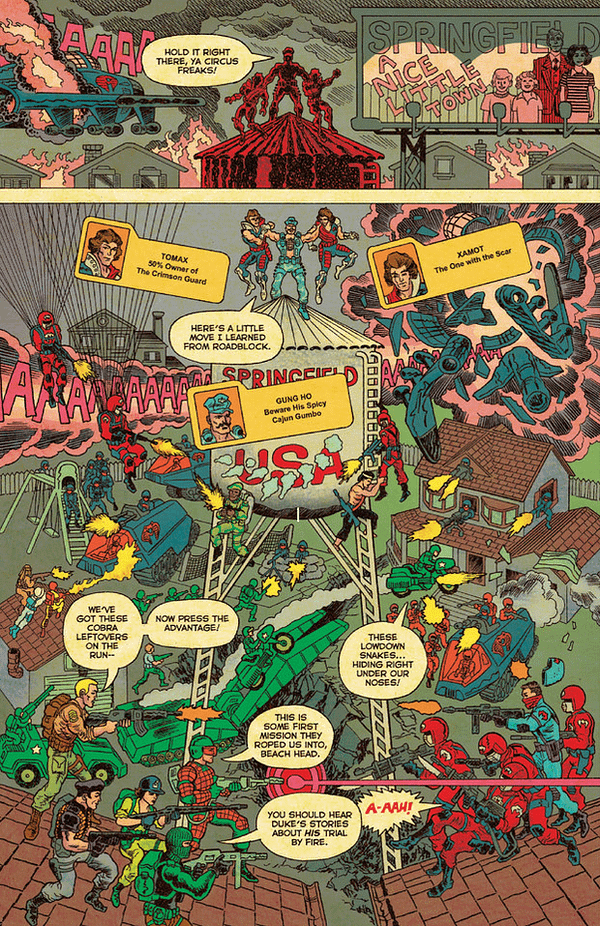 The juvenile feel to Scioli's work comes from those packed panels, a fanboy sensibility of putting it all there because it's cool. Again, delving into Scioli's work, you can see that there is purpose behind it all, beyond just being cool (but it's still really cool). Each figure, each vehicle, each set is there with meaning, moving about the panels, a part of the scene, even if it is just as a background player (but also background elements do make their way to the fore from time to time). As well, there's a stiffness to Scioli's characters that may seem clunky and amateurish, but there's double intention behind it, foremost being Scioli's Jack Kirby influence. The King's figures likewise often had the heavily posed, occasionally awkward body language, but much of it is in the creation of a dynamic moment, giving those perspective shots so much more punch. As well, with Scioli, he's purposefully referencing the action figures, Joes and Transformers, not just for detail but physicality, and that stiffness seems recall their restricted range of movement, giving the book the delightful aura of an illustrated toy fight. It might not be to everyone's tastes, mind you, but you can't say that Scioli doesn't know what he's doing.
This is a title bursting with energy, excitement, enthusiasm and plenty of love. It's a must read for fans of either property, for comic readers from the 80's (who played with boys toys and watched cartoons), and for comic art fans who appreciate visual density. But beyond the old folks, I would say this book would be tremendous reading for kids (maybe not too young) since Scioli's densely populated world is something a younger reader would totally get lost in….because I do.
RACK RAIDS: Life With Archie #37 & Afterlife With Archie #6 (Archie, $4.99 & $2.99) Last week I stated that I had no desire to continue on with the "One Year Later" story in Life With Archie, under the false assumption that the story would be continuing on for a while. The "Death of Archie" in issue 36 of Life With Archie was exceptionally cagey about which of its two "Archie Gets Married" universes it resided in ("Archie marries Betty" or "Archie marries Veronica"), and my expectation was that the "One Year Later" issue 37, debuting a mere one week later, would answer this and have a split story of one world carrying on without Archie and another carrying on with him. Well, it doesn't. Instead it is the final issue of the series, wrapping it up with a sincere and endearing series of strolls down memory lane into familiar Archie stories, undercut by the sadness of loss. Writer Paul Kupperberg and artists Fernando Ruiz and Pat and Tim Kennedy deliver a very touching tribute to Archie Andrews (I even got a little misty once or twice) that is a refreshing antidote to the needlessly ominous and cloying "Death of…" issue. Still, it never answers which universe ("AMB"/"AMV") Archie died in, and ending this successful series like this undercuts the value of the other characters of the "Archie universe" and how they can sustain without him. I'm sure there's years of interesting stories of exploring side by side two universes, one with Archie and one without, and the lack of interest in doing a Life With/Out Archie book makes the "Death of Archie" seem even more stunt-ish, narrow-sighted and disagreeable. Meanwhile, that other scandalous Archie comic is back after a brief hiatus. Afterlife With Archie returns for an interlude, catching up with Sabrina (whom you may recall had used a forbidden spell to resurrect Hot Dog, unintentionally causing the zombie plague, and was last seen cast away by her aunts as punishment) and things are not going well. Living in a mental institution, being treated by a "Doctor Lovecraft" and unable to use any of her powers are just the tip of the iceberg, as Roberto Aguirre –Sacasa and Francesco Francavilla turn away from the zombie horror in favor of some (obviously) Lovecraftian- and Hammer-inspired psychological frights. Although younger readers may not like the idea of a zombie-infested Riverdale, and on a conceptual basis it is indeed a drastic leap for ol' puritanical Archie to take a hard leap into R-rated gruesomeness, I'll be damned to the city of R'lyeh if Afterlife With Archie isn't an amazing read. "Maturing" the Archie teens into a completely different, exaggerated reality and abandoning almost any sense of humor for the blackness of impending doom is so against type for Archie Comics, you need an artist like Francavilla, one of the most distinctive "A-level" artists in the business, to sell it. And sell it he does. Just look at that two-page spread at the end of this issue (I would post it here, but spoilers). Is that not the most astounding thing you've ever seen (at least in an Archie comic)? The only thing that would've made Afterlife With Archie better is if they planned for "The Death of Archie" to dovetail into this instead. For all the self-congratulatory glory Archie editorial is laying down on "Death of…", Afterlife is the real deal when it comes to doing something daring with the property and following through on it with an actual story.
Graig Kent keeps promising to finish the final edit on that novel, play test that board game, start drawing that web comic, find an artist for that children's book, and maybe write that teleplay, but first he's got to read that pile of comics and watch that backlog of movies…and dog won't walk itself. He's been reviewing things for over 15 years. He's rarely on twitter @thee_geekent, he sometimes writes about movies at [wedisagree.blogspot.com], and his dog has a blog [tacomblur.tumblr.com]
Ragnarok #1 (IDW, $3.99)
By Jeb D. For all that Kevin Feige and Tom Hiddleston have brought Marvel's Asgard front and center in recent years, the original copyright-free version remains fertile source material for the teller of epic fantasy tales, particularly in comics: books as different as Sandman, Northlanders, Hammer of the Gods, and God Is Dead have mined Nibelung gold from the Eddas, often trading on the proto-Tolkienosity inherent in the Norse myths and legends. And no one in the four-color world has ever established an Asgardian realm as rich, and worth revisiting, as the one Jack Kirby and Stan Lee launched with Journey Into Mystery #83. That's not to say it hasn't had its rocky moments, but half a century later, it remains arguably the most valid off-Earth setting that any major comics company has created, and among its most important practitioners was writer and artist Walter Simonson. His nearly four-year tenure on Thor came at a time when the Thunder God was probably at his most neglected by fandom, and Simonson's revival of interest in the character makes him more responsible for shaping Marvel's Asgard than anyone save Kirby himself.
As far as I can see, Simonson is the only comic creator to move from significant involvement in Marvel's Asgard to trying to tell his own stories in the "traditional" one, and combining that pedigree with the fact that it's been twenty years since we saw Simonson's last original creation (StarSlammers), it would be hard for the anticipation for this book to be much higher.
And, I have to say that it's… good.
I realize that damning with faint praise is a pretty cheesy way to put together a review like this, but I'm hard pressed to move off that, in either direction.
That the artwork looks great is pretty much a given: the book actually begins with Ragnarok itself, and the battle scenes are as big and spectacular as you'd expect, all dragon-fire, and a cast of thousands: in fact, the first few pages of the book should be prime candidates for original-art collectors, because they're great splashes, and they look like a big Asgardian battle should. My only kvetch here is that they also look the way a Simonson Asgardian battle would have looked twenty years ago. And that's not to complain in any specific way about Simonson's vision of Ragnarok: it's just to observe that when you read something new from a creator as important as Simonson, it's natural to want to be surprised (if not outright astonished), to learn what's been on his mind since the days of Beta Ray Bill, Naglfar and Garmur. I realize that Simonson's classical version of Asgard ain't broke, and that he's under no obligation to "fix" it; it's just that there's a certain letdown associated with opening a comic, and having it turn out to be so precisely what you'd expected.
That opening serves as a quick visual primer to the Twilight of the Gods; the main story begins as Simonson introduces us to the world that has grown up in its wake, and it's a world familiar to anyone who's read Tolkien or Howard or Burroughs or any of their multitudinous acolytes/heirs/descendants/plagiarists… things are sort of cod-medieval, and our chief protagonist must assemble a fellowship to undertake a quest. For better or worse, Simonson doesn't draw out the world-building overlong; our introduction to Dark Elves Regn and Brynja, a married pair of assassins with a newborn daughter, is several talky pages of infodump. Again, it's a perfectly acceptable fantasy-quest setup, but one that any of dozens of lesser writers could have come up with in their sleep. Simonson has added a few minor variations here and there, the principal one being that it's the female half of the duo who sets off on the quest—which is fine, but Simonson treats it as the innovation it might have been twenty years ago; these days you can't throw an enchanted hammer in your local Barnes and Noble without knocking over a half-dozen displays of female-led quests. The dialog tends to the rudimentarily functional, where one character tells the other something they already know, for our benefit ("We have been assassins of the great enemy for a long time," Regn usefully informs his mate). There are story beats that we've seen in dozens of books and movies, and some of Simonson's more cinematic paneling choices feel awfully familiar from the best work that he, and his peers, have done in the past; again, in a "good? bad?" sense, Simonson's visual storytelling is so well-honed that an awful lot of the word balloons feel downright superflulous: much of the time, we're already way ahead of the characters, and we wouldn't miss the dialog if it weren't there.
If someone had asked most comic fans to close their eyes and picture a two-page spread of a red-bearded Thor, surrounded by hundreds of battling warriors, making his last stand against the dragon, with art by Walt Simonson, and color from Laura Martin… they'd have come up with almost exactly what we see here. If that sounds like what you're jonesing for, Ragnarok #1 should work a treat; at this point, though, I think I'll wait for the trade to see if Simonson has the next Beta Ray Bill-style surprise up his sleeve.
Jeb D. is a boring old married guy whose comics background includes attending the very first San Diego Comic-Con, being lectured on Doc Savage by Jim Steranko, and fetching an ashtray for Jack Kirby. After a quarter-century in the music biz, he pursues more sedate activities these days, and will certainly have a blog or Facebook account or some such thing one day.
Enjoyed this article? Share it!