DailyShowWatch: John Stewart compares Herman Cain's use of the third person to The Hulk…

AwardWatch: Stan Lee gets recognised by Hollywood;
Lee will receive a special Vanguard award from the Producers Guild in January, and the press release announcing the award claims that he "has exerted more influence over the comic book industry than anyone in history," which is probably true, but it also claims that he "created or co-created 90 percent of Marvel's most recognized comic characters." We'll never actually know the truth of those collaborations — like great modern American success stories, the truth has been lost in a neverending quagmire of lawsuits
LectureWatch: Marvel editor Marc Sumerak goes back to BGSU to tell them what he's learnt so far.,..
Sumerak mentioned professors like Mike Czyzniejewski, Wendell Mayo and Fred Zackel as the people who taught him the true craft of storytelling and gave him a chance to make it in the professional writing world.

"While they may have helped me hone the necessary skills, it was my semester in New York as a Marvel Comics intern that really kicked my career into motion," Sumerak said. "There, I was able to put everything I'd learned at BG to good use and it paid off in unexpected ways."
This is Computo the Comic Link Conqueror speaking. I come for your women. But for now I merely collate comic-related bits and pieces online. One day I will rule. Until that day, read on.
They say I am a work in progress. The fools.
'Supergirl #3': Exclusive preview! | Shelf Life | EW.com
You can read the full issue when it hits stores Nov. 16. For now, check out EW's full sneak peek here.
Sneak Peek: Captain America #6 | Captain America | Comic News | News | Marvel.com
Cut off one of its heads, and two more take its place! An all-new Hydra has risen and they have their sights set on the Sentinel of Liberty in your first look at CAPTAIN AMERICA #6! Critically acclaimed writer Ed Brubaker is joined by legendary artist Alan Davis for an important new chapter in the life of Steve Rogers. Throughout Fear Itself, Rogers has been harboring a dark secret and its one that may leave the leader of Earth's Mightiest….powerless. Can Cap and his closest allies take on the revitalized Hydra and stop them before it's too late? Find out in CAPTAIN AMERICA #6!
BIL KEANE MEMORIAM: Fellow cartoonists remember the 'Family Circus' creator [UPDATED] – Comic Riffs – The Washington Post
FOR MILLIONS OF READERS, BIL KEANE reached out, day by reliable day, through the pure and distilled and comforting power of a single panel. "Family Circus" may play out within its distinctive circle, but to many fans, the debut of its midcentury family felt like a keyhole, then a fully inviting window into a reassuring world — an approachable, guileless realm of broad grins, wide-eyed observation and the winking malapropism.
R. Crumb's rejected gay marriage New Yorker cover: The rest of the story | The Beat
Last year, R. Crumb announced he wouldn't be working for the New Yorker any more after one of his covers was rejected with no stated reason. Now VICE magazine's Nadja Sayej has unearthed the cover as (of all things) the illustration for a bookmark in the Danish catalog from the Venice Biennale art show. It was for a story on gay marriage and shows what may (or may not) be a drag king and drag queen applying for a marriage license.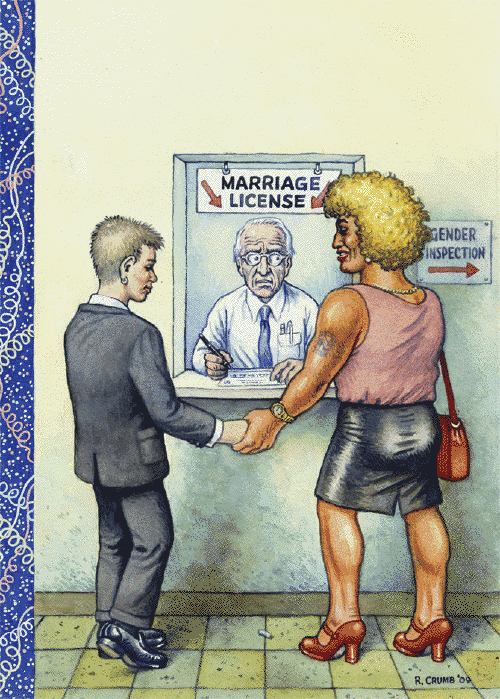 Concept Art for The Amazing Spider-Man Videogame | Superhero Hype
The Activision-owned studio, Beenox, responsible for "Spider-Man: Shattered Dimension" and "Spider-Man: Edge of Time" have released, through their studio head Dee Brown's Twitter feed, three pieces of concept art for their upcoming game which will tie-in to Columbia Pictures' The Amazing Spider-Man.
Enjoyed this article? Share it!