Thursday Runaround: Is This The Best Runaround Ever?
SlottWatch: Over the last 48 hours I have received several pleas to run a story alleging that Dan Slott is cyber-stalking an innocent woman. Except of course, said woman posted a personally critical piece on Live Journal. And Dan replied. E-mailers, that is not cyber stalking. That's replying.
And the fact that all your pleas were so similarly composed only confirms my suspicion that some people are trying to organise some kind of anti-Dan Slott movement. Look, I ran the original piece because it was funny. And it was atypical of Dan Slott. If it was Warren Ellis, I wouldn't have bothered. Dan is generally a nice guy. You folk… not so much.
WikileakWatch: There's a forum called the Super Hero Figurine Forum that discusses the Eaglemoss lead/resin figure line of Marvel and DC characters. And it has a top secret moderator only forum, as do many other message boards. The difference is that this one is accessible via Google and Google Cache. Especially the bit where they list all the people signing up for IDs, their emails and IP addresses and where else they post, so they can discuss whether they are worthy to join or not, suggestions about filling the inboxes of people they don't like with gay porn, "accidentally" deleting members or calling members by abusive names…
DickWatch: Name one of your comic book artist heroes who you met that turned out to be a total dick."Everybody has these stories about different creators—John Byrne is the top candidate on that list of people you meet who turn out to be assholes and that ends up being disheartening. I've never had the privilege of meeting him, and I'm a huge fan and will continue to be a huge fan; I don't care if he is a huge dick, I'll still buy his comics. I will say, some great artists are nice people: Erik Larsen and Todd McFarlane are both amazingly down to earth and fun guys to be around. Joe Quesada is kind of a dick but I never idolised him when I was younger, so…" – Robert Kirkman on Vice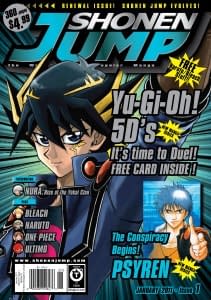 ShonenWatch: Shonen Jump relaunches with a new look, and two new series, Psyren and Yu-Gi-Oh! 5D's! to join Bleach, Naruto and One Piece. And find a free Yu-Gi-Oh trading card, The Winged Dragon of Ra, printed with the autograph of original creator Kazuki Takashi inside. Subscriber-only bonuses will be available on the website, such as webcomic,Nura: Rise of the Yokai Clan.
NewsWatch: The Wall Street Journal and the Los Angeles Times notice the Tokyo Comics Code story.
HistoryWatch: Paul Levitz on 75 Tears Of DC Comics at the Hammer Museum in Los Angeles.
While the talk covered some basics that fans such as yourselves are well familiar with, there were still plenty of interesting tidbits. For one, Levitz pointed out that the very first comics published by Marvel and DC were edited by the same man (and he thus compared the two's subsequent symbiotic histories to being like Cain and Abel going out into the world.)
CageWatch: Ghost Rider and Superman wannabee Nick Cage throws a wobbly. This is The Bleeding Cool ComicChron Robot speaking. I come for your women. But for now I merely collate comic-related bits and pieces online. One day I will rule. Until that day, read on.
House Fire A Human and Cultural Tragedy — Noted Musician and Collector Killed, his EC Cover Art Destroyed
Don Lineberger, noted musician and avid collector of original art, died in a house fire December 8th in Valdosta, Georgia. He was 71. Lineberger was a left-handed banjo player of some renown who was part of Bill Monroe's Bluegrass Boys in the mid-60's and a member of the house band on the Glen Campbell Goodtime Hour and the Smothers Brothers Comedy Hour. He was also renowned for his extensive collection of premium comic art, which was all reportedly destroyed in the fire that engulfed the entire home.
Some random clips from the hours of Superman Lives footage we have. Lasers make everything cooler!
New Tron Posters Upgrade Original to Legacy | Underwire | Wired.com
A pair of new glow-in-the-dark posters for Tron: Legacy and the original Tron artfully illustrate the sci-fi franchise's visual upgrade.
Before Sinestro fell from grace, becoming the ultimate Green Lantern villain and one of the greatest foes in history…
DC Universe: The Source » Blog Archive » A Note From Hank Kanalz
Since we launched our DC Digital Comics in June, we've been constantly soliciting your feedback as to what you want to see happen with our digital program. #1 on the list at all times is "I want comics on my Android device!" Well, the fine folks at comiXology and we have been listening, and as of today, your request has been fulfilled. Now, your favorite digital comics are available in the comiXology Android App.
Extremist Group Urges Boycott Of Thor Over Casting Of Idris Elba
A white supremacist group has joined in a boycott of Thor because the Marvel Studios film cast a black actor as the Norse god Heimdall, the sentry of Asgard.
Rumor – Twitter Account Claims to be Leaking Marvel vs Capcom 3 Reveal Plans
A new twitter account is claiming to leak Capcom's remaining Marvel vs Capcom 3 reveal plans, along with some "behind the scenes" information. Take the rumored info for what you will.
Medical comic books for kids explain serious diseases – Springwise
Children affected by serious diseases and medical conditions either personally or in their families often don't really understand those illnesses or the treatments required to fight them. New Zealand-based Kidzcomics aims to change all that with a series of comic books designed to explain medical information for children.
USFJ releases second manga on U.S.-Japan alliance – News – Stripes
U.S. Forces Japan on Tuesday released the second of its four-volume Japanese-style comic books aimed at educating Japanese about the U.S.-Japan security alliance. The manga, titled "Our Alliance — A Lasting Partnership," focuses on the two main characters Arai Anzu, a Japanese girl, and Usa-kun, a boy visiting Japan from the U.S. The two characters explore and learn about the U.S. military in Japan. The new volume focuses on the role of U.S. Marines in Japan.
CBLDF notes rise in border authorities seizing devices containing adult comics material
"The CBLDF legal team has been tracking trends in customs here in the U.S. and abroad that show authorities searching, and,in some cases, seizing the computers, portable devices, storage devices, and other items of travelers who have adult comics material stored on those devices,"
Comic-Con test recap « The TicketLeap Blog
TicketLeap used eight super powered servers on our Amazon service to handle the volume for this test. Within the first two minutes a majority of tickets were sold successfully. Those who came afterward swamped the servers and caused a "502 Bad Gateway" error message. After two minutes, our system's auto scaling kicked in and doubled the number of servers. After this the site responded normally but the remaining tickets were still on hold. At that point, any remaining tickets were on 'hold' status until our system released them back into inventory. At that time they were sold without problems until all 1,000 tickets were sold out.
How Michel Gondry became cinema's most versatile director | Film | The Guardian
"I usually identify with the nerds," he points out, "but these ones just reinforce the social rules. Their values are fascistic. All those people marching around in capes and masks and boots. The superhero imagery is totally fascist!" He's on a roll now. "When you step into this genre, they feel it belongs to them. They want you to conform, or they won't like you. They want the conventional. But it's fine. The movie's been doing very well, I think, whenever we've screened it to normal people."
In Rochester: Jetpack Comics looking to pay it forward this holiday season – Fosters
If you pop into Jetpack Comics this week to pick up the latest chronicle of your favorite superhero, owner Ralph DiBernardo hopes you'll drop off a toy or some nonperishable food items as well.
Kill Shakespeare's Move to Movies Begins – Torontoist
When Kill Bill was released, friends Conor McCreery and Anthony Del Col joked that there should be a video game called "Kill Bill Shakespeare." Looking at each other, they realized they had a great premise—a Shakespearean mash-up of all the bard's most famous characters.
David Glanzer on selling tickets | The Beat
Glanzer: We considered a lot of different options. We're hoping Ticketleap will be able to handle the volume but with a lot less costs involved. There are other sites out there that may be able to do this but costs are pretty amazing. [Ticketmaster typically charges $11+ "convenience charges".]