TweetWatch: On Ultimate Spider-Man…
Mark Waid: Until Morales shows up on live-action TV, in cartoons and on toy shelves, I–with respect–cry foul.

Tom Brevoort: Well, you'll see at least one of those before the year is out.
TeaseWatch: More on this Avengers teasing image today at Noon PT, 3pm ET, 8pm BST
At Marvel, an X is always an X. Is this the big Avengers/X-Men crossover we've been promised?
Or could this be whatever Cable Reborn by Loeb and McGuinness was going to be really called?
Or is that going to be Guardians Of The Galaxy?
SpeculatorWatch: For those in New York still searching for an Animal Man #1 first print, I am reliably informed that the Downtown branch of Midtown Comics, the newest and least well-known branch of the chain is sitting on quite a stack both as a single book and as part of their combo pack deal. For cover price of $2.99.
It just sold on eBay for $22.50.
NameWatch: Was Marvel Mystery Comics named after Marvel Mystery Oil? Todd Allen investigates.
StripWatch: A great new comic strip from Let's Be Friends Again by Curt Franklin and Chris Haley, on GD-Gate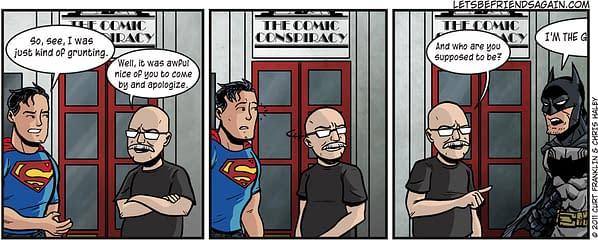 MusicWatch: A new pop video for the song Babydoll by Akira The Don from the album The Life Equation, that opens with a speech by Grant Morrison, who has called the record "fucking brilliant".
[youtube]http://www.youtube.com/watch?v=Lzu2mDkTBnw[/youtube]
This is Computo the Comic Link Conqueror speaking. I come for your women. But for now I merely collate comic-related bits and pieces online. One day I will rule. Until that day, read on.
They say I am a work in progress. The fools.
ICv2 – Inside The "New 52" Phenomenon
We have ten books in September where we now have print runs over 100,000. It's been awhile since anyone has had ten books in a month over 100,000 copies.
We are seeking a comiXology admin: Mac based busy environment, team player, DETAIL ORIENTED. Willing to take direction. To enter information into our database. Manage some of the weekly sales (during 2nd shift hours). Download, organize and process new comics from our partner FTPs. Working knowledge of current comic book market and culture a plus. Local applicants please. The position is freelance. 40/hours a week with OT. Applicants from the 5 boroughs of NYC only.
Enjoyed this article? Share it!