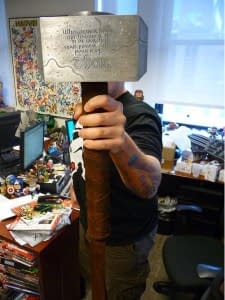 A few minutes ago, I talked on Twitter with Marvel.com editor Ryan Penagos, who posts as Agent_M. And then collated them all into this post! I'm calling this a Twinterview. I may well do more.
BC: Ryan, Marvel recently announced large investments in digital. Are you currently spending it all on golden elephant statues?
Agent_M: We only have a few golden elephant statues. We're currently stocking up on replica Thor hammers (see photo)

BC: Okay, so can we put pay to the theory that going digital means having less stuff? Look at that desk! Do you live like that?
Agent_M: Try as I might, my desk will never stay clean. Digital shmigital, I'm still a hoarder.
BC: My wife let me have a shed. But this is a point, Could a more digital Marvel save various fan's marriages around the world?
Maybe, maybe not. Long boxes and tangible comics aren't going away, but I can see some fans enjoying less clutter.
BC: How long did you find it took to adjust to reading a comic online? Or was it an instant thing? Do you still have problems?
Agent_M: It's been pretty easy for me, but I've been using and working on computers for so long, reading comics there is natural.
BC: Everyone seems to have different reading software – do you guys keep tinkering with the Marvel one? Any changes to watch for?
Agent_M: Like most software, there are always tweaks and updates being worked on and talked about.
BC: Well, about devices? Do you see youself expanding across iPhones, PSPs DSs and Kindles? Or are you more baby steps?
Agent_M: Of course we look at devices and options for expansion, but there's really nothing to talk about now.
BC: Damn your secrets. I want Marvel on my wristwatch. But with all this tech, does it feel we're finally living in the future?
Agent_M: Oh, I'm with you. When the time–& the tech–is right, I'm sure. I'll buy into "the future" when I get a jetpack.
BC: You know all European cell phones come fitted with jetpacks, right? The Nokia N99 has a new extended hover function.
Agent_M: Dammit! And all I have here in NYC is the impending threat of swine flu.
BC: One increase over the last year has been exclusive Marvel.com comics content. Do you plan to expand or maintain this?
Agent_M: Oh yeah, we'll continue the exclusive Digital Comics content. Subscribers dig it and we're able to do some cool stuff.
BC: Sure. But are you looking to step it up? Or keep the existing balance?
Agent_M: It's case by case. Some weeks we have three new exclusive Digital Comics, some weeks just one. Not gonna force it.
BC: Do you find there any specific storytelling tricks exclusive to online content? Stuff that works better online or in print?
Agent_M: Shorter serialized stories are great for us. An 32 page story spread over four weeks is great for Digital.
Agent_M: But straight storytelling–good comics are good comics. We haven't changed methods. At least not yet.
[Cheat! Spreading an answer over two twits? Cheating!]

BC: Wow. That's the 2000AD model. I should tell some Brit creators that… so, any celebrity subscribers you can hint at?
Agent_M: Bring on the Brits! As for celebs, we count many as Marvel fans, but I don't know for sure about Digital subscribers.
BC: Obama. Definitely. Marvel's doing a hell of a lot of online outreach – what are the weirder interactions you've had?
Agent_M: Ehh. I've had a weird, scary stalker on Twitter. It involved Oprah and Gerard Butler. Oy. Otherwise, almost all good.
BC: Lovely image. Some retailers expressed concern at Marvel.com's rise as harming their sales. Has this happened in practice?
Agent_M: I don't think so. Every digital comic pushes fans to collections, there's a wide gap for new comics. It's helped sales.
Agent_M: In my own experiences with fans, they've told me they went out to get comics after reading online.
[He did it again!]

BC: But do you see a day when everything Marvel is Marvel.com?
Agent_M: I sure hope so. I want Marvel.com to be the first place anyone goes for all things Marvel. But who knows.
BC: Question from the floor @AlertNerdMatt asks if you're putting more older comics online. How comprehensive do you expect to be?
Agent_M: Good question. We just passed 6,000 issues on Marvel Digital Comics. They take time to make, but we're truckin' along.
Follow Ryan Penagos at www.twitter.com/Agent_M and subscribe to Marvel.com at… well, you know where.
Agent_M: Thanks, @richjohnston, that was fun. And I still have my wallet and wat– Oh, dammit.
Enjoyed this article? Share it!