Norman Reedus' Post All but Confirms Andrew Lincoln's 'Walking Dead' Departure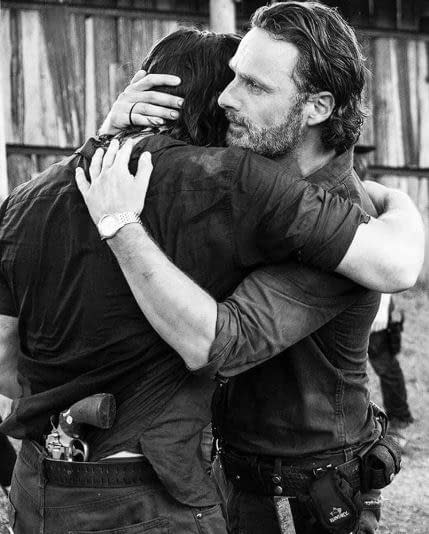 While AMC has yet to officially confirm earlier reporting that The Walking Dead's Andrew Lincoln (Rick Grimes) would be exiting the long-running series after Season 9 and have a limited role on the Robert Kirkman-created series during the upcoming season, co-star Norman Reedus appears to be forcing the network's hand. Reedus took to Instagram on Thursday to post a loving on-set embrace between the actors, with a simple emoji heart as the caption: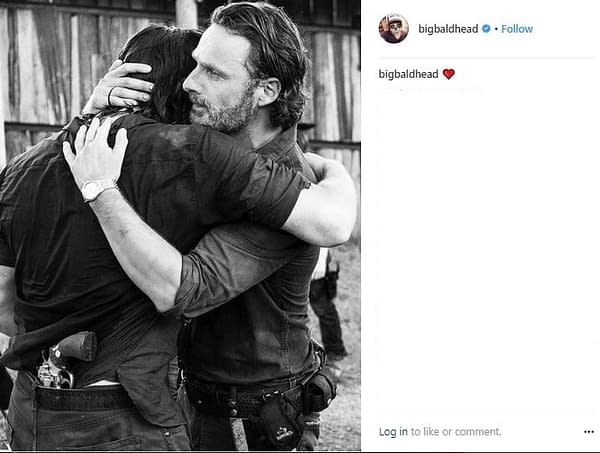 Initially reported by popular culture website Collider and confirmed through numerous sources and sites, Lincolin is expected to have a "half-a-dozen episodes" limited presence this season; and will be exiting the series after that. Reedus is expected to receive a sizeable pay increase (rumored to be in the $20 million+ range); with both the network and studio pushing for his character Daryl Dixon to take over as lead when Lincoln exits.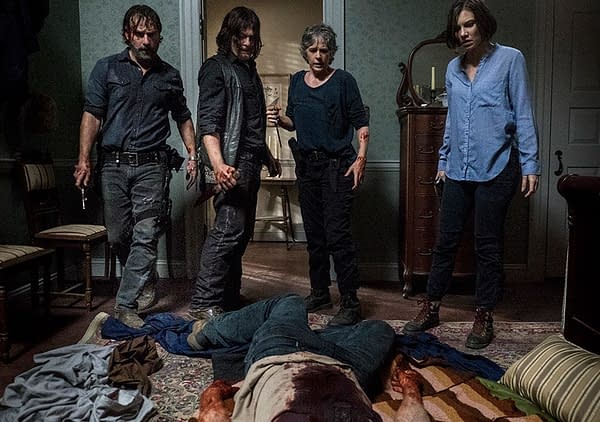 Lincoln's Rick Grimes has been a staple of AMC's The Walking Dead since he first awoke from his coma in October 2017. The former sheriff's deputy was long seen as the leader of the main group of survivors and the moral center of the series overall. Having lost friends and family over the course of eight seasons, Rick appeared to welcome the idea of handing the reigns of leadership over to someone else: Maggie (Lauren Cohan).
Both Lincoln and Cohan – who is also working a limited schedule next season due to commitments to her new ABC series Whiskey Cavalier – are positioned for some serious drama that may play into how both characters will either leave or take a supporting role during and after the ninth season. Denied her "right" to Negan's (Jeffrey Dean Morgan) head on a platter by Rick's commitment to "finding a better way," Maggie now sees Rick — and Michonne (Danai Gurira) — as the enemy. As you can see from the following clip from the episode, she's not alone (*cough*cough* Daryl *cough*cough*):
Both Lincoln and Reedus showed their lighter sides during a 2013 sit down with Entertainment Weekly, where Reedus went into some of the weirder things he's gotten or had to deal with from fans:
"I got that unicorn mask. I got this owl mask. I got that weird painting with the claws coming through it. A lot of cool little kid drawings. I got these Duck Dynasty things. Yeah, and in this painting up here, I did a series of photos about a year ago in New York after a crazy thunderstorm and there was just dead umbrellas everywhere. And so I took pictures of them and someone painted one of the umbrellas from last year. I thought that was pretty cool. I've been followed off set six times now this season."