What It Really Means To Be An Indie Comics Creator – Box Brown, Andrew Aydin, Miss Lasko Gross, And Charles Forsman At Asbury Park Comic Con It was a sunny, warm, if slightly windy day on the coast of New Jersey for the Asbury Park Comic Con on Saturday, and I made my way to report on the "Graphic Novels and the Indie Perspective" panel at the con only to be conscripted into hosting the panel for Bleeding Cool and I was happy to do it since the panel featured some of the most dynamic creators in indie comics right now, including Box Brown, Andrew Aydin, Miss Lasko Gross, and Charles Forsman.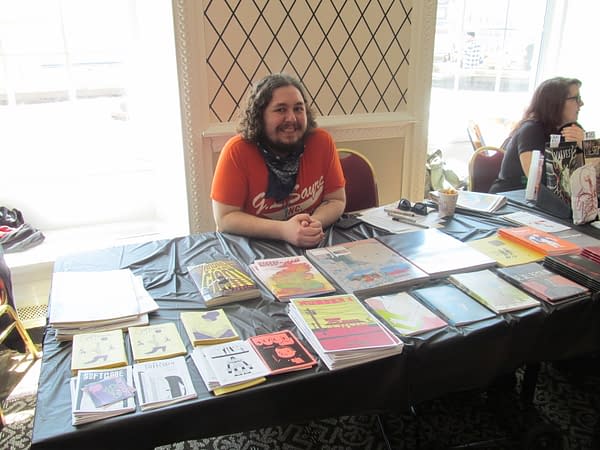 [Box Brown of Retrofit Comics]
To give you a little background on these fine folks, Box Brown is the founder of the indie imprint Retrofit Comics, who after more than a year of successful print distribution on their own, partnered with Big Planet Comics for a whole new slate of books this year, and Brown is also about to embark on his signing tour for his new graphic novel from First: Second, Andre The Giant. Andrew Aydin is the writer on the New York Times Best-selling graphic novel March: Book One with Congressman John Lewis, published by Top Shelf, and is a civil rights memoir that has recently been picked up as a textbook by several universities. Miss Lasko Gross is the author and artist of A Mess of Everything from Fantagraphics and is gearing up for the publication of her first semi-autobiographical "Henny" book (and even her second) from Z2 Comics in the coming year. Charles Forsman debuted his graphic novel The End of the Fucking World at SPX last autumn to acclaim, and is the publisher of Oily Comics, an independent micro-publisher of comics. There couldn't have been a better group to school Asbury Park Comic Con on the "indie perspective".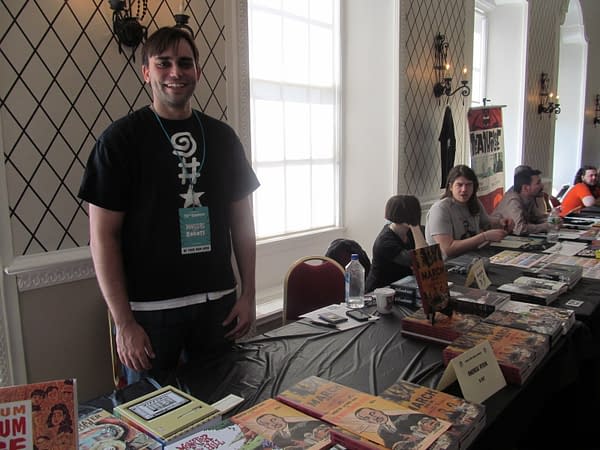 [Andrew Aydin of March from Top Shelf]
However, since I was hosting the panel, I'll have to rely on my slightly messy notes to try to convey the range of interesting topics that came up and the kind of advice they gave to creators thinking of pursuing indie publishing either on their own or with small publishers.
When I asked what the term "indie" meant to each of the panelists, since the word is often interpreted in many ways, Andrew Aydin spoke about working with Top Shelf on March, and for him the term meant "less layers" of interference and "more creatives" influencing the work rather than business people. It's a "team environment", he said, to work with Top Shelf, where everyone "contributes" on some level. Miss Lasko Gross said that for her it means seeing the graphic novel less as a "product" for marketing needs and definitely allowing more of the "artist's voice in the work".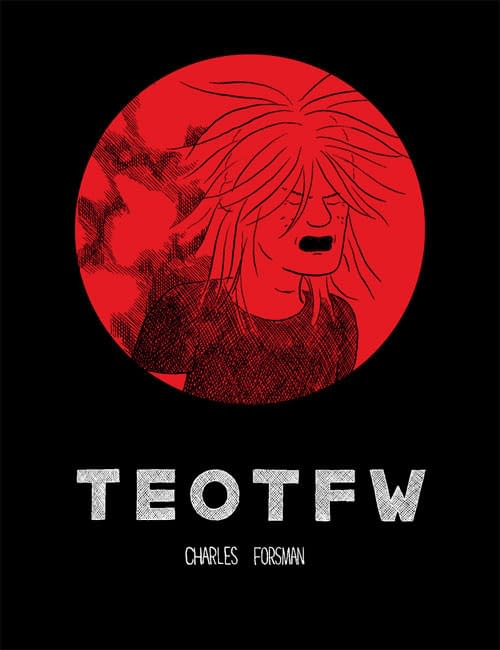 [The End of the Fucking World by Charles Forsman]
Box Brown laughed and said that it means he can create a "ridiculous stupid thing" and have fun doing it on his own, focusing on "what I feel like doing" rather than having to handle an established property with strict perameters. It's about "anyone pursuing their own vision", to Box Brown. Forsman added that for him "indie" means that there's "no money either", which prompted plenty of agreement and laughter from the panel and the audience. Brown commented that it's also about making a choice between getting "money for what I hate, where I don't want to be there" or having less money but doing what he wants to do.
Since the panel description for the con described "indie" comics as "non-superhero comics" specifically, I asked the panelists a cheeky question. Did they, in fact "hate" superhero comics? Box Brown said that he doesn't have a problem with superhero comics and listed a few comics he has appreciated but that just like the film industry, if all films were superhero films that would very limiting. Similarly, in comics, there so much more we can do in comics than simply superheroes.
Miss Lasko Gross did read superhero comic in her youth but "stopped" and has some reservations about the "benevolent fascism" superhero comics seem to promote. There are "other sides of human existence", she explained, that need representation in comics. She finds the "representation of women in general" in superhero comics "rather disappointing". Forsman read superhero comics as a kid, and still reads them now, especially classic Marvel comics from the 60's and 70's, and feels that though "alternative" comics used to have a firm "dividing line" from superhero comics, now it's "less us vs. them" and there's more crossover between them.

[Works by Miss Lasko Gross]
Aydin finds parallels between superhero comics and his work on March, since in his mind John Lewis is a "real life hero" in American history, and he still feels continuity between his work now and the pictures of himself as a 6 year old birthday boy in a Batman outfit. In fact, he still has his Kenner Batmobile, he admitted and writing a Batman story is not something he'd turn down. Box Brown still has some enthusiasm for superheroes, too, though he doesn't find the art style close enough to his own. Still, if he had a chance to write one, especially the X-Men, he'd be tempted.
When I asked the panelists if owning their own product and having control over publication is a motivating factor in creating indie comics, Box Brown confessed that those things are not in the forefront of his mind when he's creating something. He's not thinking about marketing or things like "action figures". Aydin found himself encouraged by Top Shelf publisher Chris Staros to simply "sit down and write" his book before worrying about other issues. When publishing Retrofit books, Box Brown has "faith that artists want to do something great" and he tends to select artists who "know what they want to do" without much editorial involvement. But there's a down side to being your own advocate when it comes to self-publishing and small press books, and that is the monumentally hard work of self-promotion on social media and the like, as Box Brown discussed.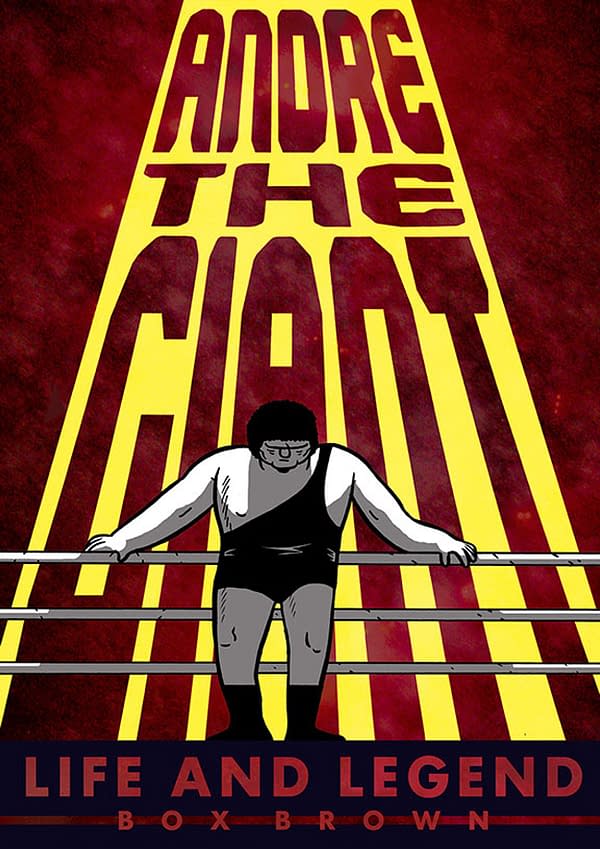 [Forthcoming: Andre the Giant by Box Brown]
Part of success behind marketing yourself, however, is "regularity of output", Forsman advised, to get as "many eyeballs as possible" on a monthly basis. Brown agreed that you need a "regular stream of stuff", like with webcomics, and to be able to "make a schedule and stick to it" is paramount to indie comics. Miss Lasko Gross agreed also that right now readers "expect a lot of free content" and that happens through the internet, so the best route is to "just put it out" even if looking back on work later you critique it harshly and see perceived "mistakes". The internet is a "beta test" that you can improve on by getting helpful "third parties" to comment on so it isn't just you plugging your own work all the time and exhausting your social media followers. Aydin added some practical advice about the physical toll of being an indie creator. "You have to learn to love the road", he said, and "travel constantly", which is part of the "whole work" of promoting your comics.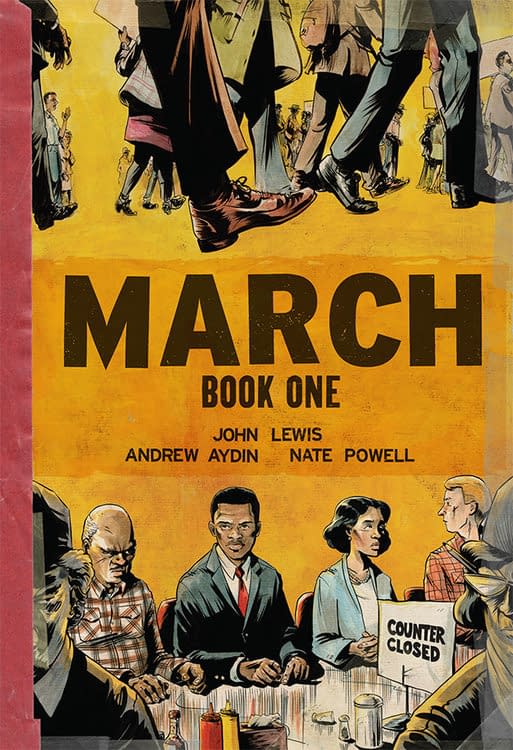 [March: Book One]
The logistics of indie publishing is something all of these creators were keenly aware of, including how important it is for morale and gaining knowledge to hang out with other comics creators and learn from each other. On the topic of Kickstarter, the panelists were generally favorable though it hasn't been their mode of choice at all turns since the sheer amount of work necessary, including the massive shipping needs, is daunting. Brown, having teamed with Big Planet Comics, is happy to have that duty mostly lifted from his shoulders after plenty of experience with expensive mailing needs. Forsman follows a similar model through Oily Comics of doing "Pre-Sales" which are a kind of proto-Kickstarter in structure, a format where "trust feels good" and encouraging people to "vote with their dollars" builds community.
During the Q&A period, some of the topics that came up were the increasing need for non-profits to partner with indie comics to produce socially relevant comics and highlight issues trying to find a public voice, what geographical areas are currently "hot" for indie comics (Seattle, Brooklyn, Portland, Philadelphia, Pittsburg, and the Center for Cartoon Studies in White River Junction in Vermont all came up as suggestions), and whether webcomics are the way of the future. All of the panelists agreed that some web presence for your indie comics is a very good idea, even if it's just "shorter strips" rather than full graphic novels posted online.
Hannah Means-Shannon is EIC at Bleeding Cool and @hannahmenzies on Twitter