As part of the Diamond Comic Distributors Better Practice Awards for retailers, they have the following nominees for the best Window Display… is your store here? Does yours rate? Should they have entered?
POP Store – Torino, Italy
For this store we have engaged with a renowned photographer & window's artist in the city (Eloise Nania http://www.eloisenania.it/) who has realized a visual game between pictures of the staff members, statue of Marvel heroes and obviously comic-books. All tight together with stripes and buttons, playing with the sense of "attacking buttons" which is a phrase that in Italian means also "suggesting something like books and so on".

Also, lamps in the window are made of pages from manga and black and white comics.
Arcadian Comics – Newport, KY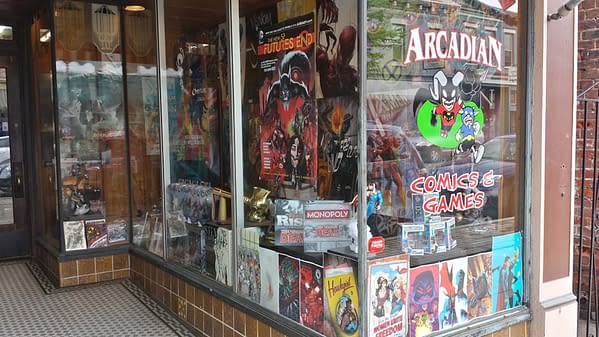 Having a large display window on our building is very challenging. It can't be left blank, it has to constantly change, and it has to attract attention of people walking by. To this degree, we have succeeded enormously. The colorful mix of posters and statues catch many people by surprise, and we see a lot of kids getting really excited by what they see.

What I think we do that not many other stores do, is use a lot of the images on the Diamond site to make printable posters in 11×17 and Legal Letter size to show in the window, almost like a posters showing coming attractions at a movie theater. We have 20 posters that we rotate every other month with upcoming or current comic cover images. We also put a lot of the statues and action figures in the window so even when we're not here people can window shop. Finally, the free posters that Marvel and DC make a wallpaper of iconic characters of Modern Comics so people understand just what kind of comic store we are.

What makes this better than the average store is the large variety of images, and the focus of what's coming out now, not just classic material. Also, we are constantly updating the windows to keep things fresh, and pointing out to regulars some upcoming comics as well as events, making our windows a signpost of things for those that know how to read them. It's all intentional, and a game to see who's keeping up with it. The bottom line is always for the fun.
Farpoint Toys/Level Up Entertainment – Mays Landing, NJ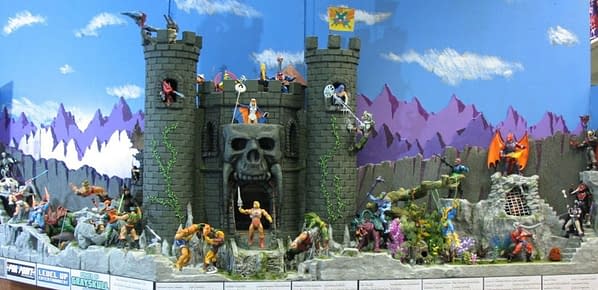 When we moved with our partners into our local mall, our storefront window inspired us to do something special; to use the area to set ourselves apart from other retailers. The space gave us the chance to show our community that we were more than your average mall store by harkening back to the days of massive, impressive retail store-fronts, creating excitement and childlike wonder for people of all ages.

Our first display was truly a labor of love … but it was worth it! We were shocked by the constant stream of people, from toddlers to grandparents, pressing their noses against the window to get a better look. The community reaction was incredible – support even came in from all over the world!

It wasn't long before we realized: our window displays needed to be a new tradition, and we HAD to out-do ourselves!

We ultimately settled on Masters of the Universe as the theme for our next project. The idea of constructing our very own Castle Grayskull was too awesome to resist!

"The Power of Grayskull" diorama took 5+ months to construct, 60+ hours to install, with a $3500+ cost. Partially crowd-funding the project allowed us to create without limits and spare no expense to make it exactly what we'd envisioned. The display is 9 1/2' wide, 2 1/2' deep and 8' high. Castle Grayskull itself was handmade from actual stone bricks and tile with the towers approximately 3 1/2' high and weighing about 20 lbs each. It has an interior you can walk behind and look into with details like lit torches, stained glass windows and an etched marble floor. Outside, there are lots of details like a lava moat, cracked boulders and even an alien pond. Mattel's MOTU Classics figures and vehicles pack the landscape.

The installation was very intense – but again, it was worth it! Watching people of all ages run the length of the mall just to freak out in wonder makes it all worthwhile! We genuinely believe our slogan: "Toys Matter". Whether it's making a child happy or taking an adult back in time, we think there is magic in toys. Obviously lots of other people do too, because they've showed us that they care about what we do and want us to keep doing it. It's humbling and amazing to realize that what you love doing makes people happy!
I.E. Comics – Hemet, CA
At I.E. Comics, we change out our window displays every week. We created buzz with passing onlookers, as well as drive people to enter the store.

It is always fresh and has either NEW products or products based on current pop culture or popular new comics.
eXpert Comics – Montreal and Ville LaSalle, Quebec in Canada
We believe we should win best window display, because our window display is quite inviting once you see it.
G&B Comics – Singapore
We have a Big Lantern Logo to attract the crowds. It was maximised to the full window height. The lantern can be turned on to light up.We use the reverse side of the lantern to paste polariods of regular customers who comes to our store. We like to imagine they're our own version of the Green Lantern Corps.
Space Cadets Collection Collection – Oak Ridge North, TX
Here at Space Cadets Collection Collection, we like our displays to tell a story if possible. Recently one of awesome consignors brought us a huge collection of 12" Star Wars action figures and we knew that they deserved a huge display of their own.

Our Gaming Manager, Brian McMeans, made this awesome display, which separates the characters into scenes from the movies. It has generated quite a bit of excitement and we don't expect the display to stay full for long once we price the figures. May the Force be with You!
Dragon's Lair Comics and Fantasy – San Antonio and Austin, TX
Here at Dragon's Lair Comics & Fantasy we take pride in creating dynamic and entertaining window displays.  The design and implementation of our displays is always carried out by our dedicated merchandising team.  We are known for our themed window displays and every holiday gets a major spotlight that draws in customers seeking ideas for fun or gifts.

Past highlights include our Halloween 2013 "Vampire's Lair" and our Holiday 2013 "Winter is Coming" display.  In the same vein we are currently promoting Summer time fun with our new "Summer is Coming" display.  Here shoppers of all ages and interests can find lots of fun Summer and beach related merchandise.  Are you looking for a relaxing Polynesian vacation without spending a fortune?  Try spending an afternoon exploring the beaches in "Carcassonne: South Seas".  You can also take a deep sea dive with some of your favorite comic book characters like Aquaman and Namor.  Of course we can't forget everyone's favorite plush friends, the Squishables.  After a long day out for fun in the sun, what's better than crashing out on the couch with a plushy Great White Shark!

Thank you for your consideration and I hope that you can see how much we love creating fun and exciting window displays, that draw interested customers into our store already excited about products they have seen.
Mayhem Comics – Ames, IA
Our window displays are constantly changing to stay relevant to what's topical right now in pop culture.  We have made displays based on Game of Thrones, Doctor Who, Walking Dead, Star Wars, Star Trek, and all of the superhero movie blockbusters, to name a few.  We also strive to make sure that potential customers see that we are far more than just a comic book store and that we cater to gamers, families, and those with a love of pop culture.

When we aren't doing specific displays for certain shows or movies, we make a large display showcasing a wide variety of all of the comics, cards, and board games that we offer.  We incorporate elements of design such as color theory so that the viewer's eye flows across our display and we make sure to not completely obstruct the view into the store.  We want families to see that our store is well-lit, clean, and friendly.
Jesse James Comics – Glendale, AZ
We have a huge array of window art that reflects our main titles and what we have to offer as far as services.

Our windows are now scheduled to be changed every 6 months based on trend or by fan request.  These windows are seen in a tremendous amount of pictures that fans take when the come visit from out of state.
Escape Pod Comics – Huntington, NY
From right before Halloween until the end of winter (over six months), pedestrians walking past our store were greeted by The Stalk, from Brian K. Vaughn and Fiona Staples' Saga. beyond being our best seller in trade form, Saga is a great "first ever " comic read, so having people walk in and ask "What's that from?" was a great way to get new comic readers. We also had multiple fans of the book go out of their way to drop in a and tell us how much they loved it, which is always nice to hear!
Enjoyed this article? Share it!