Zoolander 2: The Slow Murder Of A Memorable Original
[rwp-review-recap id="0"]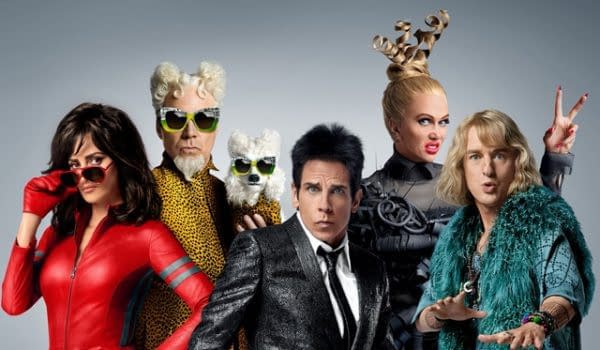 When Zoolander first hit the big screen back in 2001, it was a genuinely funny film. It wasn't trying too hard, it was somewhat fresh with a satirical send-of of the fashion industry and specifically at the stereotypical perception that male high-fashion models are dumb as bricks. Cut forward 15 years and we're diving back into the presumed reliability in nostalgia for old favorites with Zoolander No. 2 (it's actually titled Zoolander 2, but the poster styles it as No. 2 in a reference to perfume naming). While it has the original main cast, the heart is as dead as if it'd been embalmed badly and put into the ground to decay for that intervening 15 years. It's unfunny, unnecessarily crass, and entirely lacking in any joy or fun.
Hearing that Ben Stiller was returning to the roll of Derek Zoolander as well as writing and directing, and Owen Wilson as Derek's BFF and modeling rival Hansel McDonald, it seemed like the film should be an easy win. Fashion awareness is at an all time high, so there would be an ample supply of willing "appearing as self" cameos to come along and poke good fun at their industry. The story this time is that Fashion Interpol has been investigating the deaths of various celebrities who are all found to have last posed using Zoolander's trademarked Blue Steel expression. Derek lives in seclusion in extreme northern New Jersey after the death of love interest from the first film Matilda Jeffries. Interpol's ace investigator Valentina Valencia (played by Penélope Cruz) hunts down Derek to find out what he might know about the murdered celebrities.
The film quickly jumps back into the fish out of water story where Zoolander really doesn't have enough brains to be allowed out of a padded room without adult supervision. The jokes ring flat, and come across as more venomous and mean-spirited. It feels like it's 90 minutes of torture, causing fans of the original to think back and wonder "was that first one really as funny as I thought I remembered it to be?" It was, but the crass situations that Valentina keeps getting put in is tacky.
By the time Zoolander's arch nemesis from the first film appears, Jacobim Mugatu (played again by Will Ferrell) hope is long lost, and attempts are made at many of the same jokes from the first film, but this time it feels like they're no longer having fun playing along. That turns this satire from being something fun to watch to something that just reeks of self-loathing. The androgynous model All (played by Benedict Cumberbatch) makes viewers feel like they're having to watch the family's racist uncle make immigrant jokes while being obliged to sit quietly and not make a fuss. There's a hyper-stylized designer with a completely unintelligible accent named Alexanya Atoz (played by Kristen Wiig) whose scenes were presumably meant to be funny, but not one moment with Wiig on screen elicited so much as a single chuckle (though there were various comments of "what'd she say"). To make Wiig consistently unfunny takes a certain level of determination and skill.
This is a time when the best course of action is to skip the film and go back and rewatch the original – you'll enjoy it more and not finish it feeling the need to take a shower to get the awkward and creepy feeling off of you.
[rwp-review-ratings id="0"]
[rwp-review-form id="0"]