Red Hood and the Outlaws #24 Review: A Bizarrely Affecting and Tragic Story
Oswald Cobblepot, aka the Penguin, is being honored by Gotham City for restoring Monstertown. This doesn't sit well with Red Hood, who is ready to rub Penguin from the face of the Earth. Meanwhile, Bizarro's intellect continues to fade as he watches a movie made from his memories of the Outlaws. Artemis is trying to get into Bizarro's floating fortress over Gotham, but it is set to self-destruct should Bizarro's intellect ever fail.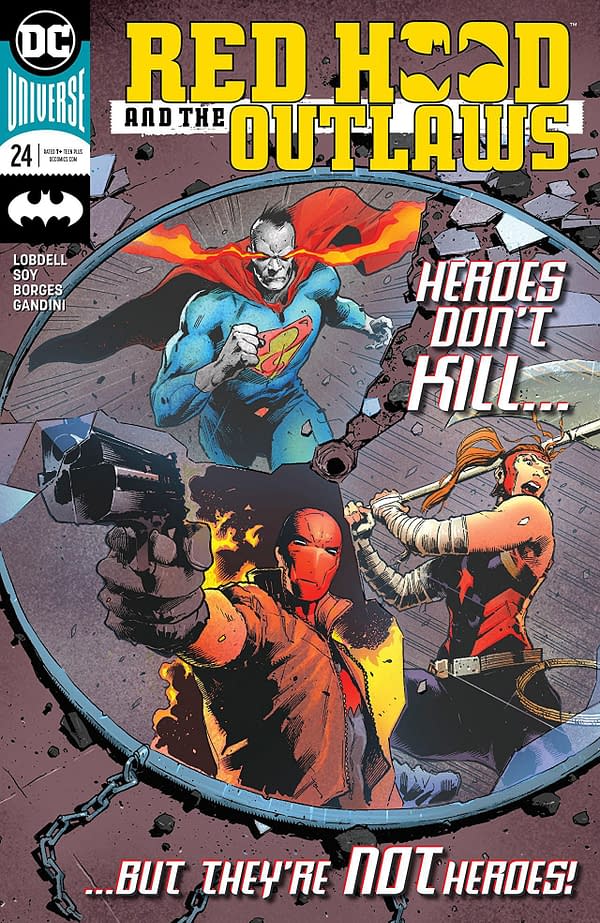 Red Hood and the Outlaws #24 achieves an impressive balance of dark storytelling of fallen heroes accompanied by a sincere and sad tale of a friend fading away.
Those are difficult plates to keep spinning in unison, and I'm not sure Red Hood manages it gracefully. However, it still pulls it off.
Jason's crusade against Cobblepot is compelling. Bizarro's loss of intelligence and identity is heartbreaking. Artemis trying to be there for her friend is bittersweet. It all just clicks, and it got an emotional response from yours truly.
It's not perfect, as I implied. Jason does come off dangerously like an edge-lord, which is a struggle the character has had in the past. Trying to display Bizarro's return to a childlike state is almost more goofy than dramatic. Even then, balancing goofy and tragic seems to be the point, and it's an interesting balance to attempt.
Dexter Soy and Alisson Borges are the artists on this comic, and they balance the comic well. Borges handles the Bizarro half while Soy crafts the Jason story. Borges's work delivers the exaggerated features and oddly childlike qualities in Bizarro and his environment to make his narrative work. Soy's art is more shadowy, realistic, and focuses on severe facial features and expressions to match the more vengeance-fueled story. Veronica Gandini's color work supports both well and maintains an aptly moody atmosphere.
Red Hood and the Outlaws #24 is a very affecting comic, with a tragic story transpiring for Jason, Bizarro, and Artemis. The story clicks, the art is good, and I found myself genuinely saddened by the tale. This one earns a recommendation. Give it a read.