Red Sonja/Tarzan #2 Review: The Heroes Meet and the Tale Deepens
Red Sonja meets Tarzan on the Greystoke estate. Tarzan is unwilling to wait for her to explain herself, as Eson Duul has threatened to kill his family. Tarzan rides to Duul's estate, but Sonja follows quickly behind. The two arrive at the estate to find Duul absent, but an odd groundskeeper knows both Tarzan and Sonja. He explains that there is more to this story.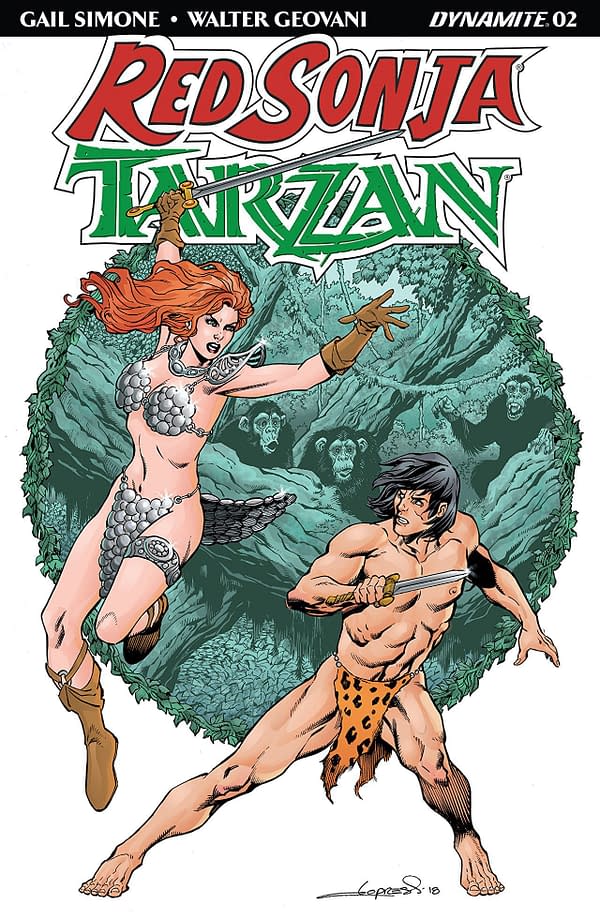 Red Sonja/Tarzan #2 is a slower issue than the previous one, but it serves to deepen the mystery of Eson Duul and this seemingly fated meeting between Tarzan and Sonja.
It's intentionally confusing and foreshadows some crazy stuff in the story to come.
It's a very wordy comic. There is a lot of exposition, not all of it that interesting. Some of it can hold your attention. It helps that watching Red Sonja try to unnerve the normally stoic and silent Tarzan is a lot of fun. Sonja is by far the stronger half to this duo. That's not to say that Tarzan isn't a good character; he's just a lot less fun.
There is a real-world guest star at the end of the comic that adds a bit more whimsy to the story too. I don't know if he's shown up in any of Dynamite's previous Tarzan comics, so it may be less of a surprise for those who have followed them.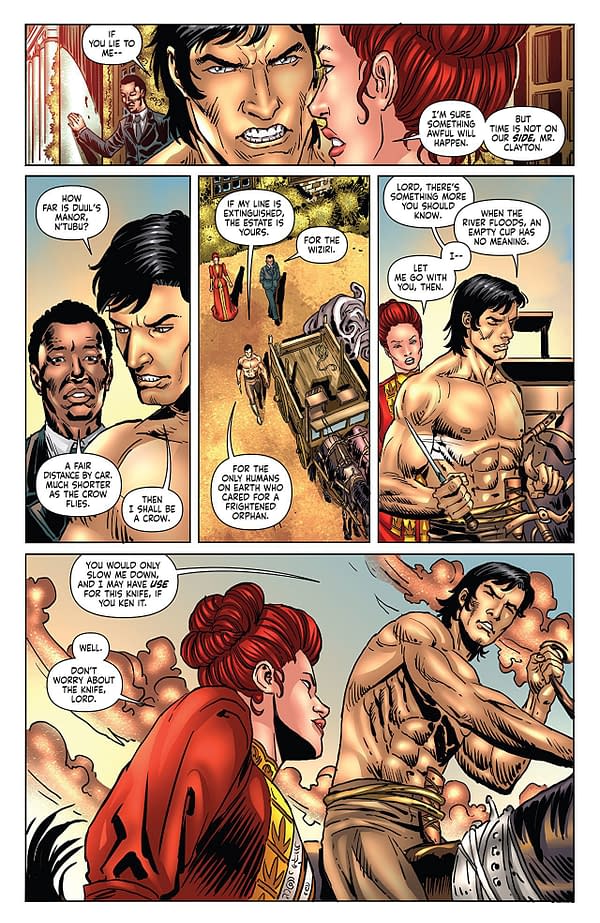 [user_id]
Walter Geovani's renders the world in a realistic yet classical art style. The characters are highly detailed, clearly expressive, and are given a lot of visual depth. There are some action panels that look odd for various reasons, but those are few. Adriano Augusto brings a well-balanced if unexciting color palette that nonetheless makes the comic look good.
Red Sonja/Tarzan #2 is a slightly less exciting issue than the first, but it's still an overall good read. There is action and fun to be had, and the big plot twist is interesting. This comic earns a recommendation. Check it out.