First Review of Die!Die!Die! #1: What If Robert Kirkman Wrote a Millarworld Comic? [Minor Spoilers]
Die!Die!Die! is the brand-new surprise comic from Image Comics/Skybound Entertainment hitting comic stores tomorrow (with 11 covers at least). It's the first in a new ongoing series by The Walking Dead's Robert Kirkman, former Walking Dead showrunner Scott M. Gimple, and Nameless/Batman Inc's Chris Burnham and Nathan Fairbairn. The distribution was a remarkable thing to pull off. But what about the comic book itself? Bleeding Cool has a sneak peek.
There are minor spoilers, but nothing that should impair your enjoyment of the comic. But if you want to go in virgin-fresh, stop now. You already know too much.
It may be the Frank Quitely vibe of Chris Burnham that first triggers the antennae. And it's not as if Robert Kirkman hasn't been one to trade in outrage in his comic books. And the British setting for much of the first issue probably adds to it, as does the amazing flip-the-switch cliffhanger. But damn, this feels like a Millarworld title.
That's not a bad thing, it's just the general feel I got from reading this fresh. The discussion of swear words, check. The random acts of unusual violence, check. But given a cartoony nature courtesy of Chris Burnham without sacrificing any of the kineticism that propels this comic, which makes the murder slightly more palatable, check.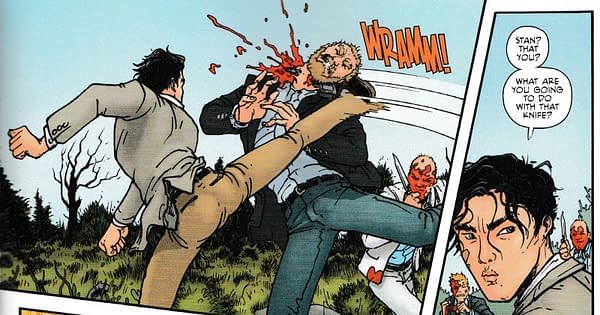 Oh, and paedophiles, check check check.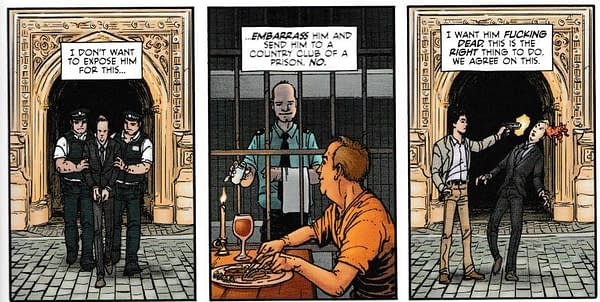 And the mix of a special secret service acting from within the government to take out the people who don't deserve to live feels like Wanted meets Kingsman — though more the movie versions. But not necessarily going for the violent approach (though it is always possible) does give this comic a little more subtlety despite its title.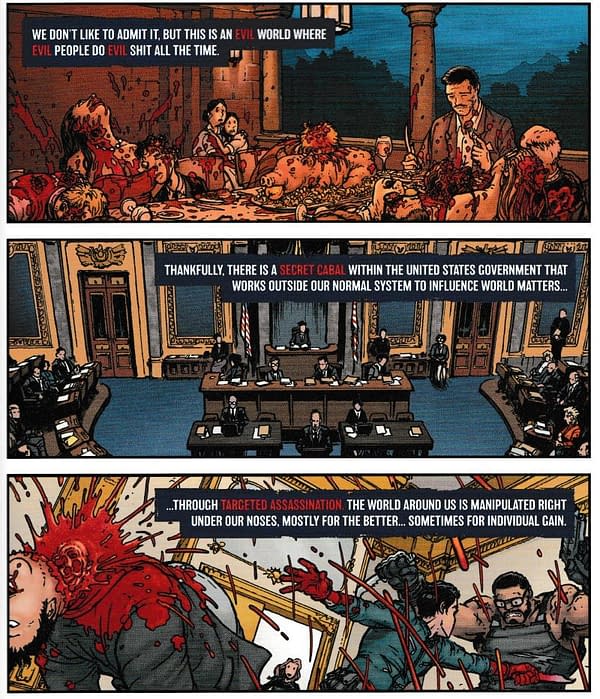 Sometimes.
It may be Die!Die!Die!, but this is a comic about doing so with as little fuss — actively avoiding the violence, though repeatedly failing. Less 100 Bullets as it is 100 Butterflies, flapping their wings and making real change. But also, let's be clear, it still represents a tyranny of pragmatism and fascistic take on the world. Judge Dredd with kid gloves, but still Judge Dredd for all that.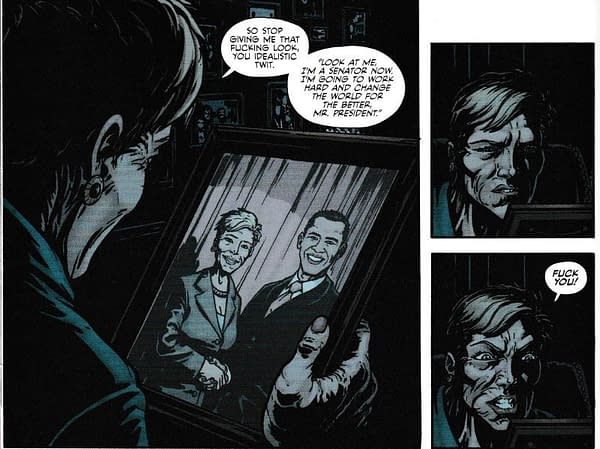 And yes, we have a central controller in this, a US senator who may not be Hillary Clinton but does fill a similar hawkish-but-sometimes-guilty-about-it role. She is the deep state, she is a nightmare of liberalism, and borders are not her concern. She has those who do her bidding. And someone is trying to stop her…
It's a cracking read, and Nathan gets to use any colour he likes, as long as it's red. Netflix should buy this immediately to complete the set.
Welcome to Die!Die!Die! — if you manage to get a copy tomorrow. Good luck!