Saga #50 Review: Uneventful but the Characters Can Carry It
[rwp-review-recap id="0"]
Alana and Marko continue to hide out on Jetsam while Prince Robot tells his story to the reporters. Hazel trains with Petrichor while lamenting that Squire is leaving with Prince Robot. Meanwhile, Squire says his goodbyes to Ghus.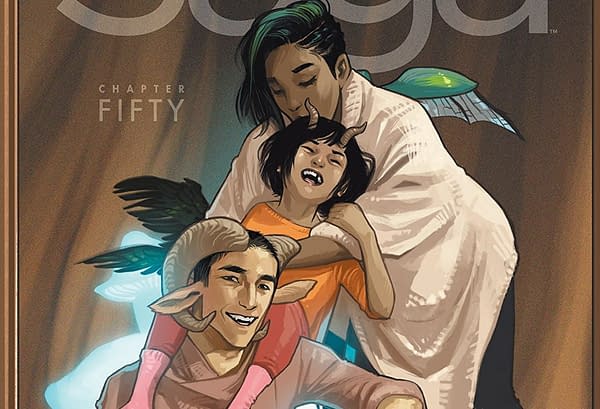 As you may have guessed from my inclusion of this comic in Comics for Your Pull Box this past Sunday, I expected this to be something of a landmark issue for Saga. The summary for the book on ComiXology implied some big goings-on, and, well—this is a comic book. We are generally accustomed to such things.
In reality, this is a surprisingly low-key issue for Saga, regardless of the numbering. Everyone is chilling out on Jetsam. Alana and Marko are having sex. Prince Robot is telling his stories to the newspaper reporters while hassling them. Hazel is training, and Squire is planning bad decisions. Nothing of special note happens in this comic.
It's still entertaining at times. The audacity to open your 50th issue with a graphic depiction of oral sex to the point of completion is worthy of note in itself. Alana, Marko, Prince Robot, and Hazel are all charming characters, and they're easy to follow. Brian K. Vaughn continues to be a master of dialogue. Ghus is just damned cute, and I want him to be in this comic forever.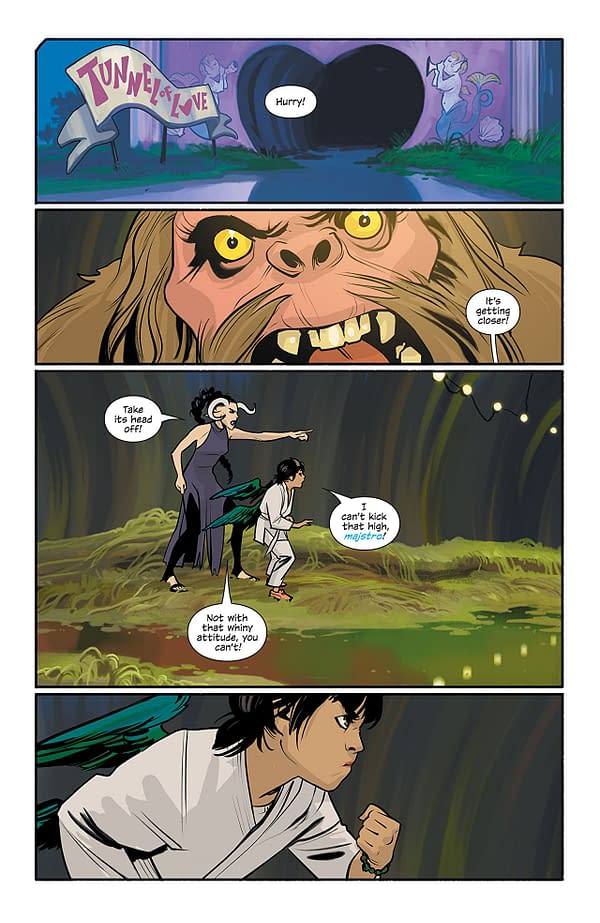 Fiona Staples' artwork is as gorgeous as ever. The characters are expressive, distinct, and the visual design of Saga has always been wonderful. The sex scenes are quite gorgeous, comedic climax in the face included. The color work plays with varying shades and gradiance, furthering the outright beauty that is the world of Saga.
Saga #50 is not a bad comic. It's slow and uneventful, but the characters are great and can carry a low-key issue like this. Staples' art is as beautiful. I can recommend it (to a mature audience, obviously). Check it out.
[rwp-review-ratings id="0"]
[rwp-review-form id="0"]