Saga #53 Review: That Ending, Though
[rwp-review-recap id="0"]
A federal agent approaches Upsher and Doff's newspaper publication in the hopes of stopping their story. Ghus and Petrichor find Doff's body. Hazel and Upsher are confronted by the bounty hunter that has taken Squire. Meanwhile, Prince Robot tries to negotiate with the Will.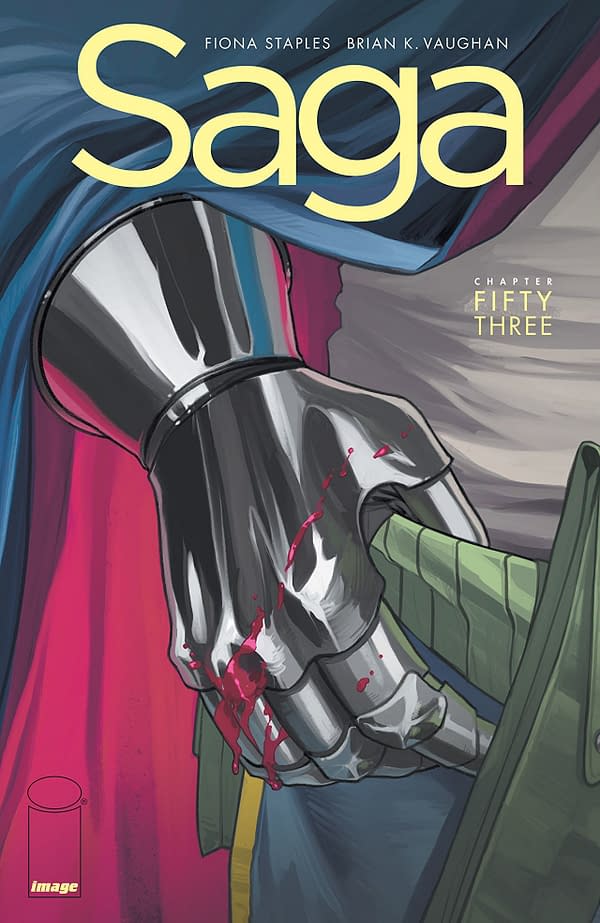 Saga #53 is a nice palette cleanser after reading Wicked + Divine #37. Where the latter seems to be buying into its own reputation, Saga is a book that has gone on even longer but is still trying to tell a full, compelling story with shocking twists and turns.
And Saga #53 has some shocking turns, make no mistake. This is a comic fully capable of surprising me, even at this late point in the game. I won't spoil it, but the last page left my mouth agape.
As usual, the characters are diverse and charming, and the story is interesting and grabbing. I'm not sure if we're anywhere close to an ending to Saga (I'm sure there's been an announcement about it, I missed at some point), but the world still seems to have plenty of story left in it. As such, I'm not in a hurry for an ending either.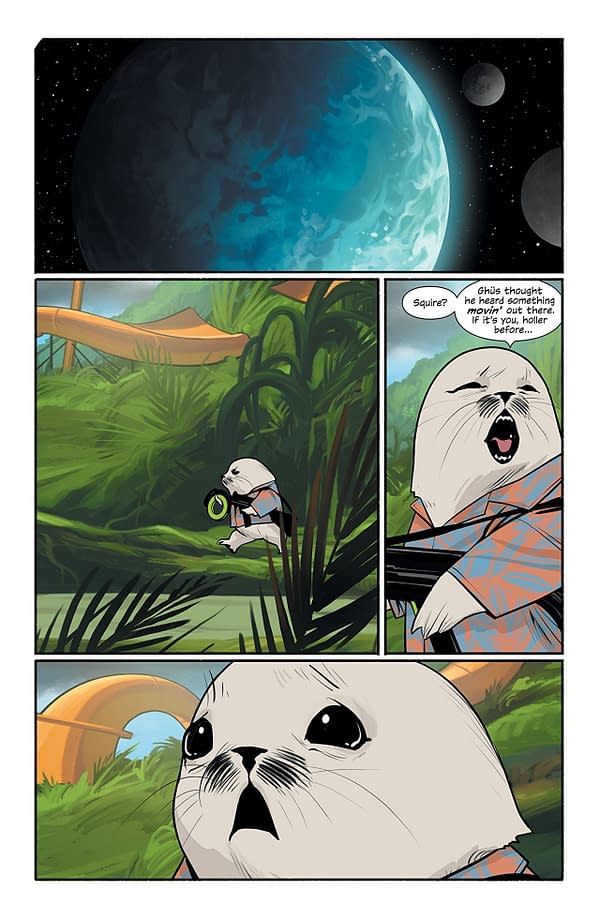 Fiona Staples continues to provide some of the best artwork in the modern industry. The designs are anarchic and unique, the world is well fleshed out, and action scenes are appropriately tense and kinetic. The colors are vibrant, well blended, and contrast themselves well. There's a nice gradient to the way the spill across the page. As always, Saga is a gorgeous book.
Saga #53 is another brilliant and compelling issue from one of Image's best books. The characters keep you engaged, the plot takes some nice twists, the finale left me truly shocked, and the artwork is beautiful. This long-running series earns itself yet another recommendation. Give this one a read.
[rwp-review-ratings id="0"]
[rwp-review-form id="0"]