Saladin Ahmed and Dave Acosta Set Kickstarter Ablaze with Dragon
Saladin Ahmed has had quite the run in recent years. The Eisner-winning, Hugo-nominated writer has succeeded in both mainstream comics with The Magnificent Ms. Marvel, which did the impossible of following up on G. Willow Wilson's iconic Ms. Marvel run, as well as the independent scene, with Abbott from BOOM! Studios. Now, Saladin Ahmed has turned his attention to the corner of the comics industry that the major publishers and creators are, seemingly, just starting to realize, is here to say in a big way: Kickstarter. Until recently, an established comics creator like Saladin Ahmed, taking a project to a crowdfunding platform, would have a lot of folks asking, "Why?" The answer is, of course, because Why not? Ahmed's campaign to fund Dragon, his hardcover graphic novel with Dave Acosta, has already raised almost $100,000, a number that any indie publisher would sacrifice a penciller to achieve.
Bleeding Cool previously reported on Dragon back in January, and now it's taking comics Kickstarter by storm. Here's how the campaign pitches it:
DRAGON is an original graphic novel by Eisner Award-winning writer Saladin Ahmed and acclaimed horror artist Dave Acosta. Presented exclusively as a deluxe format oversized hardcover, it's a dark, atmospheric tale set at the dawn of the Ottoman Empire — a rich, grisly world of dazzling arts and brutal massacres, opulent palaces and bloodthirsty kings.

DRAGON tells the story of Adil, a fallen old Muslim warrior, and Marjorie, a zealous young Christian nun, two scarred heroes who must overcome inherited bigotries and mutual distrust to hunt a demonic creature that wears the skin of a prince — Vlad the Impaler, known to history as Dracula.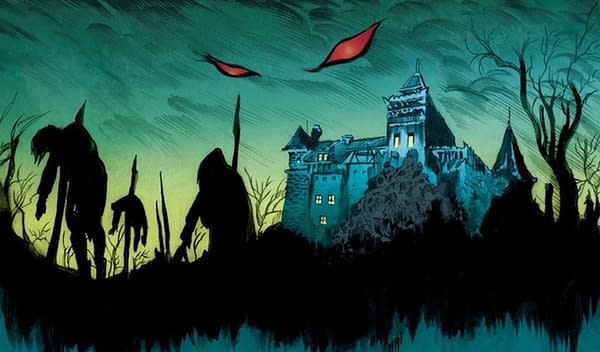 Saladin Ahmed adds via the Kickstarter page:
I can't tell you how excited I am about this!

DRAGON is the Dracula story I've wanted to tell for years, full of everything that matters to me — horrific creatures, rich history, wildly different characters coming together to confront evil. It's a story centered on the sorts of heroes that are usually pushed to the margins — heroes who must reach across gulfs of culture and faith to face down the world's most terrifying monster.
As Saladin Ahmed and Dave Acosta's Dragon soars even higher on Kickstarter, expect comics publishers and writers of Ahmed's level to take note. What was once hilariously seen as a stigma on a comic's name, I expect, will become the accepted way for indie comics.