Sandman, Statues And Sales – More From DC Comics At ComicsPRO
Bleeding Cool is continuing to bring you reports from ComicsPRO, the comic book retailer conference happening right now in Portland. And more on yesterday's presentations from DC Comics, specifically the collectibles panel.
The DC Collectibles panels ran through what they see as the more marketable of their upcoming products. Which includes
A Terry Dodson designer action figure line based on his work on Teen Titans Earth One.
The Batman Animated Batmobile for $99.95.
The Roxy Rocket deluxe action figure, with a new Animated deluxe line being treated as a slow burn project, with emphasis on quality control.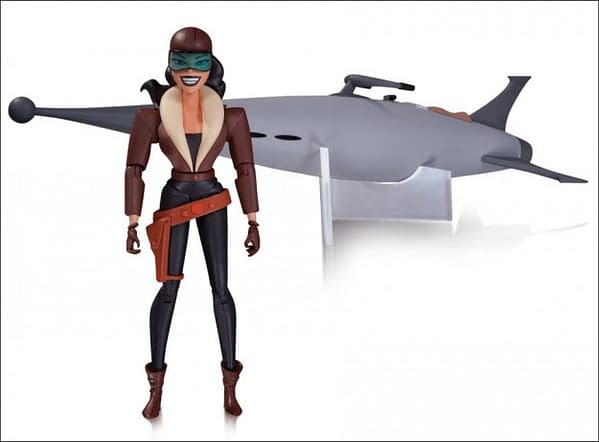 There's the Jae Lee designer series of figures based on his Superman/Batman/Wonder Woman and Catwoman covers.
The Babs Tarr Batgirl B&W statue, though DC may also offer a colour variant. The Bombshells and Cover Girls statue line will continue and expand.
There was a lot of emphasis on the Sandman chess set, retailing for $300, as a holiday gift for the wealthier but less fanboyish comic book fan. Talking of which, they gave details on the Sandman Gallery Edition, which will contain the complete original art to Sandman #1, Dream Hunters, Winters Tale and more, for $175.
Jim Lee talked about the upcoming Mad Max comic book and its relationship to what Lee sees as a great film. How it will be a continuation visually of what came before, with amazing stunts and one big road chase.
The success of multimedia projects was emphasised. The existence of the Flash TV show has led to amazing sales of collected editions enabling hardcover and softcover versions of volumes to be published as well. DC also emphasised the importance of tying toys into TV and new media shows, and how these shows and games help retailers sell the comics they were based upon.
So from the CW digital platform CW Seed, we will see the already announced Flash/Arrow continuity show Vixen. The Static Shock! live action show based on the Milestone character. And we well see Justice League: Gods & Monsters with Bruce Timm on Machinima.
But there was the confirmation that there will be not just one DTV movie based on the Mattel Batman Unlimited toy line, Batman Unlimited: Animal Instincts, but two, as well as numerous online shorts to support the films and toyline. And there will be three fifteen minute episodes of DC Super Friends based on the Imaginext toyline.
The June 2nd release date of the Arkham Knight game may also be a rather important one for comic book retailers…