Jazz melds with Lovecraft and a touch of drug use in the new series Jazz Legend from Scout Comics. In addition, Mindbender is given a collected volume. All this will be released in May of 2018. More details below.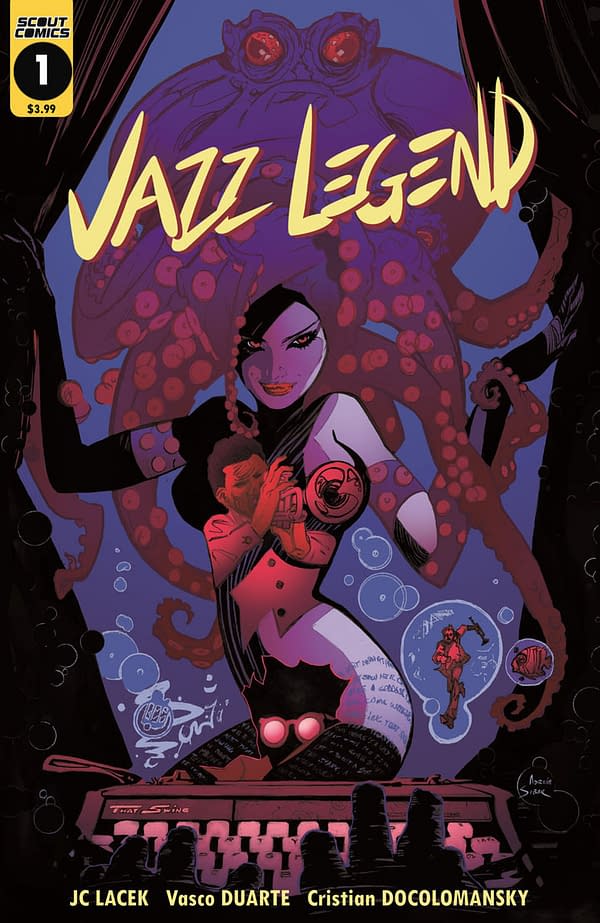 JAZZ LEGEND #1
Written by JC Lacek and Illustrated by Vasco Duarte
Full Color, 32 pages, $3.99
There's a peculiar new drug on the streets of Motocity. Its effects are unlike any other–an immersive psychedelic dreamscape with visions of animalistic abominations and god-like humanoids. This is bad news for Martin Comity, a hard-living womanizer who lives for two things: playing jazz and getting his next fix. As Martin's fascination with the drug turns to obsession, his loosening grip on reality becomes more evident by the day. An eccentric writer, the reclusive Benjamin Way, takes an odd interest in Martin's predicament after experiencing visions of his own. A phantom spectre with a single cryptic message: wake Martin to the nature of his "true" self, and quickly, or bear witness to the unraveling of that which bonds space and time. Jazz Legend is a neo noir meets cosmic fantasy inspired by the lives and works of jazz great Miles Davis, and the father of beat literature, Mr. William S Burroughs.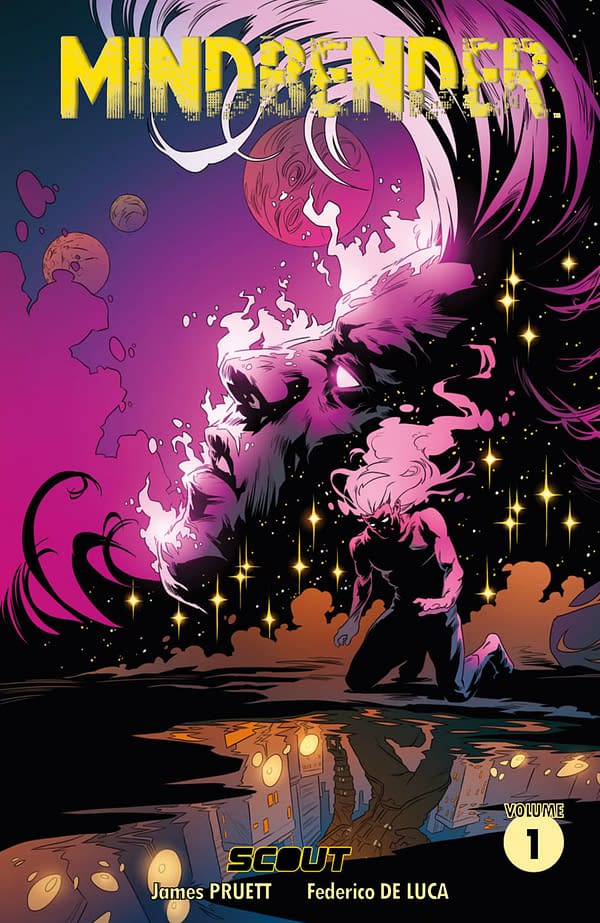 MINDBENDER: VOLUME ONE Trade paperback
Written by James Pruett and Illustrated by Federico De Luca
Full Color, 160 pages, $19.99
Collecting the complete six issues of Scout's critically-acclaimed break-out hit of 2017! At the tender age of seven, Alexander Oberman witnessed the gruesome deaths of his parents in a horrendous explosion caused by the explosive power of his own mind. How Alex survived has been a mystery. Physically he was fine, minus a few burns, but mentally he withdrew into himself…into his mind. For 16 years, Alex hadn't uttered a solitary word or had a voluntary movement of his own, until now. Those that would use his destructive abilities have been awaiting Alex's awakening. Now that wait has ended, and the world will soon learn the true potential of mankind. But will Alex be a vanguard for the world or will he be responsible for its annihilation? Featuring a Bonus Cover Gallery of the complete collection of MINDBENDER covers featuring art by Phillip Hester, Bart Sears, Matthew Dow Smith, Andrea DiVito, Enrique Corts, Elias Chatzoudis, David Boller, John McCrea and Francesco Francavilla! Also included as a Special added feature, a representation of the short story Strait Jacket from the award-winning anthology Negative Burn originally published in 1997 that was the very first appearance of the concepts that become MINDBENDER.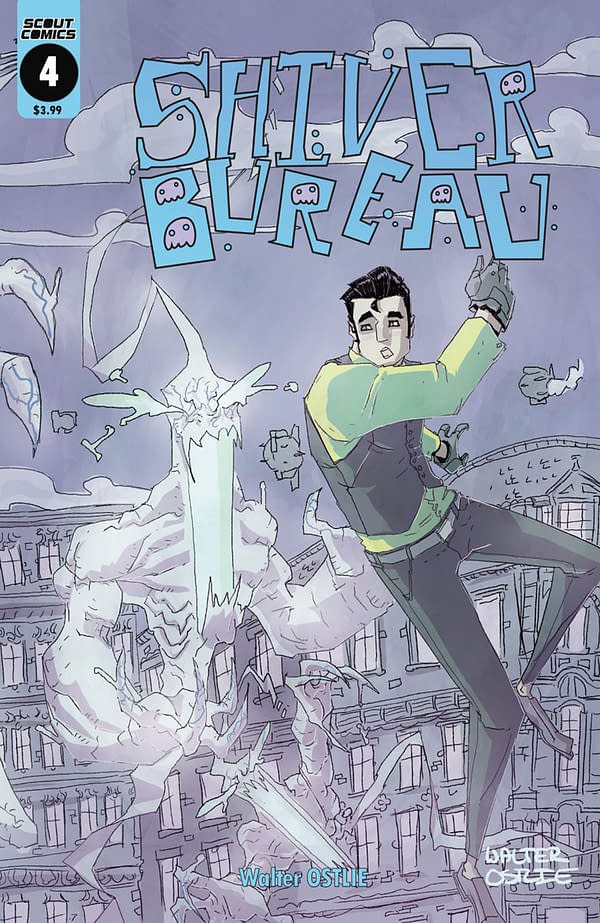 SHIVER BUREAU #4
Written and Illustrated by Walter Ostlie
Full Color, 32 pages, $3.99
Sherlock Holmes meets Ghostbusters in SHIVER BUREAU. Rev your engines because it's a good day for a race through London. Pickle and Trish are hot on the heels of a suspect in a missing orphans case, but are they being led like mice to the proverbial cheese? Things are going to get dicey, but that doesn't mean there isn't time for a spot of tea. After all you can't face your impending doom with a parched throat and bad manners. Part 4 of the interlocking front covers of SHIVER BUREAU which when connected will showcase one large panoramic scene.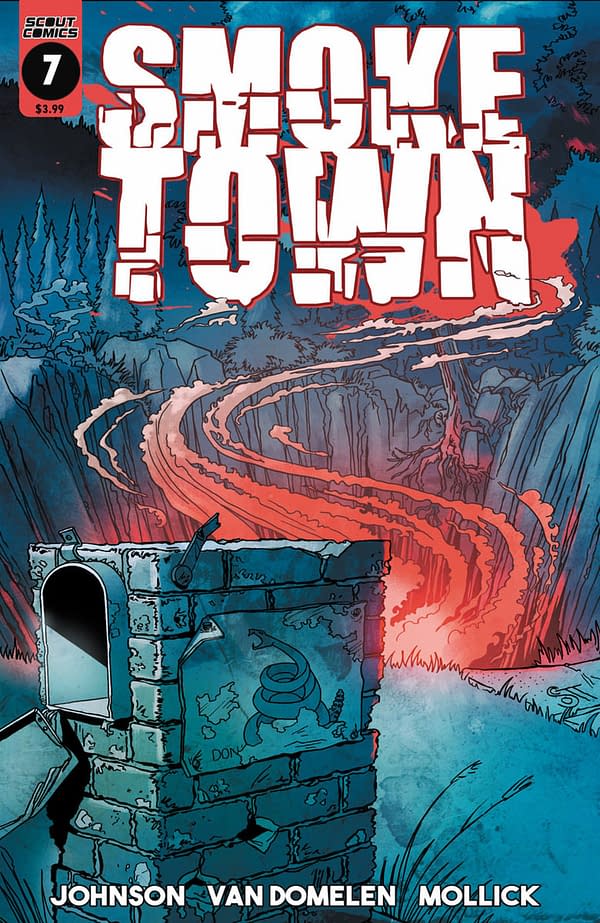 SMOKETOWN #8
Written by Phillip Kennedy Johnson and Illustrated by Scott Van Domelen
Full Color, 32 pages, $3.99
In the riveting series finale, Bennett and his psychotic new "handyman" show what they're capable of, Jen relies on her wits to stay alive, and an aging cop races against the clock to save her. (Be warned: not everyone makes it out of this one!)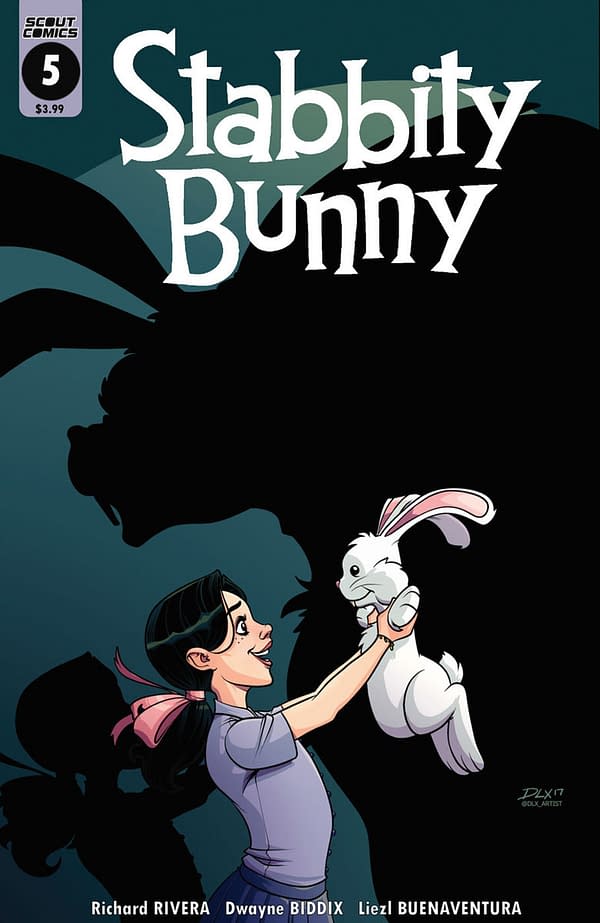 STABBITY BUNNY #5
Written by Richard Rivera and Illustrated by Dwayne Biddix
Full Color, 32 pages, $3.99
Grace confronts a bully on the playground and then later must face an even greater threat on another plane with the fate of a soul hanging in the balance. After school, it's time for a family meeting. Amanda asks Lena to use her magic to see she can learn about Stabbity. Grace reluctantly leaves her plush companion behind with her Nana as she and her mother attend a dinner honoring volunteerism. The Mayor, last seen in issue three, is hosting the seemingly innocent gala, but before the night is over, Grace will wish she had Stabbity by her side!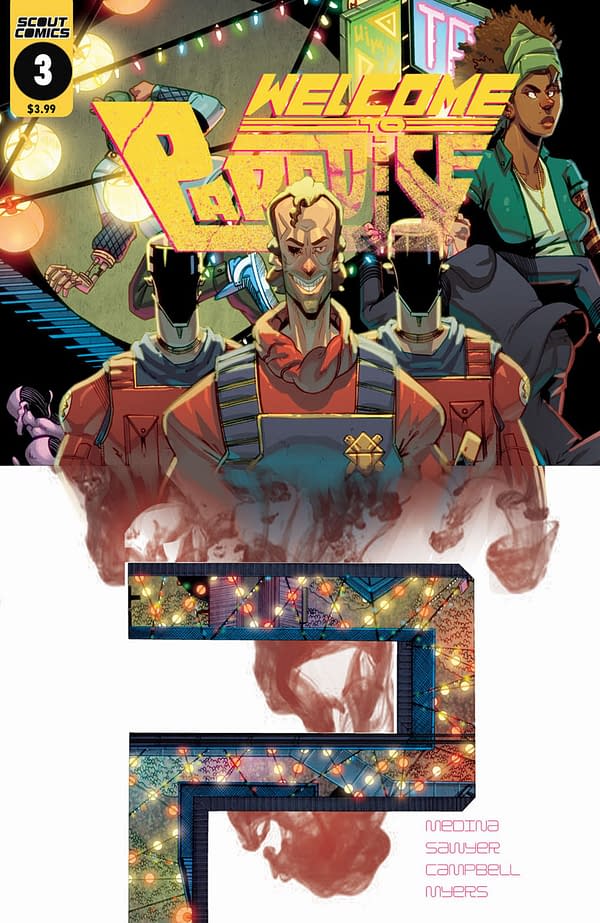 WELCOME TO PARADISE #3
Written by A.C. Medina and Illustrated by Morgan Kendrick Sawyer
Full Color, 32 pages, $3.99
WELCOME TO PARIDISE is The Good, The Bad, and The Ugly set in an underground bunker the size of California, 300 years after the Apocalypse. The clan raid has left Roosevelt's a mess and Manny all out of options. With the threat of Gunnar looming over him, Manny has no choice but to go to High Town in search of an old acquaintance. It's the issue we've all been waiting for, find out what's been the prize that has changed everything!
Enjoyed this article? Share it!