This is a post by Kyle Willis. It is dated 2015.
As it says, 'Pouches was born from the illustrative style of comic royalty Rob Liefeld. What he lacks in foot size he makes up for in oversized weapons.'
Back in March of 2015, Kyle was at a local comic show set up selling art. The con was slow so he took out one of the cardboard backboards for his prints and started doodling on it. He had just bought a Deadpool figure and it made him smile at the thought of how every character Rob Liefeld drew in the 90's had all these tactical pouches. So he drew a character comprised entirely out of tactical pouches, named him Pouches and posted it to Instagram.
Earlier this year, it was announced that the new Bloodstrike Brutalists series by Michel Fiffe would introduce a new character. And a Rob Liefeld variant cover to introduce him. The Pouch.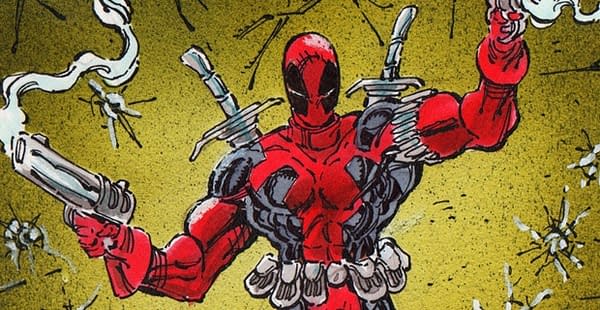 Liefeld has a reputation of giving his characters lots and lots of pouches without ever letting people know what's inside them. It was a visual tic, a way to add complexity to a costume design and to suggest the person has a lot of small stuff about their person. Bullets, lipstick, matches, all sorts of possibilities. But now an actual character called The Pouch. And looking like this.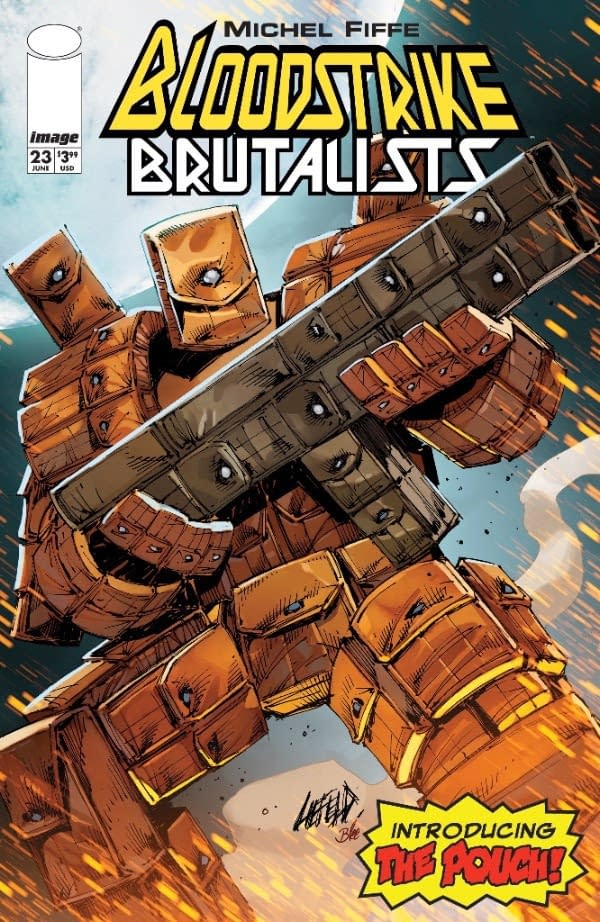 At which point KyleWillis wondered if there might be a connection to his own Pouches creation. After all, he was developing a comic of his own, starring a 13 year old boy who is the author of a comic within the comic, Pouches, a symbol of the flashy edge of 90s comics.
I put this to Rob Liefeld, who told me he had never seen Kyle's work, but that Kyle should definitely go ahead and publish his own version. I pointed out that Rob had actually seen it…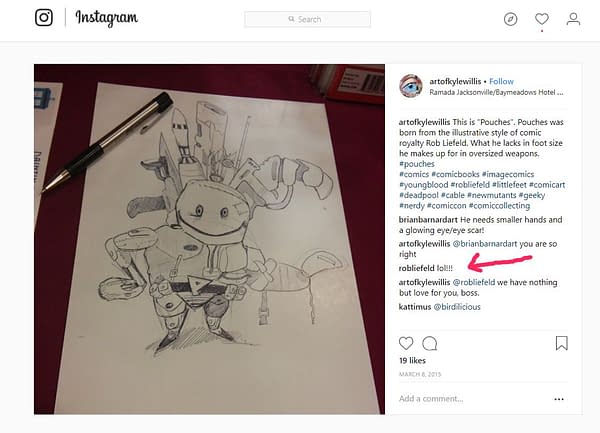 Kyle says 'I am still going to include Pouches in my comic which is called "On My Honor" and follows the life of a teenager in the early 1990's wrestling with his faith and everyday life as a 13 year old kid with heightened intellect. The comic Pouches is a cathartic outlet for my main character and a way for an awkward kid to connect with his peers and is a large part of the overall story-line. '
Well, it appears that whether or not Rob remembers seeing Kyle's version, Kyle does have Rob's blessing to publish, without copyright concerns…
Separated At Birth used to be called Swipe File, in which we presented two or more images that resemble each other to some degree. They may be homages, parodies, ironic appropriations, coincidences, or works of the lightbox. We trusted you, the reader, to make that judgment yourself. If you were are unable to do so, we asked that you please return your eyes to their maker before any further damage is done.
The Swipe File didn't judge; it was interested more in the process of creation, how work influences other work, how new work comes from old, and sometimes how the same ideas emerge simultaneously as if their time has just come. The Swipe File was named after the advertising industry habit where writers and artist collect images and lines they admire to inspire them in their work. It was swiped from the Comic Journal, who originally ran this column, as well as the now defunct Swipe Of The Week website.
Enjoyed this article? Share it!