Anthony Del Col and Conor McCreery, writers of Sherlock Holmes vs. Harry Houdini #5, talk with writer Shannon Eric Denton about Lady Rawhide/Lady Zorro #2, both on sale now. Cover art by Joyce Chin.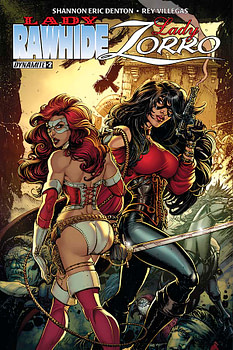 ANTHONY DEL COL & CONOR McCREERY: Lady Zorro and Lady Rawhide are both great characters – they're both strong, ass-kicking female leads, accomplished, attractive and determined. We have found that when writing two very strong leads it's important to create some sort of distinction between the two (to create conflict and also interesting dialogue). What do you think are the key differences between the two?
SHANNON ERIC DENTON: Both of these women are super independent. If you look at the history of the Old West there were many women like this but their stories weren't told as often as the male stories of the period. For me it was really fun exploring the subtle differences between the two because they are alike in so many ways. That being said, I think the key difference is that Lady Rawhide is much more comfortable with where she is in her life. Lady Zorro's tragedy that set her on her path of vigilantism is much more recent and under the surface. Despite all the dangers and threats they'll be facing, this adventure they're having together will be an almost cathartic experience for Lady Zorro.
A&C: What is the thing that excited you the most when you first starting working on this legendary character mash-up?
SED: Getting to explore the character dynamics between two people on a "road trip" as a lifelong friendship emerges. I like to think I'm at the beginning of an annual tradition the way the Justice League and the Justice Society used to meet up once a year. I'm also stoked that Mike Mayhew and Joyce Chin did some amazing covers for this series!
A&C: As mentioned above, there are some great action sequences here. One of the elements in each that stood out are the SFX. What's your process in creating just the right SFX? Do you prefer lots, or little?
SED: I am a big believer in SFX. I spend a lot of ridiculous time making sounds and then trying to figure out what the spelling of each would be and the angle of the SFX so it flows with the action. Luckily, I have a great letterer in Marshall Dillon that makes it all look so good!
A&C: The artwork by Rey Villegas is really strong. I especially like his background details in the bar/brothel scenes. How much detail do you provide him in the scripting stage? What was the biggest surprise when you received the art for this issue?
SED: I am going to go on record saying that I did not do any brothel research in person! But I do put a lot of detail into my scripts and add links to actual photos or artwork that I think will aid Rey in illustrating the scene. I love the Old West and spend a lot of time researching it. Though I assume whatever artists I'm writing for may not have time to dig up all the reference themselves on a comic book making schedule and this gives them a jumping off point. My biggest surprise with Rey is just how awesome it is he is able to gray-tone all his art. It really adds an illustrative feel that a comics schedule doesn't usually allow for. His stuff looks great!
A&C: What other female character would you most like to write in the future?
SED: Red Sonja, the she-devil with a sword! I can't wait to take a crack at some of her Hyperborean adventures!
A&C: We think you've done a great job in this ass-kickin' issue and we look forward to more!
SED: Thank you so much! Looking forward to everyone checking out Lady Rawhide/Lady Zorro #2!
For more on Lady Rawhide / Lady Zorro #2, click here.