We told you that Si Spurrier was coming onto Doctor Who. And he is, for the second year of The Eleventh Doctor comics from Titan, with Rob Williams and Simon Fraser.
And note the chainsword mention – it does seem to suggest a certain Absolom Daak, Dalek Killer who recently saw mention in the TV show.
And, yes, after the Four Doctors event this summer, the welcome return of The War Doctor.
Here are the details of Titan Comics' Doctor Who books for September….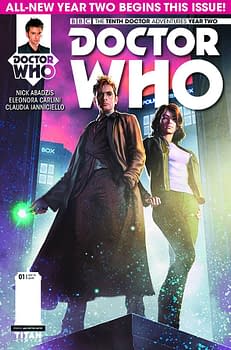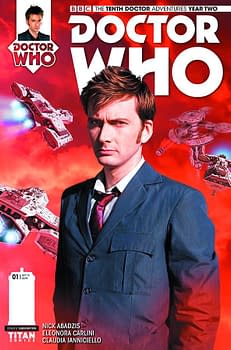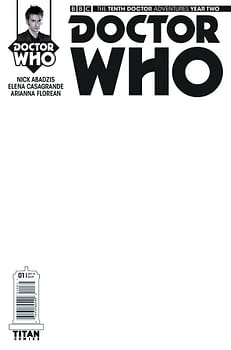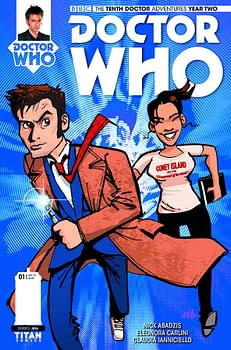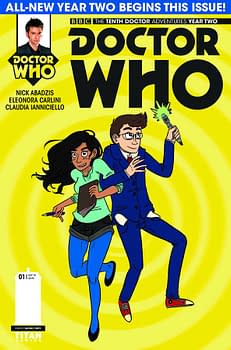 DOCTOR WHO 10TH YEAR TWO #1 REG RONALD
(W) Nick Abadzis (A) Eleonora Carlini (CA) Alex Ronald
'THE SINGER NOT THE SONG', Part 1
A fresh new start to an all-new Year Two, as the Tenth Doctor ongoing series takes to the stars! Looking for rest and relaxation, the Tenth Doctor and companion Gabriella Gonzalez take a trip to Earth Station Presley, a mining platform around an enormous gas giant – and home to one of the most spectacular sensory experiences in the universe! The gas giant is a perfect example of human colonists living in harmony with indigenous life, in this case the Shan'tee: conceptual beings perceived by humans as hauntingly beautiful music! But the Doctor and Gabby are walking straight into a war. Something has corrupted the song of the Shan'tee – a mysterious signal of unknown origin – and now the human colonists are trapped in a fight for their lives!
Can the Doctor, Gabby, and a synesthetic scientist uncover the truth and bring the war to an end without further bloodshed… or will the song consume them all?And… why does Gabby feel like the alien foes she's been facing are starting to rhyme…? Is there something less random and more sinister at work…?
Alternating art team Elena Casagrande and Eleonora Carlini continue their stratospheric rise, while writer Nick Abadzis plots an epic arc for the ages!
Don't miss the all-new chapter in the lives of the Tenth Doctor, Gabby and Cindy!
DOCTOR WHO 11TH YEAR TWO #1 REG RONALD
(W) Simon Spurrier, Rob Williams (A) Simon Fraser (CA) Alex Ronald
New series! New writing team! New laser-filled, time-mangling, galaxy-sploding dynamic! Accused of a genocidal crime he (probably) didn't (possibly) commit (oh hell, he totally did it), the Doctor and Alice – along with a unique new companion! – go on the run. But extreme hyperviolence-for-hire is hot on their tail, tracking them wherever and whenever they go. With chainswords! It's a race to clear our tricksy Time Lord's name and spare the lives of his friends, with the only answers burnt in the fiery footsteps of the incarnation he can never acknowledge: the War Doctor. Breathless twists abound as the Eleventh Doctor series jumps into a new gear, for a new year!Si Spurrier (X-Force, Marvel Zombies, The Spire, Numbercruncher, Six-Gun Gorilla) joins Rob Williams (Martian Manhunter, Ordinary, Judge Dredd: Enceladus) and Eleventh Doctor art team extraordinaire Simon Fraser (Grindhouse, Nikolai Dante) and Warren Pleece (Hellblazer, The Invisibles, Incognegro) for an unforgettable thrill-ride!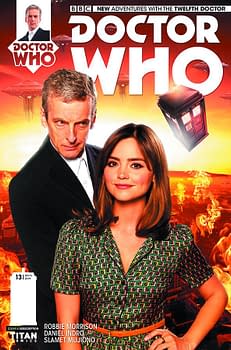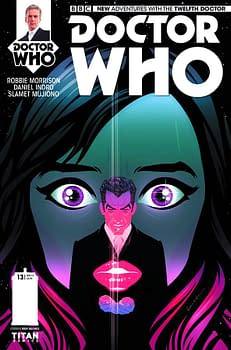 DOCTOR WHO 12TH #13 REG HUGHES
TITAN COMICS
(W) Robbie Morrison (A) Daniel Indro (CA) Ryan Hughes
The four-part epic first-year finale continues! Earth is under attack from an ancient species who yoked suns and spanned galaxies before we'd even evolved opposable thumbs. Cities are tumbling under their assault, people are dying in droves, and only two people in the universe can save us. But first the Doctor and Clara must save themselves! Burning with fury forged in the heart of stars, armed with technology beyond human comprehension, composed of a fleet of unstoppable warships, the Hyperions have returned at last. Welcome to the Hyperion War. Welcome to the last days of Earth!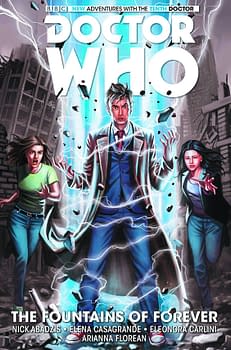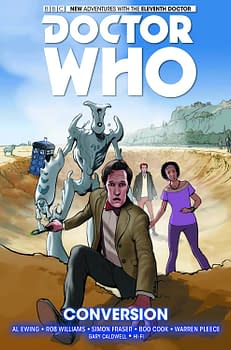 DOCTOR WHO 11TH HC VOL 03 CONVERSION
(W) Al Ewing, Rob Williams (A) Simon Fraser & Various (CA) Gary Caldwell
The first year of eleventh Doctor stories comes to a stunning conclusion – at once epic and intimate – as secrets and lies come tumbling out of the TARDIS, and enemies old and new conspire against the Doctor and his friends! Beginning with a cathartic trip through an exploded TARDIS, taking in a war against an upgraded foe in 312 CE, and bringing a year's worth of plot threads to a thrilling climax, the third volume is the perfect pay-off to a rollercoaster of a story! Witness as all of SERVEYOUinc's origins and plans revealed, along with the fates of the Doctor, Alice, Jones, and ARC! Collects Doctor Who: The Eleventh Doctor #11-15 and the eleventh Doctor short from the FCBD 2015 special.
DOCTOR WHO 10TH HC VOL 03 FOUNTAINS OF FOREVER
(W) Nick Abadzis (A) Elena Casagrande, Eleonora Carlini (CA) Mariano Laclaustra
The first year of the tenth Doctor's ongoing adventures hits its jaw-dropping finale as Gabby, Cindy, and the Doctor face a cosmic threat from the heart of the galaxy! From an aging actress unravelling the code of existence from her Manhattan apartment block, through retro-regeneration, a black ops military organisation, a secret cult, and an extraterrestrial artifact of such scale that it warps human comprehension, Doctor Who stories don't get much bigger or more exciting than this! What dark truths will the Doctor confront? How will Gabby be changed by her experience? And will Cindy ever join the TARDIS crew? Collects Doctor Who: The Tenth Doctor #11-15 and the tenth Doctor story from the FCBD 2015 special.
Enjoyed this article? Share it!