Silencer #4 Review: You Can't Quiet the Terminator
[rwp-review-recap id="0"]
We see a flashback to Silencer's training with Talia Al Ghul and her attempts to get out of Leviathan. This leads us to a contract against someone named Guile with none other than Deathstroke the Terminator standing in Silencer's way. In the present, Silencer goes shopping.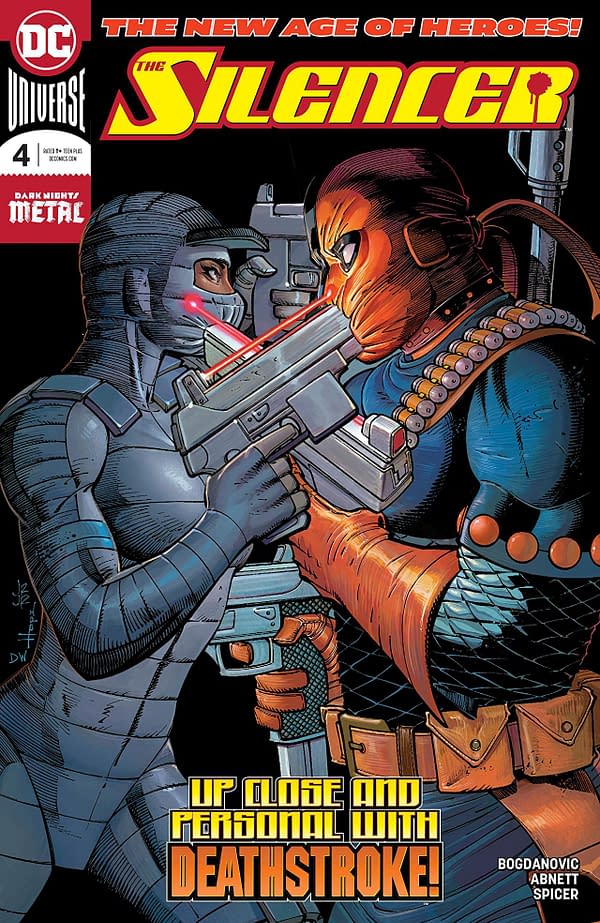 I'm not ashamed to admit that I returned to this one specifically because Deathstroke is on the cover. Thankfully, he is in the comic a fair amount to throw down with Honor.
How does the comic shape up outside of that? It's pretty good. Honor's mission to get out of Leviathan do make for compelling enough reading. The moral quandary that is the Guile contract does make for a decent conflict for our anti-hero.
Honor's fixation with having a normal life could use some extra justification. Perhaps this has been explained better in another issue, or perhaps Dan Abnett is holding that for a reveal. However, the goal is so vague and generic that it doesn't work too well as a prize for Silencer.
Also, Honor and Blake's child is a tad annoying. His dialogue is very much in the realm of generic child dialogue, and it's borderline painful at times.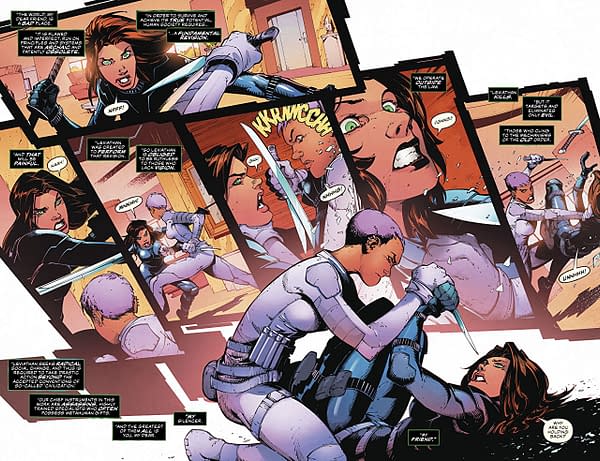 Viktor Bogdanovic's artwork is solid, and it fits the grungy and gritty tone of the comic very well. For those not familiar with his style, it lies almost perfectly in the middle between John Romita Jr. and Greg Capullo. In any case, it adds a lot of dirty detailing and emphasized physiques to be at home in Silencer. Nick Spicer's color work is severe and harshly contrasting, which fits this book quite well too. The visual identity matches the narrative incredibly well.
Silencer #4 is a solid gritty action comic with solid lead and set of antagonists, even if Honor's goals are annoyingly vague and generic. That said, the rest of it works well enough, and the art is rock-solid. This one gets a recommendation. Check it out.
[rwp-review-ratings id="0"]
[rwp-review-form id="0"]