Marvel Comics' editors aren't exactly known for their attention to detail when it comes to making sure everything that happens in their comics fits in with continuity, or even reality. That kind of fact-checking and proofreading is time-consuming work, and there are so many hours in the day, and those tweets aren't going to tweet themselves. We remember Marvel's many past continuity SNAFUs like the time "The Great One" Brian Bendis seemed to confuse the Massachusetts Institute of Technology in Cambridge, Massachusetts with Cambridge University in England, but today's Black Cat #9 features what may be the most horrendous continuity error of all time.
Because when Felicia Hardy is seated in a movie theater with her mentor, The Black Fox, discussing plans to travel to Madripoor and steal a painting that can help them with their mission of breaking into the Thieves Guild vault, she admonishes him for bogarting her soda. Except, she doesn't call it a "soda," as all right-minded people from Queens and the rest of the civilized Northeastern United States do. She calls it… a "pop."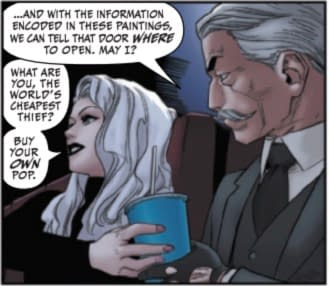 Pop is an incorrect term for a soft drink used mainly by people in the Midwestern and Northwestern United States, while Southerners even more incorrectly refer to the drink as a "coke." But for coastal elites, it's a "soda," and as a New Yorker who was born in Queens, that's something Felicia Hardy should know very well.
But for most Canadians, such as this issue's guest star, Wolverine, or Black Cat writer Jed MacKay, it's "pop." Just another reason to despise our neighbors to the North. And so that's what Felicia Hardy calls it now.
Anyone want to try for a no-prize?
Black Cat #9 is in stores now.
BLACK CAT #9
DEC190880
(W) Jed MacKay (A) Kris Anka (CA) J. Scott Campbell
• Felicia has gotten into some trouble in New York. Some may call it "inciting a war" but we aren't here to mince words. What's a girl to do?
• GO TO MADRIPOOR! That's right, the Black Cat and her crew go to Madripoor to steal the next object on their list. No problem, just another artifact that is in the private collection of someone named… where'd I put that note… oh, here. Someone named "Patch."
• Uh-oh. Patch is Wolverine. BLACK CAT IS STEALING FROM WOLVERINE?!
• All this and guest-artist KRIS ANKA (UNCANNY X-MEN, RUNAWAYS) is joining the book for two issues!
Rated T
In Shops: Feb 05, 2020
SRP: $3.99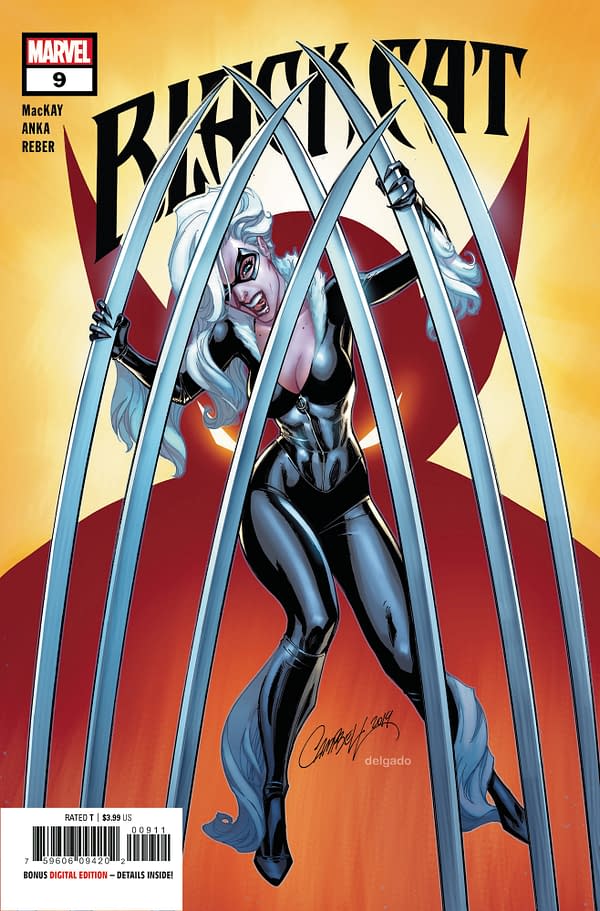 Enjoyed this article? Share it!