Slipcases For Simon Furman and Geoff Senior's To The Death
Simon Furman and Geoff Senior have been busy in lockdown. The co-creators of Death's Head, Dragon's Claws and the most critically acclaimed run on Transformers have been working on a new creator-owned series, not distributed by Diamond Comic Distributors, but going direct to comic book stores, selling at shows or via mail-order. We have talked it up a lot on Bleeding Cool over the past couple of years, and for good reason.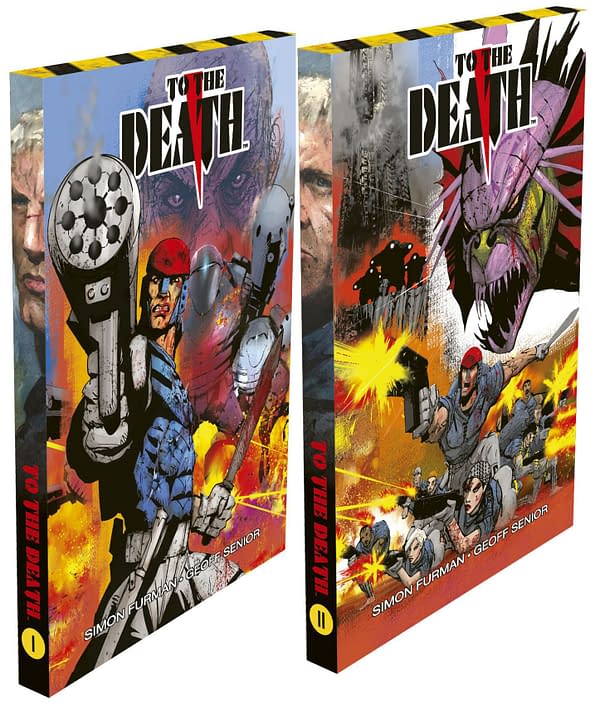 The ten issue series is now complete, but they aren't going to publish a collection. Instead they are putting out two slipcase containing all ten of the 48 page perfect bound comic books, five in each, and charging £19.99 each, or an empty set of slipcases for £9 the pair. But they come with extras… complete slipcases, filled or unfilled, also contain the following:
SECRET JOURNAL OF DEACON SNOW – an essential add-on to your To The Death collection, providing key background to the main series in the form of journal entries from the enigmatic Deacon Snow (he of White Noise). Through his insights, the world of To The Death and the secrets of the Tri-Corp's machinations are finally revealed!
DELUXE SIGNED ART PRINTS of the Geoff Senior cover variants to To The Death #1-10 in all their original 'naked' glory, co-signed by Geoff and Simon.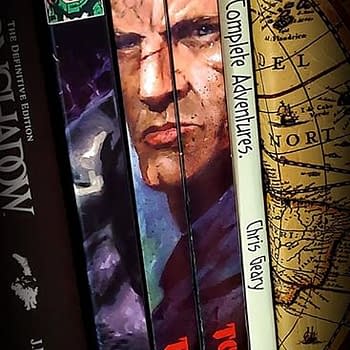 To celebrate the launch, from Monday you'll also be able to grab a free 'newspaper-style' comic strip, featuring Killatoa, the scaly assassin who made his debut in To The Death #5, running daily on weekdays from the 11th to 29th of May, written by Simon Furman, drawn by Geoff Senior and lettered by Richard Starkings. Fifteen daily installments, available online for free.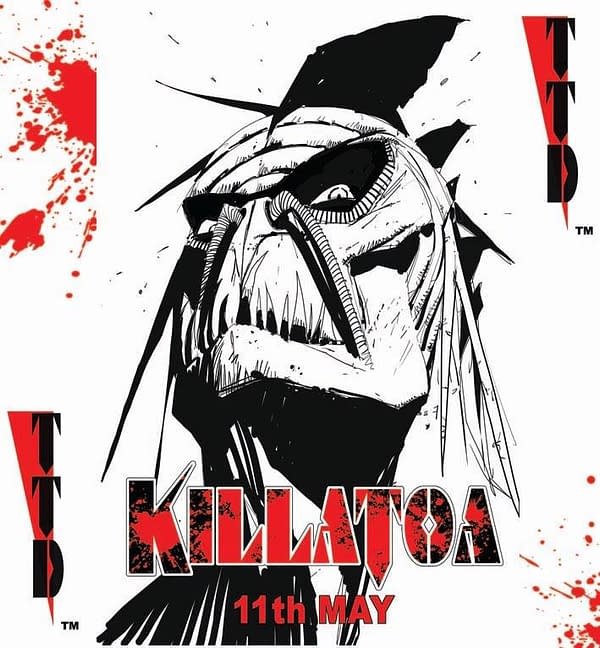 Here's all you need know:
Aleksy Dryagin returns from off-world wars to find that putting down his guns and picking up where he left off with his wife and young son is not an option. Instead, he's marked for death, the pawn in a power struggle between the omnipotent Tri-Corp and subversive organization White Noise. But Dryagin is no one's pawn. You pick a fight with Dryagin… It's To The Death. Populated with colourful characters – such as evolved fish-man Killatoa, The Triumvirate, and Dryagin's crack Scourge platoon of 'Pacifiers', To The Death is widescreen kinetic action all the way, building to a truly Earth-shattering conclusion.