Snake Eyes: Deadgame #1
7/10
Get ready for some sword-swinging militaristic action courtesy of fan-favorite Rob Liefeld. Really!
Before things get too far, let's deal with the elephant in the room. Rob Liefeld drew and wrote a reasonably standard 1980s Special Missions style G.I. Joe story focuses heavily on the franchise's breakout character, the ninja commando called Snake-Eyes. Yes, Liefeld convincingly draws boot-clad feet as well, which will be one of the first things his detractors will ask. Plus, for the page count, if you like this sort of empty-calorie storytelling, this may not be a purchase you'd regret.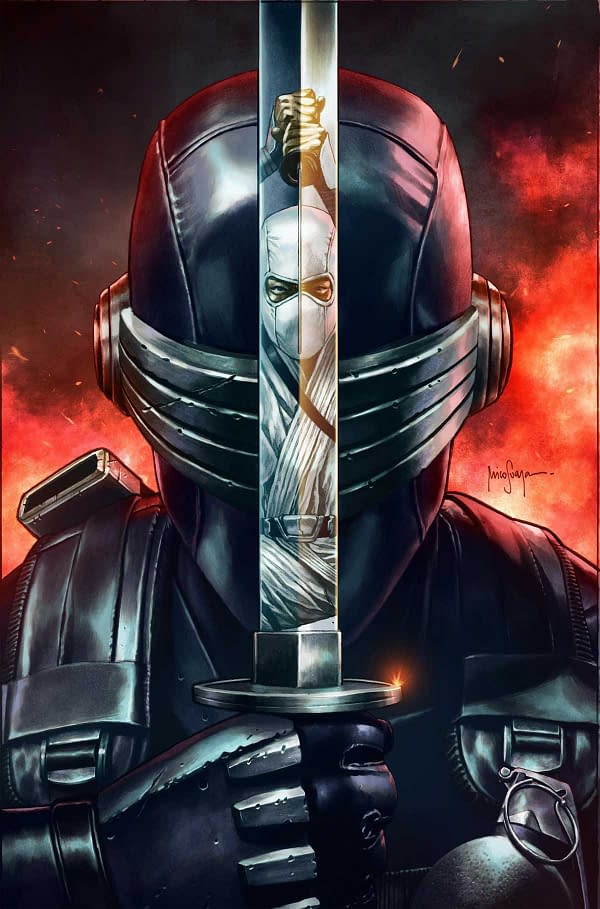 That's not to say there aren't issues with this solid issue. There are heavy-handed voiceover captions that are syrupy thick with exposition. There isn't a lot of characterization or nuance to be found here. All of that is true.
Most fans of the franchise, however, crave action and gunfire and slicing swords and whatnot. This issue, recognizing that craving, enthusiastically says, "hold my beer!" Liefeld throws out action scenes like a torrent of shuriken, using submachine-gun fire and the swing of katanas like dialogue. Despite a lot of fan-tagonism against Liefeld's past works, there's no denying the man knows how to put together an action-packed comic book with thrills.
With Liefeld on both script and art duties, his visual stylings are supported by Chad Bowers, Adelso Corona, Federico Blee, with Andworld Design making the ocean of captions work.
This issue
certainly may not garner any Eisner nominations. Still, it is a confectionary bit of enjoyment that won't overtax your synapses or ask you to do much more than ignore westernized military adventurism and imperialism. No big deal, right?
RATING: HONORABLE MENTION.
Snake Eyes: Deadgame #1
(W) Rob Liefeld, Chad Bowers (A/CA) Rob Liefeld

Snake Eyes has long been the most mysterious member of the Joes, but how long can he keep his past classified when he's forced to play his hand? Will he get a lucky roll? Or will the deadgame finally catch up to him?
Enjoyed this article? Share it!