Iceman has been trying hard to prove to the Morlocks and their leader Madin that the X-Men really do care about them, despite the fact that they're mostly hideously mutated and live in the sewers. But no matter how hard he tries, he just can't seem to do anything right. Last issue, Iceman located Madin's kidnapped brother, which is a good thing. Unfortunately, he had been brainwashed by Mister Sinister to be used as a weapon against Iceman. Making matters worse, he was arrested by the police even though he was clearly under mind control.
So naturally, when Iceman goes to tell Madin what happened, he thinks he knows what she wants: he's gonna bust into jail and bust Ash out. But according to Madin, that kind of idea is just another example of Iceman's privilege…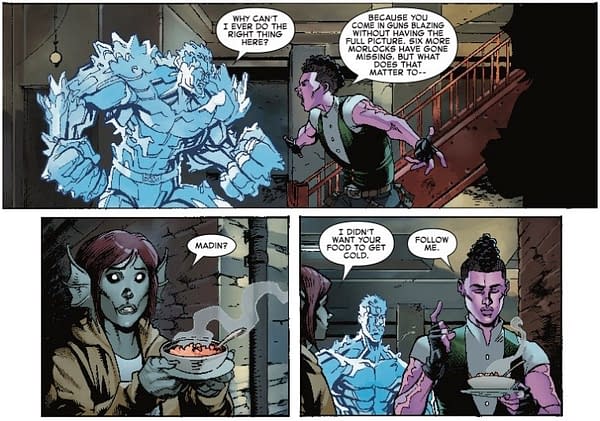 But as it turns out, maybe Iceman is starting to grow on Madin. It turns out, she wasn't mad at Bobby per se. She just needed a Snickers. Or whatever passes for Snickers in the Morlock tunnels.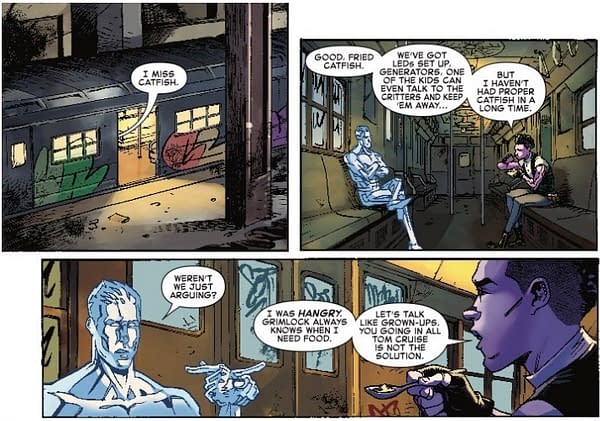 It's a good thing she's got her hanger under control, because we've got to wrap all of this up in just two issues!
Iceman #4 hits stores next Wednesday.
Iceman #4 (of 5)
(W) Sina Grace (A) Nathan Stockman (CA) W. Scott Forbes
• New York is finally throwing its first Mutant Pride Parade!
• But it may also be the last, as Mr. Sinister escalates his attacks on Iceman!
Rated T+
In Shops: Dec 19, 2018
SRP: $3.99
Enjoyed this article? Share it!