It seems strangely poignant picking up today's comic books from Orbital Comics in London (I'm hanging around, seeing Fantastic Beasts tonight). On Monday, Stan Lee died, and so many of the titles on the shelves bear his touch, his influence, his lineage.
But two jumped out today. Written, drawn, printed and distributed all while Stan Lee was still with us. But on sale now that he is gone.
The first, sees Spider-Man addressing the now-a-bit-grown-up Franklin Richards, in Fantastic Four #3.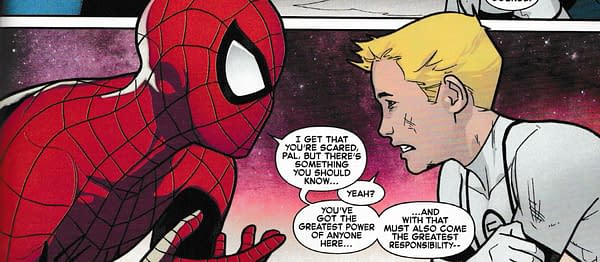 And paraphrasing the line that Stan Lee will always be associated with, from Amazing Fantasy #15 with Steve Ditko. And because this is Dan Slott writing, getting the 'must' but right as well.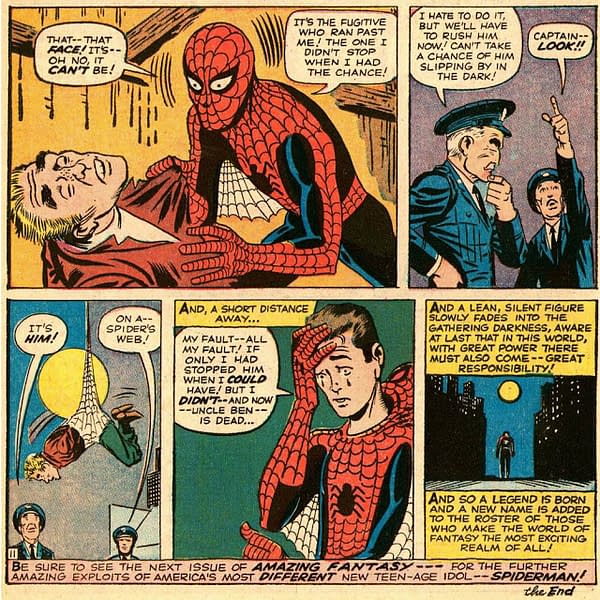 But he's not alone, DC Comics has the final issue of Mister Miracle #12, so solidly based on the DC work of Jack Kirby, it even revived the character who Jack Kirby created as a satire on Stan Lee, Funky Flashman. Who is also quoting Stan. Though missing out the 'must' bit. Come on Tom, beaten by Dan on this?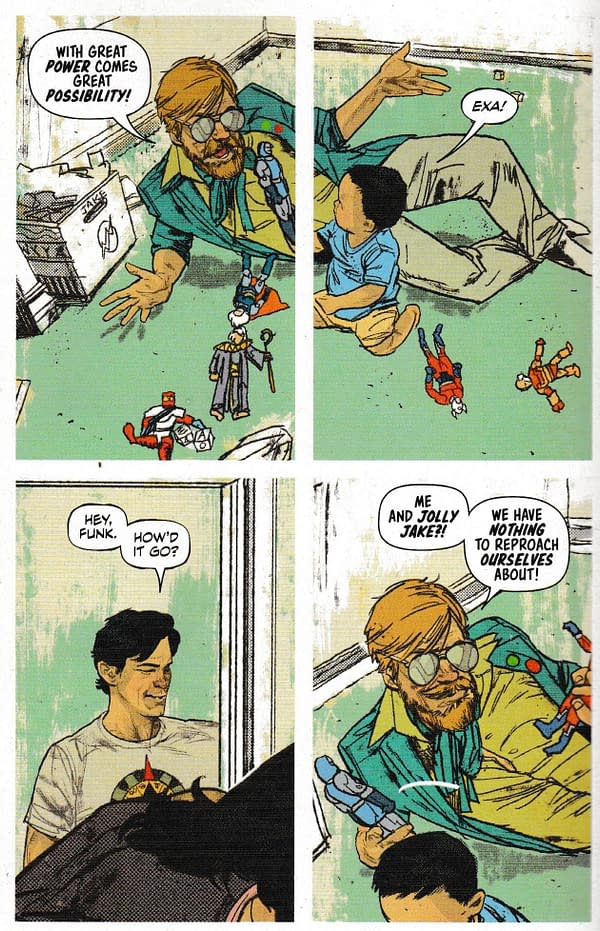 However that final quote is from something else entirely, Stan Lee's reported final meeting with Jack Kirby, as told to Playboy Magazine in a now-deleted article.
'the last thing Jack Kirby said to me was very strange. I met him at a comic-book convention right before the end. He wasn't that well. He walked over and said, "Stan, you have nothing to reproach yourself about." He knew people were saying things about me, and he wanted to let me know I hadn't done anything wrong in his eyes. I think he realized it. Then he walked away.'
It is strange how just a few days can change the interpretation of both moments so much.
MISTER MIRACLE #12 (OF 12) (MR)
(W) Tom King (A) Mitch Gerads (CA) Nick Derington
It'll be a miracle if you can get through this mind-bending conclusion with your sanity intact! After his epic battle with Darkseid, Scott Free sees life a whole new way: he's the new Highfather of New Genesis, and he's madly in love with his wife and child. But what if it's all a lie? Did Mister Miracle really escape death way back in issue #1? No one really knows but Tom King and Mitch Gerads!In Shops: Nov 14, 2018
SRP: $3.99

FANTASTIC FOUR #3
(W) Dan Slott (A) Sara Pichelli, Nico Leon (CA) Esad Ribic
FREE-4-ALL!
• The Fantastic Four is more than a team. It's a family. And when the fate of the very Multiverse is at stake, that means it's time for the ENTIRE family to have a reunion.
• Everything you've been waiting for? It's in THIS issue.
• Guest-starring: Spider-Man, Wolverine, the Hulk, Ghost Rider, Medusa, Crystal, Luke Cage and MORE.
Rated TIn Shops: Nov 14, 2018
SRP: $3.99
Enjoyed this article? Share it!