So how have Superman and Batman been doing? Not great, to be honest. They (with Wonder Woman) built Sanctuary as a mental health haven for superheroes that was full of contradictions and a massive security risk for everyone and, eventually, ended up killing off a bunch of superheroes and exposing what were clearly a mentally vulnerable group of people to public scrutiny.
Then Batman built a containment facility for The Batman Who Laughs within the Halls Of Justice, without telling anyone. Then they have imprisoned the Infected version of Commissioner Gordon that has exposed everyone there to the infection. And now Batman is building something else.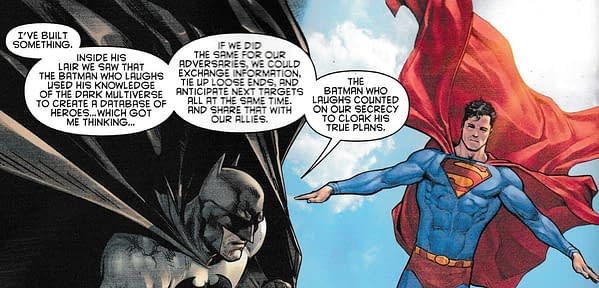 A database of bad guys that can be shared with other heroes. Or heroic groups. Until they get taken over by Leviathan or something. And vulnerable to being hacked by the very people it is targeting, who can then make alternative strategies or even amend the information within.
Well, okay, Superman is slightly less stupid than Batman. But if he accepts the answer Batman gives…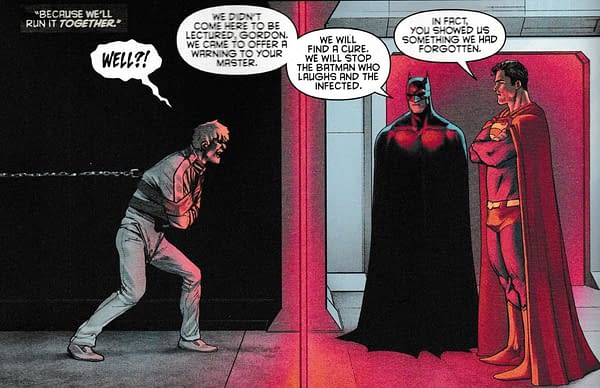 ….
BATMAN SUPERMAN #6
(W) Joshua Williamson (A/CA) David Marquez
The Secret Six may have met their match when they faced the combined might of Superman and Batman, but don't count these infected heroes out yet. With the Batman Who Laughs freed from his prison at last, the clock is ticking for the Dark Knight and the Man of Steel to track down the escaped Deathbringer, Sky Tyrant, King Shazam, Scarab, and the most tragic to Superman…his cousin Kara.In Shops: Jan 22, 2020
SRP: $3.99
Superman/Batman #6 is out today from DC Comics… I bought mine from Piranha Comics in Kingston-Upon-Thames. Piranha Comics is a small south London comic store chain with a small south-east store in Kingston-Upon Thames's market centre, which runs Magic The Gathering nights on Fridays, and a larger south-west store in Bromley, which also runs Magic nights and has an extensive back issue collection and online store. If you are in the neighbourhood, check them out.

Enjoyed this article? Share it!