Suicide Squad #6 Review: A Superbly Entertaining Issue
Once upon a time, the United States government decided to offer some of its worst convicts a chance at redemption through clandestine black bag missions as Task Force X, colloquially called the Suicide Squad. This went predictably destructively for years and years, leading to a super-powered cadre called the Revolutionaries infiltrating the Squad to shut it all down. Now the newly combined Squad is on the run in Gotham City, having murdered their handler and intent to take down the power pulling the strings.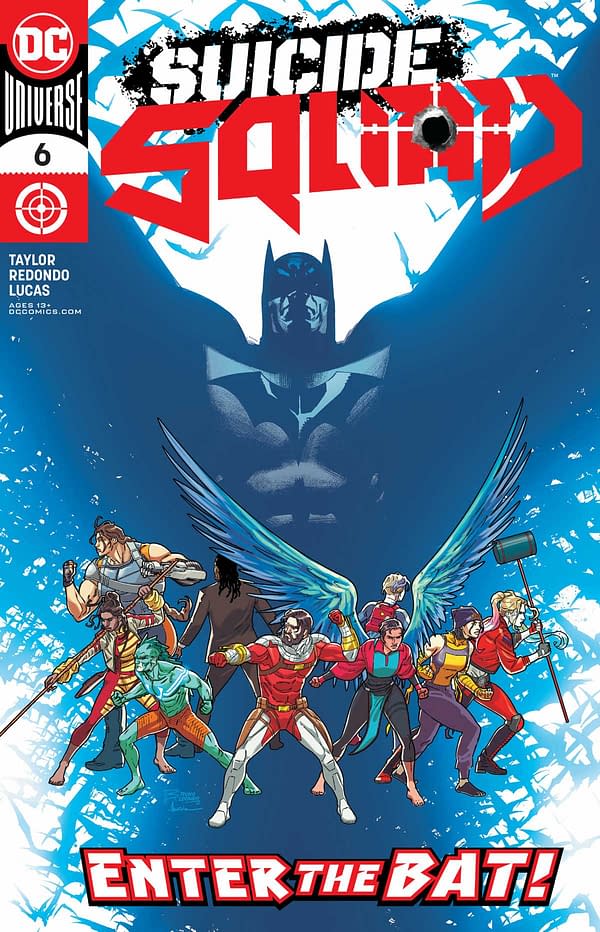 Even if you didn't see the cover that would make clear some of what's going to happen this issue, but again Tom Taylor turns in a king of a script that gives brushes of characterization for most of the ten main players here (Deadly Six is good with computers! Chaos Kitten has a soft spot for dogs!) while delivering some truly memorable action scenes.
Why is this collection of miscreants in Gotham City? Harley knows somebody who can remove the bombs that Task Force X installed in each of their bodies, and it's not someone around her Coney Island apartment buildings (this series has enthusiastically avoided all of that). Unfortunately, the problematic power behind the curtain has put a plan in motion that'll make Gotham even messier than normal. That inevitably brings the Bat out to play and he shows off his detective skills as well as his gift for pugilism. As Harley Quinn says, "It's not the first time I've stood on a dark Gotham street surrounded by mysteriously unconscious people. I'm not gonna lie … it's never ended well."
With a wonderful nostalgic twist from Wes Abbott, Bruno Redondo and Adriano Lucas turn in a fight scene that's really, really good that leads to an epic time stalling one-on-one between Batman and Deadshot. Just when it gets good, the interaction between the two characters gets even better with a dog, a computer, and the offer of a phone call. Tom Taylor makes this dialogue super engaging and the whole package is superbly entertaining. RATING: BUY.
Suicide Squad #6
By Tom Taylor, Bruno Redondo

The hunters have become the hunted! Task Force X is the world's most wanted-on the run from heroes and villains alike and no closer to taking down the puppet master who's been pulling their strings. But even if they go to ground, there's no hiding from the World's Greatest Detective, and it'll take every deadly trick in their playbook for the Squad to escape the wrath of Batman!