Posted in: Comics | Tagged: dallas, diamond, retailer
---
Swag From The Upcoming Dallas Diamond Comics Summit
More Diamond news coming in a wave. The Retailer Summit, being held in Dallas, Texas, from the 7th to the 9th of June and there is swag.
---
More Diamond news coming in a wave. The Diamond Comic Distributors Retailer Summit, being held in Dallas, Texas, at the Kay Bailey Hutchison Convention Center Dallas, runs from the 7th to the 9th of June. Registration for the event has been extended to the 26th of May, and Diamond is doing a last-minute push for attendance by showing off the swag that retailers will get for attending the show. If you are going, do let Bleeding Cool know!
Once Upon a Time at the End of the World #6, cover by Jenny Frison
Something is Killing the Children #25, foil cover by Junggeun Yoon
Chicken Devils #1 Diamond Retailer Summit Metal Cover
Maniac of New York Vol. 3 Diamond Retailer Summit Metal Cover
Sins of the Salton Sea #1
Advance copies of Under the Influence #1, the debut issue of the upcoming series
Preview of the upcoming GN John Tiffany
Still Ill Comic Sampler
Guardians of the Galaxy #1 Alex Ross Timeless Doctor Doom Virgin Sketch Variant
Mary Jane & Black Cat #4 Alex Ross Timeless Black Cat Virgin Sketch Variant
Star Wars: Darth Vader Black, White & Red #1 Gabriele Dell'otto Virgin Variant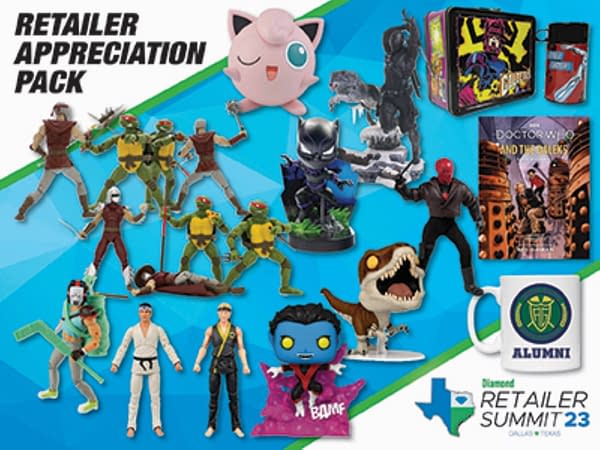 ThesRetailer Appreciation Pack (valued at over $400 will ship to retailers freight free after the Summit:
COBRA KAI ALL VALLEY ACTION FIGURE BOX SET
GI JOE GALLERY SNAKE EYES PVC STATUE
POKEMON 09 JIGGLYPUFF QUICK MODEL KIT
POP DELUXE NIGHTCRAWLER TELEPORTING GID PX VIN FIG
POP SPECIALTY JURASSIC WORLD ATROCIRAPTOR (TIGER) VIN FIG
MEGO DC HEROES RED HOOD PX 8IN AF
DOCTOR WHO AND THE DALEKS ILLUSTRATED ED HC
POWER RANGERS ANGEL GROVE HIGH SCHOOL ALUMNI PX COFFEE MUG
TIN TITANS MARVEL GALACTUS PX LUNCHBOX & BEV CONTAINER
BST AXN TMNT CLASSIC COMIC PX ACTION FIGURE 4PC BOX SET 1
BST AXN TMNT CLASSIC COMIC PX ACTION FIGURE 4PC BOX SET 2
BST AXN TMNT W3 CASEY JONES SKULL FACE 5IN AF
SUPERAMA MARVEL BLACK PANTHER VIBRANIUM GLOW SUIT PX DIORAMA
Bob Wayne will be the Keynote Speaker at the event, which will run Retailer Workshops, and a Comic Shop Bus Tour. The fee to register for the Summit is $139 per person.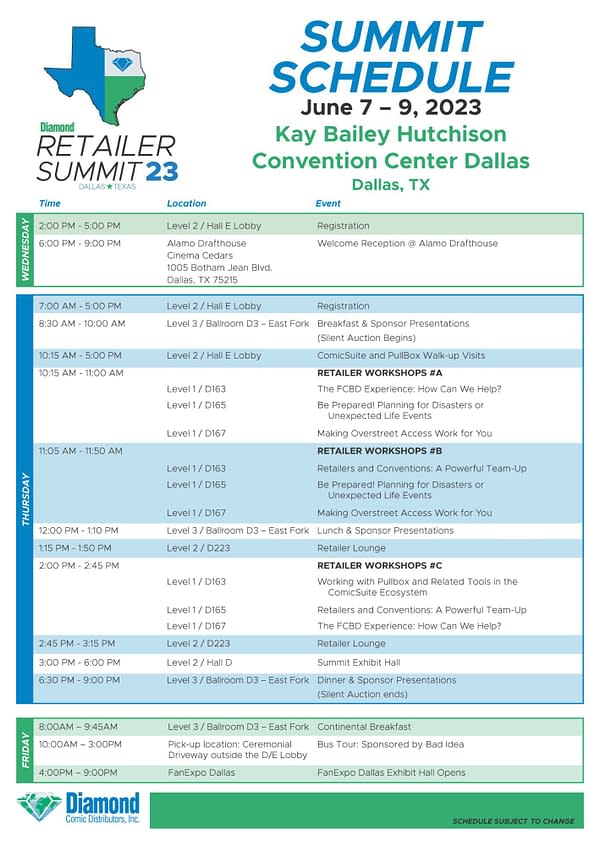 Making Overstreet Access Work for You
Presenters: J.C. Vaughn and Shawn Sippel
New tools for Retailers! Overstreet Access is the online version of The Overstreet Comic Book Price Guide. We have developed a comprehensive online repository of comic book information, a robust collection management system, and a vehicle for connecting collectors and retailers. Get an overview of OA and see its brand-new tools, available to Diamond retailers at no charge, which are being designed to grow and evolve into a robust platform, designed and developed to help increase your business.
Be Prepared! Planning for Disasters or Unexpected Life Events
Presenter: Judey Kalchik, Program Manager – Book Industry Charitable Foundation
The world is a complicated place and the unexpected can strike your family or business at any time. Binc presents helpful strategies that will help you prepare for these events while also outlining many of the services they provide to booksellers and store owners.
Retailers and Conventions: A Powerful Team-Up
Presenter: Informa (Fan Expo) Convention / Marketing Staff
Your retail customers go to conventions and come back to their local retailers even more energized and informed about the products you carry. With shows all over the United States and Canada, Informa / Fan Expo wants to discuss new and exciting ways that retailers and conventions can thrive in the current market and support local fans. Please join us for this exciting conversation!
Working with Pullbox and Related Tools in the ComicSuite Ecosystem
Presenter: Diamond Comics' POS / Tech Support Team
With the many tools offered by Diamond Comic Distributors for you and your retail customers, it can be confusing to understand how they all work together. Our goal is for you and your customers to be able to most efficiently see all the new products and for your customers to then place preorders that you can integrate with your weekly reorders or monthly initial orders. Our POS team has put together a presentation that will help you make the best use of these tools.
The FCBD Experience: How Can We Help?
Presenter: Ashton Greenwood / Associate Manager, Marketing Partnerships
It's the best day of the year and we want to talk about it! Join the Duchess of FCBD, Ashton Greenwood, for an open forum on all things FCBD. From title selection, to merchandise, event promotion, and day-of support, this 45-minute panel emphasizes collaborative discussion on all the best ways to partner to make sure FCBD is an annual success in your shop!
---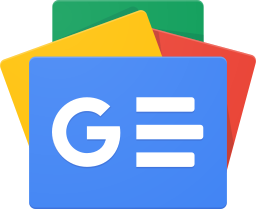 Stay up-to-date and support the site by following Bleeding Cool on Google News today!