As Dyanmite's big summer event moves into it's second month, we have the first look at the covers and solicitations for all of the Swords of Sorrow books including the two newest Swords of Sorrow: Dejah Thoris / Irene Adler and Swords of Sorrow: Black Sparrow / Lady Zorro.
SWORDS OF SORROW #2 (OF 6)
Covers: Tula Lotay, Emanuela Lupacchino Writer: Gail Simone Art: Sergio Davila
Gail Simone (Batgirl, Red Sonja) and rising star Sergio Davila (Legenderry) team to bring you this epic tale, featuring the most amazing, most beloved, and fiercest pulp heroines of all time! All the great Women of Dynamite are united against an unbeatable horror, and this historic issue features, for the first time ever, characters from the worlds of Edgar Rice Burroughs and Robert E. Howard as Dejah Thoris and Red Sonja clash!
The SWORDS OF SORROW series is also supported by several companion one-shots, written by some of today's hottest talents, like G.Willow Wilson, Marguerite Bennett, and Erica Schultz!
SWORDS OF SORROW: DEJAH THORIS & IRENE ADLER #1 (OF 3)
Cover: Jay Anacleto Writer: Leah Moore Art: Francesco Manna
A team-up set up by SWORDS OF SORROW's Gail Simone, featuring the writer that she hand-picked: Leah Moore! Irene Adler has been many things in her young life, a fugitive, a master of disguise and a femme fatale, but even she is surprised to find herself made bounty hunter, tracking savage foes across the grimy streets of London. In a far off world, defending Barsoom against an influx of trespassers, Princess Dejah Thoris is ready to put the guilty to her sword. Now, the world-colliding events of SWORDS OF SORROW have brought these dangerous women together… and the fate of planets hang in the balance!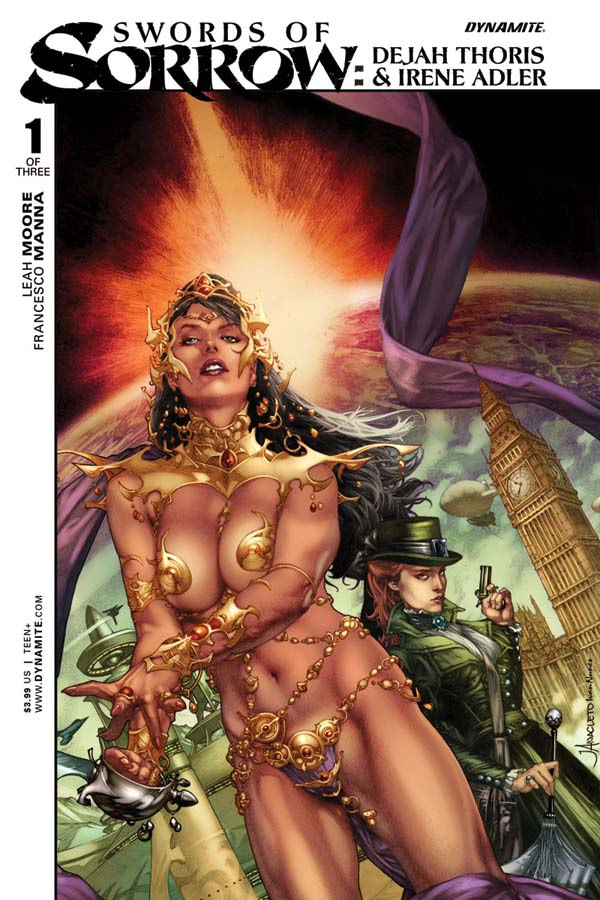 SWORDS OF SORROW: BLACK SPARROW & LADY ZORRO SPECIAL
Cover: Joyce Chin Writer: Erica Schultz Art: Cristhian Crizam Zamora
A team-up set up by SWORDS OF SORROW's Gail Simone, featuring the writer that she hand-picked: Erica Schultz! Lady Zorro and The Black Sparrow, two women from different times, join forces to fight Prince Charming's Shards of Chaos in a prehistoric land. With their Swords of Sorrow, they fight to keep an ancient stone with mystical abilities out of the Prince's grasp.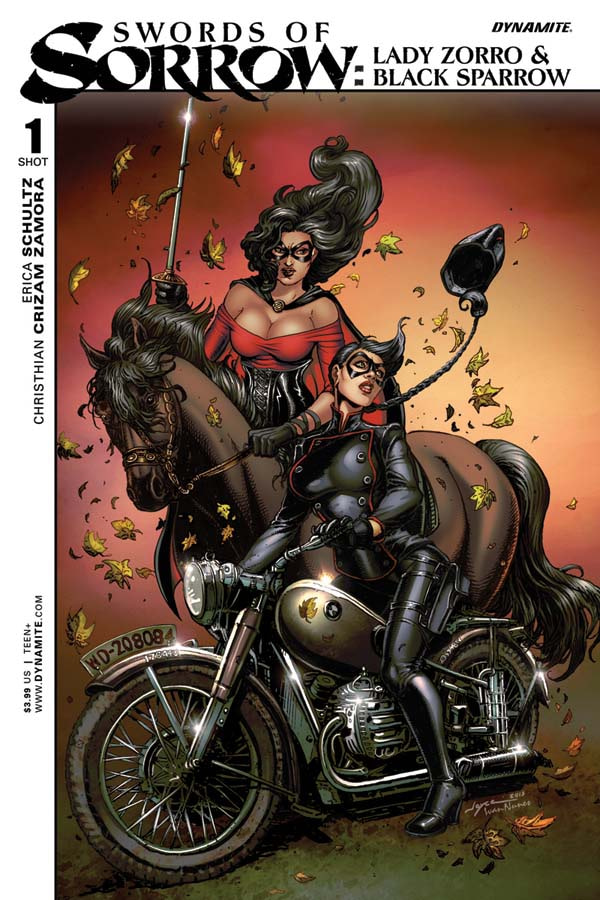 SWORDS OF SORROW: VAMPIRELLA & JENNIFER BLOOD #2 (OF 4)
Cover: Billy Tan Writer: Nancy A. Collins Art: Dave Acosta
A team-up set up by SWORDS OF SORROW's Gail Simone, featuring the writer that she hand-picked: Nancy A. Collins! Now that the threat of the Pacifica Slasher/Anaheim Ripper has been handled, Vampirella must figure out how to survive in a world without monsters—including where to find her next meal. Meanwhile, Jennifer Blood turns her attention to Los Muertos, a deadly narco gang with a fondness for turning the faces of those who cross them into sporting goods. However, her plans for the gang's leaders are derailed by yet another Jennifer Blood copycat—one who bears a disturbing resemblance to a certain voluptuous vampire.