The Tekken Comic Is A 90s Throwback – A Review Of Issue #1 [rwp-review-recap id="0"]
Titan comics' Tekken series is a straight tie-in to Tekken 7, and seems to include the whole Mishima family. But it does give a solid amount of info for the uninitiated, because the whole Mishima family blood feud is a bit of a convoluted mess. The comics opens with a recap of the feud and an intro into the main players involved up to and including Jin Kazama, Kazuya Mishima, Heihachi Mishima, Ling Xiaoyu and her loyal panda, Panda. Yes, the panda is named Panda.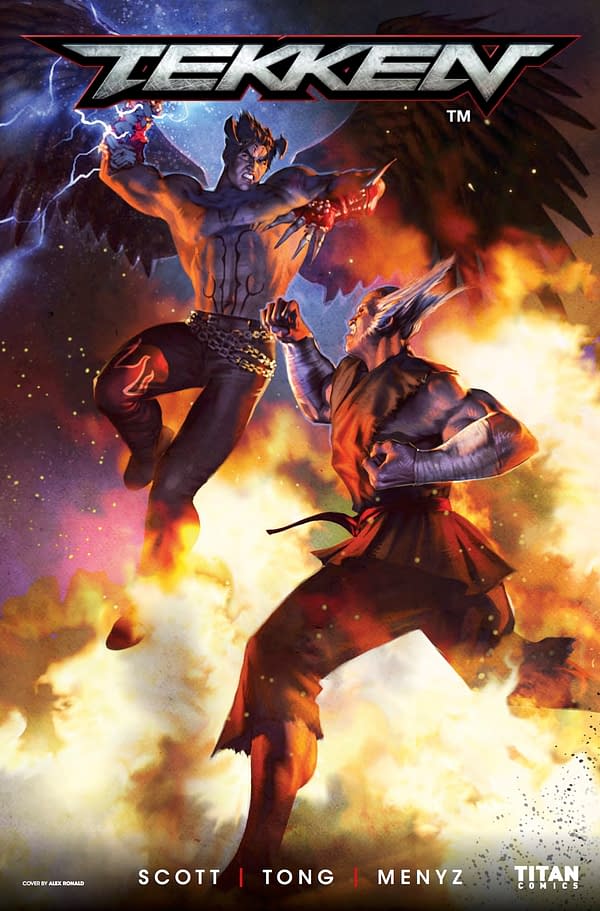 After the solid recap, we get a credits page, and then a major change in art style. The cover and recaps all use images taken straight from Tekken 7, but that's not how the art team of Andie Tong and colorist Marcio Menyz work. Tong's artwork is pretty solidly comics art, it's flat and sketchy which isn't a bad thing, but the lack of transition is jarring. You go from 4k gaming graphics to Tong's sketchy style, with only some weird photoshopped credits in between. Not the best way to introduce a comic, for sure. The story is a pretty straightforward setup for a four-part story arc, and includes the basic intros into the world through narration and what we actually see happening on the page. We very clearly see two sides of the battle, Kazuya Mishima and his G Corporation and Jin Kazama and his eclectic band of King of Iron Fist fighters. The third faction, Heihachi and the Mishima Zaibatsu, are mostly heard from in reference. At one point, we have Kazuya and Anna Williams talking about their attempts to find Kazama with a news report of a Mishima Zaibatsu press conference in the background. That threat establishment makes things clear- at least in these first few episodes, we'll be dealing with Kazuya Mishima and Jin Kazuma. Heihachi is the man behind the curtain. Sure, most of the story is told in flying fists, but it's Tekken, it would be weird if we didn't get our exposition in the middle of battle scenes. The only problem I see with Cavan Scott's work here, is that the story plays out more like a spy thriller than a Tekken match. Sure, we have both Williams sisters moving the plot along, but the rest of the cast is decidedly less subtle. Tong's pencil and ink work is not to my personal taste, there are a lot of lines across characters' faces in a way that's a bit too Liefeldian for me, and many of those cues could have been picked up by Menyz' colors. But Tong's work is solid, there are only a few moments of bizarrely proportioned characters and his style holds true across the book, and I'm always fond of consistency. The flat, sketchy nature of Tong's work here seems to be less his style and more of a direct reference to Rob Liefeld's work in the 90s. Got to say, that being an intentional callback is something I can appreciate. Because the story of Tekken absolutely fits within Liefeld's wheelhouse.
The colors are a bit less consistent. The sheer amount of detail Menyz put into Anna Williams's silk dress is absurd and really makes it pop. That almost looks strange in comparison to everyone else, though. Only Williams's dress seems to have gotten that kind of loving treatment. Which does make a valid point about Williams herself, she wears those dresses for a reason and has made them her call-sign, but it does seem a bit too obvious on some panels. Overall, I'll give Tekken #1 this, it sets up a story in a quick fashion without telling us too much. There are some moments, like the narration that describes almost everyone as cold, that seem a bit too much talk and no substance. But overall, the story is action packed and doesn't quibble over details. It's quick, direct, and lets you connect enough details on your own to feel involved. The art is consistent if a bit flat and too much of a throwback for me, and I probably wouldn't have picked up the book on my own. The only major deterrent I see is the mix of art styles creating some confusion on those first few pages.
[rwp-review-ratings id="0"]
[rwp-review-form id="0"]