Okay, this is what we think we know. Marvel #1000, or Marvel Comics #1000, is a volume featuring one-page stories by a tonne of comic book creators, many of them Al Ewing. Out in August, it is intended to be as if Marvel had kept publishing the Golden Age title Marvel Comics every month since 1939. And these seem to be the fifty-five creative teams announced so far… did we miss any? Maybe we'll find out tomorrow? Bound to be someone big. Here are the 55 creative teams we have been able to identify so far… when they get round to it Jonathan.
I was supposed to post this at 1pm, but hey, check it out, Dustin and I are late as shit again. The band IS back together! pic.twitter.com/GzfbtyhhwT

— Jonathan Hickman (@JHickman) May 9, 2019
And Kieron.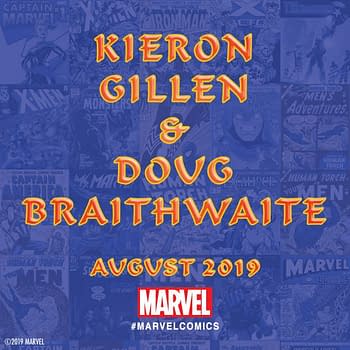 Okay, here we go.
Adam F. Goldberg and Adam Riches

Al Ewing and Cafu

Al Ewing and Carlos Pacheco

Al Ewing and Chris Weston

Al Ewing and Christian Ward

Al Ewing and Cory Smith

Al Ewing and Daniel Acuña

Al Ewing and George Perez

Al Ewing and Jesus Saiz

Al Ewing and Joshua Cassara

Al Ewing and Mike Deodato Jr.

Al Ewing and Ron Garney

Al Ewing and Steve Epting

Alex Ross

Allan Heinberg and Jim Cheung

Tini Howard and Kia Asamiya

Brad Meltzer and Julian Todino Tedesco

Charles Soule and Steve McNiven

Chip Zdarsky

Dan Slott and Marcos Martin

David F. Walker and J.J. Kirby

Donny Cates and Geoff Shaw

Ed Brisson and Jorge Fornes

Eve L. Ewing and Jen Bartel

Gail Simone and David Baldeon

Gerry Duggan and Chris Samnee

Greg Pak and Takeshi Miyazawa

J. Michael Straczynski and Ed McGuinness

Tom Taylor and Juann Cabal

Jason Aaron and Goran Parlov

Jason Latour

Jeff Lemire

Jeph Loeb and Tim Sale

Jeremy Whitley and Irene Koh

Joe Hill and Mike Allred

Jonathan Hickman and Dustin Weaver

Kareem Abdul-Jabbar, Raymond Obstfeld and Mattia De Iluis

Kathyrn Immonen and Stuart Immonen

Kelly Sue DeConnick and David Lopez

Kelly Thompson and Pepe Larraz

Kieron Gillen and Doug Braithwaite

Kurt Busiek and Cameron Stewart

Mark Waid and John Cassaday

Matthew Rosenberg and Leinil Francis Yu

Patrick Gleason

Peter David and Adam Kubert

Phil Lord, Christopher Miller and Javier Rodiguez

Rainbow Rowell and Kris Anka

Roy Thomas and Rod Reis

Ryan North and James Harren

Saladin Ahmed and Steve Rude

Taboo and Geoffery Veregge

Toby Whithouse and Alan Davis

Tom DeFalco and Ron Frenz

Walt Simonson
Did we miss any? We hope not, but it feels like there must be someone if only so that Marvel can make some kind of New 52 gag….
Welcome all of you, the Marvel August Visitors…
Enjoyed this article? Share it!