The Daily LITG, 25th July 2019 – Brian Bendis, Tonight on Seth Meyers
Welcome to the pretty-much-mostly-daily Lying In The Gutters. A run around the day before and the day ahead. You can sign up to receive it as an e-mail here.
The 10 most-read stories yesterday
Happening today: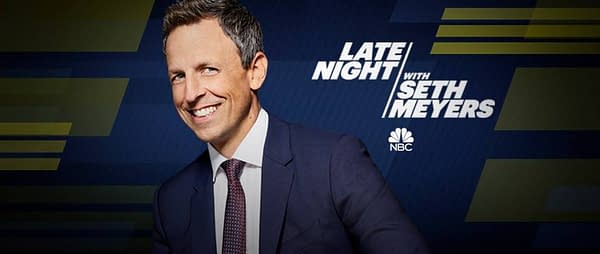 Brian Michael Bendis appearing on Late Night With Seth Meyers tonight, with Michael Moore.
Drink & Draw Bog Eyed Edition, Gosh London, London, 6-9pm
Comix of Cult & Occult, Treadwell's Books, London, 7pm.
Raleigh Supercon – Raleigh, North Carolina, till Sunday.
Batman Curse of the White Knight Sean Murphy Signing, Jetpack Comics, Rochester, New Hampshire 10am-8pm.
Electric Black #2 Exclusive Signing, Jetpack Comics, Rochester, New Hampshire 5-8pm.
And a happy birthday to:
Comics journalist Mike Sangregorio
Alex Wald, comics colourist.
Chuck Melville, comics editor
George Roberts, Jr., comics letterer.
Galen Showman, comics letterer.
Ray Billingsley, creator of Curtis.
Chip Bok, editorial cartoonist.
Jonathan Gruber, creator of comic book thesis, Changes in the Structure of Employer-Provided Health Insurance.
Jay Maybruck, comic book investor.
Paul Rafferty, comic book letterer.
Dave Rothe comics letterer.
Edgar Arce, colourist.
Subscribe to our LitG Daily Mailing List