Your DC Futures This Week, Both Fifty And Thirty-Five Years Away, With Batman And Robin, Batman/Superman, Justice League, Wonder Woman, Superman/Wonder Woman (In That Order), Teen Titans, Batwoman, New Guardians, Superirl, Pandora, Red Hood And The Outlaws
Just as in the first and second weeks, we're beginning to build up a bigger idea of what is and what is not behind all this… In Futures End: Batman And Robin, Batman gets his new Robin, even if everything else falls apart. And there is the hint that the revival of Damian Wayne may never have actually happened…. Batman did something very bad to Superman in Batman/Superman and is paying the price courtesy of Krypto. Thankfully it is a very stupid dog five years hence and doesn't realise when Batman is wearing a robotic hand. Which is basically always, these days. However Captain Atom has done a very bad thing indeed in Justice League: Futures End #1. Years and years after the hastily-rewritten Armageddon 2001, he has found his way to becoming a bad guy again… Wonder Woman has been involved in war, war, and even more war – oh and you should really read Wonder Woman Futures End #1 before reading…. Superman And Wonder Woman: Future End #1 which gets around the fact they can't use the Superman in five years time as he's turned African farmer. So they grab a Superman from four years ago. Which means in less than one year, our Superman will be making this very journey back again.
Also Bart… what happened? We've mentioned how many clones there seem to be in five years time. Including a woolly mammoth, which means it which should be alive in the modern day New 52 as well, courtesy of Teen Titans: Futures End #1. Maybe someone should have a look before it gets shot? Batwoman: Futures End #1 reveals that, before she vamped out, she was part of a Gotham superhero team. Another note to watch out on the regular books.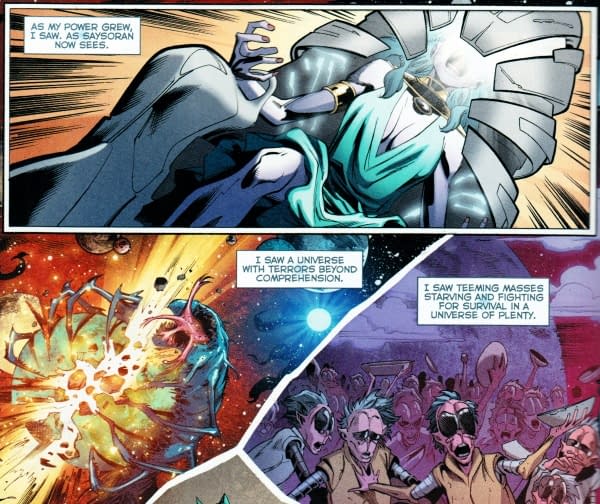 Green Lantern: New Guardians: Futures End #1 has also been through some change in the five years, though mostly involving death and destruction. Was Captain Atom to blame for any of it? The Supergirl Futures End #1 comic tells of her sad status from happy-go-lucky to a mechanically controlled automaton under the yoke of oppression. You may read it it in any fashion. The game and the comic…. Pandora gets around quite a bit in Trinity Of Sin: Pandora: Futures End #1, including a visit of Seven Deadly Cosplaying Sins. Say, you don't reckon these could become a New 52 equivalent of the Endless, do you? And Red Hood And The Outlaws: Futures End #1 sees Starfire having left because of all the comments on message boards to rule her own world and Arsenal in the Justice League, leaving poor old Red Hood running around, Red Hooding…. he hasn't changed, the world has just gotten older.
As ever lots of points to mull, but the actual New 52 comic goes further, no longer five years later but back up the thirty-five years later…
Yes, that's right, remember the FCBD issue that started all this? Well, it seems that far flung future hasn't been wiped away by Batman Beyond's meddling.
And Brother Eye is doing his best to please daddy… By doing something rather nasty to old Future Batman… who survived that attack.
Just.
Okay, he's complaining about his physical state in the Five Years Later Batman issues? He should be so lucky…
Comics courtesy of Orbital Comics, London.