[rwp_box_recap id="0"]
39 issues in, and Black Science is no less weird or wonderful than it was when it debuted. The story of Grant McKay, anarchist and super scientist, has been a roller coaster ride since issue one, with extra-dimensional travel, family strife, and persistent apocalypse-level destruction hounding Grant at every turn.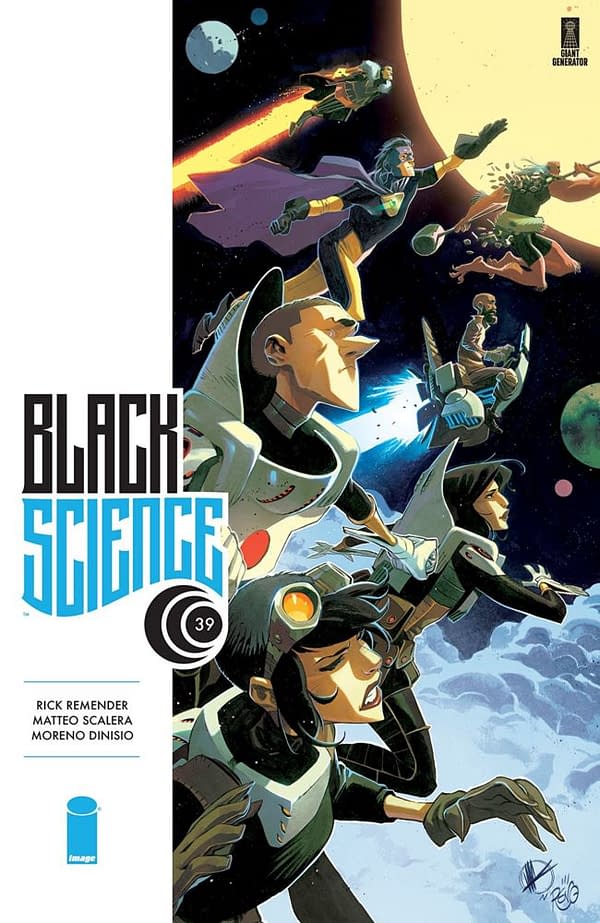 And it's mostly his fault.
After being pulled to a new, stable dimension, Grant and his wife, Sara, find themselves reunited with their children, who are operating the last surviving Pillar (Grant's dimension-traveling device). The McKay family finds themselves with a moment to breath and bond, but trouble is surely only a moment away.
Rick Remender manages to keep a coherent and engaging story, despite a plot-line that spans countless alternate realities and timelines. Grant is a real bastard, but he's oddly likeable in spite of that. The supporting cast feels like real people, even if one of them is a giant, orange ogre person.
Grant McKay knows his anarchist theory, too, and it's an absolute blast, especially when he's espousing anarchist virtue whilst drunk off his ass:
"Property's theft. No one can, like, own a hubcap, man. It's the Universe's."
This exchange comes as Grant is trying to tell old tales of hooliganism to his friends, and their reactions to his blatant thievery are priceless. With dialogue like this, you can get away with sub-par art.
But that is not the case here.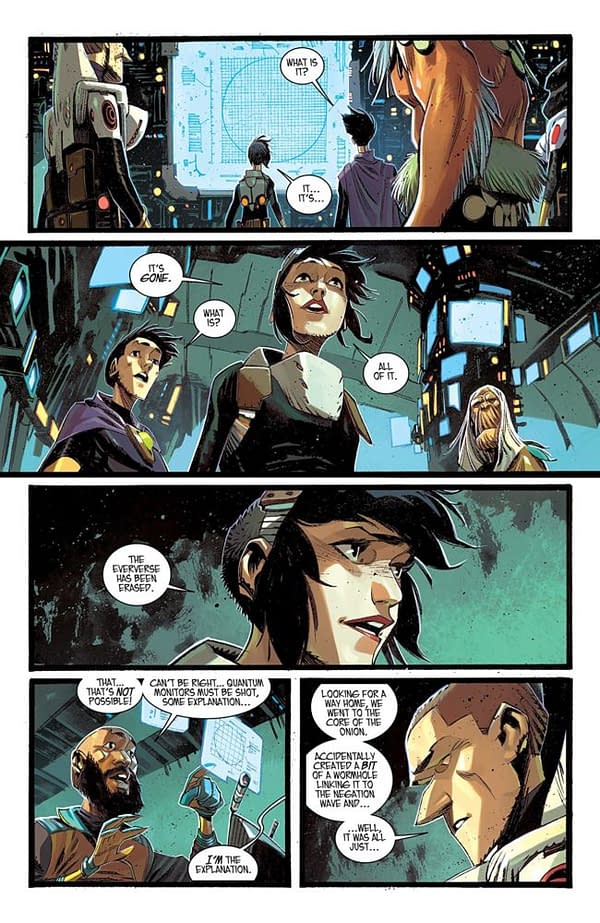 Matteo Scalera's art is simply stunning, and evocative of the European new-wave of comics in the late 1960's and early '70s. The characters have so much expression to them, with every joyous exclamation or damning condemnation leaping off the page.
The color work from Moreno Dinisio is gorgeous and rich, with bold swathes of color accentuating the already incredible artwork. Black Science is such a treat to soak in!
Black Science is highly recommended for fans intelligent of science fiction adventure stories, especially if you like a protagonist that is kind of hard to like!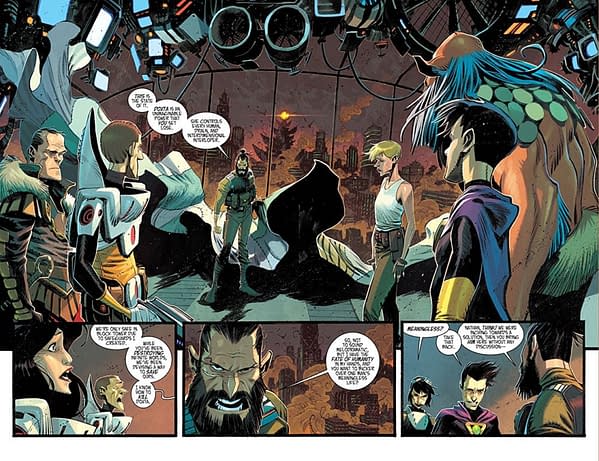 One word of caution, though: If you're not already on board with this series, it's not going to be easy to just jump in. I highly recommend going back to the beginning and diving into the graphic novels before tackling the later stories! You'll thank me later.
SUMMARY: Script: Rick Remender; Art: Matteo Scalera; Colors: Moreno Dinisio; Letters: Run Wooton; Editor: Sebastian Girner; Publisher: Image Comics; Release Date: March 27, 2019; Cover Price: $3.99; 30 pages
[rwp-review-ratings id="0"]
[rwp-review-form id="0"]
Enjoyed this article? Share it!