"The Even Redder Wedding" – Troy Brownfield Talks Blood Queen Vs Dracula
Troy Brownfield talks to Byron Brewer about the final issue of Blood Queen Vs Dracula for Dynamite and how he feels after combining two characters he worked on in the past. Covers by Jay Anacleto and Fabiano Neves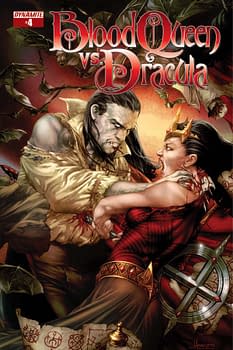 BYRON BREWER: Well, Troy, this mini is reaching its conclusion with #4 in June. Are you satisfied with the story that you told, really extending two other works you had previously done: Blood Queen and the Dracula novel?
TROY BROWNFIELD: I would have to say that I'm very satisfied. Dracula, of course, is an incredibly flexible character, which has been proven out by the number of adaptations and interpretations we've seen in culture over time. Elizabeth, as we've seen, can fit not only in that pseudo-fairy-tale style but a historical horror setting. I wanted to show that we could do something interesting and entertaining with this mix, and I think we did that.
BB: You certainly do pack a lot of historic references and points into each and every comic. Are you a history buff? How much research do you do and why is that important to you?
TB: I'd say that I'm definitely interested in history. If you're going to set a story in a certain time, you owe it to your audience to do the work. I never really try to calculate how much research I do, but there's a lot. It's an important part of the whole thing. One example in particular from my work is my webcomic Sparkshooter, which is set in 2003; I'm always really conscientious about things like the look of telephones, film references, and more. It would bother ME if it wasn't done without an eye for detail. And, finally, if you have something that's just wildly inaccurate, it's going to take the reader out of the story. That happens to me with things like The Wedding Singer, which is a fun film, but it purports to take place in 1985. Then in a scene, you'll have a song like "It's Tricky" that didn't come out until later. It might seem like a really small thing, but that takes me out. I try really hard to not be the one to do that.
BB: Winging off the above, adding the Ottomans to this saga was a wonderful background touch!
TB: Thanks! Like I said previously, I wanted to find a common opponent while sticking with some of the ideas I approached in Prince Dracula (Dracula as patriot, etc.). The Ottoman Empire made complete sense for both characters, particularly in terms of history. I probably could have invented some third supernatural threat, but I wanted the real power dynamics to be between Dracula and Elizabeth. Also, the inclusion of the brothers allowed me to put a bit of a human face on it. They're a conquering army, sure, but there are people in it that have directly suffered losses on account of the actions of Dracula. I thought it was an interesting thing to include.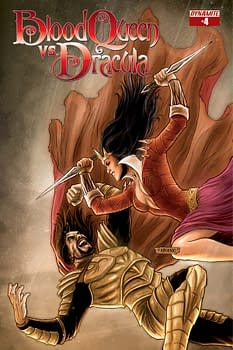 BB: Has it been fun working with artist Kewber Baal? What do you think of his efforts in bringing your story to life on paper?
TB: Kewber is a great collaborator. I would work with him again in a second. I'm particularly happy with issue #3. I told him that I really wanted him to draw like a horror film would look in terms of some of the focus, characters appearing suddenly out of shadow, etc. and he nailed it. That's probably my favorite issue of the mini. It's also the biggest spotlight on Elizabeth, and he really showed several sides of her personality. Kewber made me a fan of his for certain.
BB: In a non-spoilery way, can you give us any hint if we will in future be addressing Elizabeth as Lady Dracula instead of Blood Queen? (smiles)
TB: Ladies and gentlemen, the ever redder Red Wedding (laughs). That would involve some fascinating conflict, but I don't think that's the direction that either story would necessarily follow. But now you've got me thinking about it. Damn you, Byron!
BB: Bwahaha! OK … You seemed to have attached yourself to the Blood Queen! Where will you two be appearing next in the Dynamite universe?
TB: Well, it's only natural. I developed the first series for Dynamite and I've gotten to put a lot in Elizabeth between the first series, the Annual, and the mini. I would love to at least do another one-shot or an Altered States with her. As for where else I might be in terms of Dynamite, keep an eye out. You never know what might happen.
For more information on Blood Queen Vs Dracula, click here.