The New York Comic Con 2018 Party List – The Final List
DC Comics had their party last night for the Titans Premiere. We ran a first stab and a second stab at a New York Comic Con party list for NYCC, here's where we are for the week of the show… and we've added a great one for Saturday with the CBLDF.
THURSDAY, October 4th

Z2 Comic's NYCC Kickoff Party 6 PM – 9 PM Booth Gallery, 325 W 38th St. Please join us to celebrate the release of "Apocrypha: The Legend of Babymetal" and the exciting announcement of Andy Biersack's "The Ghost of Ohio." Come meet Andy Biersack and illustrator Eryk Donovan in person! Drinks are free, compliments of the great folks at Trooper Beer and Artisanal Imports
Fangoria Magazine #1 Launch Party, Forbidden Planet New York. 6pm-8pm with Norm Jacobs, Tony Timpone, Michael Gingold, Phil Nobile Jr.
The Fifth Annual Doctor Who Costume and Trivia Contest, The Way Station, 683 Washington Ave, Brooklyn, $10 7 – 8:30pm 21+. Hosted by Chris Cummins, prizes from Big Finish, NECA Toys, Running Press, Titan Books, MVD Entertainment, Insight Editions
SCAD NYCC Alumni Networking Event, The New York Beer Company 321 W. 44th Street. Join Professor Tom Lyle and fellow alumni and industry professionals for networking and to share NY Comic Con stories. Make new connections and expand your network. RSVP by 10/01/2018. This event, hosted by the office for career and alumni success, is free and open to SCAD alumni.
Mashfest NYCC 2018 Kickoff hosted by SONICBOOMBOX and Mashfest NYC 8pm-1am, Mcgettigan's NYC70 West 36th Street. 21+. Admission: $10 in advance, $20 cash only at door. Kicking off NYCC off Mashfest-style with drink specials, fighting games & much more.
Monarch Comics Bookstore Title Launch, Porchlight, 5-7pm, Invite only,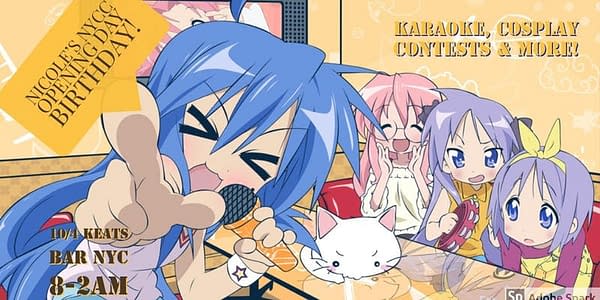 Nicole's NYCC Opening Day Birthday! 8pm – 2am, Keats Bar, 842 2nd Avenue. Come celebrate the opening day of NYCC with the world renowned and mystical Nicole Oliva Soprano. $5 online early bird, then $10, then $15. $20 cash at the door. Drink specials. Free Karaoke all night long after 2 drinks!
FRIDAY, October 5th
Senpai Project's NYCC AfterParty Toonami vs Adult Swim The Copacabana Times Square 8pm-2am. 21+ no badge needed, Cosplay encouraged , Special guest voice actor "Jamie Marchi" from My Hero Academia, Danganronpa, High School DxD HERO, Pop Team Epic, Miss Kobayashi's Dragon Maid, Panty & Stocking with Garterbelt, Death parade and more. $20.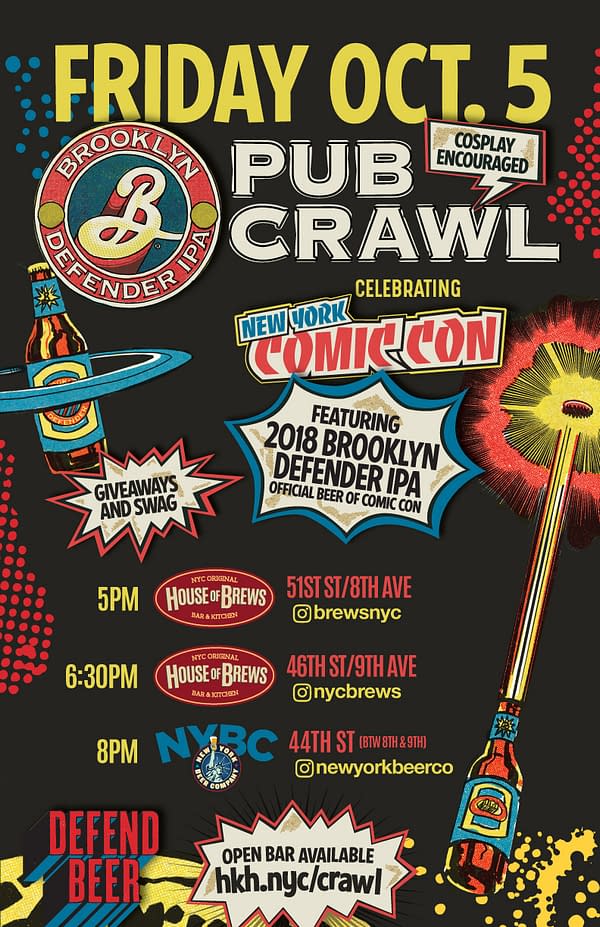 Comic Con New York Pub Crawl With Brooklyn Defender 5-9pm The House of Brews, 302 West 51st Street, House of Brews on Restaurant Row at 6:30PM, New York Beer Company at 8PM. Free to join, $44.06 for open bar.
The Harvey Awards Gala TBA
Super Queereos: NYCC 2018 LGBTQ AFTER PARTY, The Manhattan Monster Bar, 80 Grove Street, 9pm-late, $10 online, $8 from LGBT HQ booth, #1483 at the show. Featuring DJ Mike Cruz, hosts Shirley U. Jest and Matthew Levine of LGBT HQ. Special guests D'Manda Martini, Captain Green Lantern 2018 and Shane Cherry. The night will feature drag and burlesque performances, A Cosplay Contest with over $1,000 in prizes, Video Games, Raffle Bags, Suprise Convention Guests & more.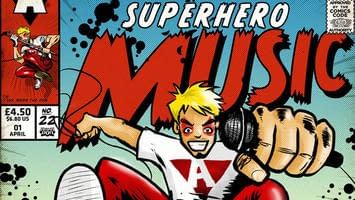 NYCC Superheroes Sing!, NY Cosplayer Network, Karaoke Duet 35, 2nd floor 53 west 35th street 8-10pm $15
Black Girl Nerds & Nerds Of Color Party TBA
YouTuber Meetup with D-Piddy & Machinima ETC Show TBA
Loot Crate's Sonicboombox NYCC 2018 Afterparty sponsored by Funimation, Kidrobot, Revolution Brewing, & Infinifan, Bowlmor Times Square, $20, Venue takeover — two floors, 90,000 square feet, 50 lanes of free bowling. Arcade room featuring multiplayer sit-down Mario Kart and more. Live DJs, photobooth and more. Free swag from Funimation, Kidrobot, Infinifan & Tentacle Kitty (while supplies last) $5 Mosaic Hero cans all night (while supplies last)
Comic Con Happy Hour Celebration, Society Of Illustrators, 128 E 63rd St 6:30 PM – 9:30 PM. Three exhibits: The Art of The Avengers and Other Superheroes, Tales From the Crypt: The Revolutionary Art of MAD and EC Comics, and Funny Ladies at The New Yorker: Cartoonists Then and Now. $35 includes admission to the museum, plus 1 drink ticket and an exhibition catalog.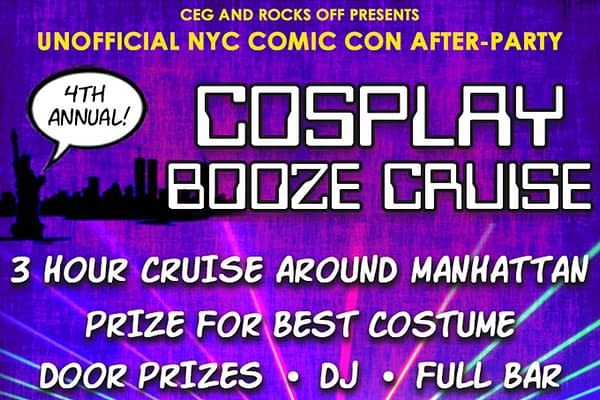 4th Annual CEG Cosplay Booze Cruise, Pier 83, 8pm opens, 9pm-midnight cruise, door prized, DJ, full bar, featuring Ming Chen, Kristen Hughey, Ms Rae. $25 tickets. 18+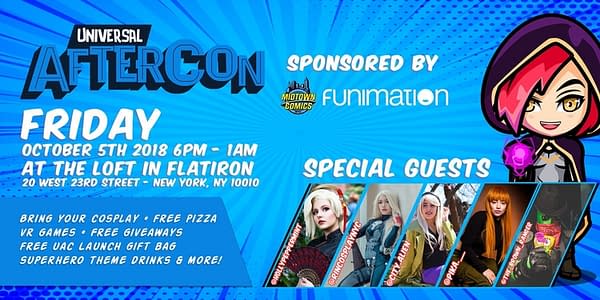 Universal AfterCon, 4th Floor, The Loft in Flatiron, 20 W 23rd Street. Party X Fun X Be yourself. Join fellow fans in fun Music, Multiplayer VR Games, Multiplayer Video games, Entertainment, themed Super-Hero Drinks, FREE Pizza, FREE Gift Bags. Gift bags are limited to the first 50 General admission tickets, but guaranteed for VIP guests. VIP guests are offered FREE Pizza, premium boneless wings & fries. Early bird $25, Early bird VIP $45
SATURDAY, October 6th
Marvel Comics – Talent Celebration. Invite only for Marvel Comics creators.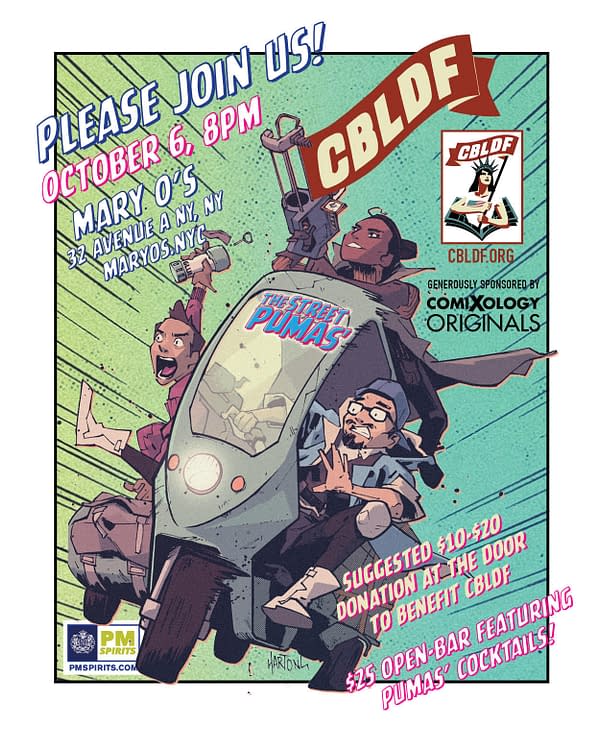 Comic Book Legal Defense Fund, ComiXology Originals, and the STREET PUMAS from PM Spirits, 8pm, MARY O's, East Village. Mix and mingle with comic publishers and professionals! Experience cocktails from PM Spirits! Support Free Speech! This event will take donations at the door, with a two-hour open bar for CBLDF Members, and anyone donating $25 or more. Gift bags at the door while supplies last! CBLDF New York Comic Con 2018 Party!
Senpai's NYCC After Party Samurai Swag Vs Cowboy Funk, The Tailor Public House, 8pm-2.30pm, 21+, Cosplay encouraged but not required. Happy hour from 8pm to 9pm $20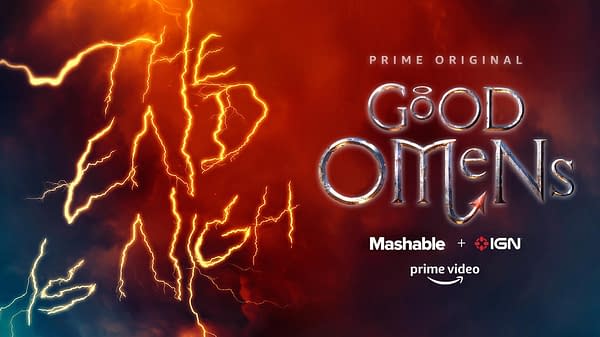 Good Omens soiree at Lightbox on 248 West 37th Street with IGN and Mashable, 9pm-Midnight, RSVP here.
NY Comic-Con Edition: Wrestling for Superheros – F Studio, 51 West 14th Street 7-10pm. Ever wondered how a fight between Wonder Woman and Harley Quinn would play out? Wolverine versus Dealpool? Velma versus Daphne? No acting here. Real submission wrestling. Real BJJ. Real Judo. In between rounds, Coach LT and Lola Jean will demonstrate and instruct on technique so you can take these tools for your own (cos)play. Pulling from their popular Wrestling for Lovers class where LT and Lola take fun, safe, and effective submission wrestling moves to a sexy space. Two private rooms will be available for the opportunity to throw down with your favorite character for 10 minutes – for an additional fee. $33-$100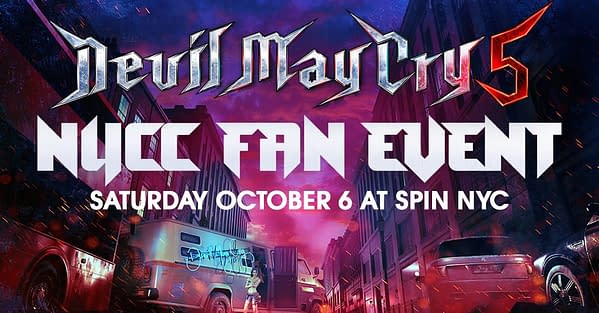 Devil May Cry 5 NYCC Fan Event 4pm-8pm SPiN 48 E 23rd St, Ages 21+. Evening with Devil May Cry 5 director Hideaki Itsuno & producer Matt Walker, and hosted by the amazing VampyBitme, in partnership with Sonicboombox. Come enjoy Dante's favorite pizza (pepperoni), take Nero's new Devil Breakers for a spin in the playable Devil May Cry 5 demo and if you cosplay any DMC characters, be sure to suit up before the party and show it off to fellow DMC fans. Admission is FREE. Entry will be accommodated on a first come first serve basis, so get here early. The first 100 fans will also be eligible for a special autograph session with director Hideaki Itsuno and producer Matt Walker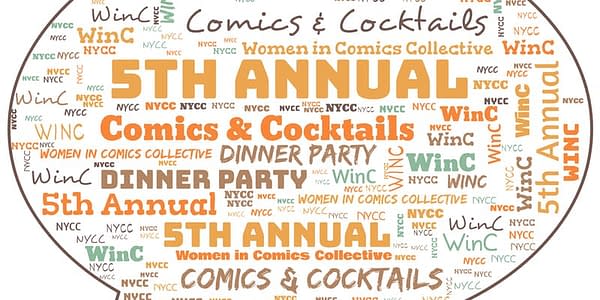 5th Annual NYCC Comics & Cocktails Dinner Party hosted by Women in Comics NYC Collective International. Death Ave Restaurant, 315 10th Ave,
Sexy Nerds Arcade & Pop-up Bar, 443 W 37th St, $500 CASH Cosplay Contest, 5pm opens, party 9pm-2am,$6 Game-themed drinks and $5 beers all night. Tons of video games to free play all night.
Sonicboombox Cosplay Dance Party– sponsored by Funimation, Kidrobot, & Tentacle Kitty. Hosted by Stella Chuu, Lua Stardust, Erica Fett, Byndo Gehk & Zombie Bit Me! Slake NYC, 251 W 30th St. Two floors, 4 bars, Two separate dance floors with different music/djs. Photobooth and more! $25 at door (cash only)
NYCC Party Bus A-Thon! 7.15pm-2am $81. The bus will pick us up after #NYCC is over. It will ride around NYC for 3 hrs. There are only 60 spots available. Semi-Open Open Bar, snacks, Music, Photographer, Virtual DJ, Gaming, cosplay, contests, and FREE after party. Last stop will be at Slattery's, there will be free entry, Featured videographer Lauro Rosas Felix. Music by Anthony Saint James. Professional Photos by Grace and Shine Photography. Featured cosplayers: Annie Lee Cosplay, KayshaChaos Cosplay, SpiderwomanMCG, Just Jen Cosplay $25 Slattery's gift card will be awarded for the best cosplayer. Win a $75 gift card prize for the best cosplay as well at the party and a $25 Amazon gift card prize for a random handpicked attendee that's marked as going. Sponsored by Jordan Renard Springer. Email perezplayevents@gmail.com for a 20% off code.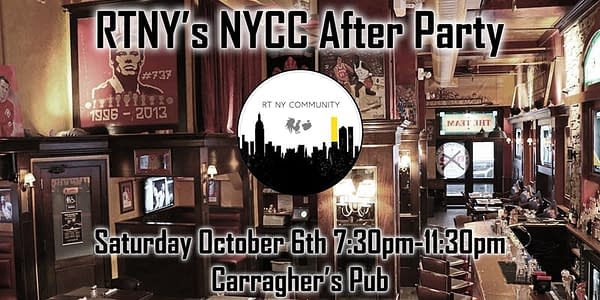 RTNY NYCC After Party, Carragher's, 228 West 39th Street, 1 alcoholic drink or 2 soft drinks, $10
SUNDAY, October 7th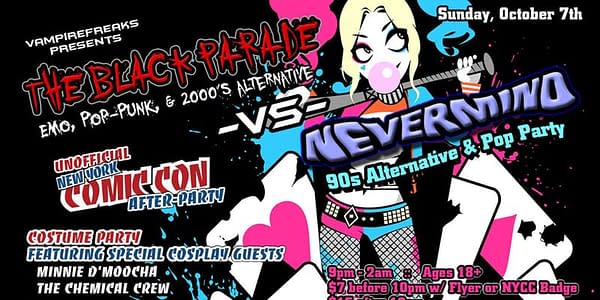 Unofficial Comic-Con After-Party: Emo vs 90s: The Black Parade vs Nevermind, Featuring Special Cosplay Guests
Minnie d'Moocha-Burlesque/Cosplay, The Chemical Crew, 9pm-2am, Windfall, 23 West 39th Street. Ages 18+$5 Advance Tickets, $7 before 10pm with NYCC badge or flyer, $15 Regular Admission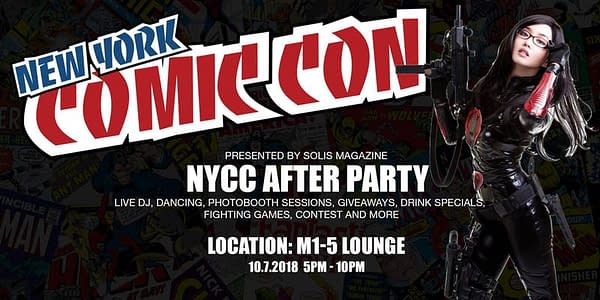 Solis Magazine After Party 2018, M1 Lounge, 52 Walker Street, 5pm –10pm. Solis Magazine presents a Special after party for everyone who attended NYCC 2018, Come dressed as your favorite character and prepare to have a lot of fun. Stay tuned for guest & sponsor info, plus our (cosplay & dance party) announcements. $10 in advance, $15 cash only at the door. Special VIP Seating Available – Limited Seating First come, first serve Basis. Live DJ, dancing, Photobooth Sessions, giveaways, Drink Specials, fighting games, Contest and more. 21+.
CANCELLED after sponsors withdrew.
Kaiju Big Battel is a modern conflict of epic proportions. Evil villains, menacing alien beasts, and giant, city-crushing monsters threaten to destroy the planet Earth. Who will save the helpless humans from total ruin? The Heroes, of course, and the Heroines too. A few privileged humans also get in on the action, as they try to contain danger within the three-roped arena of Kaiju Big Battel. The Bell House 3pm $15, at the door $30