Posted in: Comics, Marvel Comics, Review | Tagged: André Lima Araújo, Chris O'Halloran, ethan sacks, fantastic four, fantasy, galactus, guardians of the galaxy, Marvel Comics, norrin radd, sci-fi, silver surfer, superheroes, Travis Lanham
---
The Silver Surfer Annual #1 Review: A Faithful and Classic-Feeling Return
Years ago, the Silver Surfer was still the Herald of Galactus, charged with the task of seeking out planets for the World-Eater to consume. On one such trek, the man once known as Norrin Radd heard a song coming from within a world. On the surface, he finds nothing but war, cruelty, and death. The Surfer decides that this world is worthy of Galactus' consumption, but something draws him deeper. This world may offer more than the Silver Surfer first believed.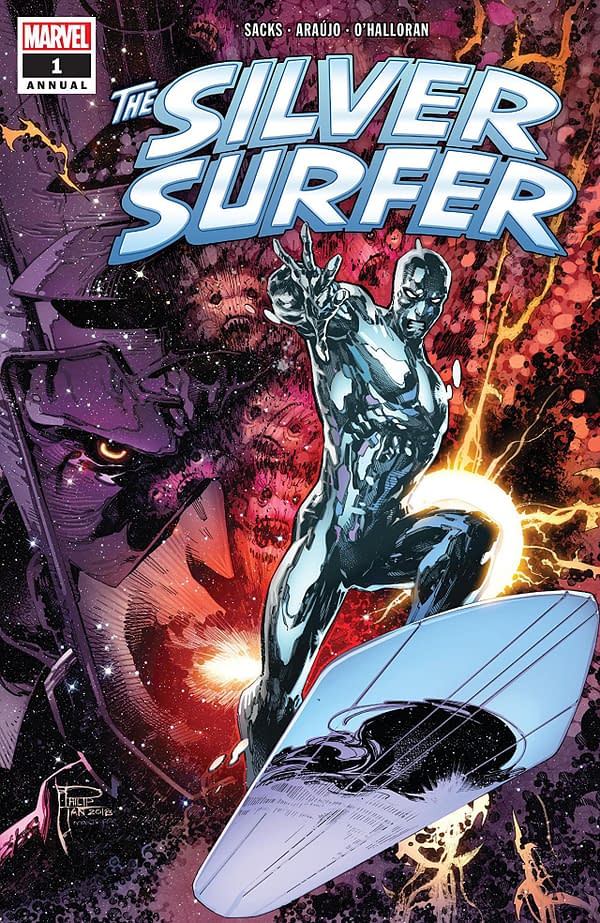 The Silver Surfer Annual offers a thoughtful and classic-feeling tale of Norrin Radd's exploits as a Herald of Galactus. It revisits the constant unspeakable choices the Surfer made in the name of his master.
It adheres to the original explanation that Norrin chose uninhabited worlds to feed Galactus, and this story finds the Surfer trying to use Galactus' hunger to consume cruel and brutal species. He tries to use the World-Eater like the judgement of a wrathful god, but he is punished for doing so.
The philosophical points of this story are heavy-handed and about as subtle as a brick to the face, but that honestly gives this story some of its classic flavor. The points made aren't malevolent either, and there is a tinge of brutality to what happens which keeps this comic from wandering into the realm of saccharine.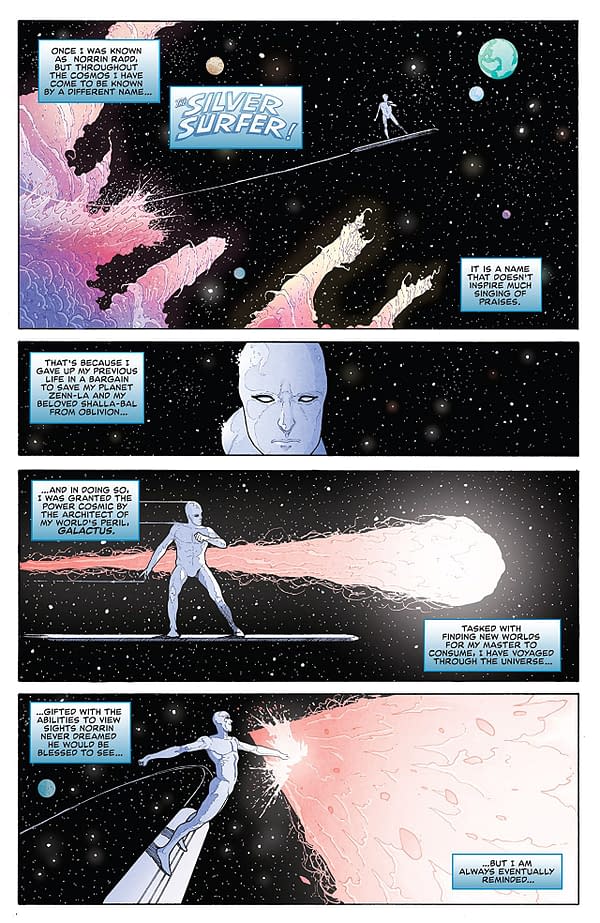 The artwork provides a surreal and cosmic atmosphere well-suited to the Sentinel of the Spaceways. Andre Lima Araujo is an excellent choice for a story like this. The detail and texturing evoke the otherworldly, and Norrin himself can look both imposing and vulnerable. Chris O'Halloran's color art balances the stark white and black of space with the wild shades of these cosmic figures, and it looks great as a result.
Silver Surfer Annual #1 is an excellently put-together tale of Norrin Radd in his days as a herald, and it puts for the big-idea philosophy which has always been part of the Silver Surfer character and mythos. The depiction of the Surfer is faithful and endearing, the story is solid, and the art is great. This one earns a recommendation. Check it out.
---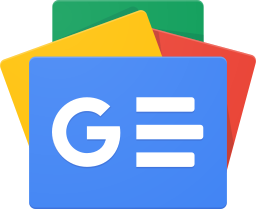 Stay up-to-date and support the site by following Bleeding Cool on Google News today!