The Titles of the Final Issues Of HOXPOX, and Cosmic Universal Truths Revealed, in Powers Of X #5 (Spoilers)
The titles of House Of X #6 and Power Of X #6 will be I AM NOT ASHAMED OF WHAT I AM and… HOUSE OF X, respectively. But what of Powers Of X #5?#
We see the far, far future, in the time of X3, seemingly so separate from the events of X0 and X1 of Moira's tenth life. Is it also of her tenth life? Could it be her eleventh? Did she get that chance for one more spin?
Well, we do learn something. Something about black holes in the Marvel Universe.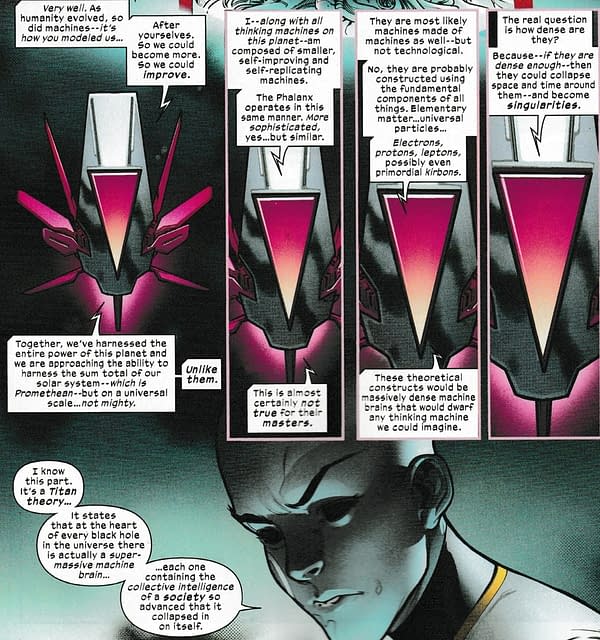 That each black hole is formed by an incredible dense machine intelligence. And this happens all over the universe, time and time again.
And that a Titan is an interstellar society that has become so advanced that the density of its unified intelligence has collapsed space-time into a singularity. A Stronghold is a small network of connected Titans (five or fewer) typically confined to a galactic cluster or a dense collection of stacked galaxies. That Strongholds are warring factions seeking to actively destroy or absorb other Strongholds in order to achieve Dominion status and often challenge the sovereignty of Dominions themselves. And that a Dominion is a collective of ten or more Titans acting in unison to control a particular sector [or sectors] of space in both area and epochs of time. And while the minimum number of Titans needed to compose a Dominion is ten, the average number of Titans in a Dominion is much higher than that. For example, the local Dominion controlling the sector including Earth space is a collective numbering 112 Titans. The only primal threats that a Dominion fears are the World-Eater, Galactus, and the singular universal manifestation of life, the Phoenix.
Okay. So what has all this to do with the present day, aside from a future Nimrod, and the identity of machine life and biological life?
Well, Xavier did invite many mutants to Krakoa in House Of X. Including, it seemed, both Xorns, Kuan-Yin Xorn and Shen Xorn. Shen Xorn is meant to have a black hole for a brain, Kuan-Yin Xorn is meant to have a sun that can be turned into a black hole.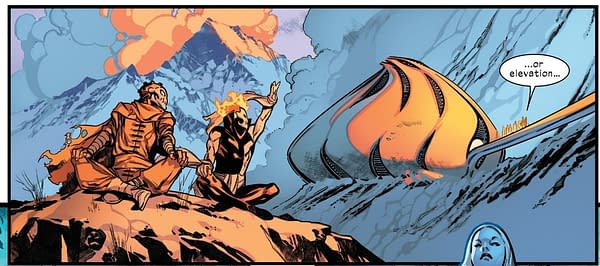 But resembling, and named more after, their Ultimate Marvel versions, Xorn and Zorn.

If the far-flung future destiny of life to be part of super-dense machine intelligence in the centre of black holes… how might Moira's tenth of eleventh life suggest another way through? And is a Stronghold War event planned any time soon? And how does this tie in with Silver Surfer Black?
POWERS OF X #5 (OF 6)
(W) Jonathan Hickman (A/CA) R. B. Silva
As Cerebro does as it was intended to do, Sinister does what Sinister does best and the future comes to an end. Superstar writer Jonathan Hickman (FF, NEW AVENGERS, INFINITY) continues his reshaping of X-History alongside breakout artist R.B. Silva (UNCANNY X-MEN). The Future of the X-Men begins here!
Rated T+ In Shops: Sep 25, 2019
SRP: $4.99