Things are certainly getting intense in Surviving Megalopolis, although one can argue that they haven't been calm since the beginning of Leaving Megalopolis. Written by Gail Simone, with art by J. Calafiore, issue #3 is Simone's favorite issue yet. Here's the proof. She said it…
This week, be sure to pick up SURVIVING MEGALOPOLIS #3, my favorite issue yet of the sequel to LEAVING MEGALOPOLIS! pic.twitter.com/7bxk2GuzDZ

— Gail Simone (@GailSimone) March 9, 2016
What's it all about? America's greatest city is destroyed and all of its heroes are savage hunters. So, where are all the supervillains? Apparently we get to find out in this issue. Is everyone mentally prepared for some intense plot development?
Don't forget, this week is SURVIVING MEGALOPOLIS #3 and it has THE DISOBEDIENCE WOLVES. You want this!

— Gail Simone (@GailSimone) March 9, 2016
You can feel the fear as you read through the issue. After all, hungry crazy wolves would scare me too. As a side note, I adore Meredith's character. We get a flashback from her childhood that helps to better explain the reputation of these evil wolves. She shares it with the team, and it really adds an emotional element to the scenes.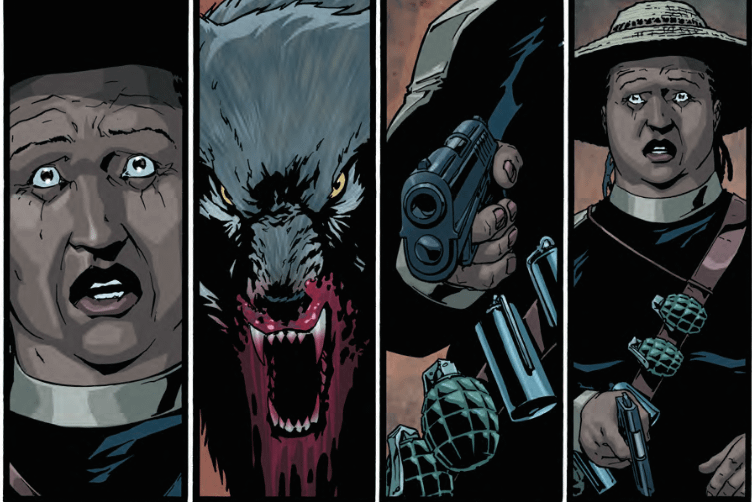 Like I said earlier, the plot is intense. You can count on that. Plus, the cast of characters creates a constant set of diverse dialogue and drama. Do yourself a favor and grab a copy of Surviving Megalopolis today. The cliffhanger at the end is so exciting.

Enjoyed this article? Share it!