December seems like the time to bury new releases, but there's still good material. I return with two Dark Horse debuts and one art book from Titan.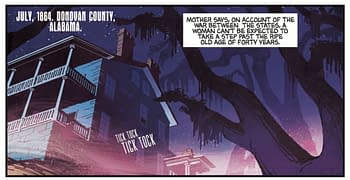 Kill Whitey Donovan #1 by Sydney Duncan, Natalie Barahona and Troy Peteri: I'm not used to slavery stories in comics, so this one's new to me. There's a sense of momentum throughout the issue that's difficult to quantify. Maybe it's by the time a gun is fired, it's a single page splash? There's a lot of excellent dark colors, especially the reds, blues, and purples here. There's only one point I thought was off, and that was a character handing a note to a slave and them reading it immediately. Literate slaves weren't unheard of, whether through their own community or a master teaching them, and eh. I'm loath to mention it but it stuck out all the same.
At bottom, an excellent, fast-moving issue that hits a brutal cliffhanger for issue two.

The Butcher Of Paris #1 by Stephanie Phillips, Dean Kotz, Jason Wordie, and Troy Peteri: Also new to me: A serial killer in Nazi-occupied Paris. The issue balances the many characters that must be present, while also moving forward the plot. It feels slower than Kill Whitey Donovan, which makes sense, because it's a true crime story that puts many pieces into play that must be moved around later. The promotional copy gives away the cliffhanger (wow, this guy's a serial killer), which makes it a bit of an underwhelming read. The Butcher Of Paris is slower, and I look forward to the horror of more.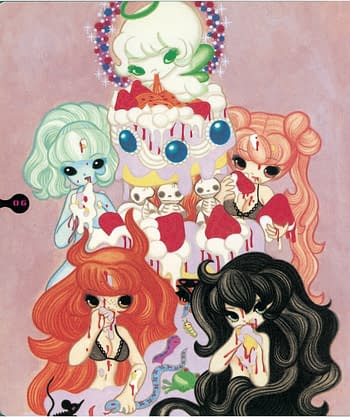 Hell Ladies: Junko Mizuno's Early Works 1998-2001 by Junko Mizuno: I guess this is an art book? Titan describes it as "powerful female characters with a transgressive twist in a brightly colored fantasy world", and that's a dead on description of Hell Ladies, if bloodless. Her work made me uncomfortable because of the fact that all the women there looked younger than I'm comfortable with. I don't want to use the L word, but man, some of these images cut real close, which I suspect is the point. A traditional Japanese reader is supposed to be repulsed.
Enjoyed this article? Share it!