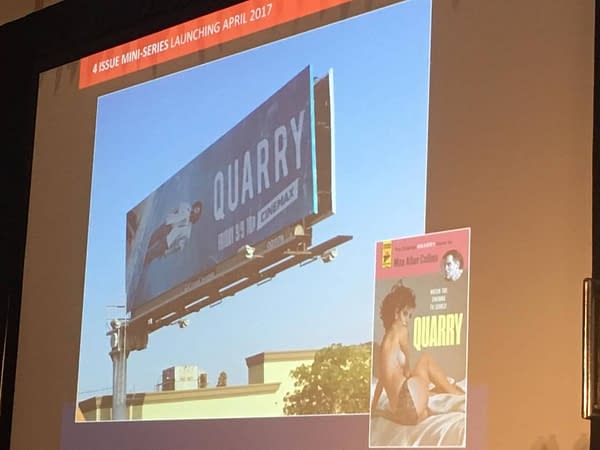 In 1971, Max Collins was a student in the University of Iowa's Writers' Workshop.
His thesis project was to develop three novels that demonstrated that crime fiction could be written using a common Midwestern small town. One of them featured a hitman named Quarry.
Collins published three Quarry novels in 1976, one in 1977 and a final one in 1987.
Twenty years later the character was revived by Hard Case Crime, who have published seven new Quarry novels and republished the original thre.
And now, Titan Comics which has got into bed with Hard Case Crime over a number of projects, is to publish a comic book mini-series based on those novels.
And announced at the Baltimore Diamond Retailer Summit. Thanks to Dennis Barger for sending in the pic!
For more spilling out of Baltimore Diamond Retailer Summit, click here.
Enjoyed this article? Share it!