Titans #21 Review: The Struggles of a Recovering Addict
[rwp-review-recap id="0"]
Monsieur Mallah and the Brain move onto the next phase of their plan, and Arsenal contacts Donna Troy about his experience with Cheshire's drugs from last issue. He tells her to tell the Justice League about what he's discovered, but Batman finds no evidence of Roy's claims. They worry that he's hit a backslide, and Donna sends Nightwing and Wally West to check on Arsenal.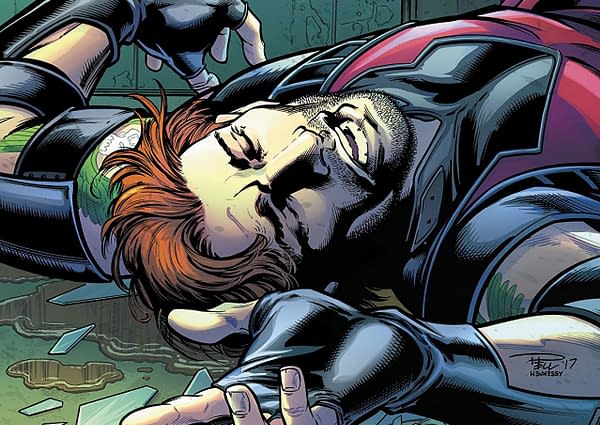 The Titans crumble further this issue as Arsenal's judgement is called into question by the rest of the team. The scenario could arguably be played better. We know that Arsenal is onto something due to the scenes with Mallah and Brain, and the tension and drama could be ramped by a genuine mystery for the reader as to whether Roy is telling the truth.
That being said, there is still some compelling conflict in knowing that Arsenal is telling the truth, but his past keeps his friends from being completely sure that he wasn't hallucinating. Whether or not his reaction is entirely justified is up to reader discretion.
I dig that they brought back Mallah and Brain's romance. The comic is a squirrely with it and seems unwilling to completely convey that they are an item, but it does everything but outright confirm it. It's weird and adorable, and I like it.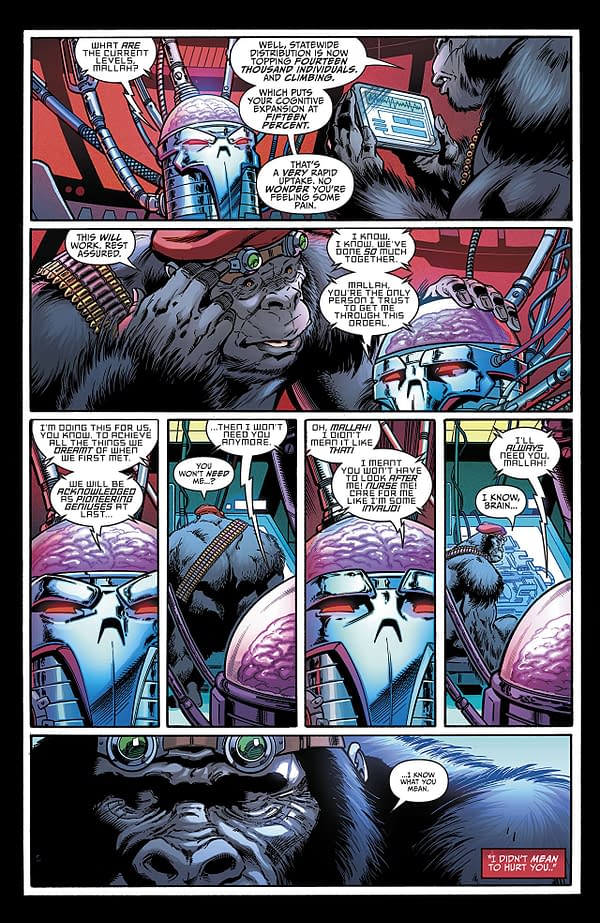 Paul Pelletier's artwork continues to be rock-solid. His distinct mixture of cartoonish stylings and detailing looks good, even if the lips can look a little large sometimes, especially on women. There is something to be said about being able to get a gorilla and a brain in a jar to visually emote, though. Andrew Hennessy's inking brings it all together well. Adriano Lucas's colorwork is well balanced and keeps the pages aesthetically grabbing.
Titans #21 is another solid issue of the series. It has action, drama, and that focus on friendship that has defined Dan Abnett's run of the series. Pelletier, Hennessy, and Lucas bring some good artwork on top of that. This one gets a recommendation. Check it out.
[rwp-review-ratings id="0"]
[rwp-review-form id="0"]