Today We Discover if Superman Believes in God or Not… (SPOILERS)
In Superman #40 by James Robinson and Ed Benes, it all got into a very heavy Religion vs Science debate.
And in Superman #40, out today, you get a second course. The repeat-Krypton story with a soupcon of colonialism plays out with Superman and Superboy, Clark Kent and Jonathan Kent, and a question from a father to a son.

It's worth remembering that Superman is a Messiah figure, was raised a Methodist, has met a number of gods, cited the Kryptonian sungod Rao, served in the Justice League alongside an angel, flew to hell, been to Olympus and met the Greek pantheon, got together with Wonder Woman the daughter of Zeus, hung round with the Spectre the incarnate spirit of the vengeance of God. Being an atheist would make as much sense as the Beast being an atheist.
But what to tell a son?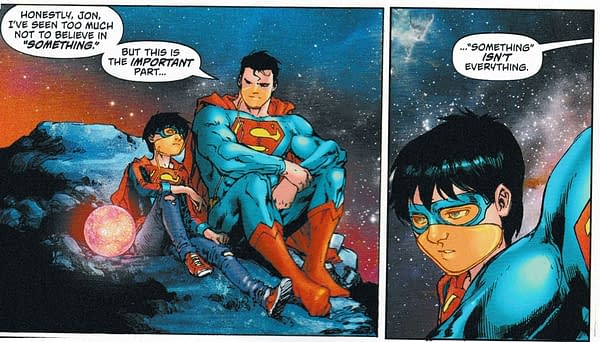 I seem to recall Neil Gaiman saying something similar…
SUPERMAN #41
(W) James Robinson (A) Ed Benes (CA) Viktor Bogdanovic
"SUICIDE PLANET" part two! Superman and Superboy battle the alien extremists of a world on the brink of disaster in the hope of saving them from themselves!In Shops: Feb 21, 2018
SRP: $2.99