Tom Hodges' Midknight #1 Debuted At Phoenix Comicon James Sabata writes,
Phoenix Comicon was the first show to feature the debut issue of Antiis Comics Presents, a new book from Tom Hodges. Antiis Comics Presents is a single title with a rotating cast of new heroes and villains, set to build a Universe one story at a time all in one title.
"The idea is to not have to collect several books and drain your wallet to get the full story. We're concentrating on three issue story arcs, showing us the world of different heroes and villains, with the occasional one shot, allowing the reader to get the full story without going broke trying to buy everything," Hodges said. "After the first twenty-one issues, there will be a three issue arc with all the heroes introduced in the previous arcs." Hodges has stories plotted for the next several years.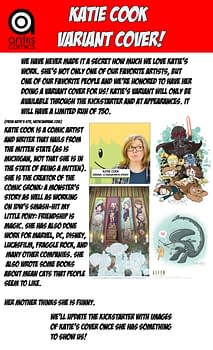 The first book in the series, Antiis Comics Presents: Midknight #1, debuted this past weekend at Phoenix ComiCon. The initial run includes only 2,000 standard copies and 500 sketch covers, but Hodges says the sketch covers will only be available on the first book of each three book arc. "For the other issues, we'll have variant covers. Katie Cook is providing the variant for the second issue." The Kickstarter for the second issue just launched with that variant cover as one of the rewards. "It's a short, twenty-day Kickstarter, as we want to make sure the book is completed in time for San Diego Comic-Con."
Hodges stated that while Midknight is the first superhero in the pages of Antiis Comics Presents, and he is male, it will be female character heavy in future issues. "Female characters are just more fun to write. They're more interesting." Hodges went on to explain, "I'm a sensitive guy who has always been surrounded by smart, strong women and we need more examples in comics of these types of female characters."
Hodges has worked on multiple comics for LucasFilm, a graphic novel for the band Rush, and worked on the Simpsons Treehouse of Horror.
You can watch his Phoenix Comicon panel on the launching of Antiis Comics on his Periscope account: