Tony Stark: Iron Man #2 Review – Flawed but Fun
[rwp-review-recap id="0"]
Sorry for the lateness of this review. San Diego Comic Con kept us here at Bleeding Cool preoccupied all weekend.
We open with Colonel James Rhodes waking up from night terrors about his bad experiences in the War Machine armor. It's followed by the beginning of a new day at Stark Unlimited. Tony Stark is trying to find a new way to get AI assistance in his Iron Man armor without building one into the armor now that he has given Friday her own autonomous body. Before this problem can be solved, Stark Unlimited's security chief reports that Baintronics, a rival tech company, is using Stark technology in their new mech, the Manticore. Iron Man and War Machine go to investigate.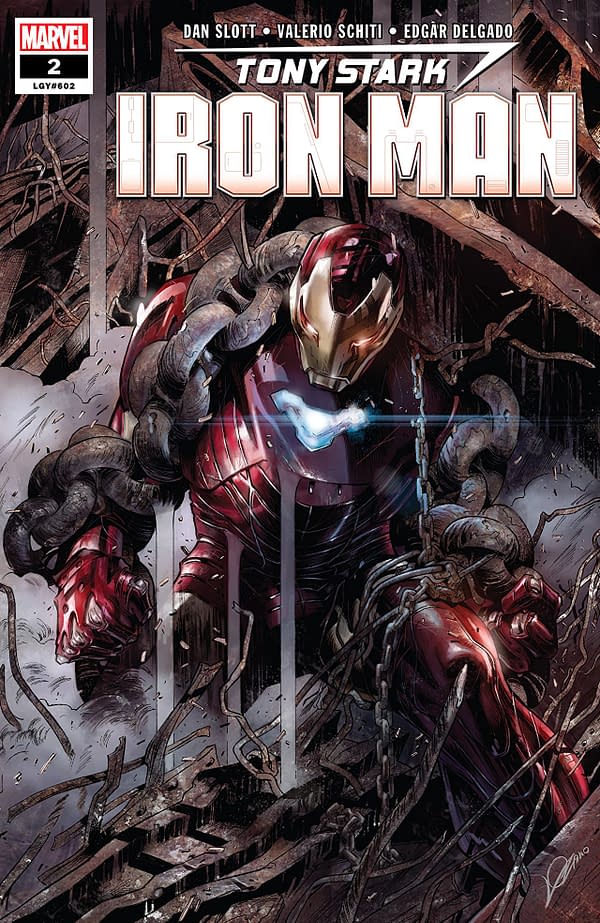 Tony Stark: Iron Man #2 focuses on developing Rhodey based upon the trauma he has experienced in recent years. It's dramatic and could be interesting, but I'm unsure if the comic has the storytelling chops to bear the weight of this angle. It seems, in part, to be a reason to change up War Machine's superhero gimmick, but I won't spoil the specifics there.
The comic doesn't completely fumble the ball on this angle; it just doesn't quite give it due gravitas either.
There is a Jocasta subplot that gets surprisingly heavy too. This one isn't focused upon as long, but it is presented with surprising seriousness.
The rest of the comic is mostly fun and frolics. Tony gets plenty of one-liners, many of which do land. The fight-scene towards the end is decent, even if it is sidetracked both visibly and narratively by the way the book decides to handle Rhodey's PTSD.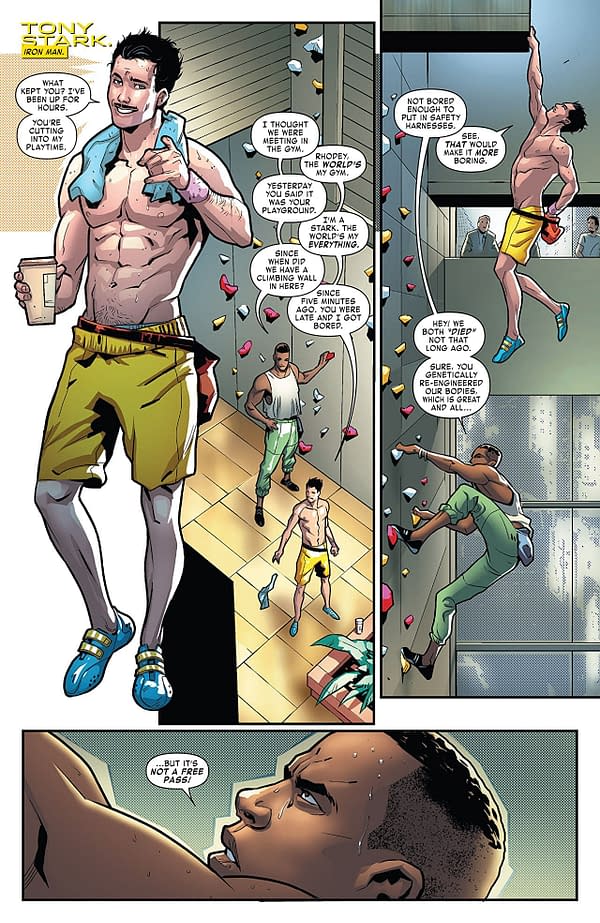 Valerio Schiti's holds up, having the glitz and energy that Tony Stark needs. The fight scenes lack some clarity in part due to framing and shading, but they look solid most of the time. There is also a blob-like quality in some panels, partially due to lack of finer detailing and light inkwork, but, despite this, I still found myself mostly enjoying the art. Edgar Delgado delivers some bright and varied color work to the table, which helps the visuals a lot.
Tony Stark: Iron Man #2 is flawed but decent. It attempts to tackle some heavier subjects while keeping itself energetic and fun, and I can appreciate the effort. It works for the most part and is aided by some solid enough artwork. I can recommend it, even if I wouldn't call it a must-read.
[rwp-review-ratings id="0"]
[rwp-review-form id="0"]