Here's the big list, the top 500 most-ordered comics and graphic novels through Diamond Comic Distributors in North American comic book stores in September 2019. We already did a little examination with the Top 10 and marketshare and Top 100 but this doubles down.
By comparing the quantity and dollar ranks we can note that there has been unannounced discounting or over-shipping a number of Marvel titles this month, as it affects the ranking for quantity but not dollars received. The disparity between the two makes it clear. The biggest one is Strikeforce #1, placed 15th in quantity but 37th in retail. Other titles include  Absolute Carnage Scream #2, placed 27th and 55th respectively, Tony Stark Iron Man #16, placed 37th and 65th, Black Panther: Age Of Wakanda #1 placed 41st and 95th, Valkyrie #3 placing 42nd and 73rd, Agents Of Atlas #2 at 58th and 139th, Invisible Woman #2 at 67th and 121st, Spider-Man Velocity #2 at 84th and 136th, Gwenpool Strikes Back at 88th and 140th, Punisher Kill Krew #2 at 89th and 142nd, Age Of Valeria at 93rd and 146th, Future Foundation #2 at 103rd and 156th, and to a lesser extent statistically smaller bumps on Silver Surfer: Black #4 and Captain America #14.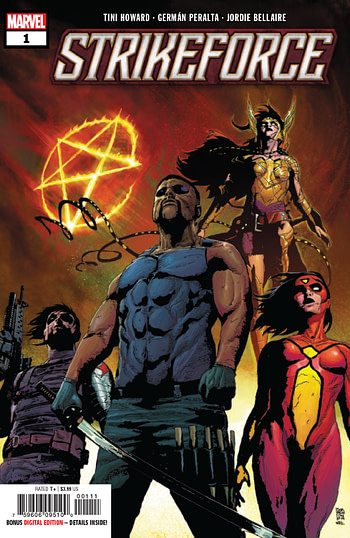 Web Of Black Widow #1 seems to have gone the opposite way courtesy of retailer exclusive variants boosting the dollar numbers, placing 44th in sales numbers but 33rd in revenue raisers, and something similar happened to Aero #3, 69th in sales numbers but 43rd in revenue raiser, without obvious explanation.
Overshipping and upping discounts are promotions that Marvel Comics used to use a lot about eight years ago, but they have dropped away on overshipping in recent years, with a few bumps earlier in the year on earlier issues of some (but not all) of the titles mentioned above. This indicates that Marvel are continuing the practice but not telling retailers in advance. Overshipping enables retailers to encourage samples of certain titles, by giving some away for free or adding discount, for others it can help with their bottom line, averaging out a greater discount across the line. And while it can have a false-positive effect on statistics, that's what Bleeding Cool has been here to catch, by number-crunching Diamond's figures. We were the first to spot the statistical effect overshipping can have, and we have kept a beady eye on it since.
We do also notice that DC Comics' placements may be considered unfair as a number of titles split-price on different covers, generating different listings. In half an hour, we will publish a combined chart to rectify that. And later a marketshare-per-capita chart. We do love to crunch ou numbers at Bleeding Cool…
Top 500 most-ordered comic books in September 2019
| | | | | | |
| --- | --- | --- | --- | --- | --- |
| Quantity Rank | Retail Rank | Index | Product | Price | Publisher |
| 1 | 1 | 324.28 | SPAWN #300 | $7.99 | IMA |
| 2 | 2 | 193.10 | SPIDER-MAN #1 | $4.99 | MAR |
| 3 | 3 | 172.03 | HOUSE OF X #5 | $4.99 | MAR |
| 4 | 5 | 169.86 | POWERS OF X #5 | $4.99 | MAR |
| 5 | 6 | 156.92 | POWERS OF X #4 | $4.99 | MAR |
| 6 | 7 | 147.40 | HOUSE OF X #4 | $4.99 | MAR |
| 7 | 8 | 143.02 | DOOMSDAY CLOCK #11 | $4.99 | DC |
| 8 | 9 | 117.98 | ABSOLUTE CARNAGE #3 AC | $4.99 | MAR |
| 9 | 10 | 111.16 | DCEASED A GOOD DAY TO DIE #1 | $4.99 | DC |
| 10 | 4 | 104.70 | HARLEEN #1 (MR) | $7.99 | DC |
| 11 | 14 | 100.00 | BATMAN #78 | $3.99 | DC |
| 12 | 13 | 98.98 | AMAZING SPIDER-MAN #30 AC | $3.99 | MAR |
| 13 | 12 | 83.77 | BATMAN CURSE OF THE WHITE KNIGHT #3 | $4.99 | DC |
| 14 | 15 | 81.10 | VENOM #18 | $3.99 | MAR |
| 15 | 37 | 81.00 | STRIKEFORCE #1 | $3.99 | MAR |
| 16 | 11 | 80.83 | HARLEY QUINN & POISON IVY #1 | $3.99 | DC |
| 17 | 16 | 80.32 | AMAZING SPIDER-MAN #29 | $3.99 | MAR |
| 18 | 18 | 75.45 | BATMAN #79 | $3.99 | DC |
| 19 | 21 | 72.20 | FANTASTIC FOUR #14 | $3.99 | MAR |
| 20 | 22 | 70.06 | IMMORTAL HULK #23 | $3.99 | MAR |
| 21 | 23 | 68.82 | KING THOR #1 | $3.99 | MAR |
| 22 | 24 | 64.62 | JUSTICE LEAGUE #31 | $3.99 | DC |
| 23 | 29 | 62.36 | SILVER SURFER BLACK #4 | $3.99 | MAR |
| 24 | 27 | 62.26 | DETECTIVE COMICS #1011 | $3.99 | DC |
| 25 | 28 | 61.79 | DETECTIVE COMICS #1012 | $3.99 | DC |
| 26 | 19 | 59.75 | LEGION OF SUPER HEROES MILLENNIUM #1 | $4.99 | DC |
| 27 | 55 | 59.45 | ABSOLUTE CARNAGE SCREAM #2 AC | $3.99 | MAR |
| 28 | 30 | 59.10 | SUPERMAN #15 | $3.99 | DC |
| 29 | 26 | 57.02 | FLASH FORWARD #1 | $3.99 | DC |
| 30 | 32 | 55.42 | ABSOLUTE CARNAGE VS DEADPOOL #2 AC | $3.99 | MAR |
| 31 | 17 | 55.41 | HARLEY QUINN & POISON IVY #1 HARLEY CARD STOCK VAR ED | $4.99 | DC |
| 32 | 34 | 55.09 | SAVAGE AVENGERS #5 | $3.99 | MAR |
| 33 | 35 | 54.90 | AVENGERS #24 | $3.99 | MAR |
| 34 | 38 | 53.23 | BATMAN SUPERMAN #2 | $3.99 | DC |
| 35 | 20 | 52.84 | ABSOLUTE CARNAGE SYMBIOTE SPIDER-MAN #1 AC | $4.99 | MAR |
| 36 | 36 | 52.46 | ABSOLUTE CARNAGE MILES MORALES #2 AC | $3.99 | MAR |
| 37 | 65 | 51.28 | TONY STARK IRON MAN #16 | $3.99 | MAR |
| 38 | 42 | 51.08 | BLOODSHOT (2019) #1 | $3.99 | VAL |
| 39 | 39 | 50.68 | GREEN LANTERN #11 | $3.99 | DC |
| 40 | 25 | 50.22 | ABSOLUTE CARNAGE SYMBIOTE OF VENGEANCE #1 AC | $4.99 | MAR |
| 41 | 95 | 49.25 | BLACK PANTHER AND AGENTS OF WAKANDA #1 | $3.99 | MAR |
| 42 | 73 | 48.86 | VALKYRIE JANE FOSTER #3 | $3.99 | MAR |
| 43 | 40 | 48.62 | BATMAN VS RAS AL GHUL #1 | $3.99 | DC |
| 44 | 33 | 47.70 | WEB OF BLACK WIDOW #1 | $3.99 | MAR |
| 45 | 45 | 47.60 | GUARDIANS OF THE GALAXY #9 | $3.99 | MAR |
| 46 | 44 | 46.87 | JUSTICE LEAGUE #32 | $3.99 | DC |
| 47 | 31 | 46.16 | MILES MORALES SPIDER-MAN #10 | $4.99 | MAR |
| 48 | 48 | 45.73 | STAR WARS #71 | $3.99 | MAR |
| 49 | 47 | 45.29 | FLASH #78 | $3.99 | DC |
| 50 | 53 | 44.08 | ACTION COMICS #1015 | $3.99 | DC |
| 51 | 51 | 44.04 | FLASH #79 | $3.99 | DC |
| 52 | 57 | 43.64 | DAREDEVIL #11 | $3.99 | MAR |
| 53 | 62 | 42.49 | CAPTAIN AMERICA #14 | $3.99 | MAR |
| 54 | 54 | 42.45 | TMNT ONGOING #98 | $3.99 | IDW |
| 55 | 61 | 42.45 | ABSOLUTE CARNAGE LETHAL PROTECTORS #2 AC | $3.99 | MAR |
| 56 | 59 | 42.21 | EVENT LEVIATHAN #4 | $3.99 | DC |
| 57 | 46 | 41.55 | SOMETHING IS KILLING CHILDREN #1 CVR A DELL | $3.99 | BOO |
| 58 | 139 | 39.58 | AGENTS OF ATLAS #2 | $3.99 | MAR |
| 59 | 64 | 39.31 | SHAZAM #7 | $3.99 | DC |
| 60 | 41 | 39.05 | NEW MUTANTS WAR CHILDREN #1 | $4.99 | MAR |
| 61 | 66 | 37.22 | WONDER WOMAN #78 | $3.99 | DC |
| 62 | 67 | 37.17 | WONDER WOMAN #79 | $3.99 | DC |
| 63 | 49 | 36.66 | HISTORY OF MARVEL UNIVERSE #3 | $4.99 | MAR |
| 64 | 70 | 36.34 | FRIENDLY NEIGHBORHOOD SPIDER-MAN #12 | $3.99 | MAR |
| 65 | 50 | 36.15 | AMAZING SPIDER-MAN GOING BIG #1 | $4.99 | MAR |
| 66 | 52 | 35.85 | WOLVERINE ANNUAL #1 | $4.99 | MAR |
| 67 | 121 | 35.16 | INVISIBLE WOMAN #3 | $3.99 | MAR |
| 68 | 71 | 34.68 | GOTHAM CITY MONSTERS #1 | $3.99 | DC |
| 69 | 43 | 34.59 | AERO #3 | $3.99 | MAR |
| 70 | 72 | 34.46 | JUSTICE LEAGUE DARK #15 | $3.99 | DC |
| 71 | 56 | 34.21 | CATWOMAN #15 CARD STOCK VAR ED | $4.99 | DC |
| 72 | 58 | 34.04 | LEX LUTHOR YEAR OF THE VILLAIN #1 | $4.99 | DC |
| 73 | 75 | 33.96 | CAPTAIN MARVEL #10 | $3.99 | MAR |
| 74 | 87 | 33.87 | ONCE & FUTURE #2 | $3.99 | BOO |
| 75 | 60 | 33.41 | RIDDLER YEAR OF THE VILLAIN #1 | $4.99 | DC |
| 76 | 78 | 33.25 | CONAN THE BARBARIAN #9 | $3.99 | MAR |
| 77 | 76 | 32.89 | BATMAN TEENAGE MUTANT NINJA TURTLES III #5 | $3.99 | DC |
| 78 | 79 | 32.21 | HARLEY QUINN #65 | $3.99 | DC |
| 79 | 81 | 31.93 | GHOST-SPIDER #2 | $3.99 | MAR |
| 80 | 82 | 31.77 | STAR WARS AOR KYLO REN #1 | $3.99 | MAR |
| 81 | 83 | 31.52 | STAR WARS TARGET VADER #3 | $3.99 | MAR |
| 82 | 84 | 31.51 | PUNISHER #15 | $3.99 | MAR |
| 83 | 85 | 31.16 | BLACK CAT #4 | $3.99 | MAR |
| 84 | 136 | 30.94 | SPIDER-MAN VELOCITY #2 | $3.99 | MAR |
| 85 | 88 | 30.38 | DEAD MAN LOGAN #11 | $3.99 | MAR |
| 86 | 90 | 30.21 | STAR WARS AOR REY #1 | $3.99 | MAR |
| 87 | 68 | 30.18 | MOON KNIGHT ANNUAL #1 | $4.99 | MAR |
| 88 | 140 | 30.06 | GWENPOOL STRIKES BACK #2 | $3.99 | MAR |
| 89 | 142 | 29.78 | PUNISHER KILL KREW #2 | $3.99 | MAR |
| 90 | 94 | 29.71 | DOCTOR STRANGE #19 | $3.99 | MAR |
| 91 | 93 | 29.30 | LOIS LANE #3 | $3.99 | DC |
| 92 | 98 | 28.99 | THANOS #6 | $3.99 | MAR |
| 93 | 146 | 28.91 | AGE OF CONAN VALERIA #2 | $3.99 | MAR |
| 94 | 100 | 28.65 | STAR WARS JEDI FALLEN ORDER DARK TEMPLE #1 | $3.99 | MAR |
| 95 | 69 | 28.43 | BATMAN #79 CARD STOCK VAR ED | $4.99 | DC |
| 96 | 101 | 28.22 | STAR WARS AOR SUPREME LEADER SNOKE #1 | $3.99 | MAR |
| 97 | 99 | 28.05 | BATMAN AND THE OUTSIDERS #5 | $3.99 | DC |
| 98 | 74 | 27.65 | GUARDIANS OF THE GALAXY PRODIGAL SUN #1 | $4.99 | MAR |
| 99 | 103 | 27.34 | TEEN TITANS #34 | $3.99 | DC |
| 100 | 104 | 27.18 | JUSTICE LEAGUE ODYSSEY #13 | $3.99 | DC |
| 101 | 89 | 27.17 | VAMPIRELLA RED SONJA #1 | $3.99 | DE |
| 102 | 105 | 26.84 | NIGHTWING #64 | $3.99 | DC |
| 103 | 156 | 26.84 | FUTURE FOUNDATION #2 | $3.99 | MAR |
| 104 | 77 | 26.72 | GHOST SPIDER ANNUAL #1 | $4.99 | MAR |
| 105 | 91 | 26.59 | VAMPIRELLA #3 | $3.99 | DE |
| 106 | 109 | 26.06 | SAVAGE SWORD OF CONAN #9 | $3.99 | MAR |
| 107 | 108 | 25.85 | DIE #7 (MR) | $3.99 | IMA |
| 108 | 80 | 25.48 | BATMAN UNIVERSE #3 | $4.99 | DC |
| 109 | 111 | 25.39 | STAR WARS AOR ROSE TICO #1 | $3.99 | MAR |
| 110 | 110 | 25.33 | BATMAN #181 FACSIMILE EDITION | $3.99 | DC |
| 111 | 112 | 25.32 | STAR WARS DOCTOR APHRA #36 | $3.99 | MAR |
| 112 | 116 | 24.89 | STAR WARS JEDI FALLEN ORDER DARK TEMPLE #2 | $3.99 | MAR |
| 113 | 115 | 24.65 | INFERIOR FIVE #1 | $3.99 | DC |
| 114 | 114 | 24.54 | BLACK HAMMER JUSTICE LEAGUE #3 | $3.99 | DAR |
| 115 | 294 | 24.22 | DOLLAR COMICS BATMAN #608 | $1.00 | DC |
| 116 | 119 | 24.19 | SUPERIOR SPIDER-MAN #11 | $3.99 | MAR |
| 117 | 298 | 23.80 | DOLLAR COMICS CRISIS ON INFINITE EARTHS #1 | $1.00 | DC |
| 118 | 107 | 23.72 | FIREFLY #9 | $3.99 | BOO |
| 119 | 92 | 23.39 | BATMAN SUPERMAN #2 CARD STOCK VAR ED | $4.99 | DC |
| 120 | 97 | 23.36 | MARVEL COMICS PRESENTS #9 | $4.99 | MAR |
| 121 | 96 | 23.26 | AVENGERS LOKI UNLEASHED #1 | $4.99 | MAR |
| 122 | 124 | 22.79 | YOUNG JUSTICE #8 | $3.99 | DC |
| 123 | 125 | 22.75 | RED HOOD OUTLAW #38 | $3.99 | DC |
| 124 | 123 | 22.75 | DEATHSTROKE #47 | $3.99 | DC |
| 125 | 102 | 22.55 | ALPHA FLIGHT TRUE NORTH #1 | $4.99 | MAR |
| 126 | 113 | 22.50 | RICK & MORTY VS D&D II PAINSCAPE #1 (MR) | $3.99 | ONI |
| 127 | 128 | 22.38 | SUPERMANS PAL JIMMY OLSEN #3 | $3.99 | DC |
| 128 | 118 | 21.86 | BUFFY THE VAMPIRE SLAYER #8 | $3.99 | BOO |
| 129 | 129 | 21.60 | LOKI #3 | $3.99 | MAR |
| 130 | 106 | 21.48 | SUPERMAN UP IN THE SKY #3 | $4.99 | DC |
| 131 | 307 | 21.01 | DOLLAR COMICS DETECTIVE COMICS #854 | $1.00 | DC |
| 132 | 131 | 20.77 | OBLIVION SONG BY KIRKMAN & DE FELICI #19 (MR) | $3.99 | IMA |
| 133 | 122 | 20.61 | SFSX SAFE SEX #1 (MR) | $3.99 | IMA |
| 134 | 133 | 20.37 | HAWKMAN #16 | $3.99 | DC |
| 135 | 141 | 19.94 | BLACK PANTHER #16 | $3.99 | MAR |
| 136 | 318 | 19.34 | DOLLAR COMICS HARLEY QUINN #1 | $1.00 | DC |
| 137 | 144 | 19.11 | DOOM PATROL WEIGHT OF THE WORLDS #3 (MR) | $3.99 | DC |
| 138 | 117 | 19.10 | ACTION COMICS #1015 CARD STOCK VAR ED | $4.99 | DC |
| 139 | 120 | 19.05 | FEARLESS #3 | $4.99 | MAR |
| 140 | 126 | 18.75 | CHASTITY #1 (MR) | $3.99 | DE |
| 141 | 149 | 18.70 | PUNISHER KILL KREW #3 | $3.99 | MAR |
| 142 | 86 | 18.67 | HOUSE OF X #1 | $5.99 | MAR |
| 143 | 148 | 18.51 | CATWOMAN #15 | $3.99 | DC |
| 144 | 150 | 18.40 | AQUAMAN #52 | $3.99 | DC |
| 145 | 211 | 18.36 | SWORD MASTER #3 | $3.99 | MAR |
| 146 | 127 | 18.31 | HOUSE OF X #3 | $4.99 | MAR |
| 147 | 326 | 18.12 | TRUE BELIEVERS HULK HEAD OF BANNER #1 | $1.00 | MAR |
| 148 | 138 | 18.06 | TRANSFORMERS GALAXIES #1 | $3.99 | IDW |
| 149 | 151 | 18.01 | TERRIFICS #20 | $3.99 | DC |
| 150 | 327 | 17.93 | TRUE BELIEVERS HULK PROFESSOR HULK #1 | $1.00 | MAR |
| 151 | 173 | 17.62 | TREES THREE FATES #1 (MR) | $3.99 | IMA |
| 152 | 157 | 17.32 | BATMAN BEYOND #36 | $3.99 | DC |
| 153 | 143 | 17.28 | BERSERKER UNBOUND #2 | $3.99 | DAR |
| 154 | 335 | 17.09 | TRUE BELIEVERS HULK GRAY HULK RETURNS #1 | $1.00 | MAR |
| 155 | 161 | 16.90 | INVADERS #9 | $3.99 | MAR |
| 156 | 132 | 16.72 | HOUSE OF X #2 | $4.99 | MAR |
| 157 | 164 | 16.70 | OLD MAN QUILL #9 | $3.99 | MAR |
| 158 | 343 | 16.40 | TRUE BELIEVERS HULK INTELLIGENT HULK #1 | $1.00 | MAR |
| 159 | 152 | 16.37 | BLADE RUNNER 2019 #3 (MR) | $3.99 | TTN |
| 160 | 153 | 16.35 | JIM HENSON DARK CRYSTAL AGE RESISTANCE #1 | $3.99 | BOO |
| 161 | 344 | 16.31 | TRUE BELIEVERS HULK OTHER HULKS #1 | $1.00 | MAR |
| 162 | 134 | 16.27 | EVENT LEVIATHAN #4 CARD STOCK VAR ED | $4.99 | DC |
| 163 | 135 | 16.25 | JUSTICE LEAGUE #32 CARD STOCK VAR ED | $4.99 | DC |
| 164 | 166 | 16.17 | MAGNIFICENT MS MARVEL #7 | $3.99 | MAR |
| 165 | 137 | 16.10 | SUPERGIRL #33 CARD STOCK VAR ED | $4.99 | DC |
| 166 | 63 | 16.09 | MARVEL COMICS #1000 | $9.99 | MAR |
| 167 | 130 | 15.87 | PLOT #1 (MR) | $3.99 | VAU |
| 168 | 347 | 15.82 | TRUE BELIEVERS HULK RED HULK #1 | $1.00 | MAR |
| 169 | 169 | 15.64 | CRIMINAL #8 (MR) | $3.99 | IMA |
| 170 | 159 | 15.49 | GI JOE #1 | $3.99 | IDW |
| 171 | 170 | 15.44 | CHAMPIONS #9 | $3.99 | MAR |
| 172 | 349 | 15.36 | TRUE BELIEVERS HULK JOE FIXIT #1 | $1.00 | MAR |
| 173 | 197 | 15.35 | PRETTY DEADLY RAT #1 (MR) | $3.99 | IMA |
| 174 | 147 | 15.29 | POWERS OF X #3 | $4.99 | MAR |
| 175 | 145 | 15.27 | SUPERGIRL #34 CARD STOCK VAR ED | $4.99 | DC |
| 176 | 162 | 15.12 | ANGEL #5 | $3.99 | BOO |
| 177 | 355 | 15.02 | TRUE BELIEVERS HULK MINDLESS HULK #1 | $1.00 | MAR |
| 178 | 172 | 14.80 | BATGIRL #39 | $3.99 | DC |
| 179 | 155 | 14.64 | DAREDEVIL #181 FACSIMILE EDITION | $4.99 | MAR |
| 180 | 174 | 14.63 | SUPERGIRL #34 | $3.99 | DC |
| 181 | 176 | 14.52 | DREAMING #13 (MR) | $3.99 | DC |
| 182 | 175 | 14.52 | SUPERGIRL #33 | $3.99 | DC |
| 183 | 183 | 14.24 | SEA OF STARS #3 | $3.99 | IMA |
| 184 | 184 | 14.08 | COFFIN BOUND #2 (MR) | $3.99 | IMA |
| 185 | 188 | 13.99 | BATMAN #77 DARK GIFTS | $3.99 | DC |
| 186 | 370 | 13.92 | TRUE BELIEVERS HULK DEVIL HULK #1 | $1.00 | MAR |
| 187 | 187 | 13.80 | FREEDOM FIGHTERS #9 | $3.99 | DC |
| 188 | 158 | 13.73 | WONDER WOMAN COME BACK TO ME #3 | $4.99 | DC |
| 189 | 171 | 13.70 | RED SONJA #8 | $3.99 | DE |
| 190 | 179 | 13.67 | TRANSFORMERS #12 | $3.99 | IDW |
| 191 | 190 | 13.49 | BATTLEPUG #1 | $3.99 | IMA |
| 192 | 160 | 13.40 | TITANS BURNING RAGE #2 | $4.99 | DC |
| 193 | 178 | 13.12 | ARCHIE VS PREDATOR 2 #2 | $3.99 | ARC |
| 194 | 180 | 13.04 | RED SONJA VAMPIRELLA BETTY VERONICA #5 | $3.99 | DE |
| 195 | 168 | 12.97 | LADY MECHANIKA SANGRE #3 | $3.99 | BEN |
| 195 | 182 | 12.97 | PANDEMICA #1 | $3.99 | IDW |
| 197 | 165 | 12.72 | WHITE TREES #2 (MR) | $4.99 | IMA |
| 198 | 201 | 12.66 | MARVEL TEAM-UP #6 | $3.99 | MAR |
| 199 | 202 | 12.65 | IRONHEART #10 | $3.99 | MAR |
| 200 | 191 | 12.63 | TRANSFORMERS GHOSTBUSTERS #4 | $3.99 | IDW |
| 201 | 198 | 12.60 | LUCIFER #12 (MR) | $3.99 | DC |
| 202 | 199 | 12.59 | BOOKS OF MAGIC #12 (MR) | $3.99 | DC |
| 203 | 189 | 12.47 | MIGHTY MORPHIN POWER RANGERS #43 | $3.99 | BOO |
| 204 | 204 | 12.33 | REAVER #3 (MR) | $3.99 | IMA |
| 205 | 209 | 12.27 | SPIDER-WOMAN #1 FACSIMILE EDITION | $3.99 | MAR |
| 206 | 154 | 12.22 | POWERS OF X #1 | $5.99 | MAR |
| 207 | 208 | 11.98 | ISOLA #9 CVR A KERSCHL | $3.99 | IMA |
| 208 | 229 | 11.92 | WICKED & DIVINE #45 | $3.99 | IMA |
| 209 | 177 | 11.90 | POWERS OF X #2 | $4.99 | MAR |
| 210 | 192 | 11.79 | SPACE BANDITS #3 (MR) | $3.99 | IMA |
| 211 | 212 | 11.78 | BLACK HAMMER AGE OF DOOM #12 | $3.99 | DAR |
| 212 | 193 | 11.74 | USAGI YOJIMBO #4 | $3.99 | IDW |
| 213 | 213 | 11.70 | MIDDLEWEST #11 (MR) | $3.99 | IMA |
| 214 | 195 | 11.69 | GO GO POWER RANGERS #23 | $3.99 | BOO |
| 215 | 185 | 11.66 | SECOND COMING #3 (MR) | $3.99 | AHO |
| 216 | 218 | 11.54 | HELLBOY AND THE BPRD SATURN RETURNS #2 | $3.99 | DAR |
| 217 | 257 | 11.53 | SONATA #4 (MR) | $3.99 | IMA |
| 218 | 200 | 11.48 | RED SONJA BIRTH OF SHE DEVIL #4 | $3.99 | DE |
| 219 | 223 | 11.47 | DEATHS HEAD #3 | $3.99 | MAR |
| 220 | 167 | 11.39 | RICK AND MORTY PRESENT FLESH CURTAINS #1 | $4.99 | ONI |
| 221 | 217 | 11.30 | CANTO #4 | $3.99 | IDW |
| 222 | 226 | 11.18 | WONDER TWINS #7 | $3.99 | DC |
| 223 | 224 | 11.03 | CRITICAL ROLE VOX MACHINA ORIGINS SERIES II #3 | $3.99 | DAR |
| 224 | 205 | 11.03 | KICK-ASS #17 (MR) | $3.99 | IMA |
| 225 | 207 | 10.78 | EVERYTHING #1 | $3.99 | DAR |
| 226 | 227 | 10.65 | SONIC THE HEDGEHOG TANGLE & WHISPER #2 | $3.99 | IDW |
| 227 | 216 | 10.62 | SABRINA TEENAGE WITCH #5 | $3.99 | ARC |
| 228 | 215 | 10.48 | HIT-GIRL SEASON TWO #8 (MR) | $3.99 | IMA |
| 229 | 219 | 10.45 | ELVIRA MISTRESS OF DARK #9 | $3.99 | DE |
| 230 | 228 | 10.44 | MARVEL ACTION SPIDER-MAN #8 | $3.99 | IDW |
| 231 | 220 | 10.41 | RICK & MORTY #54 | $3.99 | ONI |
| 232 | 181 | 10.38 | MIGHTY MORPHIN POWER RANGERS #43 FOIL MONTES VAR | $4.99 | BOO |
| 233 | 196 | 10.35 | IMMORTAL HULK DIRECTORS CUT #3 | $4.99 | MAR |
| 234 | 235 | 10.32 | BLACK SCIENCE #43 (MR) | $3.99 | IMA |
| 235 | 194 | 10.24 | SCOOBY DOO 50TH ANNIVERSARY GIANT #1 | $4.99 | DC |
| 236 | 234 | 10.19 | ALIENS RESCUE #3 | $3.99 | DAR |
| 237 | 242 | 10.10 | UNBEATABLE SQUIRREL GIRL #48 | $3.99 | MAR |
| 238 | 240 | 10.00 | DIAL H #7 | $3.99 | DC |
| 239 | 239 | 9.98 | HOUSE OF WHISPERS #13 (MR) | $3.99 | DC |
| 240 | 231 | 9.89 | STAR TREK YEAR FIVE #6 | $3.99 | IDW |
| 241 | 221 | 9.88 | NAPOLEON DYNAMITE #1 | $3.99 | IDW |
| 242 | 246 | 9.82 | SON OF SATAN MARVEL SPOTLIGHT #12 FACSIMILE EDITION | $3.99 | MAR |
| 243 | 222 | 9.78 | STAR WARS ADVENTURES #25 | $3.99 | IDW |
| 244 | 237 | 9.68 | STAR WARS ADVENTURES #26 | $3.99 | IDW |
| 245 | 206 | 9.64 | YOUNG JUSTICE #8 CARD STOCK VAR ED | $4.99 | DC |
| 246 | 270 | 9.54 | TEEN TITANS GO #36 | $2.99 | DC |
| 247 | 247 | 9.50 | PRETTY VIOLENT #2 (MR) | $3.99 | IMA |
| 248 | 210 | 9.48 | BATGIRL #39 CARD STOCK VAR ED | $4.99 | DC |
| 249 | 232 | 9.47 | GOON #6 | $3.99 | ALB |
| 250 | 403 | 9.47 | TRUE BELIEVERS HULK RETURNS #1 | $1.00 | MAR |
| 251 | 249 | 9.46 | DEADLY CLASS #40 (MR) | $3.99 | IMA |
| 252 | 214 | 9.38 | AQUAMAN #52 CARD STOCK VAR ED | $4.99 | DC |
| 253 | 241 | 9.37 | MY LITTLE PONY FRIENDSHIP IS MAGIC #82 | $3.99 | IDW |
| 254 | 225 | 9.16 | IMMORTAL HULK DIRECTORS CUT #4 | $4.99 | MAR |
| 255 | 251 | 9.10 | COLLAPSER #3 (MR) | $3.99 | DC |
| 256 | 244 | 8.99 | FAITHLESS #6 (MR) | $3.99 | BOO |
| 257 | 250 | 8.89 | MARVEL ACTION CAPTAIN MARVEL #2 | $3.99 | IDW |
| 258 | 282 | 8.85 | SCOOBY DOO TEAM UP #50 | $2.99 | DC |
| 259 | 256 | 8.78 | UNEARTH #3 (MR) | $3.99 | IMA |
| 260 | 230 | 8.60 | ARCHIE 1955 #1 | $3.99 | ARC |
| 261 | 233 | 8.39 | ABSOLUTE CARNAGE #2 AC | $4.99 | MAR |
| 262 | 258 | 8.34 | FIGHT CLUB 3 #9 (MR) | $3.99 | DAR |
| 263 | 238 | 8.26 | YOU ARE OBSOLETE #1 | $3.99 | AFT |
| 264 | 254 | 8.22 | BETTIE PAGE UNBOUND #4 | $3.99 | DE |
| 265 | 163 | 8.19 | MARVEL TALES BLACK PANTHER #1 | $7.99 | MAR |
| 266 | 264 | 8.19 | ARCHIE #707 | $3.99 | ARC |
| 267 | 252 | 8.15 | STEEPLE #1 | $3.99 | DAR |
| 268 | 261 | 7.86 | TRIAGE #1 | $3.99 | DAR |
| 269 | 260 | 7.83 | ORVILLE #3 WORD OF AVIS | $3.99 | DAR |
| 270 | 255 | 7.78 | STAR TREK DISCOVERY AFTERMATH #1 | $3.99 | IDW |
| 271 | 248 | 7.77 | MIDNIGHT VISTA #1 | $3.99 | AFT |
| 272 | 262 | 7.63 | MAN-EATERS #11 | $3.99 | IMA |
| 273 | 243 | 7.61 | RAGNAROK BREAKING OF HELHEIM #2 | $4.99 | IDW |
| 274 | 236 | 7.49 | FAITHLESS #6 EROTICA LOTAY VAR (MR) | $4.99 | BOO |
| 275 | 245 | 7.34 | RELICS OF YOUTH #1 | $3.99 | VAU |
| 276 | 271 | 7.16 | MANOR BLACK #3 | $3.99 | DAR |
| 277 | 276 | 7.01 | STRAYED #2 | $3.99 | DAR |
| 278 | 278 | 6.88 | REDNECK #23 (MR) | $3.99 | IMA |
| 279 | 259 | 6.85 | STAR TREK DISCOVERY AFTERMATH #2 | $3.99 | IDW |
| 280 | 263 | 6.84 | INVADER ZIM #47 | $3.99 | ONI |
| 281 | 281 | 6.74 | RAT QUEENS #18 (MR) | $3.99 | IMA |
| 282 | 284 | 6.71 | HIGH LEVEL #6 (MR) | $3.99 | DC |
| 283 | 285 | 6.68 | EXCELLENCE #5 | $3.99 | IMA |
| 284 | 265 | 6.65 | RONIN ISLAND #6 | $3.99 | BOO |
| 285 | 268 | 6.64 | FALLEN WORLD #5 | $3.99 | VAL |
| 286 | 253 | 6.59 | ZOMBIE TRAMP ONGOING #64 (MR) | $4.99 | ACT |
| 287 | 272 | 6.58 | DOCTOR MIRAGE #2 | $3.99 | VAL |
| 288 | 288 | 6.56 | WEATHERMAN VOL 2 #4 (MR) | $3.99 | IMA |
| 289 | 291 | 6.53 | MOON GIRL AND DEVIL DINOSAUR #47 | $3.99 | MAR |
| 290 | 274 | 6.47 | JAMES BOND 007 #11 | $3.99 | DE |
| 290 | 269 | 6.47 | TOMMY GUN WIZARDS #2 | $3.99 | DAR |
| 292 | 275 | 6.46 | KILLERS #3 | $3.99 | VAL |
| 293 | 292 | 6.36 | ETHER DISAPPEARANCE OF VIOLET BELL #1 | $3.99 | DAR |
| 294 | 203 | 6.32 | ABSOLUTE CARNAGE #1 AC | $7.99 | MAR |
| 295 | 279 | 6.26 | ROBOTECH #24 | $3.99 | TTN |
| 296 | 280 | 6.24 | FIVE YEARS #4 | $3.99 | ABS |
| 297 | 266 | 6.02 | MIDNIGHT SKY #1 | $3.99 | SCO |
| 298 | 286 | 5.98 | DOCTOR WHO 13TH #12 | $3.99 | TTN |
| 299 | 297 | 5.97 | NO ONE LEFT TO FIGHT #3 | $3.99 | DAR |
| 300 | 273 | 5.85 | DEATH-DEFYING DEVIL #2 | $3.99 | DE |
| 301 | 295 | 5.75 | CROW HACK SLASH #3 | $3.99 | IDW |
| 302 | 313 | 5.71 | TAROT WITCH OF THE BLACK ROSE #118 HALLOWEEN WITCH (MR) | $2.95 | BRO |
| 303 | 304 | 5.65 | SECTION ZERO #6 | $3.99 | IMA |
| 304 | 293 | 5.63 | DARK RED #6 | $3.99 | AFT |
| 305 | 296 | 5.51 | PSI-LORDS #4 | $3.99 | VAL |
| 306 | 302 | 5.44 | ARCHIE MARRIED LIFE 10 YEARS LATER #2 | $3.99 | ARC |
| 307 | 283 | 5.37 | THUMBS #4 (MR) | $4.99 | IMA |
| 308 | 290 | 5.34 | DARK AGE #2 | $3.95 | RED |
| 309 | 300 | 5.32 | KISS END #5 | $3.99 | DE |
| 310 | 311 | 5.30 | VENOM #17 | $3.99 | MAR |
| 311 | 301 | 5.02 | ONCE & FUTURE #1 | $3.99 | BOO |
| 312 | 393 | 5.00 | CIVIL WAR II #0 | $4.99 | MAR |
| 313 | 306 | 4.95 | XENA WARRIOR PRINCESS #6 | $3.99 | DE |
| 314 | 317 | 4.92 | BIRTHRIGHT #39 | $3.99 | IMA |
| 315 | 299 | 4.87 | MYSTERE #1 | $3.99 | ZEN |
| 316 | 310 | 4.71 | LIVEWIRE #10 | $3.99 | VAL |
| 317 | 312 | 4.66 | WARLORD OF MARS ATTACKS #4 | $3.99 | DE |
| 318 | 401 | 4.62 | FANTASTIC FOUR #1 | $5.99 | MAR |
| 318 | 324 | 4.62 | OUTER DARKNESS #10 (MR) | $3.99 | IMA |
| 320 | 316 | 4.52 | KNIGHTS TEMPORAL #3 | $3.99 | AFT |
| 321 | 308 | 4.34 | STREET FIGHTER AKUMA VS HELL #1 | $3.99 | UDO |
| 322 | 309 | 4.34 | GRIMM FAIRY TALES #31 | $3.99 | ZEN |
| 323 | 329 | 4.33 | CURSE WORDS #24 (MR) | $3.99 | IMA |
| 324 | 320 | 4.28 | TUROK #5 | $3.99 | DE |
| 325 | 323 | 4.21 | BLOODBORNE #15 CVR A HARDING (MR) | $3.99 | TTN |
| 326 | 314 | 4.16 | MARVEL COMICS PRESENTS #7 | $4.99 | MAR |
| 327 | 337 | 4.15 | RIDE BURNING DESIRE #4 (MR) | $3.99 | IMA |
| 328 | 267 | 4.03 | WATCHER #2 (MR) | $5.99 | ZEN |
| 329 | 328 | 4.03 | BABYTEETH #16 (MR) | $3.99 | AFT |
| 330 | 380 | 4.02 | LOONEY TUNES #251 | $2.99 | DC |
| 331 | 333 | 3.95 | SAMURAI JACK LOST WORLDS #4 | $3.99 | IDW |
| 332 | 351 | 3.93 | CAPTAIN MARVEL #8 | $3.99 | MAR |
| 333 | 277 | 3.85 | TALES OF TERROR BRIDGEWATER TRIANGLE #1 | $5.99 | ZEN |
| 334 | 325 | 3.85 | CARE BEARS UNLOCK THE MAGIC #2 | $3.99 | IDW |
| 335 | 322 | 3.85 | FOREVER MAPS #1 | $3.99 | SCO |
| 336 | 334 | 3.84 | JUGHEAD TIME POLICE #4 | $3.99 | ARC |
| 337 | 338 | 3.81 | BAD RECEPTION #2 | $3.99 | AFT |
| 338 | 340 | 3.75 | STEVEN UNIVERSE ONGOING #32 | $3.99 | BOO |
| 339 | 341 | 3.73 | OCTOBER FACTION #1 SPECIAL EDITION | $3.99 | IDW |
| 340 | 353 | 3.73 | ANALOG #8 (MR) | $3.99 | IMA |
| 341 | 354 | 3.71 | GOGOR #5 | $3.99 | IMA |
| 342 | 356 | 3.70 | RUMBLE #16 (MR) | $3.99 | IMA |
| 343 | 352 | 3.67 | DISNEY FROZEN HERO WITHIN #3 | $3.99 | DAR |
| 344 | 361 | 3.66 | GHOST-SPIDER #1 | $3.99 | MAR |
| 345 | 360 | 3.64 | CAPTAIN MARVEL #9 | $3.99 | MAR |
| 346 | 345 | 3.63 | OVER GARDEN WALL SOULFUL SYMPHONIES #2 | $3.99 | BOO |
| 347 | 346 | 3.61 | ANIMOSITY #23 (MR) | $3.99 | AFT |
| 348 | 366 | 3.58 | MAGNIFICENT MS MARVEL #5 | $3.99 | MAR |
| 349 | 359 | 3.58 | ABSOLUTE CARNAGE SCREAM #1 AC | $3.99 | MAR |
| 350 | 369 | 3.57 | ABSOLUTE CARNAGE VS DEADPOOL #1 FERRY VAR AC | $3.99 | MAR |
| 351 | 331 | 3.54 | ABSOLUTE CARNAGE SEPARATION ANXIETY #1 | $4.99 | MAR |
| 352 | 339 | 3.47 | VAN HELSING VS DRACULAS DAUGHTER #2 | $3.99 | ZEN |
| 353 | 368 | 3.46 | CROWDED #9 | $3.99 | IMA |
| 354 | 303 | 3.43 | GOON #6 JEFF SMITH CARDSTOCK VAR CVR | $5.99 | ALB |
| 355 | 321 | 3.40 | VAMPBLADE SEASON 4 #5 (MR) | $4.99 | ACT |
| 356 | 319 | 3.34 | STARCADIA QUEST #1 | $4.99 | IDW |
| 357 | 375 | 3.29 | BEAUTY #29 (MR) | $3.99 | IMA |
| 358 | 362 | 3.29 | TMNT RISE OF TMNT SOUND OFF #3 | $3.99 | IDW |
| 359 | 382 | 3.24 | STAR WARS GALAXYS EDGE #5 | $3.99 | MAR |
| 360 | 363 | 3.19 | CHARLIES ANGELS VS BIONIC WOMAN #3 | $3.99 | DE |
| 361 | 365 | 3.18 | LUMBERJANES #66 | $3.99 | BOO |
| 362 | 348 | 3.17 | OZ HEART OF MAGIC #5 | $3.99 | ZEN |
| 363 | 350 | 3.14 | MALL #2 (MR) | $3.99 | VAU |
| 364 | 460 | 3.13 | CONAN THE BARBARIAN #1 | $4.99 | MAR |
| 365 | 332 | 3.12 | VAMPBLADE SEASON 4 #4 (MR) | $4.99 | ACT |
| 366 | 371 | 3.10 | GOING TO THE CHAPEL #1 | $3.99 | ACT |
| 367 | 379 | 3.06 | WYRD #4 | $3.99 | DAR |
| 368 | 374 | 3.03 | GHOSTED IN LA #3 | $3.99 | BOO |
| 369 | 357 | 3.01 | OMNI #2 (MR) | $3.99 | HUM |
| 370 | 465 | 2.99 | RED KOI #1 (MR) | $1.50 | ALT |
| 371 | 400 | 2.96 | ARCHIE & FRIENDS BACK TO SCHOOL #1 | $2.99 | ARC |
| 372 | 458 | 2.92 | STAR WARS VADER DARK VISIONS #1 | $4.99 | MAR |
| 373 | 452 | 2.90 | AVENGERS #11 | $3.99 | MAR |
| 374 | 367 | 2.90 | MARVEL COMICS PRESENTS #8 | $4.99 | MAR |
| 375 | 376 | 2.88 | FATHOM VOL 8 #5 | $3.99 | ASP |
| 376 | 364 | 2.87 | VAMP #1 (MR) | $3.99 | MYT |
| 377 | 386 | 2.84 | BATMAN #76 DARK GIFTS | $3.99 | DC |
| 378 | 373 | 2.77 | IGNITED #4 (MR) | $3.99 | HUM |
| 379 | 389 | 2.72 | BATMAN SUPERMAN #1 | $3.99 | DC |
| 380 | 388 | 2.70 | POSTAL DELIVERANCE #3 (MR) | $3.99 | IMA |
| 381 | 383 | 2.66 | LOLA XOXO VOL 3 #2 | $3.99 | ASP |
| 382 | 392 | 2.66 | SILVER SURFER BLACK #3 | $3.99 | MAR |
| 383 | 336 | 2.64 | WHITE WIDOW #2 2ND PTG CVR A GOLD HOLOGRAPHIC FOIL LOGO | $4.99 | RED |
| 384 | 377 | 2.60 | BELLE OATH OF THORNS #2 | $3.99 | ZEN |
| 385 | 378 | 2.56 | FANTASTIC FOUR #12 | $4.99 | MAR |
| 386 | 381 | 2.54 | SERA & ROYAL STARS #3 | $3.99 | VAU |
| 387 | 485 | 2.54 | UNCANNY X-MEN #11 | $7.99 | MAR |
| 388 | 305 | 2.53 | FROM HELL MASTER EDITION #7 (MR) | $7.99 | IDW |
| 389 | 330 | 2.39 | KNIGHTS OF THE DINNER TABLE #266 | $5.99 | KEN |
| 390 | 384 | 2.37 | BUTCHER QUEEN #1 | $3.95 | RED |
| 391 | 385 | 2.34 | RESONANT #3 (MR) | $3.99 | VAU |
| 392 | 487 | 2.27 | MEET THE SKRULLS #1 | $3.99 | MAR |
| 393 | 486 | 2.27 | CAPTAIN AMERICA #6 | $3.99 | MAR |
| 394 | 504 | 2.26 | DOMINO HOTSHOTS #1 | $3.99 | MAR |
| 395 | 484 | 2.26 | MOON KNIGHT #188 | $3.99 | MAR |
| 396 | 396 | 2.25 | ZORRO RISE OF THE OLD GODS #1 | $3.99 | AME |
| 397 | 408 | 2.24 | COFFIN BOUND #1 (MR) | $3.99 | IMA |
| 398 | 397 | 2.23 | CHAINSAW REINDEER ONE SHOT | $3.99 | ACT |
| 399 | 399 | 2.22 | GIANT DAYS #54 | $3.99 | BOO |
| 400 | 505 | 2.20 | COSMIC GHOST RIDER DESTROYS MARVEL HISTORY #1 | $3.99 | MAR |
| 401 | 410 | 2.20 | OUTPOST ZERO #13 | $3.99 | IMA |
| 402 | 492 | 2.19 | INVINCIBLE IRON MAN #10 | $3.99 | MAR |
| 403 | 417 | 2.17 | IMMORTAL HULK #20 | $3.99 | MAR |
| 404 | 412 | 2.15 | EVOLUTION #18 (MR) | $3.99 | IMA |
| 405 | 496 | 2.15 | X-MEN GRAND DESIGN #2 | $5.99 | MAR |
| 406 | 390 | 2.08 | WHITE TREES #1 (MR) | $4.99 | IMA |
| 407 | 405 | 2.08 | SOULFIRE VOL 8 #4 | $3.99 | ASP |
| 408 | 544 | 2.03 | PETER PARKER SPECTACULAR SPIDER-MAN #1 | $4.99 | MAR |
| 409 | 409 | 2.02 | PELLUCIDAR WINGS OF DEATH #1 | $3.99 | AME |
| 410 | 513 | 1.99 | GENERATIONS MS MARVEL & MS MARVEL #1 | $4.99 | MAR |
| 411 | 549 | 1.98 | UNCANNY X-MEN #1 | $7.99 | MAR |
| 412 | 516 | 1.95 | X-MEN BLUE #5 | $3.99 | MAR |
| 413 | 550 | 1.94 | GODS AND GEARS #1 | $1.50 | ALT |
| 414 | 515 | 1.94 | DAREDEVIL #612 | $4.99 | MAR |
| 415 | 518 | 1.93 | THOR #8 | $3.99 | MAR |
| 416 | 520 | 1.90 | ASTONISHING X-MEN #2 | $3.99 | MAR |
| 417 | 521 | 1.89 | X-MEN GOLD #5 | $3.99 | MAR |
| 418 | 522 | 1.89 | UNCANNY X-MEN ANNUAL #1 | $4.99 | MAR |
| 419 | 421 | 1.85 | BEWARE THE WITCHS SHADOW #1 | $3.99 | AME |
| 420 | 424 | 1.85 | DESCENDENT #5 | $3.99 | AFT |
| 421 | 435 | 1.84 | FANTASTIC FOUR #13 | $3.99 | MAR |
| 422 | 358 | 1.84 | AMAZING SPIDER-MAN VENOM 3D #1 POLYBAGGED | $7.99 | MAR |
| 423 | 531 | 1.83 | MAN-THING #1 | $3.99 | MAR |
| 424 | 532 | 1.83 | INFINITY COUNTDOWN #5 | $4.99 | MAR |
| 425 | 551 | 1.82 | TYPHOID FEVER SPIDER-MAN #1 | $4.99 | MAR |
| 425 | 411 | 1.82 | ZORRO SACRILEGE #3 | $3.99 | AME |
| 427 | 557 | 1.81 | THOR #1 | $5.99 | MAR |
| 428 | 541 | 1.78 | DAREDEVIL #609 | $3.99 | MAR |
| 429 | 542 | 1.78 | AMAZING SPIDER-MAN #7 2ND PTG RAMOS VAR | $3.99 | MAR |
| 429 | 415 | 1.78 | STRANGELANDS #3 (MR) | $3.99 | HUM |
| 431 | 414 | 1.77 | UNDERDOG & PALS #2 BUZ SAVES THE DAY CVR | $3.99 | AME |
| 432 | 438 | 1.76 | SAVAGE AVENGERS #4 | $3.99 | MAR |
| 433 | 439 | 1.75 | AMAZING SPIDER-MAN #27 2ND PTG WALKER VAR | $3.99 | MAR |
| 434 | 391 | 1.74 | BATMAN LAST KNIGHT ON EARTH #2 | $5.99 | DC |
| 435 | 419 | 1.74 | DARK AGE #1 | $3.95 | RED |
| 436 | 548 | 1.74 | X-MEN WEDDING SPECIAL #1 | $4.99 | MAR |
| 437 | 420 | 1.71 | SCRATCHER #1 | $3.99 | ANT |
| 438 | 422 | 1.70 | TEST #4 | $3.99 | VAU |
| 439 | 446 | 1.68 | STAR WARS GALAXYS EDGE #4 | $3.99 | MAR |
| 440 | 404 | 1.68 | BOOGILY HEADS #2 | $4.50 | DEV |
| 441 | 423 | 1.68 | INFINITE PUNISHMENT ESCAPE FROM HELL #1 | $3.99 | FAN |
| 442 | 395 | 1.68 | SATANIKA VS MORELLAS DEMON #1 | $4.95 | VER |
| 443 | 425 | 1.67 | SAMURAI GRANDPA #3 | $3.99 | SOU |
| 444 | 552 | 1.65 | DAREDEVIL #1 | $4.99 | MAR |
| 445 | 586 | 1.64 | BLOOD REALM VOL 2 #3 (MR) | $1.50 | ALT |
| 445 | 577 | 1.64 | FANTASTIC FOUR #5 | $7.99 | MAR |
| 445 | 433 | 1.64 | IRON MANTICORE ONE SHOT | $4.00 | AAR |
| 448 | 560 | 1.62 | X-MEN GRAND DESIGN #1 | $5.99 | MAR |
| 449 | 436 | 1.61 | GRUMBLE #10 | $3.99 | ALB |
| 450 | 567 | 1.60 | DAREDEVIL #611 | $3.99 | MAR |
| 451 | 565 | 1.59 | CAPTAIN MARVEL #1 | $4.99 | MAR |
| 452 | 570 | 1.58 | AVENGERS #9 | $3.99 | MAR |
| 453 | 427 | 1.58 | MALL #5 | $3.99 | SCO |
| 454 | 571 | 1.58 | MULTIPLE MAN #1 | $3.99 | MAR |
| 455 | 568 | 1.57 | FANTASTIC FOUR #3 | $3.99 | MAR |
| 456 | 573 | 1.55 | VENOM #8 | $3.99 | MAR |
| 457 | 533 | 1.55 | IT CAME OUT ON A WEDNESDAY #8 | $1.99 | ALT |
| 458 | 576 | 1.53 | FANTASTIC FOUR WEDDING SPECIAL #1 | $4.99 | MAR |
| 459 | 431 | 1.53 | NO ONES #4 | $3.99 | CAV |
| 460 | 582 | 1.53 | MILES MORALES SPIDER-MAN #3 | $3.99 | MAR |
| 461 | 613 | 1.52 | MARVEL LEGACY #1 | $5.99 | MAR |
| 462 | 430 | 1.52 | SHOWS END #2 | $3.99 | MAD |
| 463 | 579 | 1.52 | AMAZING SPIDER-MAN #10 2ND PTG RAMOS VAR | $3.99 | MAR |
| 464 | 450 | 1.51 | STARCRAFT SURVIVORS #3 | $3.99 | DAR |
| 465 | 387 | 1.50 | RED RANGE PIRATES OF FIREWORLD #1 | $5.99 | IT' |
| 466 | 615 | 1.49 | ADV OF MR CRYPT & BARON RAT #1 | $1.50 | ALT |
| 466 | 580 | 1.49 | SPIDER-GEDDON #4 | $3.99 | MAR |
| 468 | 454 | 1.49 | LOKI #2 | $3.99 | MAR |
| 469 | 583 | 1.48 | AVENGERS NO ROAD HOME #2 | $3.99 | MAR |
| 470 | 585 | 1.47 | AVENGERS #10 | $5.99 | MAR |
| 471 | 453 | 1.46 | PRETTY VIOLENT #1 (MR) | $3.99 | IMA |
| 472 | 587 | 1.46 | BLACK PANTHER #4 | $3.99 | MAR |
| 473 | 441 | 1.45 | BLADE RUNNER 2019 #2 (MR) | $3.99 | TTN |
| 474 | 589 | 1.45 | SPIDER-GEDDON #3 | $3.99 | MAR |
| 475 | 591 | 1.44 | AMAZING SPIDER-MAN #800 3RD PTG IMMONEN VAR | $9.99 | MAR |
| 476 | 437 | 1.44 | DEADLY TEN PRESENTS BLADE THE IRON CROSS (MR) | $3.99 | FUL |
| 477 | 614 | 1.44 | AGE OF CONAN BELIT #1 | $3.99 | MAR |
| 478 | 594 | 1.43 | AMAZING SPIDER-MAN #9 2ND PTG RAMOS VAR | $3.99 | MAR |
| 479 | 596 | 1.42 | SHURI #3 | $3.99 | MAR |
| 480 | 604 | 1.40 | AVENGERS NO ROAD HOME #1 | $4.99 | MAR |
| 481 | 599 | 1.39 | AVENGERS NO ROAD HOME #4 | $3.99 | MAR |
| 482 | 602 | 1.39 | INVINCIBLE IRON MAN #11 | $3.99 | MAR |
| 482 | 603 | 1.39 | SHURI #2 | $3.99 | MAR |
| 484 | 600 | 1.39 | TONY STARK IRON MAN #4 | $3.99 | MAR |
| 485 | 605 | 1.38 | AVENGERS NO ROAD HOME #3 | $3.99 | MAR |
| 486 | 442 | 1.38 | BRONZE AGE BOOGIE #6 | $3.99 | AHO |
| 487 | 443 | 1.37 | AGENTS OF ATLAS #1 | $4.99 | MAR |
| 488 | 610 | 1.37 | MOON GIRL AND DEVIL DINOSAUR #32 | $3.99 | MAR |
| 489 | 609 | 1.36 | MOON GIRL AND DEVIL DINOSAUR #25 | $3.99 | MAR |
| 490 | 597 | 1.36 | DEFENDERS DOCTOR STRANGE #1 | $4.99 | MAR |
| 491 | 466 | 1.36 | AVENGERS #22 | $3.99 | MAR |
| 492 | 631 | 1.36 | MIDNIGHT MYSTERY VOL 02 CITY OF GHOSTS #2 | $1.50 | ALT |
| 493 | 628 | 1.33 | GUARDIANS OF THE GALAXY #1 | $4.99 | MAR |
| 494 | 616 | 1.31 | STAR WARS AGE REPUBLIC QUI-GON JINN #1 | $3.99 | MAR |
| 495 | 447 | 1.31 | RED WINTER #3 | $3.99 | SCO |
| 496 | 617 | 1.30 | AMAZING SPIDER-MAN RENEW YOUR VOWS #14 2ND PTG STEGMAN VAR L | $3.99 | MAR |
| 497 | 621 | 1.26 | AMAZING SPIDER-MAN #11 2ND PTG OTTLEY VAR | $3.99 | MAR |
| 498 | 622 | 1.26 | IRONHEART #2 | $3.99 | MAR |
| 499 | 462 | 1.25 | CANTO #1 | $3.99 | IDW |
| 500 | 627 | 1.23 | AVENGERS NO ROAD HOME #6 | $4.99 | MAR |
Top 500 most-ordered graphic novels in September 2019
| | | | | | |
| --- | --- | --- | --- | --- | --- |
| Quantity Rank | Dollar Rank | Index | Product | Price | Publisher |
| 1 | 1 | 14.02 | BATMAN DAMNED HC (MR) | $29.99 | DC |
| 2 | 2 | 11.38 | UMBRELLA ACADEMY TP VOL 03 HOTEL OBLIVION | $19.99 | DAR |
| 3 | 6 | 9.76 | PAPER GIRLS TP VOL 06 | $14.99 | IMA |
| 4 | 3 | 9.40 | MONSTRESS TP VOL 04 (MR) | $16.99 | IMA |
| 5 | 13 | 5.91 | IMMORTAL HULK TP VOL 04 ABOMINATION | $15.99 | MAR |
| 6 | 5 | 5.13 | HEROES IN CRISIS HC | $29.99 | DC |
| 7 | 19 | 4.78 | BATMAN THE KILLING JOKE HC NEW ED | $17.99 | DC |
| 8 | 16 | 4.75 | BATMAN TP VOL 10 KNIGHTMARES | $17.99 | DC |
| 9 | 21 | 4.36 | BATMAN NIGHTWALKER THE GRAPHIC NOVEL DC INK | $16.99 | DC |
| 10 | 25 | 3.47 | JOKER HIS GREATEST JOKES TP | $19.99 | DC |
| 11 | 28 | 3.43 | VENOM UNLEASHED TP VOL 01 | $17.99 | MAR |
| 12 | 17 | 3.38 | DC POSTER PORTFOLIO JIM LEE TP | $24.99 | DC |
| 13 | 33 | 3.12 | OBLIVION SONG BY KIRKMAN & DE FELICI TP VOL 03 | $16.99 | IMA |
| 14 | 22 | 2.97 | BATTLE CHASERS ANTHOLOGY TP | $24.99 | IMA |
| 15 | 8 | 2.90 | UMBRELLA ACADEMY LIBRARY EDITION HC VOL 01 APOCALYPSE SUITE | $39.99 | DAR |
| 16 | 11 | 2.81 | BOYS OMNIBUS TP VOL 04 (MR) | $29.99 | DE |
| 17 | 39 | 2.74 | HEAD LOPPER TP VOL 03 KNIGHTS OF VENORA (MR) | $16.99 | IMA |
| 18 | 38 | 2.62 | FLASH TP VOL 10 FORCE QUEST | $17.99 | DC |
| 19 | 78 | 2.61 | DRAGON BALL SUPER GN VOL 06 | $9.99 | VIZ |
| 20 | 93 | 2.51 | SECRET SPIRAL OF SWAMP KID TP DC ZOOM | $9.99 | DC |
| 21 | 46 | 2.47 | OUTCAST BY KIRKMAN & AZACETA TP VOL 07 (MR) | $16.99 | IMA |
| 22 | 58 | 2.42 | BERSERK TP VOL 40 | $14.99 | DAR |
| 23 | 47 | 2.40 | FARMHAND TP VOL 02 (MR) | $16.99 | IMA |
| 24 | 48 | 2.40 | UNNATURAL TP VOL 03 (MR) | $16.99 | IMA |
| 25 | 59 | 2.39 | GUTS GN | $12.99 | SCH |
| 26 | 24 | 2.38 | BATMAN HUSH TP NEW ED | $29.99 | DC |
| 27 | 87 | 2.38 | MY HERO ACADEMIA GN VOL 20 | $9.99 | VIZ |
| 28 | 18 | 2.36 | WALKING DEAD HC VOL 16 (MR) | $34.99 | IMA |
| 29 | 37 | 2.35 | HELLBOY AND BPRD 1956 TP | $19.99 | DAR |
| 30 | 60 | 2.35 | VENOM TP WAR OF REALMS | $15.99 | MAR |
| 31 | 258 | 2.33 | MONSTRESS TP VOL 03 (MR) | $16.99 | IMA |
| 32 | 54 | 2.24 | CAPTAIN AMERICA TP VOL 02 CAPTAIN OF NOTHING | $17.99 | MAR |
| 33 | 53 | 2.23 | SPIDER-GWEN GHOST-SPIDER TP VOL 02 IMPOSSIBLE YEAR | $17.99 | MAR |
| 34 | 30 | 2.23 | DC POSTER PORTFOLIO FRANK CHO TP | $24.99 | DC |
| 35 | 42 | 2.23 | CATWOMAN TP VOL 02 FAR FROM GOTHAM | $19.99 | DC |
| 36 | 81 | 2.18 | MILES MORALES GN TP WITH GREAT POWER | $12.99 | MAR |
| 37 | 43 | 2.12 | EMPOWERED TP VOL 11 | $19.99 | DAR |
| 38 | 61 | 2.10 | FANTASTIC FOUR TP VOL 03 HERALD OF DOOM | $17.99 | MAR |
| 39 | 75 | 2.00 | ASSASSIN NATION TP VOL 01 (MR) | $14.99 | IMA |
| 40 | 73 | 1.90 | BATMAN WHITE KNIGHT TP | $19.99 | DC |
| 41 | 110 | 1.90 | ONE PUNCH MAN GN VOL 17 | $9.99 | VIZ |
| 42 | 27 | 1.87 | I HATE FAIRYLAND DLX HC VOL 02 (MR) | $34.99 | IMA |
| 43 | 23 | 1.87 | SPIDER-MAN TP MANY HOSTS OF CARNAGE | $39.99 | MAR |
| 44 | 41 | 1.85 | YOUNG JUSTICE HC VOL 01 GEMWORLD | $24.99 | DC |
| 45 | 69 | 1.84 | DOCTOR STRANGE BY MARK WAID TP VOL 03 HERALD | $17.99 | MAR |
| 46 | 20 | 1.84 | CHRIS WARE RUSTY BROWN HC GN | $35.00 | RAN |
| 47 | 71 | 1.79 | UNCANNY X-MEN WOLVERINE AND CYCLOPS TP VOL 02 | $17.99 | MAR |
| 48 | 83 | 1.76 | WAR OF REALMS NEW AGENTS OF ATLAS TP | $15.99 | MAR |
| 49 | 65 | 1.72 | BATWOMAN ELEGY TP NEW ED | $19.99 | DC |
| 50 | 76 | 1.70 | FAIRLADY TP VOL 01 | $16.99 | IMA |
| 51 | 66 | 1.70 | GOON TP VOL 01 RAGGED RETURN TO LONELY STREET | $17.99 | ALB |
| 52 | 155 | 1.69 | MONSTRESS TP VOL 01 (MR) | $9.99 | IMA |
| 53 | 51 | 1.67 | TEA DRAGON FESTIVAL HC | $21.99 | ONI |
| 54 | 82 | 1.64 | DEATHSTROKE ARKHAM TP | $16.99 | DC |
| 55 | 91 | 1.63 | UNBEATABLE SQUIRREL GIRL TP VOL 11 CALL YOUR SQUIRRELFRIEND | $15.99 | MAR |
| 56 | 92 | 1.61 | SHURI TP VOL 02 24-7 VIBRANIUM | $15.99 | MAR |
| 57 | 31 | 1.58 | BOYS OMNIBUS TP VOL 03 (MR) | $29.99 | DE |
| 58 | 131 | 1.57 | MY HERO ACADEMIA SMASH GN VOL 01 | $9.99 | VIZ |
| 59 | 55 | 1.57 | BATMAN DETECTIVE COMICS HC VOL 01 MYTHOLOGY | $24.99 | DC |
| 60 | 98 | 1.56 | AGE OF CONAN TP BELIT | $15.99 | MAR |
| 61 | 88 | 1.56 | SWING TP VOL 02 (A) | $16.99 | IMA |
| 62 | 45 | 1.55 | FROGCATCHERS GN | $22.99 | POC |
| 63 | 100 | 1.53 | CBLDF PRESENTS SELLING COMICS TP GUIDE TO RETAILING | $14.99 | DAR |
| 64 | 90 | 1.52 | SIMON SAYS TP VOL 01 (MR) | $16.99 | IMA |
| 65 | 103 | 1.51 | WAR OF REALMS SPIDER-MAN DAREDEVIL TP | $15.99 | MAR |
| 66 | 119 | 1.49 | MARVEL RISING GN TP HEROES OF ROUND TABLE | $12.99 | MAR |
| 67 | 44 | 1.46 | TRANSMETROPOLITAN TP BOOK 02 (MR) | $29.99 | DC |
| 68 | 32 | 1.41 | X-MEN BY ROY THOMAS & NEAL ADAMS HC GALLERY EDITION | $39.99 | MAR |
| 69 | 84 | 1.40 | MARVEL ILLUSTRATORS SKETCHBOOK TP | $19.99 | MAR |
| 70 | 97 | 1.40 | SONIC THE HEDGEHOG TP VOL 04 INFECTION | $15.99 | IDW |
| 71 | 109 | 1.40 | DOMINO TP HOTSHOTS | $15.99 | MAR |
| 72 | 112 | 1.39 | SCOOBY DOOS GREATEST ADVENTURES TP | $14.99 | DC |
| 73 | 49 | 1.38 | BATMAN WHO LAUGHS HC | $29.99 | DC |
| 74 | 34 | 1.34 | INCREDIBLE HULK EPIC COLLECTION TP IN HANDS OF HYDRA | $39.99 | MAR |
| 75 | 96 | 1.33 | ANGEL TP VOL 01 | $16.99 | BOO |
| 76 | 72 | 1.31 | BEASTS OF BURDEN HC VOL 02 NEIGHBORHOOD WATCH | $22.99 | DAR |
| 77 | 99 | 1.31 | MIGHTY MORPHIN POWER RANGERS TP VOL 09 | $16.99 | BOO |
| 78 | 113 | 1.30 | IMMORTAL HULK TP VOL 02 GREEN DOOR | $15.99 | MAR |
| 78 | 35 | 1.30 | LAZARUS HC VOL 03 (MR) | $39.99 | IMA |
| 80 | 168 | 1.28 | DIE TP VOL 01 FANTASY HEARTBREAKER (MR) | $9.99 | IMA |
| 81 | 14 | 1.28 | MMW INCREDIBLE HULK HC VOL 13 | $75.00 | MAR |
| 82 | 142 | 1.28 | ADVENTURES OF SPIDER-MAN GN TP SPECTACULAR FOES | $12.99 | MAR |
| 83 | 36 | 1.25 | GREEN LANTERN BY GEOFF JOHNS TP BOOK 02 | $39.99 | DC |
| 84 | 95 | 1.24 | SANDMAN DREAM HUNTERS 30 ANNIV TP ED GN (MR) | $19.99 | DC |
| 85 | 15 | 1.23 | MMW MIGHTY THOR HC VOL 18 | $75.00 | MAR |
| 86 | 29 | 1.19 | INFINITY WARS BY GERRY DUGGAN HC COMPLETE COLLECTION | $50.00 | MAR |
| 87 | 124 | 1.18 | X-FORCE TP VOL 02 COUNTERFEIT KING | $15.99 | MAR |
| 88 | 68 | 1.18 | MS TREE TP VOL 01 | $24.99 | TTN |
| 89 | 64 | 1.18 | BATMAN THE CAPED CRUSADER TP VOL 03 | $29.99 | DC |
| 90 | 80 | 1.17 | WATCHMEN TP NEW EDITION | $24.99 | DC |
| 91 | 74 | 1.17 | FLAMING CARROT COMICS OMNIBUS TP VOL 01 | $24.99 | DAR |
| 92 | 50 | 1.16 | BOYS OMNIBUS TP VOL 02 (MR) | $29.99 | DE |
| 93 | 204 | 1.13 | MIRACULOUS TALES LADYBUG CAT NOIR TP S2 VOL 08 TEAR OF JOY | $8.99 | ACT |
| 94 | 4 | 1.12 | MARVEL HORROR OMNIBUS HC | $150.00 | MAR |
| 95 | 104 | 1.12 | MYSTERY SCIENCE THEATER 3000 TP | $19.99 | DAR |
| 96 | 26 | 1.11 | SAGA COMPENDIUM TP VOL 01 (MR) | $59.99 | IMA |
| 97 | 116 | 1.10 | SECRET WARPS TP | $17.99 | MAR |
| 98 | 198 | 1.10 | SAGA TP VOL 01 (MR) | $9.99 | IMA |
| 99 | 123 | 1.09 | PORT OF EARTH TP VOL 03 | $16.99 | IMA |
| 100 | 89 | 1.07 | THANOS RISING MARVEL SELECT HC | $24.99 | MAR |
| 101 | 148 | 1.06 | WAY OF THE HOUSEHUSBAND GN VOL 01 | $12.99 | VIZ |
| 102 | 143 | 1.05 | IMMORTAL HULK TP VOL 01 OR IS HE BOTH | $15.99 | MAR |
| 103 | 130 | 1.05 | HARLEY QUINN BREAKING GLASS TP DC INK | $16.99 | DC |
| 104 | 52 | 1.01 | STAR WARS LEGENDS EPIC COLLECTION MENACE REVEALED TP VOL 02 | $39.99 | MAR |
| 105 | 132 | 1.01 | WALKING DEAD TP VOL 32 | $16.99 | IMA |
| 106 | 63 | 1.01 | BOYS OMNIBUS TP VOL 01 (MR) | $29.99 | DE |
| 107 | 806 | 1.00 | OBLIVION SONG BY KIRKMAN & DE FELICI TP VOL 01 (MR) | $9.99 | IMA |
| 108 | 188 | 0.99 | DISNEY FROZEN ADVENTURES TP FLURRIES OF FUN | $10.99 | DAR |
| 109 | 57 | 0.99 | AVENGERS WEST COAST EPIC COLLECTION TP LOST IN SPACE-TIME | $39.99 | MAR |
| 110 | 141 | 0.99 | TEEN TITANS RAVEN TP DC INK | $16.99 | DC |
| 111 | 385 | 0.99 | POKEMON SUN & MOON GN VOL 05 | $4.99 | VIZ |
| 112 | 9 | 0.97 | BATMAN ETERNAL OMNIBUS HC | $125.00 | DC |
| 113 | 195 | 0.97 | DISNEY CHRISTMAS CAROL STARRING SCROOGE MCDUCK TP | $10.99 | DAR |
| 114 | 10 | 0.96 | SPIDER-MAN BY JOHN BYRNE OMNIBUS HC | $125.00 | MAR |
| 114 | 111 | 0.96 | TMNT ONGOING TP VOL 22 CITY AT WAR PT 1 | $19.99 | IDW |
| 116 | 134 | 0.95 | BATMAN THE KILLING JOKE SPECIAL ED HC | $17.99 | DC |
| 117 | 153 | 0.95 | AGE OF X-MAN PRISONER X TP | $15.99 | MAR |
| 118 | 154 | 0.94 | AGE OF X-MAN APOCALYPSE & X-TRACTS TP | $15.99 | MAR |
| 118 | 181 | 0.94 | UNCANNY ORIGINS GN TP MUTANTS & MONSTERS | $12.99 | MAR |
| 120 | 200 | 0.93 | MY HERO ACADEMIA GN VOL 01 | $9.99 | VIZ |
| 121 | 7 | 0.93 | TIMELYS GREATEST GOLDEN AGE SUB-MARINER BY EVERETT HC | $150.00 | MAR |
| 122 | 158 | 0.93 | MONSTRESS TP VOL 02 (MR) | $16.99 | IMA |
| 122 | 62 | 0.93 | TOMB OF DRACULA COMPLETE COLLECTION TP VOL 03 | $39.99 | MAR |
| 124 | 40 | 0.93 | CRISIS ON INFINITE EARTHS 35TH ANNIV DLX ED HC | $49.99 | DC |
| 125 | 145 | 0.93 | SANDMAN DREAM HUNTERS 30 ANNIV TP PROSE ED (MR) | $16.99 | DC |
| 126 | 150 | 0.91 | MAN WHO CAME DOWN ATTIC STAIRS HC | $14.99 | BOO |
| 127 | 108 | 0.91 | BATMAN HUSH COMPLETE TP | $24.99 | DC |
| 128 | 114 | 0.90 | JOJOS BIZARRE ADV 4 DIAMOND IS UNBREAKABLE HC VOL 02 | $19.99 | VIZ |
| 129 | 214 | 0.88 | MS KOIZUMI LOVES RAMEN NOODLES TP VOL 01 | $10.99 | DAR |
| 130 | 138 | 0.88 | UMBRELLA ACADEMY TP VOL 01 APOCALYPSE SUITE | $17.99 | DAR |
| 131 | 77 | 0.88 | OCTOBER FACTION TP OPEN SEASON | $29.99 | IDW |
| 132 | 187 | 0.88 | WAIT WHAT GUIDE TO RELATIONSHIPS BODIES & GROWING UP GN | $11.99 | ONI |
| 133 | 218 | 0.87 | DISNEY PIXAR INCREDIBLES 2 TP VOL 02 SECRET IDENTITIES | $10.99 | DAR |
| 134 | 120 | 0.86 | MY LITTLE PONY FRIENDSHIP IS MAGIC TP VOL 17 | $19.99 | IDW |
| 135 | 133 | 0.86 | DARK NIGHTS METAL TP | $19.99 | DC |
| 136 | 234 | 0.85 | ONE PIECE GN VOL 91 | $9.99 | VIZ |
| 137 | 102 | 0.84 | ARIA MANGA MASTERPIECE OMNIBUS GN VOL 03 (MR) | $24.99 | TOK |
| 138 | 295 | 0.84 | PAPER GIRLS TP VOL 01 | $9.99 | IMA |
| 139 | 86 | 0.83 | CHILLING ADVENTURES OF SABRINA OCCULT ED HC | $29.99 | ARC |
| 140 | 79 | 0.82 | X-MEN MILESTONES TP X-TINCTION AGENDA | $34.99 | MAR |
| 141 | 107 | 0.82 | JIM HENSON LABYRINTH CORONATION HC VOL 03 | $24.99 | BOO |
| 142 | 164 | 0.81 | BONE PARISH TP VOL 02 | $14.99 | BOO |
| 142 | 186 | 0.81 | NO GUNS LIFE GN VOL 01 | $12.99 | VIZ |
| 144 | 179 | 0.81 | SAGA TP VOL 09 (MR) | $14.99 | IMA |
| 145 | 171 | 0.80 | UNSTOPPABLE WASP UNLIMITED TP VOL 02 GIRL VS AIM | $15.99 | MAR |
| 146 | 117 | 0.78 | INFINITY GAUNTLET TP | $24.99 | MAR |
| 147 | 147 | 0.78 | SANDMAN TP VOL 01 PRELUDES & NOCTURNES 30TH ANNIV ED | $19.99 | DC |
| 148 | 156 | 0.74 | MARVEL MONOGRAPH TP ART OF ESAD RIBIC | $19.99 | MAR |
| 149 | 129 | 0.74 | HILDA & MOUNTAIN KING HC GN | $19.95 | RAN |
| 150 | 270 | 0.74 | YU GI OH ARC V GN VOL 06 | $9.99 | VIZ |
| 151 | 252 | 0.73 | EPIC TALES CAPT UNDERPANTS VOL 01 GEORGE & HAROLDS COMIX | $9.99 | SCH |
| 152 | 182 | 0.72 | KRISS GIFT OF WRATH TP | $14.99 | ONI |
| 153 | 262 | 0.72 | DISNEY PIXAR TOY STORY ADVENTURES TP VOL 02 | $10.99 | DAR |
| 154 | 70 | 0.72 | JIM HENSON DARK CRYSTAL CREATION MYTHS COMPLETE HC | $39.99 | BOO |
| 155 | 94 | 0.72 | GREEN LANTERN THE SILVER AGE TP VOL 04 | $34.99 | DC |
| 156 | 185 | 0.70 | WORLDS END HAREM FANTASIA GN VOL 01 (MR) | $13.99 | SEV |
| 157 | 189 | 0.70 | STEVEN UNIVERSE HARMONY TP | $14.99 | BOO |
| 158 | 56 | 0.69 | DAVID MAZZUCHELLIS DAREDEVIL BORN AGAIN ARTISAN ED TP | $49.99 | IDW |
| 159 | 121 | 0.68 | BRANDON SANDERSON WHITE SAND HC VOL 03 (MR) | $24.99 | DE |
| 160 | 105 | 0.68 | MARVEL VISIONARIES TP JACK KIRBY | $34.99 | MAR |
| 161 | 247 | 0.67 | BABY SITTERS CLUB COLOR ED GN VOL 07 BOY-CRAZY STACEY | $10.99 | SCH |
| 162 | 115 | 0.67 | WAR OF REALMS TP | $29.99 | MAR |
| 163 | 191 | 0.67 | JOKER HC | $19.99 | DC |
| 164 | 144 | 0.66 | BATMAN THE LONG HALLOWEEN TP | $24.99 | DC |
| 165 | 299 | 0.65 | SPLATOON MANGA GN VOL 07 | $9.99 | VIZ |
| 166 | 224 | 0.64 | WORLDS END HAREM GN VOL 06 (MR) | $12.99 | SEV |
| 167 | 217 | 0.64 | ANCIENT MAGUS BRIDE GN VOL 11 | $12.99 | ST. |
| 168 | 192 | 0.64 | GHOSTBUSTERS 35TH ANNIVERSARY COLLECTION TP | $15.99 | IDW |
| 169 | 174 | 0.64 | MARVEL 80TH ANNIVERSARY POSTCARD BOOK HC | $19.99 | MAR |
| 170 | 146 | 0.62 | ADVENTURE ZONE GN VOL 01 HERE THERE BE GERBLINS | $19.99 | ST. |
| 171 | 313 | 0.62 | FOOD WARS SHOKUGEKI NO SOMA GN VOL 31 | $9.99 | VIZ |
| 172 | 310 | 0.62 | PROMISED NEVERLAND GN VOL 11 | $9.99 | VIZ |
| 173 | 208 | 0.61 | INFINITE DARK TP VOL 02 | $16.99 | IMA |
| 174 | 205 | 0.61 | WALKING DEAD TP VOL 31 (MR) | $16.99 | IMA |
| 175 | 245 | 0.61 | JOKER TP BLACK LABEL | $14.99 | DC |
| 176 | 322 | 0.60 | BLUE EXORCIST GN VOL 22 | $9.99 | VIZ |
| 177 | 233 | 0.60 | GOBLIN SLAYER GN VOL 06 (MR) | $13.00 | YEN |
| 177 | 126 | 0.60 | ROBOTECH ARCHIVES SENTINELS TP VOL 01 | $24.99 | TTN |
| 179 | 184 | 0.60 | SPIDER-MAN POSTCARD BOOK HC | $19.99 | MAR |
| 180 | 241 | 0.59 | IMMORTAL HULK TP VOL 03 HULK IN HELL | $15.99 | MAR |
| 181 | 106 | 0.59 | LEVIUS HC 3IN1 COMPLETE ED | $34.99 | VIZ |
| 182 | 151 | 0.59 | ADVENTURE ZONE GN VOL 02 MURDER ON ROCKPORT LIMITED | $19.99 | ST. |
| 183 | 228 | 0.59 | BETTY & VERONICA SENIOR YEAR TP | $14.99 | ARC |
| 184 | 194 | 0.58 | MS MARVEL TP VOL 01 NO NORMAL | $15.99 | MAR |
| 185 | 136 | 0.58 | SPIDER-MAN MAXIMUM CARNAGE TP (OCT042110) | $29.99 | MAR |
| 186 | 235 | 0.57 | WITCHY GN | $14.99 | LIO |
| 187 | 336 | 0.57 | DR STONE GN VOL 07 | $9.99 | VIZ |
| 188 | 256 | 0.57 | SAGA TP VOL 02 (MR) | $14.99 | IMA |
| 189 | 206 | 0.56 | UMBRELLA ACADEMY TP VOL 02 DALLAS | $17.99 | DAR |
| 190 | 340 | 0.56 | BLACK CLOVER GN VOL 17 | $9.99 | VIZ |
| 191 | 175 | 0.56 | SNOWPIERCER HC VOL 04 EXTINCTION | $19.99 | TTN |
| 192 | 229 | 0.55 | DEADPOOL HC VOL 01 | $39.99 | MAR |
| 192 | 696 | 0.55 | JUPITERS LEGACY TP VOL 01 (MR) | $9.99 | IMA |
| 192 | 328 | 0.55 | MY HERO ACADEMIA GN VOL 02 | $9.99 | VIZ |
| 195 | 199 | 0.55 | FABULOUS FURRY FREAK BROS COMPENDIUM TP | $13.99 | DIA |
| 196 | 406 | 0.55 | WICKED & DIVINE TP VOL 01 THE FAUST ACT (MR) | $9.99 | IMA |
| 197 | 343 | 0.54 | DRAGON BALL SUPER GN VOL 01 | $9.99 | VIZ |
| 198 | 167 | 0.53 | CIVIL WAR TP | $24.99 | MAR |
| 199 | 12 | 0.53 | SPAWN VAULT ED HC VOL 02 | $175.00 | IMA |
| 199 | 239 | 0.53 | VENOM BY DONNY CATES TP VOL 01 REX | $17.99 | MAR |
| 199 | 626 | 0.53 | YOUR BLACK FRIEND ONE SHOT MINI (MR) | $5.00 | SIL |
| 202 | 268 | 0.53 | SAGA TP VOL 03 (MR) | $14.99 | IMA |
| 203 | 243 | 0.53 | MOON KNIGHT TP VOL 01 FROM DEAD | $17.99 | MAR |
| 204 | 261 | 0.53 | CELLS AT WORK CODE BLACK GN VOL 01 (O/A) | $12.99 | RAN |
| 205 | 159 | 0.52 | ELFEN LIED OMNIBUS TP VOL 02 | $24.99 | DAR |
| 205 | 264 | 0.52 | JUDGE DREDD TP SMALL HOUSE | $12.99 | POC |
| 207 | 351 | 0.52 | MY HERO ACADEMIA GN VOL 03 | $9.99 | VIZ |
| 207 | 221 | 0.52 | STRANGER THINGS TP VOL 01 OTHER SIDE | $17.99 | DAR |
| 209 | 160 | 0.52 | MASK OMNIBUS TP VOL 02 SECOND EDITION | $24.99 | DAR |
| 210 | 169 | 0.52 | ETERNALS BY NEIL GAIMAN TP NEW PTG | $24.99 | MAR |
| 210 | 291 | 0.52 | WYNONNA EARP BAD DAY AT BLACK ROCK TP | $12.99 | IDW |
| 212 | 139 | 0.51 | UZUMAKI 3IN1 DLX ED HC JUNJI ITO (MR) | $27.99 | VIZ |
| 213 | 272 | 0.51 | FATE GRAND ORDER MORTALIS STELLA GN VOL 01 | $12.99 | RAN |
| 213 | 379 | 0.51 | PAPER GIRLS TP VOL 02 | $12.99 | IMA |
| 215 | 277 | 0.51 | AMAZING SPIDER-MAN BY NICK SPENCER TP VOL 01 BACK BASICS | $15.99 | MAR |
| 216 | 135 | 0.51 | BLACK BADGE HC VOL 02 | $29.99 | BOO |
| 216 | 172 | 0.51 | DARK NIGHTS METAL DARK KNIGHTS RISING TP | $24.99 | DC |
| 218 | 196 | 0.51 | THEY CALLED US ENEMY TP | $19.99 | IDW |
| 219 | 260 | 0.51 | DISNEY COMICS & STORIES TP VOL 01 FRIENDS FOREVER | $14.99 | IDW |
| 220 | 137 | 0.50 | MILES MORALES ULT SPIDER-MAN ULT COLL TP BOOK 01 | $34.99 | MAR |
| 220 | 360 | 0.50 | ONE PUNCH MAN GN VOL 01 | $9.99 | VIZ |
| 222 | 423 | 0.50 | DC SUPER HERO GIRLS SEARCH FOR ATLANTIS TP | $9.99 | DC |
| 223 | 220 | 0.50 | ARMY OF DARKNESS BUBBA HOTEP TP | $17.99 | DE |
| 224 | 162 | 0.49 | TANK GIRL COLOUR CLASSICS HC VOL 02 1990-1992 (MR) | $24.99 | TTN |
| 225 | 357 | 0.49 | BIG NATE HUG IT OUT TP | $9.99 | POC |
| 226 | 163 | 0.49 | BLOODSHOT TP DEFINITIVE EDITION | $24.99 | VAL |
| 227 | 203 | 0.49 | VAMPIRELLA ROSES FOR DEAD HC | $19.99 | DE |
| 228 | 227 | 0.48 | HELLBLAZER TP VOL 01 ORIGINAL SINS NEW ED (MR) | $19.99 | DC |
| 229 | 236 | 0.47 | KINGDOM COME TP | $19.99 | DC |
| 229 | 237 | 0.47 | PREACHER TP BOOK 01 (MR) | $19.99 | DC |
| 231 | 296 | 0.47 | OVERLORD GN VOL 11 | $13.00 | YEN |
| 232 | 294 | 0.47 | STAR WARS LOST STARS GN VOL 02 MANGA | $13.00 | YEN |
| 233 | 274 | 0.47 | MADE IN ABYSS GN VOL 07 | $13.99 | ST. |
| 234 | 413 | 0.46 | HUNTER X HUNTER GN VOL 36 | $9.99 | VIZ |
| 235 | 288 | 0.46 | DOG MAN GN VOL 07 FOR WHOM BALL ROLLS | $12.99 | SCH |
| 235 | 290 | 0.46 | MAE TP VOL 02 | $14.99 | LIO |
| 235 | 197 | 0.46 | MENAGE A 3 GN VOL 04 | $19.99 | UDO |
| 238 | 337 | 0.45 | BATMAN TP VOL 01 THE COURT OF OWLS (N52) | $16.99 | DC |
| 238 | 339 | 0.45 | DANGANRONPA ANOTHER EPISODE TP VOL 01 ULTRA DESPAIR GIRLS | $12.99 | DAR |
| 240 | 248 | 0.45 | DARK KNIGHT RETURNS TP NEW EDITION | $19.99 | DC |
| 240 | 85 | 0.45 | ENKI BILAL MONSTER HC | $49.99 | TTN |
| 242 | 300 | 0.45 | OKAY WITCH GN | $12.99 | POC |
| 243 | 222 | 0.45 | 20TH CENTURY BOYS TP VOL 05 PERFECT ED URASAWA | $19.99 | VIZ |
| 244 | 308 | 0.45 | DEADPOOL BY POSEHN AND DUGGAN HC VOL 01 | $34.99 | MAR |
| 245 | 317 | 0.45 | SAGA TP VOL 08 (MR) | $14.99 | IMA |
| 246 | 279 | 0.45 | MILES MORALES TP VOL 01 STRAIGHT OUT OF BROOKLYN | $17.99 | MAR |
| 246 | 166 | 0.45 | WOLVERINE OLD MAN LOGAN TP | $29.99 | MAR |
| 248 | 331 | 0.44 | BEASTARS GN VOL 02 | $12.99 | VIZ |
| 248 | 244 | 0.44 | TRANSMETROPOLITAN TP BOOK 01 (MR) | $19.99 | DC |
| 250 | 411 | 0.44 | MY HERO ACADEMIA GN VOL 19 | $9.99 | VIZ |
| 250 | 289 | 0.44 | SPIDER-MAN DEADPOOL TP VOL 01 ISNT IT BROMANTIC | $17.99 | MAR |
| 252 | 409 | 0.44 | MY HERO ACADEMIA GN VOL 04 | $9.99 | VIZ |
| 253 | 282 | 0.43 | GUARDIANS OF THE GALAXY TP VOL 01 FINAL GAUNTLET | $17.99 | MAR |
| 254 | 211 | 0.43 | MEGA MAN MASTERMIX TP VOL 02 | $19.99 | UDO |
| 255 | 210 | 0.43 | DESTINY COMIC COLLECTION HC VOL 01 | $19.99 | ING |
| 256 | 576 | 0.42 | SNOTGIRL TP VOL 01 GREEN HAIR DONT CARE | $9.99 | IMA |
| 257 | 305 | 0.42 | ONE PIECE 3IN1 TP VOL 29 | $14.99 | VIZ |
| 258 | 799 | 0.42 | SLEEPWALKING GN (MR) | $5.00 | SIL |
| 259 | 157 | 0.42 | SECRET WARS TP | $34.99 | MAR |
| 260 | 505 | 0.42 | GIDEON FALLS TP VOL 01 BLACK BARN (MR) | $9.99 | IMA |
| 260 | 242 | 0.42 | LITTLE MAMA GN | $19.99 | LIO |
| 262 | 350 | 0.41 | DEADPOOL KILLS MARVEL UNIVERSE TP | $14.99 | MAR |
| 263 | 315 | 0.41 | LIVEWIRE TP VOL 02 GUARDIAN | $14.99 | VAL |
| 264 | 287 | 0.41 | SUPERMAN THE DEATH OF SUPERMAN TP NEW ED | $17.99 | DC |
| 265 | 504 | 0.41 | MIDDLEWEST TP BOOK 01 (MR) | $9.99 | IMA |
| 266 | 173 | 0.41 | MUSE HC (MR) | $24.95 | HUM |
| 267 | 438 | 0.40 | MY HERO ACADEMIA GN VOL 05 | $9.99 | VIZ |
| 267 | 177 | 0.40 | ROBERT SILVERBERG COLONIES HC RETURN TO BELZAGOR | $24.95 | HUM |
| 269 | 165 | 0.40 | EC JOHNNY CRAIG WOMAN WHO LOVED LIFE HC | $29.99 | FAN |
| 270 | 209 | 0.40 | DISNEY STORIED PLACES HC | $24.99 | DAR |
| 270 | 253 | 0.40 | LONE RANGER DEVILS ROPE TP | $19.99 | DE |
| 272 | 276 | 0.40 | SANDMAN TP VOL 02 THE DOLLS HOUSE 30TH ANNIV ED (MR) | $19.99 | DC |
| 273 | 344 | 0.39 | SWORD ART ONLINE GIRLS OPS GN VOL 06 | $13.00 | YEN |
| 274 | 371 | 0.39 | BATMAN YEAR ONE DELUXE SC | $14.99 | DC |
| 275 | 212 | 0.39 | HELLBOY OMNIBUS TP VOL 01 SEED OF DESTRUCTION | $24.99 | DAR |
| 275 | 347 | 0.39 | HOW TO BUILD DUNGEON BOOK OF DEMON KING GN VOL 05 | $12.99 | ST. |
| 277 | 348 | 0.39 | BECOME YOU GN VOL 01 | $12.99 | ST. |
| 278 | 118 | 0.39 | INJUSTICE GODS AMONG US YEAR TWO DELUXE ED HC | $49.99 | DC |
| 279 | 330 | 0.38 | GOBLIN SLAYER GN VOL 02 (MR) | $13.00 | HAC |
| 279 | 493 | 0.38 | SNOW WHITE WITH RED HAIR GN VOL 03 | $9.99 | VIZ |
| 281 | 623 | 0.38 | ISOLA TP VOL 01 | $9.99 | IMA |
| 281 | 426 | 0.38 | MOB PSYCHO 100 TP VOL 01 | $11.99 | DAR |
| 283 | 127 | 0.38 | SPIDER-VERSE TP | $50.00 | MAR |
| 284 | 311 | 0.38 | STUNT GN | $15.00 | CON |
| 285 | 378 | 0.37 | SAGA TP VOL 07 (MR) | $14.99 | IMA |
| 286 | 267 | 0.37 | KAIJUMAX TP VOL 04 SEASON FOUR SCALY IS NEW BLACK | $19.99 | ONI |
| 287 | 429 | 0.37 | PAPER GIRLS TP VOL 05 | $14.99 | IMA |
| 287 | 202 | 0.37 | X-MEN GRAND DESIGN TP X-TINCTION | $29.99 | MAR |
| 289 | 421 | 0.37 | EDENS ZERO GN VOL 04 | $10.99 | RAN |
| 290 | 512 | 0.37 | PAPER GIRLS TP VOL 03 | $12.99 | IMA |
| 291 | 376 | 0.36 | COMBATANTS WILL BE DISPATCHED GN VOL 01 | $13.00 | YEN |
| 291 | 518 | 0.36 | DEMON SLAYER KIMETSU NO YAIBA GN VOL 08 | $9.99 | VIZ |
| 293 | 306 | 0.36 | Y THE LAST MAN TP BOOK 01 (MR) | $19.99 | DC |
| 294 | 250 | 0.36 | MISTER MIRACLE TP | $24.99 | DC |
| 295 | 363 | 0.35 | BEZKAMP GN | $14.99 | LIO |
| 295 | 382 | 0.35 | IF I COULD REACH YOU VOL 01 (MR) | $12.99 | RAN |
| 295 | 309 | 0.35 | V FOR VENDETTA NEW EDITION TP (MR) | $19.99 | DC |
| 298 | 280 | 0.35 | RICK AND MORTY VS DUNGEONS & DRAGONS TP VOL 01 | $19.99 | IDW |
| 298 | 440 | 0.35 | SEVEN DEADLY SINS GN VOL 34 | $10.99 | RAN |
| 300 | 384 | 0.35 | DAREDEVIL BY MARK WAID HC VOL 01 | $34.99 | MAR |
| 300 | 230 | 0.35 | UNKNOWN OMNIBUS GN | $24.99 | BOO |
| 302 | 396 | 0.35 | TOKYO GHOUL GN VOL 01 | $12.99 | VIZ |
| 303 | 286 | 0.35 | PUMPKINHEADS GN | $17.99 | ST. |
| 303 | 605 | 0.35 | SPIDER-MAN SPIDER-VERSE GN TP MILES MORALES | $9.99 | MAR |
| 303 | 345 | 0.35 | SUPERMAN RED SON TP NEW EDITION | $17.99 | DC |
| 306 | 389 | 0.35 | I HEAR THE SUNSPOT GN VOL 04 LIMIT 2 | $12.95 | SCB |
| 306 | 515 | 0.35 | MY HERO ACADEMIA GN VOL 16 | $9.99 | VIZ |
| 306 | 361 | 0.35 | UZAKI CHAN WANTS TO HANG OUT GN VOL 01 | $13.99 | ST. |
| 309 | 320 | 0.34 | STAR WARS DARTH VADER TP VOL 01 VADER | $19.99 | MAR |
| 310 | 128 | 0.34 | BERSERK DELUXE EDITION HC VOL 01 (MR) | $49.99 | DAR |
| 310 | 531 | 0.34 | DRAGON BALL SUPER GN VOL 05 | $9.99 | VIZ |
| 310 | 393 | 0.34 | HOW NOT TO SUMMON DEMON LORD GN VOL 05 (MR) | $12.99 | ST. |
| 313 | 487 | 0.34 | MILES MORALES GN TP SPIDER-MAN | $12.99 | MAR |
| 314 | 380 | 0.34 | FLASHPOINT TP | $16.99 | DC |
| 315 | 193 | 0.33 | AMAZING SPIDER-MAN EPIC COLLECTION TP GREAT POWER | $34.99 | MAR |
| 315 | 526 | 0.33 | STUMPTOWN TP VOL 01 (SQ1) (MR) | $10.00 | ONI |
| 317 | 125 | 0.33 | SILLY SYMPHONIES HC VOL 04 COMP DISNEY CLASSICS 1942-1945 | $49.99 | IDW |
| 318 | 251 | 0.33 | SMASHED JUNJI ITO STORY COLLECTION HC (MR) | $22.99 | VIZ |
| 318 | 372 | 0.33 | STAR WARS DARTH VADER DARK LORD SITH TP VOL 01 IMPERIAL MACH | $17.99 | MAR |
| 320 | 383 | 0.33 | JUDAS TP | $14.99 | BOO |
| 321 | 412 | 0.33 | KONOSUBA EXPLOSION WONDERFUL WORLD GN VOL 02 | $13.00 | YEN |
| 321 | 201 | 0.33 | LOAC ESSENTIALS HC VOL 13 CHARLIE CHAN 1938 | $29.99 | IDW |
| 321 | 327 | 0.33 | SAGA OF THE SWAMP THING TP BOOK 01 (MR) | $19.99 | DC |
| 321 | 367 | 0.33 | VENOM BY DONNY CATES TP VOL 02 | $17.99 | MAR |
| 325 | 223 | 0.33 | JOHN CARPENTERS TALES FOR A HALLOWEENIGHT TP | $24.99 | STO |
| 325 | 390 | 0.33 | RUGRATS BUILDING BLOCKS GN | $14.99 | BOO |
| 327 | 425 | 0.32 | SAGA TP VOL 04 (MR) | $14.99 | IMA |
| 328 | 180 | 0.32 | FANTASTIC FOUR COMPLETE COLLECTION TP VOL 02 | $39.99 | MAR |
| 329 | 571 | 0.32 | HAIKYU GN VOL 34 | $9.99 | VIZ |
| 330 | 491 | 0.32 | HILDA NETFLIX NOVEL BOOK 01 HILDA & HIDDEN PEOPLE | $10.99 | RAN |
| 330 | 297 | 0.32 | RICK & MORTY TP VOL 02 | $19.99 | ONI |
| 330 | 161 | 0.32 | RIVER AT NIGHT HC (MR) | $34.95 | DRA |
| 333 | 625 | 0.32 | DESCENDER TP VOL 01 TIN STARS (MR) | $9.99 | IMA |
| 334 | 397 | 0.32 | WICKED & DIVINE TP VOL 08 OLD IS THE NEW NEW (MR) | $17.99 | IMA |
| 335 | 259 | 0.31 | ANIMAL FARM GN | $22.00 | HOU |
| 335 | 190 | 0.31 | ELRIC STORMBRINGER DLX ED HC | $29.99 | TTN |
| 337 | 178 | 0.31 | AMAZING SPIDER-MAN TP HUNTED | $39.99 | MAR |
| 337 | 431 | 0.31 | SAGA TP VOL 06 (MR) | $14.99 | IMA |
| 339 | 648 | 0.31 | DEAR JUSTICE LEAGUE TP | $9.99 | DC |
| 340 | 404 | 0.31 | EAST OF WEST TP VOL 01 THE PROMISE (NEW PTG) | $16.99 | IMA |
| 341 | 566 | 0.31 | MY HERO ACADEMIA GN VOL 14 | $9.99 | VIZ |
| 342 | 265 | 0.31 | SHIVER HC JUNJI ITO | $22.99 | VIZ |
| 343 | 183 | 0.31 | MOON KNIGHT EPIC COLLECTION TP BAD MOON RISING | $39.99 | MAR |
| 343 | 516 | 0.31 | PAPER GIRLS TP VOL 04 | $14.99 | IMA |
| 343 | 669 | 0.31 | SPAWN ORIGINS TP VOL 01 (NEW PTG) | $9.99 | IMA |
| 346 | 586 | 0.30 | DRAGON BALL SUPER GN VOL 03 | $9.99 | VIZ |
| 346 | 298 | 0.30 | HOUSE OF M TP | $24.99 | MAR |
| 346 | 694 | 0.30 | MARVEL SUPER HERO ADVENTURES GN TP SPIDER-MAN | $9.99 | MAR |
| 346 | 453 | 0.30 | SAGA TP VOL 05 (MR) | $14.99 | IMA |
| 350 | 304 | 0.30 | RICK & MORTY TP VOL 01 | $19.99 | ONI |
| 351 | 430 | 0.30 | MAGUS OF LIBRARY GN VOL 02 | $12.99 | RAN |
| 351 | 152 | 0.30 | SAGA DLX ED HC VOL 03 (MR) | $49.99 | IMA |
| 351 | 418 | 0.30 | SPIDER-GWEN TP VOL 00 MOST WANTED | $16.99 | MAR |
| 351 | 488 | 0.30 | WICKED & DIVINE TP VOL 02 FANDEMONIUM (MR) | $14.99 | IMA |
| 355 | 434 | 0.30 | ARIFURETA COMMONPLACE TO STRONGEST ZERO GN VOL 01 | $12.99 | ST. |
| 355 | 707 | 0.30 | JUPITERS LEGACY TP VOL 02 (MR) | $16.99 | IMA |
| 357 | 437 | 0.30 | BERSERK TP VOL 01 BLACK SWORDSMAN (MR) | $14.99 | DAR |
| 358 | 271 | 0.29 | ATAR GULL HC (MR) | $24.99 | TTN |
| 358 | 496 | 0.29 | STAR WARS ADVENTURES TALES FROM VADERS CASTLE TP | $12.99 | IDW |
| 360 | 506 | 0.29 | DEADLY CLASS TP VOL 08 NEVER GO BACK (MR) | $16.99 | IMA |
| 360 | 207 | 0.29 | LUCKY LUKE COMPLETE COLL HC VOL 01 | $29.99 | CIN |
| 362 | 424 | 0.29 | CYBER FORCE AWAKENING TP VOL 03 (MR) | $16.99 | IMA |
| 362 | 459 | 0.29 | FINAL FANTASY LOST STRANGER GN VOL 03 | $13.00 | YEN |
| 362 | 594 | 0.29 | MY HERO ACADEMIA GN VOL 17 | $9.99 | VIZ |
| 365 | 593 | 0.29 | MY HERO ACADEMIA GN VOL 06 | $9.99 | VIZ |
| 365 | 365 | 0.29 | SANDMAN TP VOL 03 DREAM COUNTRY 30TH ANNIV ED (MR) | $19.99 | DC |
| 367 | 232 | 0.29 | FANTASTIC FOUR BY HICKMAN COMPLETE COLLECTION TP VOL 01 | $34.99 | MAR |
| 367 | 600 | 0.29 | ONE PUNCH MAN GN VOL 02 | $9.99 | VIZ |
| 369 | 485 | 0.28 | SPIDER-MAN MILES MORALES TP VOL 01 | $15.99 | MAR |
| 370 | 469 | 0.28 | OUR DREAMS AT DUSK SHIMANAMI TASOGARE GN VOL 03 (MR) | $12.99 | ST. |
| 371 | 213 | 0.28 | ONCE UPON A TIME IN FRANCE OMNIBUS GN | $29.95 | NAV |
| 372 | 240 | 0.28 | AVENGERS VS X-MEN TP AVX | $34.99 | MAR |
| 372 | 231 | 0.28 | MISTER MIRACLE HC (MR) | $34.99 | DC |
| 372 | 318 | 0.28 | SPIDER-GEDDON TP | $24.99 | MAR |
| 375 | 346 | 0.28 | BEST OF ARCHIE COMICS DLX ED HC VOL 04 | $19.99 | ARC |
| 375 | 520 | 0.28 | CHILDREN OF WHALES GN VOL 12 | $12.99 | VIZ |
| 375 | 620 | 0.28 | MY HERO ACADEMIA GN VOL 18 | $9.99 | VIZ |
| 375 | 456 | 0.28 | WELCOME TO WANDERLAND TP | $14.99 | BOO |
| 379 | 481 | 0.28 | COSMIC GHOST RIDER TP BABY THANOS MUST DIE | $15.99 | MAR |
| 379 | 886 | 0.28 | DEADLY CLASS TP VOL 01 REAGAN YOUTH (MR) | $9.99 | IMA |
| 379 | 458 | 0.28 | JIM CORNETTE PRESENTS BEHIND CURTAIN WRESTLING STORIES TP | $14.99 | IDW |
| 382 | 356 | 0.27 | MEYER TP | $17.95 | HUM |
| 383 | 391 | 0.27 | PUNKS NOT DEAD TP VOL 02 LONDON CALLING | $17.99 | IDW |
| 384 | 445 | 0.27 | AVENGERS BY JASON AARON TP VOL 01 FINAL HOST | $17.99 | MAR |
| 384 | 687 | 0.27 | BALLAD OF YAYA GN VOL 03 CIRCUS | $9.99 | LIO |
| 384 | 249 | 0.27 | BIG TROUBLE IN LITTLE CHINA LEGACY EDITION TP VOL 02 | $29.99 | BOO |
| 384 | 1431 | 0.27 | JUPITERS CIRCLE TP VOL 01 (MR) | $9.99 | IMA |
| 384 | 67 | 0.27 | MEGADETH DEATH BY DESIGN HC WITH VINYL (MR) | $99.99 | HEA |
| 389 | 448 | 0.27 | BATGIRL & THE BIRDS OF PREY TP VOL 01 WHO IS ORACLE (REBIRTH | $16.99 | DC |
| 389 | 278 | 0.27 | CRISIS ON INFINITE EARTHS TP | $29.99 | DC |
| 391 | 471 | 0.27 | BATMAN TP VOL 03 DEATH OF THE FAMILY (N52) | $16.99 | DC |
| 392 | 692 | 0.26 | KAKURIYO BED & BREAKFAST FOR SPIRITS GN VOL 05 | $9.99 | VIZ |
| 393 | 759 | 0.26 | I HATE FAIRYLAND TP VOL 01 MADLY EVER AFTER (MR) | $9.99 | IMA |
| 393 | 528 | 0.26 | MIRACLEMAN PREM HC BOOK 01 DREAM OF FLYING | $29.99 | MAR |
| 395 | 473 | 0.26 | DRAGON BALL 3IN1 TP VOL 02 | $14.99 | VIZ |
| 395 | 463 | 0.26 | UNNATURAL TP VOL 02 (MR) | $16.99 | IMA |
| 395 | 697 | 0.26 | YONA OF THE DAWN GN VOL 19 | $9.99 | VIZ |
| 398 | 480 | 0.26 | BATMAN TEENAGE MUTANT TURTLES II TP | $16.99 | DC |
| 398 | 285 | 0.26 | BATMAN WHITE KNIGHT HC | $29.99 | DC |
| 398 | 476 | 0.26 | EAST OF WEST TP VOL 09 | $16.99 | IMA |
| 398 | 514 | 0.26 | SPIDER-GWEN GHOST-SPIDER TP VOL 01 SPIDER-GEDDON | $15.99 | MAR |
| 402 | 718 | 0.26 | CATWAD GN VOL 02 ITS ME TWO | $8.99 | SCH |
| 402 | 508 | 0.26 | INTERVIEWS WITH MONSTER GIRLS GN VOL 07 | $12.99 | RAN |
| 402 | 709 | 0.26 | KAGUYA SAMA LOVE IS WAR GN VOL 10 | $9.99 | VIZ |
| 402 | 574 | 0.26 | LIFEFORMED TP HEARTS AND MIND VOL 02 | $12.99 | DAR |
| 406 | 513 | 0.26 | MOON KNIGHT TP VOL 01 LUNATIC | $15.99 | MAR |
| 406 | 678 | 0.26 | MY HERO ACADEMIA GN VOL 15 | $9.99 | VIZ |
| 408 | 671 | 0.26 | PROMISED NEVERLAND GN VOL 01 | $9.99 | VIZ |
| 409 | 563 | 0.26 | DOROHEDORO GN VOL 23 (MR) | $12.99 | VIZ |
| 409 | 255 | 0.26 | MARVEL SUPER HEROES SECRET WARS TP | $34.99 | MAR |
| 411 | 352 | 0.25 | JOKER DEATH OF THE FAMILY TP (N52) | $24.99 | DC |
| 412 | 725 | 0.25 | BLACK TORCH GN VOL 05 | $9.99 | VIZ |
| 413 | 523 | 0.25 | VOLTRON LEGENDARY DEFENDER TP VOL 03 ABSOLUTION | $14.99 | LIO |
| 413 | 818 | 0.25 | WYTCHES TP VOL 01 (MR) | $9.99 | IMA |
| 415 | 538 | 0.25 | AMAZING SPIDER-MAN BY NICK SPENCER TP VOL 02 | $15.99 | MAR |
| 415 | 530 | 0.25 | BRAVE TUBER GN VOL 01 | $12.99 | ST. |
| 415 | 292 | 0.25 | GUNNERKRIGG COURT HC VOL 07 | $26.99 | BOO |
| 418 | 511 | 0.25 | AMULET SC VOL 01 STONEKEEPER NEW PTG | $12.99 | SCH |
| 418 | 388 | 0.25 | LOCKE & KEY TP VOL 01 WELCOME TO LOVECRAFT | $19.99 | IDW |
| 420 | 614 | 0.24 | SNOTGIRL TP VOL 02 CALIFORNIA SCREAMING | $15.99 | IMA |
| 421 | 753 | 0.24 | WE NEVER LEARN GN VOL 05 | $9.99 | VIZ |
| 422 | 543 | 0.24 | HAGANAI I DONT HAVE MANY FRIENDS GN VOL 17 (MR) | $12.99 | ST. |
| 422 | 544 | 0.24 | LOVE MOM & 2 HIT MULTI TARGET ATTACKS GN VOL 01 | $13.00 | YEN |
| 422 | 578 | 0.24 | ROLLED A ONE GN | $13.00 | SCB |
| 425 | 843 | 0.24 | CHRONONAUTS TP VOL 01 (MR) | $9.99 | IMA |
| 426 | 1007 | 0.24 | JUDGE DREDD GHOST TOWN 2000 AD DIGEST | $6.99 | POC |
| 426 | 495 | 0.24 | LUMBERJANES TP VOL 01 | $14.99 | BOO |
| 426 | 428 | 0.24 | MURDER FALCON TP | $19.99 | IMA |
| 429 | 657 | 0.24 | MS MARVEL GN-TP KAMALA KHAN | $12.99 | MAR |
| 429 | 875 | 0.24 | SKYWARD TP VOL 01 MY LOW-G LIFE | $9.99 | IMA |
| 429 | 894 | 0.24 | UNNATURAL TP VOL 01 AWAKENING (MR) | $9.99 | IMA |
| 432 | 335 | 0.24 | CREATION GN (MR) | $21.95 | DRA |
| 433 | 527 | 0.24 | BATMAN TMNT TP VOL 01 | $16.99 | DC |
| 433 | 314 | 0.24 | MOON KNIGHT BY JEFF LEMIRE AND GREG SMALLWOOD HC | $34.99 | MAR |
| 433 | 735 | 0.24 | MY HERO ACADEMIA GN VOL 07 | $9.99 | VIZ |
| 433 | 739 | 0.24 | MY HERO ACADEMIA GN VOL 09 | $9.99 | VIZ |
| 433 | 867 | 0.24 | SEVEN TO ETERNITY TP VOL 01 | $9.99 | IMA |
| 438 | 450 | 0.23 | CONAN THE BARBARIAN TP VOL 01 LIFE AND DEATH OF CONAN BOOK O | $19.99 | MAR |
| 438 | 342 | 0.23 | HELLBOY OMNIBUS TP VOL 03 THE WILD HUNT | $24.99 | DAR |
| 438 | 451 | 0.23 | MAGIC ORDER TP VOL 01 (MR) | $19.99 | IMA |
| 441 | 537 | 0.23 | BATMAN TP VOL 01 I AM GOTHAM (REBIRTH) | $16.99 | DC |
| 442 | 907 | 0.23 | VENOM VS CARNAGE TP | $9.99 | MAR |
| 443 | 381 | 0.23 | BATMAN A DEATH IN THE FAMILY TP NEW ED | $24.99 | DC |
| 443 | 755 | 0.23 | MY HERO ACADEMIA GN VOL 08 | $9.99 | VIZ |
| 445 | 627 | 0.23 | ATTACK ON TITAN GN VOL 01 | $10.99 | RAN |
| 445 | 284 | 0.23 | FANTASTIC FOUR EPIC COLL WORLDS GREATEST COMIC MAG TP | $34.99 | MAR |
| 447 | 307 | 0.23 | INVISIBLE EMPIRE UNMASKING OF KU KLUX KLAN GN | $24.99 | POC |
| 447 | 257 | 0.23 | X-MEN EPIC COLLECTION TP DISSOLUTION AND REBIRTH | $39.99 | MAR |
| 449 | 353 | 0.23 | FRANKENSTEIN HC JUNJI ITO STORY COLLECTION | $22.99 | VIZ |
| 449 | 540 | 0.23 | GIDEON FALLS TP VOL 02 ORIGINAL SINS (MR) | $16.99 | IMA |
| 449 | 266 | 0.23 | INNSMOUTH GN VOL 01 | $29.95 | COM |
| 449 | 878 | 0.23 | MINECRAFT TP VOL 01 | $9.99 | DAR |
| 449 | 435 | 0.23 | RONIN BY FRANK MILLER TP BLACK LABEL | $19.99 | DC |
| 454 | 838 | 0.22 | CASSANDRA STEPS OUT GN | $8.99 | LER |
| 454 | 775 | 0.22 | DR STONE GN VOL 01 | $9.99 | VIZ |
| 454 | 422 | 0.22 | HONOR AND CURSE TP VOL 01 TORN | $17.99 | MAD |
| 454 | 719 | 0.22 | SPIDEY GN TP FRESHMAN YEAR | $12.99 | MAR |
| 454 | 824 | 0.22 | TWIN STAR EXORCISTS ONMYOJI GN VOL 16 | $9.99 | VIZ |
| 459 | 916 | 0.22 | BLACK SCIENCE TP VOL 01 HOW TO FALL FOREVER (MR) | $9.99 | IMA |
| 459 | 555 | 0.22 | HAWKEYE TP VOL 01 MY LIFE AS WEAPON NOW | $16.99 | MAR |
| 459 | 176 | 0.22 | RUSH MAKING OF A FAREWELL TO KINGS GN | $44.99 | POC |
| 459 | 338 | 0.22 | STAR WARS TP ROGUES SCOUNDRELS AND BOUNTY HUNTERS | $24.99 | TTN |
| 463 | 909 | 0.22 | RAT QUEENS TP VOL 01 SASS & SORCERY (MR) | $9.99 | IMA |
| 464 | 492 | 0.22 | BATMAN ARKHAM ASYLUM 25TH ANNIV DLX ED TP (MR) | $19.99 | DC |
| 464 | 470 | 0.22 | DUNGEONS & DRAGONS EVIL AT BALDURS GATE TP | $17.99 | IDW |
| 464 | 443 | 0.22 | LEGEND OF ZELDA LEGENDARY ED GN VOL 01 OCARINA TIME | $17.99 | VIZ |
| 464 | 847 | 0.22 | NUCLEAR WINTER ORIGINAL GN VOL 03 | $9.99 | BOO |
| 464 | 395 | 0.22 | VAN HELSING SWORD OF HEAVEN TP | $19.99 | ZEN |
| 469 | 466 | 0.22 | BLACK MONDAY MURDERS TP VOL 01 ALL HAIL GOD MAMMON (MR) | $19.99 | IMA |
| 469 | 444 | 0.22 | SABRINA CHILLING ADVENTURES TP VOL 01 (MR) | $17.99 | ARC |
| 471 | 101 | 0.22 | BLOODSHOT CLASSIC OMNIBUS HC VOL 01 | $99.99 | VAL |
| 471 | 472 | 0.22 | JUSTICE LEAGUE TP VOL 02 GRAVEYARD OF GODS | $19.99 | DC |
| 471 | 795 | 0.22 | MY HERO ACADEMIA VIGILANTES GN VOL 01 | $9.99 | VIZ |
| 474 | 866 | 0.22 | DAYTIME SHOOTING STAR GN VOL 02 | $9.99 | VIZ |
| 474 | 559 | 0.22 | STIG AND TILDE GN VOL 01 VANISHERS ISLAND | $13.95 | RAN |
| 476 | 617 | 0.22 | DESCENDER TP VOL 02 (MR) | $14.99 | IMA |
| 476 | 814 | 0.22 | MY HERO ACADEMIA GN VOL 11 | $9.99 | VIZ |
| 478 | 301 | 0.21 | BURMESE MOONS HC | $29.99 | IDW |
| 478 | 621 | 0.21 | EAST OF WEST TP VOL 02 WE ARE ALL ONE | $14.99 | IMA |
| 478 | 734 | 0.21 | FABLES TP VOL 01 LEGENDS IN EXILE NEW ED (MR) | $12.99 | DC |
| 481 | 392 | 0.21 | FADE OUT COMP COLL TP (MR) | $24.99 | IMA |
| 481 | 302 | 0.21 | I KNOW WHAT I AM HC TRUE STORY ARTEMISIA GENTILESCHI | $29.99 | FAN |
| 481 | 405 | 0.21 | INJUSTICE GODS AMONG US YEAR ONE COMPLETE COLL TP | $24.99 | DC |
| 481 | 879 | 0.21 | RADIANT GN VOL 07 | $9.99 | VIZ |
| 481 | 655 | 0.21 | WICKED & DIVINE TP VOL 03 (MR) | $14.99 | IMA |
| 486 | 500 | 0.21 | DARK DAYS ROAD TO METAL TP | $19.99 | DC |
| 486 | 973 | 0.21 | DC SUPER HERO GIRLS OUT OF THE BOTTLE TP | $9.99 | DC |
| 486 | 602 | 0.21 | LAND OF THE LUSTROUS GN VOL 09 | $12.99 | RAN |
| 486 | 819 | 0.21 | ONE PUNCH MAN GN VOL 03 | $9.99 | VIZ |
| 490 | 122 | 0.21 | MARVELS PLATINUM EDITION SLIPCASE HC | $200.00 | MAR |
| 490 | 757 | 0.21 | MOON GIRL AND DEVIL DINOSAUR GN TP VOL 01 BEGINNING | $12.99 | MAR |
| 492 | 238 | 0.21 | MAUS SURVIVORS TALE COMPLETE HC | $35.00 | RAW |
| 492 | 414 | 0.21 | OFF WORLD BLUES GN (MR) | $19.95 | HUM |
| 492 | 615 | 0.21 | WALKING DEAD TP VOL 01 DAYS GONE BYE | $14.99 | IMA |
| 495 | 334 | 0.21 | GUTS HC GN | $24.99 | SCH |
| 495 | 548 | 0.21 | REBORN AS POLAR BEAR LEGEND HOW FOREST GUARDIAN GN VOL 01 | $15.00 | YEN |
| 495 | 562 | 0.21 | SPIDER-GWEN TP VOL 01 GREATER POWER | $17.99 | MAR |
| 498 | 408 | 0.21 | BATMAN THE COURT OF OWLS SAGA ESSENTIAL EDITION TP | $24.99 | DC |
| 498 | 730 | 0.21 | STAGE DREAMS GN | $10.99 | LER |
| 498 | 610 | 0.21 | STAR WARS VADER DARK VISIONS TP | $15.99 | MAR |
| 501 | 553 | 0.21 | COLD BLOOD SAMURAI TP VOL 01 | $14.99 | ACT |
| 501 | 149 | 0.21 | DOG MAN SUPA EPIC COLLECTION | $59.94 | SCH |