This week saw six X-books in stores, the most we've seen in a while, but common a few months ago and sure to be common once the line stabilizes again. The X-Men line is in the middle of a transition, with all of the ResurrXion titles having ended a few months ago and now the more recently launched titles from before the Uncanny X-Men reboot wrapping up. Meanwhile, Age of X-Man Alpha sets up six new mini-series that will comprise the Age of X-Man event and presumably test the waters for future ongoings to launch after the event is over.
Will whatever comes out of Age of X-Man fare better than the books that end this week after just 12 issues, Weapon H and Exiles? That remains to be seen, but the lineup of talent–most of which consists of relatively new blood for the X-Men franchise–is promising. Although… reports from this very website say it isn't selling well.
But that's all about the future. For now, we've got six X-books to get through, so let's start recapping!
---
Sworn to sell comics for Marvel executives who feared and hated the fact that Fox owned their movie rights, The Uncanny X-Men suffered great indignities, but with a corporate merger on the way, the X-Men can finally get back to doing what they do best: being objectively the best franchise in all of comics.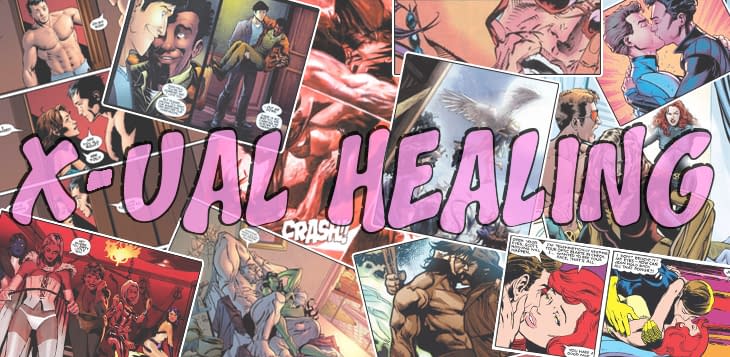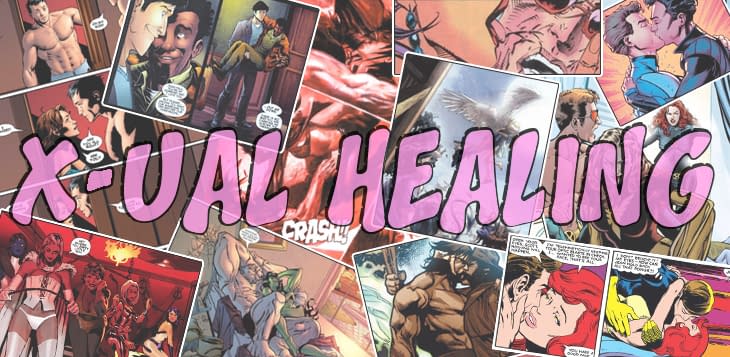 ---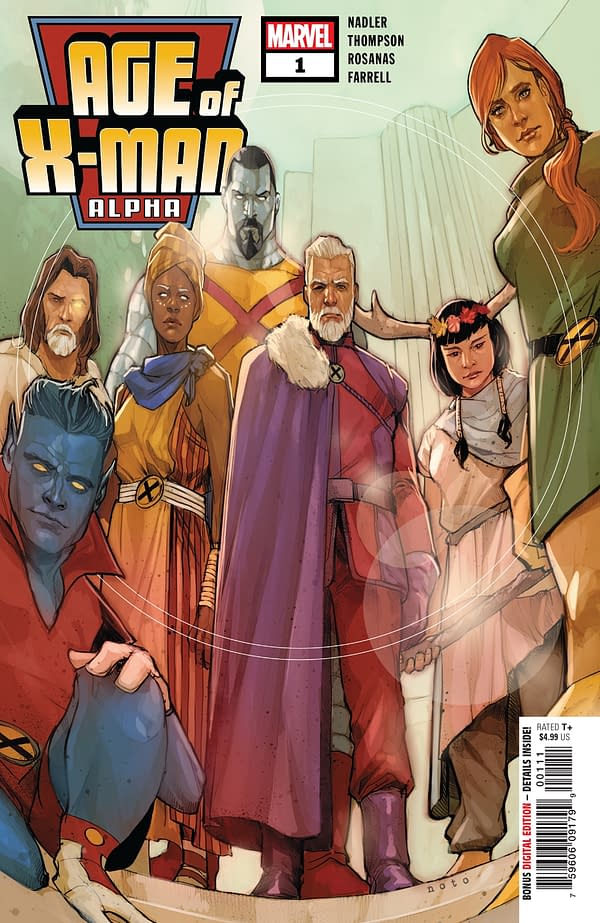 Age of X-Man Alpha
(W) Zac Thompson, Lonnie Nadler (A) Ramon Rosanas (CA) Phil Noto
The age of X-Man dawns…
and the X-Men cannot stop it.
Rated T+
In Shops: Jan 30, 2019
SRP: $4.99
Age of X-Man Alpha is essentially an advertisement for the six mini-series that will comprise the Age of X-Man event, with each scene in the book leading up to a caption inviting the reader to check out the corresponding mini. The book opens with X-Man and his team, the Marvelous X-Men–that's Jean Grey, Bishop, Magneto, Colossus, Storm, Nature Girl, and Nightcrawler–visiting a small town where a new mutant's powers have just manifested, freezing all the townspeople. This also serves to show us that the Utopian world X-Man has created where mutants have achieved Charles Xavier's dream of humans and mutants living together in harmony by turning everyone in the world into a mutant looks basically like 1950s America. After locating the mutant, Luna, they bring her to the famous Summers Institute, a school for mutants run by Angel. We get a tour of the place, seeing Sunfire teaching Mutant Powers and Ethics, and Glob Herman participating in the school's renowned agriculture program. A closeup on Glob shows he seems to be having some internal doubts about this world, and a caption invites us to learn more in Nextgen #1.
Later, at X-Sanctuary, the headquarters of the Marvelous X-Men, Jean and Bishop flirt and eventually end up having sex. Afterward, Bishop is worried. He feels like he's done this before, and that's true. You see, love and sexual relations are outlawed in this new, perfect world. New mutants are birthed in labs. Bishop leaves to be by himself. Meanwhile, Nightcrawler films a scene for a movie. He's a famous movie star in addition to his X-Men career, and we're invited to learn more about this in The Amazing Nightcrawler #1. Back at Bishop's apartment, a new team of X-Men including Iceman, Psylocke, and Moneta bust down the door and reveal that this is the third time Bishop has broken the rules–referred to as the "Guiding Principles"–by making sweet sweet love. We can learn more about this team, a caption informs us, in The X-Tremists #1. Psylocke incapacitates Bishop and Moneta reads his memories to see all the times he's hooked up with Jean. Jean is set for reconditioning, but this is the last straw for Bishop. They use a device to "excommunicate" Bishop, sending him away and clearing out his apartment. Want to know more? You'll need to read Prisoner X #1 for that, true believer.
Back at X-Sanctuary, Jean has no recollection of what happened to her the previous night. She joins the other X-Men for a team meeting where Bishop has been replaced by a new member, X-23, though nobody seems to notice anything has changed. At the meeting, they discuss a propaganda poster made by Apocalypse which reads: "It's Okay to Love. Come See What You've Been Missing." The X-Men are going to have to put a stop to that, of course, and you can find out more about it in Apocalypse and the X-Tracts #1. The advertisement…er, the issue ends with a page showing when all of the new books are coming out, including Marvelous X-Men #1, which will follow this main team.
The issue served to establish the premise of the Age of X-Man universe (and to net Marvel a sweet $4.99), and readers can choose to follow whichever series interest them (though we'll be following all of them of course–it's a sickness). In addition to passing time and collecting our money until the X-Men universe is reunited again later this year, this event will also showcase some new blood in X-Men creative teams, which is actually more exciting than the core premise of the event itself.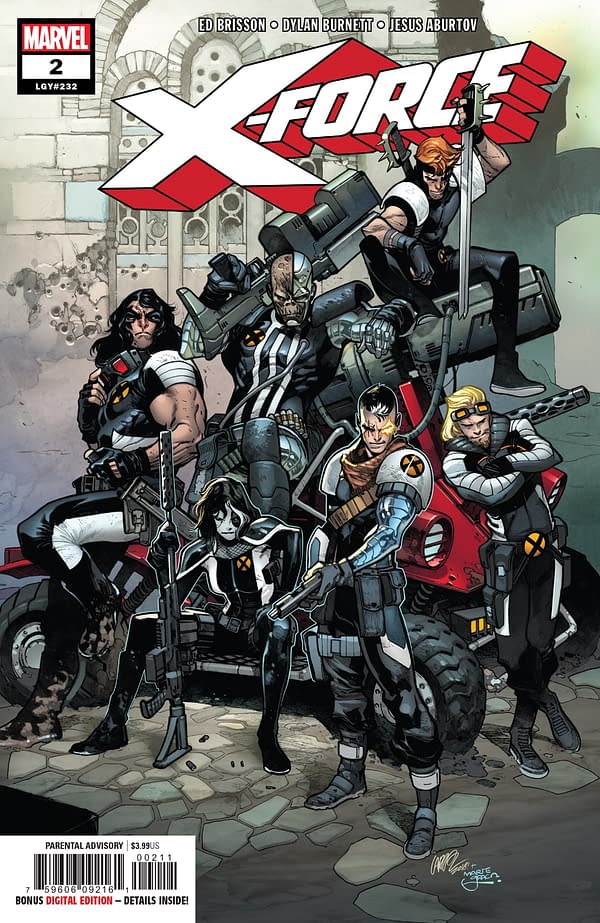 X-Force #2
(W) Ed Brisson (A) Dylan Burnett (CA) Pepe Larraz
• X-Force has been framed for murder!
• And in order to clear their names, they must reluctantly team up with the young Cable and Deathlok.
• But will they be able to put aside their differences long enough to stop a mutant genocide?!
Parental Advisory
In Shops: Jan 30, 2019
SRP: $3.99
Our X-Force revival continues as X-Force attempts to rescue mutants from a military train bringing them to be exterminated in East Transia. As lots of people shoot overly-large guns at each other, Domino hassles Kid Cable about being a lot less prepared than his older self while Cannonball and Warpath have an argument about whether or not they should murder people. Warpath, who was a goody-two-shoes in Weapon X, says times have changed and it's time to start killing, but Cannonball knocks out his intended victim instead. Deathlok and Shatterstar are team murder, by the way. One of the Transian soldiers reveals himself to be a mutant and claims he was only going along with the military to rescue the mutants. He offers to help X-Force. We shouldn't trust him.
At the Transian Federal House, new President Constantin visits Ahab, who the Transian government has been delivering mutants to experiment on to, in an underground lab. Ahab is supposed to develop a cure for mutation for them, something we learn Constantin is especially interested in because his son is a mutant. Constantin doesn't want to believe mutants are born that way, instead insisting it must be a sickness transferred by other mutants. His son, who is hideously deformed, is held prisoner in the lab as well. Ahab clearly has his own interests in mind here, but before we get to learn more about that, Constantin is interrupted by urgent business elsewhere.
At a mutant refugee camp on the Romanian/Transian border, X-Force delivers the rescued mutants and takes a breather. Shatterstar and Kid Cable have a minor disagreement over Kid Cable's claim to Cable's identity before the whole team gathers to listen to the mutant soldier, Andrei, who gives us some backstory on Transia. The previous president (who was murdered by Constantin last issue, though Constantin blamed it on X-Force), had declared Transia a safe haven for mutants, but Constantin was always against it and began imprisoning mutants immediately. The soldier wants to go back to the army and feed them information from the inside, but Domino won't let him go alone. She's going to send Deathlock, using an image inducer, along with him. Back at the Transian federal house, a mutant, representing the mysterious forces probably from the future who have been supplying the Transians with guns, comes through a portal demanding answers on Transia's sudden decision to eradicate all mutants. Constantin has his soldiers shoot him and toss his body back through the portal.
As Deathlok and Andrei enter the Transian Federal House, Andrei wants to know more about Kid Cable because his face looks familiar. We're gonna guess that's because the Transian government's former future partner is none other than Stryfe, who readers will remember is a clone of Cable (or is it the other way around?). Back at the mutant refugee camp, giant Transian mech warriors arrive and start shooting the place up, ending the issue on a cliffhanger.
Between Age of X-Man's Age of Apocalypse callbacks, the upcoming Major X series, and this X-Force revival, Marvel is going all in on the 90s nostalgia.
Exiles #12
(W) Saladin Ahmed (A) Javier Rodriguez (CA) David Nakayama
THE CALL OF THE MULTIVERSE!
It's the Exiles' final showdown against those bug-eyed creeps the Watchers! But they've underestimated their foe – and the mistake may prove deadly. In a whirl of mishaps and might-have-beens, the champion Blink must keep her wits and rescue her lost companions. What lies ahead for Blink and her team of Multiversal misfits?
Rated T+
In Shops: Jan 30, 2019
SRP: $3.99
Exiles concludes with this issue so Saladin Ahmed can go on to write Ms. Marvel, but not before Blink and her team of misfits take on the rogue group of Watchers who have been messing with them throughout the series. The Exiles confront these Watchers on the moon, where they are holding The Unseen prisoner just long enough to see them put an end to the Exiles before they put an end to him as well. After some insults are traded between the two groups, the Watchers send each of the Exiles to their own private hellish alternate reality. For King, he's back in Wakanda watching Klaw murder his sister, Shuri, and take over the kingdom. For Peggy Carter, Captain America, she's defeated by Baron Zemo as Nazis take over the world. Becky Barnes, on the other hand, finds hell is being married to a man–and an abusive one at that. Yuck! Valkyrie finds herself in a realm where Surtur has killed Odin and taken over Asgard. Lil' Wolvie's hell is being trapped in the 90s X-Men cartoon universe, where everyone is "loud and mean." Blink finds herself in the Age of Apocalypse, but she realizes that she has the Talus and can actually escape. She heads to Iron Lad's reality, where he has become Kang the Conqueror. She gets him to remember who he is, and he uses his knowledge of technology to figure out how to allow Blink and the other Exiles to escape. Unfortunately, he has to stay behind for reasons (those reasons being to create an emotional impact on this ending). The Exiles head back to confront the Watchers, but they don't have to do much because the real Watchers show up and punish these Watchers for breaking Watcher code. The real Watchers, however, refuse to do anything to rescue Iron Lad. The Exiles head back to Earth to hold a funeral for him, but later that night, Khan visits Blink in a dream to let her know that Nate also saved her, returning her to a reality where her family is still alive and her daughter conveniently has mutant powers that let her visit alternate realities via dreams. Khan also gives Blink the Talus. The next day, Blink and the other Exiles declare that they will stick together as a team in case anyone needs them for a future guest appearance or reboot.
It feels like this series wrapps up pretty quickly, with the final two issues feeling a bit rushed. We can only guess that's because the creative team had more stories to tell, but sales just weren't there to support it. We're sad to see Exiles go without ever finding its audience, but that's just the way things go when Marvel utilizes a "throw everything at the wall and see what sticks" approach to publishing comics. This title was actually well positioned to attract new readers, featuring alternate versions of recognizable characters and self-contained stories, but you wouldn't know that unless you were already reading it because Marvel does a pretty crappy job of marketing beyond comic book websites (where the audience are already dedicated comic book readers) for all but their biggest events.
Weapon H #12
(W) Greg Pak (A) Guiu Vilanova (CA) Philip Tan, Romulo Fajardo
WEAPON H VS. THE MINOTAUR!
It's no secret that Roxxon Corporation is run by a monster. But Weapon H is about to find out how literal that is. With Morgan Le Fay gone wild and Roxxon's resources in peril, Dario Agger gets personally involved – and that's bad news for Clay and his team! Not to mention the wife and family he left behind on Earth…
Rated T+
In Shops: Jan 30, 2019
SRP: $3.99
Weapon H #12 is also a series finale, though this one at least will continue with a new mini-series. The story picks up in Weirdworld, where Weapon H has brought Roxxon CEO Dario Agger to force him to disarm the bomb with which Agger intended to kill everyone so he could have control of Weirdworld and mine it for adamantine crystals. After he does, Morgan Le Fay tries to kill him, but he transforms into a Minotaur and a battle breaks out. Weapon H and his supporting cast take this opportunity to head back to the portal to escape Weirdworld, but before Weapon H can make it through, Agger attacks him. Back on Earth, Titania wants to close the portal and leave Weapon H behind, but his wife Sonia shoots her and everyone else agrees to leave the portal open. Le Fay and her forces arrive at the portal and want to kill Agger and Weapon H. Agger suggests a team-up, but Weapon H leaves him behind instead. Agger barely makes it through the portal as Le Fay and her forces celebrate regaining control of Weirdworld. Sonia makes Agger pay everyone the ten million dollars he promised them in their contracts for entering Weirdworld in the first place. He also agreed not to harm Weapon H's family or friends any more. Black Widow tries to tell Weapon H that Captain America really does trust him even though he sent her to spy on him, but Weapon H tells her to go @#$% herself. In the epilogue, Agger conspires to get the real Hulk and Wolverine to go after Weapon H, since he never promised he wouldn't harm him personally.
And that's the end of Weapon H, a comic whose concept–what if Hulk was a Wolverine, or is it what if Wolverine was a Hulk?–by all known logic and reason should have resulted in a terrible comic that lasted 5 issues tops. But somehow, Weapon H defied the odds, telling a story that didn't rely on rehashed Hulk or Wolverine tropes at all and instead did its own thing. This comic might have appealed to military veterans or people sympathetic to their stories, as well as fans of the Avengers and Thor franchises, based on Dario Agger's role as the series' big villain. But it wasn't really marketed that way (or marketed at all beyond the initial launch, so…
Of course, we'll still get more Weapon H in the upcoming Hulkverines 3-issue mini-series, and who knows what will happen after that? Weapon H will probably be a member of the Avengers within a few years and then we'll be forced to hate him (loyalty, yo), but for now, we wish him the best in his future endeavors.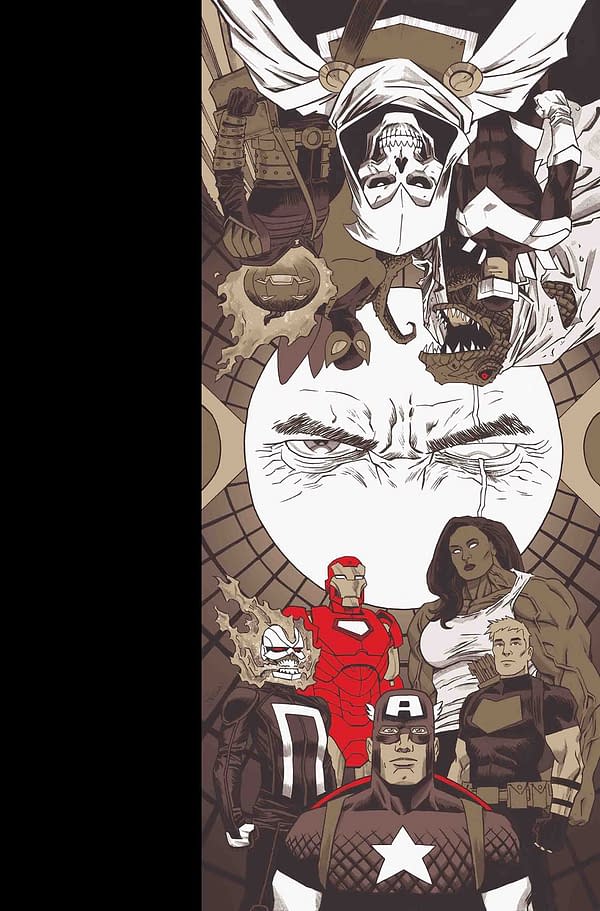 Dead Man Logan #3
(W) Ed Brisson (A) Mike Henderson (CA) Declan Shalvey
DEATH PAYS ALL DEBTS…
Mysterio means to set in motion the massacre at the crux of Old Man Logan's apocalyptic future timeline. But who is pulling his strings? The master of illusion's newest benefactors will surprise you!
Parental Advisory
In Shops: Jan 30, 2019
SRP: $3.99
Logan faces off against the Avengers in Times Square, under the influence of Mysterio, who uses his illusion powers to make Logan believe the Avengers are Mysterio and his villainous colleagues. From a nearby penthouse, Sin, Crossbones, Miss Sinister, and Mysterio watch and enjoy the carnage. Well, Sinister isn't really enjoying it. She's annoyed that Sin isn't taking this more seriously and following the plan laid out in Logan's alternate future reality to use Mysterio to kill all the heroes. Back on the street, Hawkeye explains what's happening to the Avengers as Logan comes close to killing Iron Man. Ghost Rider comes to the rescue as She-Hulk takes on Logan. Meanwhile, at the Xavier Institute, Glob Herman sees what's happening on YouTube and alerts Kitty Pryde, Jubilee, and Cecelia Reyes. As they were warned by Logan that something like this might happen, they have a contingency plan in place.
In Times Square, Captain America tries and fails to reason with Logan before Hawkeye shoots logan with some arrows. In the Neo-Hydra penthouse, an annoyed Sinister is approached by Sin in the hallway. Sin promises to take things more seriously and gets Sinister to tell her what they should do with Mysterio after they've killed all the heroes. Sinister tells her that Mysterio must be killed so he can't use his powers on them. Sin walks away and reveals herself to have been Mysterio using his powers. Back on the street, Logan is still trashing the Avengers until he suddenly passes out. The X-Men have arrived on the scene and they take him into custody, ignoring protests from Captain America. Mysterio, having abandoned his colleagues, watches from an alley.
This issue was filled with nonstop snarky comments from both the heroes and villains, which sort of makes our column redundant. Are you trying to eliminate our job, Marvel?! The best joke was Steve Rogers saying he didn't want to start another Avengers vs. X-Men war because "nobody wants that." Indeed we don't. This issue is the Wolverine's Weiner X-Pick of the Week.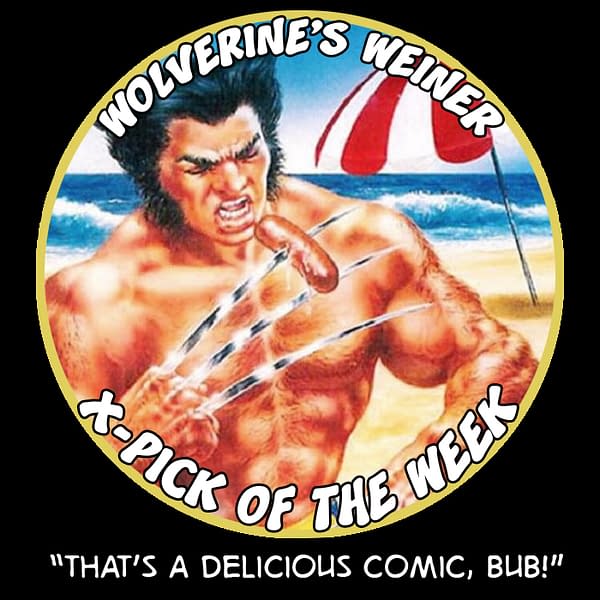 Congratulations to the creative team.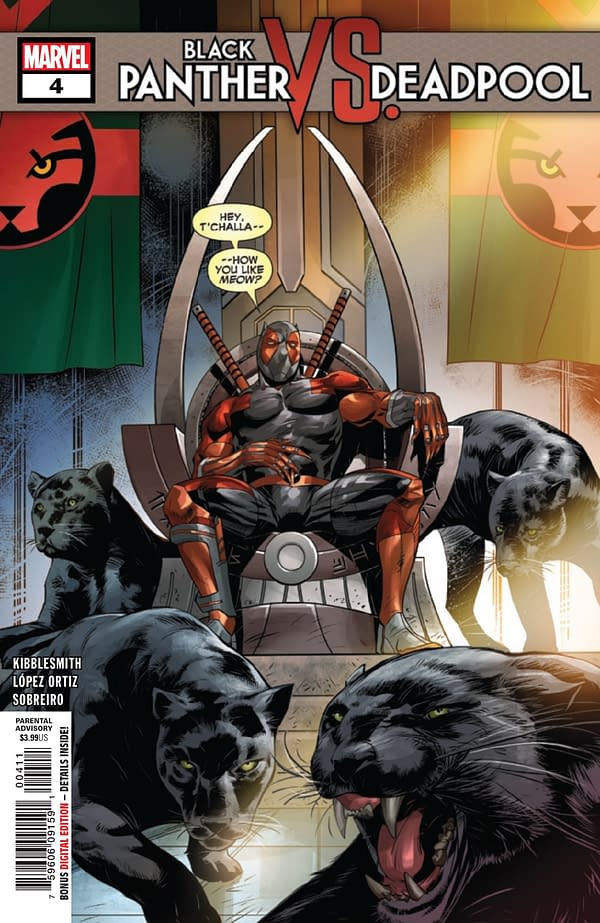 Black Panther vs. Deadpool #4
(W) Daniel Kibblesmith (A) Ricardo Lopez Ortiz (CA) Ryan Benjamin, Rain Beredo
INTRODUCING…PANTHER-POOL! (YES, REALLY!)
A classic Marvel team-up gone terribly wrong! Who could have predicted it?! Luckily, there's an easy solution. All the Black Panther needs to do is give Deadpool a bullet-sized chunk of the world's most precious resource and let him return to New York in one piece. Wait, you say that's a terrible idea and that T'Challa would stop at nothing to keep Vibranium out of Deadpool's homicidal hands? WELL, YOU'D BE RIGHT! But how do you get rid of an unkillable pest? Buckle up, True Believer, because the Black Panther's about to do the unthinkable!
Parental Advisory
In Shops: Jan 30, 2019
SRP: $3.99
This mini-series that nobody asked for kicks off its penultimate issue with Black Panther bringing the severed (but still wisecracking) head of Deadpool back to his palace where he reassembles him with his body. Deadpool had a backup plan to defeat the Panther, however, hiding C4 in one of his pouches with a dead man's switch. Since there are so many pouches (ha ha), Panther is unable to locate the C4 and the explosion incapacitates him, allowing Deadpool to escape. The Panther is really mad now and is totally gonna kill Deadpool for real this time. Unfortunately, Deadpool manages to teleport himself into the Panther's spare Panther suit room where he dons his own Panther costume and becomes Pantherpool. After sparring with the Panther some more, Deadpool teleports himself inside the mountain where all of Wakanda's vibranium is mined. He wants to take just the tiny bit of vibranium required to save Willy Lumpkin, but after using the Wrecker's magic crowbar, he sets off massive vibrations and then accidentally teleports the entire mountain to New Jersey. This nonsense will conclude next issue.
Well, if it seems like not much happened, that's because most of the issue consisted of "witty banter." This comic isn't as bad as it could be, but that's not saying much. On the other hand, some of the jokes were funny, which I guess delivers on this comic's low-hanging-fruit promise.
---
We look forward to reading your thoughts on the X-books in the comments below each week, so get to posting!
Next week we're back down to four X-Books: Uncanny X-Men, Marvelous X-Men, X-23, and Deadpool. See you here next week to talk about them all!
Read more X-ual Healing here: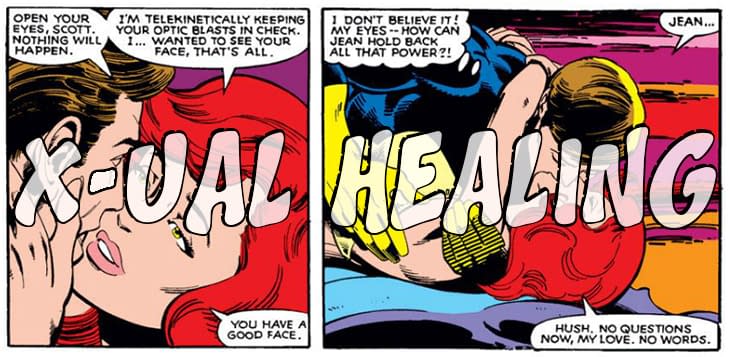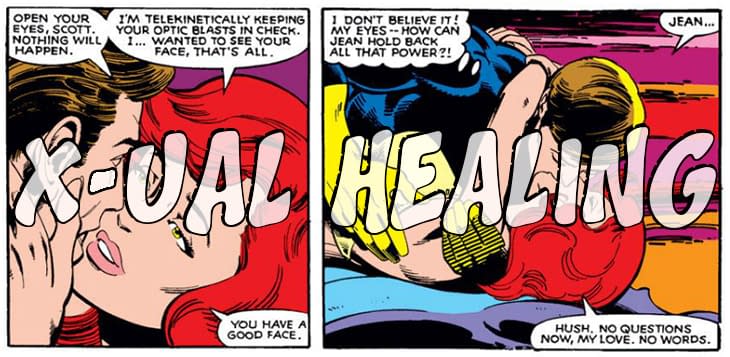 Enjoyed this article? Share it!